The Sony A9 III is, hands down, the most advanced camera ever made. While not (yet, at least) being referred to as the company's flagship, the A9 series has traditionally occupied that position. And as mighty as the Sony A1 is, its specs honestly look kind of quaint compared to the Sony A9 III.
The best sports cameras are the launchpad for manufacturers' bleeding-edge technology, but I have never seen a camera with as much earth-shatteringly futuristic tech as the Sony A9 III. Terms like "game changer" are banded about quite liberally these days, but honestly – this is a camera that will transform the way we use cameras.
With headlines including the world's first full-frame global shutter image sensor, 120fps continuous shooting at full resolution (24.5MP) JPEG and RAW, and the ability to shoot with a shutter speed of 1/80,000 sec, this is a camera made of pure photographic muscle.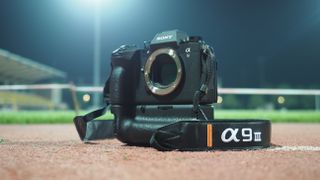 Sony A9 III: Specifications
Swipe to scroll horizontally
| | |
| --- | --- |
| Sensor | Full frame global shutter Exmore RS CMOS |
| Effective megapixels | 24.6MP |
| Autofocus | Phase detection, 759 points stills, 627 points video, AI-based Real-time Recognition AF |
| ISO | 250-25600 (exp to 125-51200 for stills) |
| Burst shooting | 120fps RAW + JPEG, full res, blackout-free, with AF/AE |
| Max shutter speed | 1/80,000 sec (1/16,000 sec for continuous) |
| Video | 4K 60p (oversampled 6K), 4K 120p (uncropped) |
| Image stabilization | Up to 8 stops |
| Screen | 3.2-in 2095k-dot 4-axis angle monitor |
| EVF | 9437k-dot Quad XGA OLED |
| Storage | 2x SD UHS-II / CFexpress A hybrid |
| Weight | 702g (1lb 8.8oz) |
| Size | 136.1 x 96.9 x 82.9 mm (5 3/8 x 3 7/8 x 3 3/8 inches) |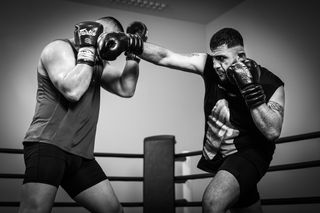 Sony A9 III: Key features
The Sony A9 III is so loaded with killer specs that it may be easier to say what isn't a key feature. Still, the biggest and most game-changing bullet point is the full-frame global shutter – the first one in the world, and the one that is absolutely transformative in terms of how it enables us to capture both photographs and video.
If you don't know what a global shutter is, essentially it exposes every frame on the sensor at the same time – rather than line-by-line, scanning left-to-right from top-to-bottom, the way traditional sensors do.
The result is that rolling shutter – the phenomenon whereby non-horizontal straight lines (whether they're golf clubs, baseball bats, telegraph poles or buildings) appear warped and distorted when shot at high electronic speed – is made extinct. So whether you're a stills shooter or a videographer, that's it: distortion is now gone. As is flicker and banding. Essentially, you can say sayonara to a whole bunch of technical headaches.
That global readout dovetails with the A9 III's second most amazing feat: a maximum shutter speed of 1/80,000 sec. On the photographic side, this makes flash sync speeds extinct. It is simply so fast that it can sync with flash at all speeds, making not just standard speeds redundant (such as 1/250 sec), but also rendering high speed sync technology completely superfluous.
(There is a temporary caveat here, which is that the camera cannot shoot at 1/80,000 sec in continuous; here it maxes out at 1/16,000 sec. However, Sony told me that its first firmware update (due around March 2024) will bring continuous shooting all the way up to 1/80,000 sec.)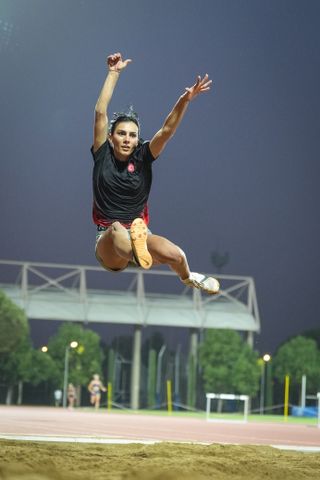 What else does the global shutter do for us? It gives us the ability to shoot continuous bursts of stills at 120fps. "But wait, the Nikon Z8 and Z9 already do that." Yes, they do, but only in a compromised state. If you shoot at 120fps on a Z8 or Z9 you only get 11MP JPEGs, because the sensor – even though it's stacked – simply isn't fast enough to deliver full-resolution JPEGs, let alone RAW files.
Not a problem for the A9 III, though. It can rattle off 120fps images at full 24.6MP resolution, in 14-bit JPEG and RAW, blackout-free, with full autofocus and autoexposure.
Of note, 14-bit stills are standard for every shooting mode – courtesy of the twin Bionz XR processors. These also facilitate another technological feat: Composite RAW Shooting. This captures up 32 RAW images that can then be stacked in Sony Imaging Edge to minimize noise and false color even when shooting at high ISO or in low light conditions. This is intended to compensate for the more limited ISO performance of the global shutter sensor – a tradeoff of the technology – with its higher base of ISO250.
Sony also made a very big deal of its Real-time Recognition AF, powered by a dedicated AI processing unit. This employs "human pose estimation technology" that "recognizes not just eyes but also body and head position with high precision. This makes it possible to lock onto and track a subject facing away from the camera or whose face is covered." I will talk about this specifically in the Performance section.
The camera is less whizz-bang when it comes to video (and feels deliberately so, no doubt to leave room for the Sony A7S IV), but nonetheless delivers 4K 60p that's oversampled from 6K, as well as 4K 120p with no crop for the first time on an Alpha camera.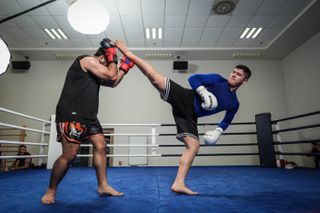 Sony A9 III: Build & handling
It's a running gag that all Alphas look and feel the same, so it's no surprise to know that the A9 III looks and feels much like the A9 II before it – which is to say it looks pretty and feels great in the hands – but with slightly refined ergonomics.
This is mainly in the form of the beefier grip, which Sony was keen to tell me had been integrated at the request of most users during the A9 II's lifespan. It certainly makes a difference, offering much more purchase and a better handhold, especially when using big lenses – and particularly if you're not pairing the camera with the additional vertical battery grip.
Sony seems confident that pros really, most definitely, certainly want a tiny mirrorless body on the A9, rather than the traditional "pro DSLR" form factor favored by Canon and Nikon. At the same time, though, we've never seen a pro in the field using one without the additional grip. Still, it's always nice to have the option – though this does of course mean extra expense (particularly since the A9 II grip doesn't fit, given the new ergonomics of the camera, so you can't use your old one).
The back of the camera is virtually identical apart from a different graphic on the record button. The top plate sees the most changes, with photo, video and S&Q no removed from the mode dial and placed on a collar switch surrounding it.
I actually found this a bit cumbersome in the heat of the moment, when I wanted to flick between stills and video, not helped by the slightly awkward dexterity required to simultaneously depress the lock button on top of the dial.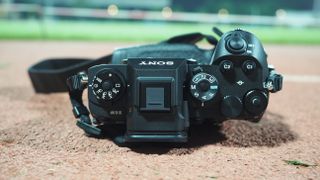 A new addition to the front of the camera is a fifth custom button, C5. By default – whether out of the box or specially assigned by Sony for the purpose of my visit – this acts as a modifier to engage the 120fps bursts on HQ+. This means that you can set the speed of your bursts to something like 20fps, if that's all you need for most shots, but you can than hold down C5 at any point while bursting to kick in 120fps.
I love the principal; we all know that changing burst rate is traditionally a painful menu process, not something you can quickly do on the fly. Which means that you're stuck shooting at whatever speed you've chosen, often ended up with hundreds of duplicates and a very-empty battery and card. This way, you can simply use C5 like the shift key on your keyboard and turn on "turbo shooting mode" for the few seconds you actually need it.
In practice, though, it was quite fiddly to use; simply remembering to hold down a shift key is an extra bit of muscle memory during already frenzied moments of action. Then actually holding down the key using your middle finger is a very unnatural bit of camera handling. I'm sure it'll become second nature after a bit more use, but it takes a bit of getting used to.
An unsurprising upgrade is that Sony has shifted to dual UHS-II SD / CFexpress Type A hybrid card slots. Sony's continued support of the format is a very isolationist one, given that everyone else in the industry uses CFexpress Type B – potentially making it increasingly unappealing for those using rival systems to switch, and have to reinvest in another expensive memory type. Particularly when Type A is the slowest of the CFexpress formats – somewhat at odds with the A9 III's otherwise blistering speed.
The final change from the A9 II is the addition of Sony's 4-axis tilt screen. If you've never seen this before, it's a hybrid of a tilting screen that also flips out to rotate, offering the best of both worlds.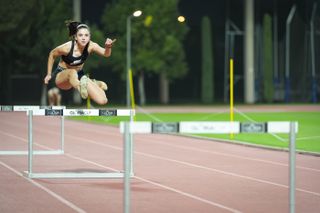 Sony A9 III: Performance
The only way to test an elite-level sports camera is to shoot elite-level sports – so I torture tested the A9 III at an Olympic training facility, photographing Olympic teams as they prepared for the 2024 Games. (This was the same facility I went to when I tested the A9 II, though aside from boxing and Muay Thai I shot completely different sports on this visit.)
Manufacturers make all sorts of claims about their autofocus, from the focusing speed itself to the tenacity of the subject tracking. But it's one thing to shoot a landscape or even a wedding; virtually every camera falls on its face if you try to shoot sports with it – let alone sports at the world champion level.
Now, Sony has made quite a bold claim about its new AI processing unit that powers Real-time Recognition AF. In case you missed it, this promises "human pose estimation technology" that recognizes and tracks subjects' bodies and heads, even when they're facing away and in a small area of the screen. In other words, it doesn't matter if the camera can't see the subject's eyes or face; the AI sees a human body and locks onto it regardless.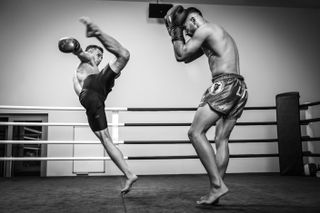 And mostly, that's exactly what it does. I shot a potpourri of sports: steady-moving track events like hurdles and high jump that feature line-of-sight obstructions, fast-moving solo exhibition events like rhythmic gymnastics, and erratic competitive events like kickboxing between two combatants. A pretty good super-set of workouts for a sports camera.
The discipline it handled most capably was gymnastics (which was, sadly, a closed team practice, so I cannot share my shots). With a lone subject in an empty space, the acquisition and tracking was absolutely flawless, keeping the athlete in focus whether facing the camera or fully contorting in the middle of a move.
Hurdles it again had little problem with, given that the subject's face is always in the frame since the hurdles don't encroach above the chest. The only occasional issue I had was side-on, where acquisition took a fraction longer and caused (literally two) missed shots.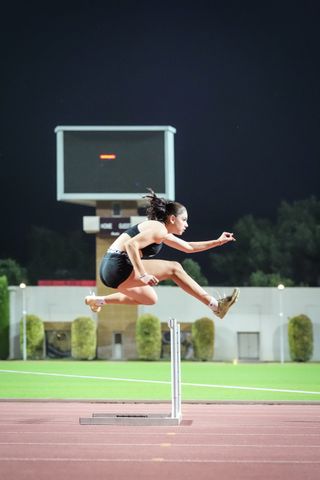 Kickboxing and Muay Thai, surprisingly, were where the A9 III was actually less consistent than the A9 II. I find multi-limb combat sports the single best way to test a sports camera; not only are you dealing with unpredictable twitch movements, and two combatants constantly moving and forcing the tracking to work overtime, they are constantly faking and feinting – offering moves that not only trick their opponent, but also a camera's AF system.
And perhaps this is where the A9 III, with that "human pose estimation technology" designed to "use subject form data to accurately recognize" and predict movement, is actually too clever for its own good.
In mapping a database of human skeletal positions to predict movement, it is setting itself up to be tricked in the same way a boxer's opponent is when a feint or fake is thrown. This could account for the AF system occasionally getting confused about what to focus on, in a way that the A9 II simply didn't.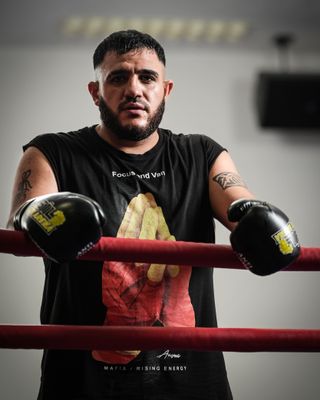 This was particularly noticeable when shooting video, as the focus would dart to shoulders and backs and occasionally logos, looking for something to stick to when a face disappeared for a moment or an unusual tumbling strike was thrown. I would estimate that focus was maintained a good 90% of the time – which is still nothing short of outstanding – but it definitely felt, for this specific sport, that other AF systems performed better.
The only other event that caused occasional problems was high jump. Here the camera kept up with the athlete as she made her approach and launch, but consistently got confused when she reached the horizontal position of the "Fosbury flop", and I ended up with shots focused on the bar or the trees behind her – again, it felt as if the AF simply didn't recognize the human body shape in such an unusual position.
Despite this, overall I would say that the A9 III's autofocus system is absolutely incredible. Bearing in mind that I was blasting away at up to 120fps, and up to 120p in 4K, for the AF to keep up at all is remarkable enough. For it to be as resoundingly robust and subject-sticky as it actually is, it's pretty mindblowing. Specifically for shooting high jump, however, I'm hoping that the March firmware helps iron out some kinks (in what is, let's not forget, still a pre-production camera).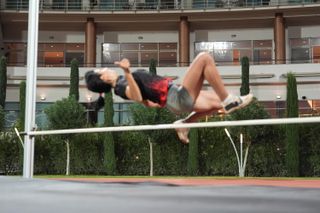 Sony A9 III: Early verdict
I am nothing short of gobsmacked, blown away, bowled over and wowed by the Sony A9 III. In terms of sheer technological firepower, there's no camera on the market that can touch it. And in terms of what it does with that firepower, it stands in a league of its own.
There will be some who scoff at the specs. That ask who the hell will ever need a 1/80,000 sec shutter, or what the point of 120fps shooting is. And no doubt, there will be naysayers at the other end of the spectrum, whining about why the resolution is only 24.6MP.
To put it kindly, this camera isn't meant for these people. Because the people this camera is meant for – the crème de la crème, the Reuters photographers, the news agency shooters, the Premier League and NBA regulars, and all those who aspire to be them – know precisely what these specs mean and what they represent. The global shutter era is here, and photography will never be the same again.
My one and only misgiving is the AF system. Whether it's because the camera is pre-production, the AI-based predictive AF needs more dataset training, the firmware on the lens I was using needed updating, whatever the reason – the autofocus at times felt a step slower than that of the A9 II. But then again, I was shooting at a whole lot more than a step faster. Occasional AF wobbles happen, even under ideal circumstances – and the most demanding test cases at ridiculous frame-rates are far less than ideal.
For now, I'm happy to say that the Sony A9 III is the most incredible sports camera I've ever used. Can it be even better? Yes, it can be. And, with a firmware update, it no doubt will be.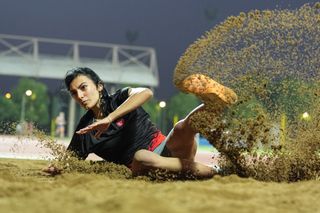 It goes without saying that the A9 III is one of the best Sony cameras, and one of the best cameras for professionals. Take a look at the best Sony lenses to pair with it, and the best lenses for sports photography from other companies as well.