Rumors of a Nikon Z8 mirrorless camera, fitting in the range somewhere between the Nikon Z7 II and Nikon Z9, have been doing the rounds for years. In fact, we were hearing whispers about it even before the Nikon Z9 saw the light of day. And now it's finally here.
The manufacturer is touting the Nikon Z8 both as the "true successor to the Nikon D850" and a "baby Z9" – and these are both fair descriptions. It does indeed look and feel like the Z-series equivalent of the D850, with a similar form factor, yet squeezes virtually all the high-end specs of the flagship Z9 into a smaller (and more affordable) body.
The Z8 may well be the best Nikon camera we've ever seen – but how does it stack up to its rivals from the other big brands, namely the Sony A1 and Canon EOS R5?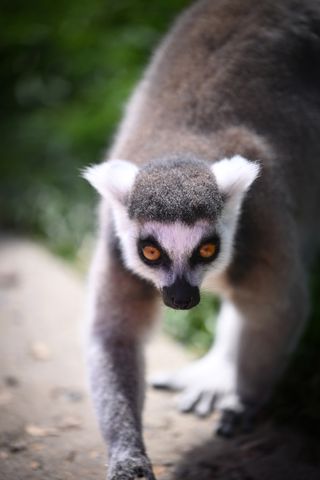 Nikon Z8: Specifications
Sensor: 45.7MP full frame stacked CMOS
Image processor: Expeed 7
Autofocus: 493 phase-detect points, 493 contrast-detect points
Stabilization: 5-axis, 5.5 stops (up to 6 stops with specific lenses)
Continuous shooting: 20fps RAW, 30fps hi-res JPEG, 120fps lo-res JPEG
Video: 8K up to 60p, 4K up to 120p • 8- or 10-bit H.265, 10-bit Apple ProRes 4:2:2 HQ, 12-bit in-camera ProRes RAW HQ
Viewfinder: Super-bright OLED, 3.69m dots, 100% coverage
LCD screen: 3-inch bi-directional tilting touchscreen, 1.04m dots
Dimensions: 144 x 118 x 83mm
Weight: 910g
Nikon Z8: Key features
So let's kick off with those headline specs that the Nikon Z8 shares with its bigger brother. It has the same 45.7MP stacked CMOS sensor, which boasts the fastest scan rate in any commercially available camera. So while this isn't a 'global' sensor that captures the entire image instantaneously, but renders the image line-by-line in the same way as traditional sensors, it does this incredibly quickly. So quickly, in fact, that the camera forgoes the need for a mechanical shutter entirely.
Taking a step back for a moment, there are plenty of 'shutterless' cameras out there (including the one in the smartphone) and most existing DSLRs and mirrorless cameras have the option of an electronic shutter mode, but these suffer from what's known as rolling shutter distortion.
When shooting a fast-moving subject – or panning the camera quickly – by the time the sensor has rendered the entire image from top to bottom, the movement will be evident, giving the resultant photograph a 'sheared' appearance. Something that could previously only be subdued by having a mechanical shutter record the image.
And that brings us to the second headline spec: the maximum shutter speed is a blistering 1/32000 sec. That's 4 times faster than that found in most high-end cameras, which typically top out at 1/8000 sec (while entry-level models are even slower at 1/4000 sec).
The benefits of the shutterless design don't end there. Like the Z9, the Z8 can shoot continuously at an astonishing 120fps. Admittedly these are low-resolution JPEGs (if you call 11MP low-res – it's essentially the equivalent of a frame of 4K video), but it can still shoot high-resolution 45.7MP JPEGs at 30fps, or RAW files at 20fps – and all this with full autofocus and autoexposure between frames.
This speed-freakery isn't solely down to the advanced sensor and shutterless design, but is also due to the Z8 sharing the same cutting-edge Expeed 7 processor that debuted in the Z9. Another advantage of this next-gen processor is that it can capture more than 1,000 Raw images at 20fps before the buffer causes it to slow down – provided that you have a fast enough memory card. And with JPEGs, you can keep rattling off full-resolution images at 30fps until the card is full.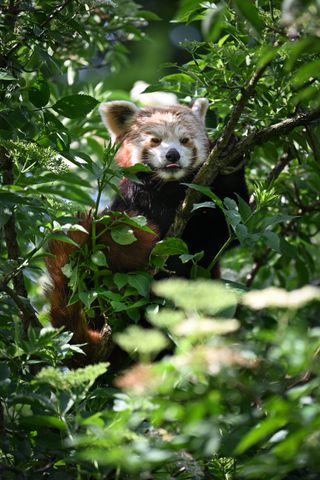 As mentioned, the 45.7MP sensor is the same one found in the Z9, with 493 AF points covering 90% of the sensor area, enabling the advanced AF system to pick up subjects towards the edges of the frame. It's a back-side illuminated stacked sensor that boasts much-improved lowlight capabilities over traditional designs, as all the electronics are 'stacked' behind the photosites. This results in an enhanced dynamic ISO range of ISO64-25,600 (ISO32-102,400 expanded).
Perhaps shorter than listing the features that the Z8 shares with the Z9 is to highlight the differences. The main and most obvious one is that the smaller form factor of the Z8 is due to there being no underside grip, with duplicated controls to aid vertical shooting. This is where the Z9 houses its much larger EN-EL18D battery, while the Z8 has to make do with the same EN-EL15C battery as found in the Z7-series cameras.
As a result, the official CIPA battery rating is 275 rather than 700 shots. In practice, though, we found that both cameras are good for rather more than the official figures. Even so, a battery grip is being released for the Z8, should you feel the need; the Power Battery Pack w costs around $350 / £350 and houses a pair of EN-EL15C batteries, roughly doubling the shooting time at your disposal.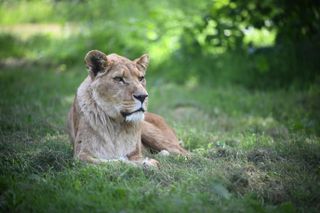 While Nikon is keen on highlighting the Z8's video credentials – and they are impressive, with options for 4K up tp 120p or 8K up to 60p – recording times are shorter than the Z9 is capable of, topping out at a nevertheless impressive 120 minutes of 4K 60p or 90 minutes of 8K 30p (depending on settings and shooting conditions).
The other things of note that the Z8 omits are the Z9's voice memo feature, it only has one CFexpress slot (rather than the Z9's two) and an (arguably more useful for a prosumer camera) one SD card slot, there's no flash 'synchro' socket, and it doesn't have a LAN ethernet terminal – although it does boast two USB-C sockets, so you can use a USB-ethernet adaptor while keeping the camera charged via the second USB port.
And in some areas, the Z8 actually does better than the Z9. It boasts improved subject-detection autofocus (including a new dedicated aircraft mode) and is Nikon's first camera to support HEIF (High-Efficiency Image Format) files – a kind of next-gen JPEG that uses 10 bits of data (rather than 8) for improved levels of HDR-like detail. However, while the Z8 is upstaging the more expensive flagship camera in these regards for the time being, we can see no reason that these won't be added to the Z9 at a later date via a firmware update.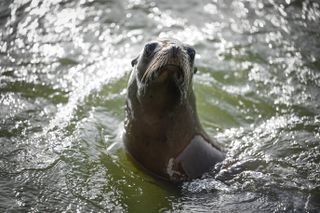 Nikon Z8: Build & handling
If on the inside the camera is, for all intents and purposes, the guts of a Z9, on the outside it does very much feel like the mirrorless equivalent of the D850 – albeit in a body around 15% smaller. It's certainly noticeably chunkier than Nikon's Z6/7 line of cameras, and boasts many more direct-access controls – which those migrating from DSLRs like the D850 will undoubtedly appreciate.
Like on the D850 (and Z9), there's no exposure mode dial but a bank of four 'shoulder' buttons. These enable you to directly set white balance, drive mode, bracketing, and exposure mode, plus there's also a dedicated button to cycle between AF-S, AF-C, and manual focus modes.
On cameras like the Z7 series, many of these (what we would consider vital) controls required delving into the menu system, or hogged the pair of customizable Fn buttons – and, speaking of which, the Z8 has an additional Fn3 button. Like on the Z9, the buttons can be illuminated for low-light shooting.
In all, it handles beautifully. Being that little bit chunkier than the Z6/7 and having those additional direct-access buttons compared to those cameras genuinely makes for a more well-rounded and intuitive shooting experience.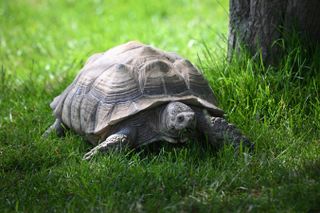 The Z8 has a similar dual-axis tilting LCD to the Z9, which can be angled 90° horizontally or vertically for high- and low-angle shooting in both landscape and portrait orientations. The info display also rotates when you hold the camera vertically, so you can easily read all the on-screen info. It sports the same bright, lag-free 3.69 million-dot display as in Nikon's other high-end mirrorless cameras, and there's no blackout as you shoot, thanks to the all-electronic shutter.
The camera is built around a magnesium alloy chassis and is fully weather sealed to withstand extreme temperatures, humidity, and dust – and like the Z9, can be operated in temperatures down to 14ºF/-10ºC.
While there's no mechanical shutter (and thus no need to be concerned about the 'shutter count' as the camera ages) it's not entirely devoid of moving parts. Like the Z9, a built-in blind automatically comes down to protect the sensor when changing lenses – which we think is particularly useful, as the mirrorless design places the sensor much closer to the lens opening than in DSLRs, which would otherwise increase the danger of accidental damage.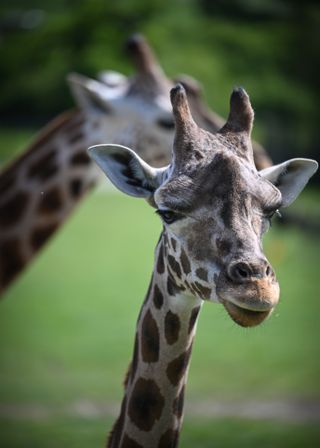 Nikon Z8: Performance
As stated earlier, the autofocus system doesn't merely match that of the Z9, it surpasses it, with even more responsive subject tracking, thanks to advancements in Nikon's deep-learning AF tech since the Z9's release. As well as tracking human and animal subjects (switching between eyes, face, and upper body, depending on the subject distance), it can track a wide variety of vehicles, too, including an all-new dedicated aircraft mode not found on the Z9.
However, clever though the AF tech may be, it's still not quite a match for Canon and Sony. While we're seeing performance parity when it comes to subjects such as people, vehicles and inanimate objects, it falls just short of its rivals when it comes to detecting and tracking animals.
Canon's R5 recognized any animal we pointed it at, and Sony's A1 wasn't far behind. The Z8 did a great job overall, but occasionally struggled to find the eyes or faces on animals like turtles, sea lions and giraffes – none of which, it should be noted, the Z8 claims to be able to detect (but then again, nor do the R5 or A1).
The biggest hurdle, though, was detecting animals through foliage – arguably the single trickiest thing to ask of an autofocus system. While the R5 in particular is exceptional at finding part of the animal to lock onto, even when it's lurking behind leaves, the Z8 let us down on a number of occasions, both when trying to focus on animals hiding in the undergrowth and when maintaining lock as they disappeared and reappeared.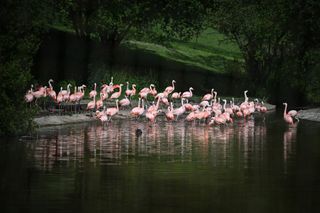 Still, when you're not asking it to track subjects that it hasn't been programmed to, the AF on the Z8 is generally reliable – though like the Z9 it can falter a little when there are multiple subjects jockeying for position, such as during a chaotic basketball game.
There are occasions where focus drifts from the specific player on whom you're trying to focus, during crowded moments where other players (or spectators) cross in the fore or background. Overall, though, aside from a few moments where you have to wrestle your target back, the Z8 more than meets the demands of sports photography – and obviously it eats stationary subjects for breakfast, both in photo and video mode.
Nikon is aiming this camera as much at moviemakers as it is at stills shooters, and again – while it doesn't quite go to the recording lengths that the Z9 is capable of, for most of us a 90-minute limit for 8K shooting isn't going to be a big deal.
Again like the Z9, the video quality here is exceptional (in fact, you can largely refer to our Nikon Z9 review as performance is basically identical). The oversampled 4K remains a cut above Sony and Canon's cameras, while the 8K is every bit as impressive – though without the overheating constraints of the R5, even when used in direct sunlight in warm weather.
While its smaller battery can't match the chunky one used to power the Z9, we found it far surpassed the CIPA rating of 275 shots. In general, we do wonder whether this method of rating battery life is outdated – as taking a shot on a mirrorless camera isn't a particularly power-intensive task compared to constantly displaying a live image on the rear screen or viewfinder.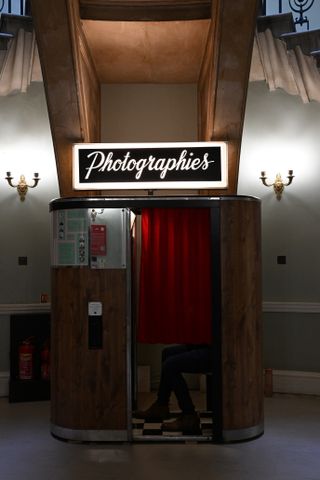 While the 120fps top shooting speed certainly makes for an impressive headline spec, for practical purposes the 20fps full-resolution RAWs that most of us will shoot at is more than quick enough for every conceivable shooting scenario, while that max 1/32,000 shutter speed is capable of freezing the action in a way previously only possible by using a high-speed flash. That ISO range, while not groundbreaking, is pretty impressive for a sensor that packs in so many megapixels.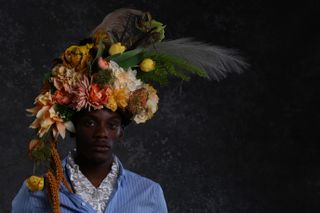 Nikon Z8: Lab results
For our lab data comparison, we compared the Z8 to its primary rival, the Canon EOS R5. Sony has several options if you want a hybrid stills+video camera, but we selected the A7R V for its 8K ability, as well as the A9 II for its shooting speed.
We test resolution using Imatest charts and software, and dynamic range and signal-to-noise ratio with DxO Analyzer.
Resolution (line widths/picture height):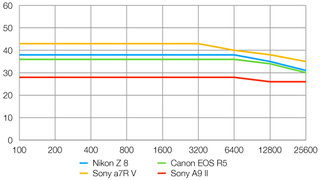 The Z8 and EOS R5 are closely matched for resolving power, such is their almost identical sensor resolutions. Naturally, the 61MP A7R V wins out in this test, while the a9 II's 24.2MP sensor is designed for speed, not outright detail capture.
Dynamic range (EV):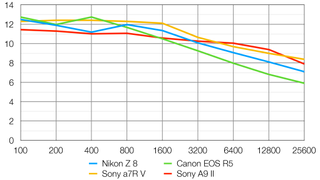 The Z8 captures good dynamic range at lower sensitivities, matching the EOS R5 and A7R V up to ISO 800 (the dip at ISO 400 is likely an anomaly). Higher sensitivities separate the pack, with the two Sony cameras able to capture the most dynamic range, though the Z8 is only around 1EV down, and it performs consistently better than the EOS R5.
Signal to noise ratio (decibels):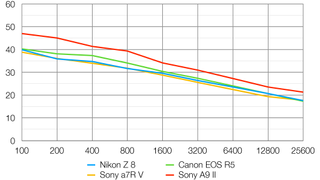 This test compares the amount of random noise generated by the camera at different ISO settings as a proportion of the actual image information (the 'signal'). Higher values are better and we expect to see the signal to ratio fall as the ISO is increased.
There's little to separate the three 45MP+ cameras, as the Z8, R5 and A7R V each have very similar noise levels at all tested ISO levels. But it's here that the A9 II's lower megapixel count comes into its own. Thanks to having fewer - and therefore larger - individual sensor photosites ('pixels'), the A9 II is able to capture more light in a given exposure duration and consequently it produces less noise.
Nikon Z8: Verdict
Unless you really need the extended battery life of its bigger brother, or have to have that bigger grip with duplicated controls, this is the option we'd recommend over the Z9. (And even if you do, buying both the Z8 and the new battery grip will cost you almost a grand less than a Z9, with plenty of change for a stack of spare batteries.)
With the same headline specs as Z9, this is a truly incredible camera. For most of us, any advantages that the flagship Nikon Z9 has over the Z8 will be of little concern, and replacing one of the CFexpress slots with a 'lesser' SD one is actually a considerable advantage, enabling the use of lower-cost media that many users will already have (and CFexpress cards are still eye-wateringly expensive).
For the absolute best autofocus performance, the crown still belongs to Canon with the R5. However, unless you're shooting a lot of team sports or wildlife that hides in trees or bushes, the Z8 is still an astonishingly accurate camera.
And almost as incredible as its spec sheet is the price, squeezing in under the four grand mark, putting the Z8 in reach of well-heeled enthusiasts as well as pro photographers.
You might also like...
If you are deeply embedded in the Canon ecosystem of lenses, then the Canon EOS R5 is a worthy competitor to the Z8. It shares a similar 45MP sensor, with Canon's truly excellent Dual Pixel autofocus and subject tracking. The Canon also offers 8K video, although with some serious limitations. The Nikon does manage to pull ahead with some more modern technology, and undercutting it on price to boot.
Alternatively, for interested Sony shooters, the Sony A7 IV is the closest competition from Sony's stable of cameras. The A7 IV has a slightly less dense 33MP sensor, but it doesn't scrimp on the rest of the technology inside. For those keen on shooting video as much as stills, Sony's extensive expertise in video shines in the A7 IV's 4K footage.
Do also check out our guide to the Best Nikon Z lenses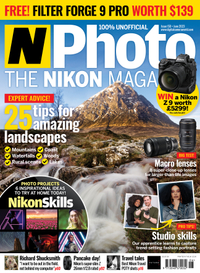 N-Photo: The Nikon Magazine is a monthly magazine that's written by Nikon enthusiasts for Nikon enthusiasts, you can be sure that all the content is 100% relevant to you! So for the best Nikon-focused news, reviews, projects and a whole lot more, subscribe to N-Photo today – with our unmissable sub deal!