There are strong rumours that Canon will launch a full-frame mirrorless camera range in the near future, but for now its mirrorless ambitions are confined to its APS-C format EOS M cameras. These are mostly aimed at novices and smartphone upgraders, though there are a couple of more advanced models in the range.
It's probably fair to say that these EOS M cameras haven't exactly taken the world by storm so far, but the new EOS M50 could change all that, and for three reasons. First, it has an electronic viewfinder. It's only the second EOS M model to have a built-in EVF – the first was the much more expensive EOS M5 – and although smartphone users might not miss having a viewfinder, keen photographers and enthusiasts certainly will.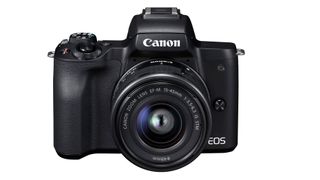 Second, the EOS M50 can shoot 4K video. It's the first EOS M model to offer this feature, and it puts it one step ahead of the high-end EOS M5. It also has a DIGIC 8 processor, rather than the older DIGIC 7 processor in the EOS M5. This kind of technical leap-frogging does happen from time to time as mid-range models overtake top-end cameras in key specifications.
This brings us on to price. With the same EF-M 15-45mm f/3.5-6.3 IS STM retracting kit lens as the EOS M5, the EOS M50 matches, and in some respects beats, the specifications of that camera, but for around two-thirds of the price. So, if you wanted an EOS M camera with a viewfinder and you found the EOS M5 too pricey, this is the camera for you.
Read more: The 10 best mirrorless cameras right now
However, in terms of physical specifications, the M50 definitely cuts a few corners. Its simplified exterior has just a single control dial, whereas the EOS M5 has twin control dials and an EV compensation dial. If you can live with that, though, you're laughing all the way to the bank, because the EOS M50 gives you a lot more for your money.
This may well be the EOS M-series camera where Canon has finally got the balance right.
Key features
Sensor: 24.1MP APS-C CMOS, 22.3 x 14.9mm
Image processor: DIGIC 8
AF points: 143/99-point Dual Pixel CMOS AF
ISO range: 100 to 25,600
Max image size: 6,000 x 4,000
Metering zones: 384 zones
Video: 4K UHD at 25/24p
Viewfinder: OLED EVF, 2,360k dots
Memory card: 1x SD/SDHC/SDXC (UHS-I)
LCD: 3in vari-angle touchscreen, 1,040k dots
Max burst: 10fps (7.4fps with AF)
Connectivity: Bluetooth, Wi-Fi, NFC
Size: 116.3 x 88.1 x 58.7mm
Weight: 390g (with battery and memory card)
With the EOS M50, Canon is aiming for DSLR quality in a compact body, and since it uses the same sensor design as the company's APS-C DSLRs, there seems to be no reason that shouldn't happen.
The 24.1MP sensor boasts Canon's Dual Pixel CMOS AF on-sensor phase-detection AF, which offers between 99 and 143 AF points, depending on the lens fitted. This is more than the number of AF points on the more expensive EOS M5, so the EOS M50 is getting the benefit of some of Canon's latest camera technology, despite being a mid-price model.
The EOS M50 also gets a continuous shooting speed of 10fps, with focus locked to that of the first frame. This drops to 7.4fps with continuous autofocus, but that's still pretty good for a camera in this price bracket.
The inclusion of 4K video is a first for the Canon EOS M range, but although it's another poke in the eye for the more expensive EOS M5, there are some limitations.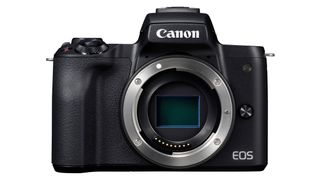 One is that Canon's Dual Pixel CMOS AF feature is not available in this mode and the camera reverts instead to slower contrast-detect autofocus. This is a bit of a surprise, and while there's undoubtedly some technical reason for this, it does seem to undermine the whole point of Canon's on-sensor phase-detection technology.
There's also a 1.6x crop factor, so that when you switch to 4K video the angle of view of your lens narrows considerably. It's not a major issue, but it can mean you have to step back and reframe when you thought you were in the right place. If you enable the camera's digital image stabilisation mode, the angle of view narrows just a little bit further again.
You can shoot video in Full HD quality instead, where these limitations don't exist, and this offers frame rates up to 120fps for slow-motion effects.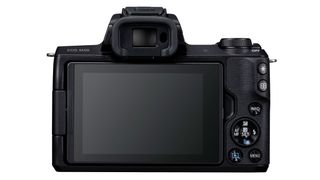 The EOS M50's electronic viewfinder, which is based around an OLED panel with a resolution of 2,360k dots, is one of the camera's key selling points, and this is joined by a fully-articulating 3in touchscreen display with a resolution of 1,040k dots. It's not the highest resolution we've seen, but more than adequate. You can tap to set the focus point or touch-drag to move this point around the frame, even while you've got your eye to the viewfinder.
Canon has also introduced a new 14-bit CR3 Raw file format for best quality, and a new C-RAW alternative that, it claims, offers 30-40% saving in file size over regular Raw files. This will let you get more Raw files on your memory cards, but storage isn't very expensive these days so this seems a modest advantage at best.
You also get wireless communication via NFC, Wi-Fi and Bluetooth. Bluetooth enables automatic image transfer to a smart device, but the camera will still need to switch to Wi-Fi for full resolution image transfer and camera remote control. On Apple devices, that will mean manually selecting and authorising the camera's Wi-Fi network each time you need it.
The EOS M50 will normally be sold with Canon's retracting EF-M 15-45mm f/3.5-6.3 IS STM kit lens. Apart from that, there are just six other lenses in Canon's EF-M lens range and all relatively low-spec, consumer-orientated lenses, the kind that are unlikely to tempt serious enthusiasts. There are, however, third-party options from Tamron, Samyang and Lensbaby on top of this, and you can also fit regular Canon EF lenses via Canon's optional EF-EOS M Mount Adapter.