The Canon EOS M50 marked a shift in Canon's approach to its mirrorless EOS M cameras, finally offering just about all the features we'd look for in a price that is pretty reasonable.
Update: The Canon EOS M50 Mark II is now out, and while the original EOS M50 is still available in some territories, it can now be considered to be officially superseded. The Mark II version doesn't actually add a lot except clean HDMI output, vertical video support and eye AF, but it's not much more expensive either, so it's basically a refresh of the original model rather than a big step forward.
The launch of the new full frame mirrorless Canon EOS R and EOS RP cameras has stolen some of the limelight from Canon's EOS M range, but with the release of the EOS M6 Mark II, and it's clear that Canon hasn't forgotten about it.
The EOS M50 remains just about the most accessible and useful EOS M camera for relative newcomers to photography, whether you're looking for the best mirrorless camera to learn photography with, or the best camera for beginners.
It's probably fair to say that these EOS M cameras haven't exactly taken the world by storm, but the EOS M50 could change all that, and for three reasons. First, it has an electronic viewfinder. It's only the second EOS M model to have a built-in EVF – the first was the much more expensive EOS M5 – and although smartphone users might not miss having a viewfinder, keen photographers and enthusiasts certainly will.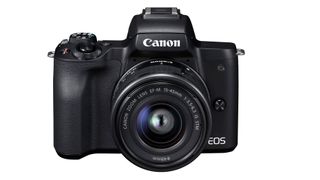 Second, the EOS M50 can shoot 4K video. It was the first EOS M model to offer this feature (followed by the newer EOS M6 Mark II), and this puts it one step ahead of the now-dated EOS M5. It also has a DIGIC 8 processor, rather than the older DIGIC 7 processor in the EOS M5. This kind of technical leap-frogging does happen from time to time as mid-range models overtake top-end cameras in key specifications.
Read more: The 10 best mirrorless cameras right now
However, in terms of physical specifications, the M50 definitely cuts a few corners, as its simplified exterior has just a single control dial. If you can live with that, though, you're laughing all the way to the bank, because the EOS M50 gives you a lot more for your money. Even now, it looks good value up against newer rivals like the Nikon Z50 or Fujifilm X-T200.
Specifications
Sensor: 24.1MP APS-C CMOS, 22.3 x 14.9mm
Image processor: DIGIC 8
AF points: 143/99-point Dual Pixel CMOS AF
ISO range: 100 to 25,600
Max image size: 6,000 x 4,000
Metering zones: 384 zones
Video: 4K UHD at 25/24p
Viewfinder: OLED EVF, 2,360k dots
Memory card: 1x SD/SDHC/SDXC (UHS-I)
LCD: 3in vari-angle touchscreen, 1,040k dots
Max burst: 10fps (7.4fps with AF)
Connectivity: Bluetooth, Wi-Fi, NFC
Size: 116.3 x 88.1 x 58.7mm
Weight: 390g (with battery and memory card)
Key features
With the EOS M50, Canon is aiming for DSLR quality in a compact body, and since it uses the same sensor design as the company's APS-C DSLRs, there seems to be no reason that shouldn't happen.
The 24.1MP sensor boasts Canon's Dual Pixel CMOS AF on-sensor phase-detection AF, which offers between 99 and 143 AF points, depending on the lens fitted. This is more than the number of AF points on the more expensive EOS M5, so the EOS M50 is getting the benefit of some of Canon's latest camera technology, despite being a mid-price model.
The EOS M50 also gets a continuous shooting speed of 10fps, with focus locked to that of the first frame. This drops to 7.4fps with continuous autofocus, but that's still pretty good for a camera in this price bracket.
The inclusion of 4K video is a first for the Canon EOS M range, but although it's another poke in the eye for the more expensive EOS M5, there are some limitations.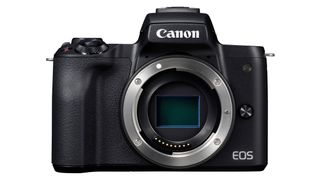 One is that Canon's Dual Pixel CMOS AF feature is not available in this mode and the camera reverts instead to slower contrast-detect autofocus. This is a bit of a surprise, and while there's undoubtedly some technical reason for this, it does seem to undermine the whole point of Canon's on-sensor phase-detection technology.
There's also a 1.6x crop factor, so that when you switch to 4K video the angle of view of your lens narrows considerably. This mean you may have to step back to reframe a scene when you thought you were already in the right place. If you enable the camera's digital image stabilisation mode, the angle of view narrows just a little bit further again.
You can shoot video in Full HD quality instead, where these limitations don't exist, and this offers frame rates up to 120fps for slow-motion effects.
Unlike Olympus and Panasonic mirrorless cameras, the EOS M50 does not have in-body stabilization, but then neither do any of its APS-C rivals, unless go up a price bracket.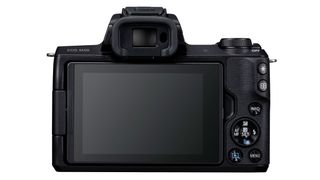 The EOS M50's electronic viewfinder, which is based around an OLED panel with a resolution of 2,360k dots, is one of the camera's key selling points, and this is joined by a fully-articulating 3in touchscreen display with a resolution of 1,040k dots. It's not the highest resolution we've seen, but more than adequate. You can tap to set the focus point or touch-drag to move this point around the frame, even while you've got your eye to the viewfinder.
The EOS M50 is normally sold with Canon's retracting EF-M 15-45mm f/3.5-6.3 IS STM kit lens. Apart from that, there are just six other lenses in Canon's EF-M lens range and all relatively low-spec, consumer-orientated lenses, the kind that are unlikely to tempt serious enthusiasts. There are, however, third-party options from Tamron, Samyang and Lensbaby on top of this, and you can also fit regular Canon EF lenses via Canon's optional EF-EOS M Mount Adapter.
Build and handling
The EOS M50 looks and feels very much like a miniature DSLR, right down to the viewfinder housing on the top where a DSLR pentaprism would be. There's a grip on the front for a secure one-handed hold, though you do have to crook your index finger slightly to rest it on the shutter-release button and the surrounding control dial. A camera this small is bound to feel a little cramped here and there, and Canon has done well to keep the controls reasonable well spaced and accessible.
The top plate is pretty sparse, a reminder that this is a more beginner-orientated model. The main mode dial is quite small and there's no exposure compensation dial, but neither of those is likely to matter very much for this camera's intended audience. It's aimed at first-time mirrorless camera users rather than experts and is still a good step up from the super-cheap Canon EOS M200.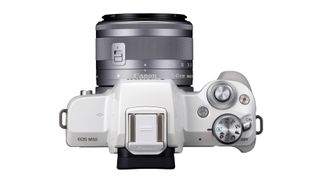 Round the back there's a small four-way controller with a central Q/SET button. Canon hasn't included a rotating control dial here, as it has on models like the EOS M5, which is a relief because these are usually tricky to spin without accidentally pressing them at the same time.
The four-way buttons are used for menu and settings navigation, but they double up as shortcuts to the auto/manual focus setting, EV compensation, flash mode and delete functions. The 'down' button, which is used for the latter function when in playback mode, has no function while shooting at default settings, but you can program this to access a feature such as drive mode or Auto Lighting Optimizer if you wish.
If you press the central Q/SET button you'll see common camera settings arranged as icons on the left and right sides of the screen with settings for each display horizontally along the bottom. This display is superimposed on the scene you're photographing, so you can make changes while still watching your subject, either using the navigational buttons or by tapping the screen.
The EOS M50's touchscreen interface works very well indeed. It responds instantly to the lightest touch and the icons are large enough that you don't need pinpoint accuracy when tapping. You can tap anywhere on the screen to set the focus point in an instant, or drag it around the screen with a fingertip. This works especially well when you're looking through the viewfinder, as you can use your right thumb to drag the focus point around without even shifting your grip.
Vari-angle screen mechanisms can sometimes feel a little flimsy, but not this one. The EOS M50's rear screen has a firm pivoting action with little play, and it can also be folded back in reverse so that it's protected by the camera body.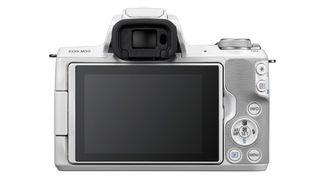 Opinions here are divided about the available colour schemes. To some, the EOS M50 looks very attractive in white, and the finish has a smooth and glossy high-quality feel. Others think it's pretty dreadful and that the black version is the one to go for.
Whichever camera colour you choose, the aforementioned 15-45mm kit lens comes in a semi-matt, mid-grey colour. Its retracting design makes it much smaller than the kit lenses on Canon's DSLR cameras, and goes well with the EOS M50's compact body. This is a camera and lens combination you could comfortably fit in an everyday bag where a DSLR would be too big.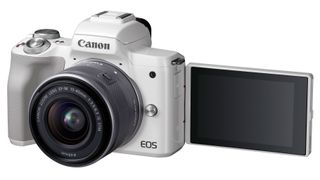 Having to manually release the lens for shooting, however, does become a rather annoying chore. It's achieved with a spring-loaded catch on the lens barrel that's almost flush with its surroundings, so it's not always easy to operate in a hurry. It is nice to have a manual zoom action once the lens is extended, but, on balance, we'd probably prefer an electrical power zoom lens such as the Olympus M.ZUIKO DIGITAL ED 14-42 mm 1:3.5-5.6 EZ 'pancake' zoom, or Sony E 16-50mm f/3.5-5.6 PZ OSS. Both are a little smaller than Canon's option too.
Overall, the EOS M50 is fast, responsive and very satisfying to use. The lens's manual retraction is something of a pain, however, and its finish is at odds with the rest of the camera.
Performance
The EOS M50's Dual Pixel CMOS AF system is so fast in most situations that it feels almost instant – and the kit lens probably deserves some credit for this. Canon's STM (stepping motor) lenses offer fast, silent autofocus that's perfect for both stills and video.
The video performance is more mixed, however. When shooting videos in 4K quality, the camera reverts to regular contrast-detect autofocus, so while it will refocus if your subject moves or if you change your framing, it takes a couple of seconds to do it.
In fact, it's best to keep any camera movement to a minimum, as the EOS M50 also suffers from a noticeable rolling-shutter effect, where vertical lines become slanted if the camera is moved quickly.
This changes when you swap to Full HD video mode. The resolution is lower, but you don't get the heavy crop factor of the 4K mode and the autofocus reverts to Dual Pixel CMOS AF operation, so the camera refocuses much more quickly. There is still a rolling-shutter effect if the camera is moved quickly, but it's not as severe.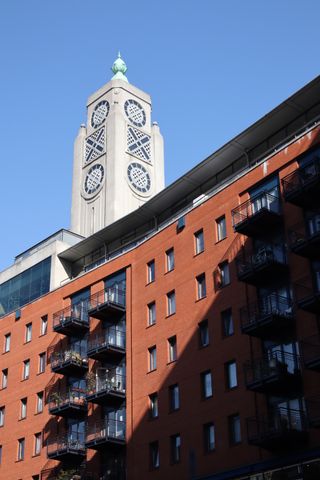 The EOS M50's still image quality is very good. It's not the best in this market, but it holds its own with the rest. Interestingly, although it should theoretically have an advantage in quality over its Micro Four Thirds rivals like the Olympus OM-D E-M10 Mark III and Panasonic GX9, in our lab tests it lagged a little behind both of these for dynamic range and noise.
Read more: Olympus OM-D E-M10 Mark III review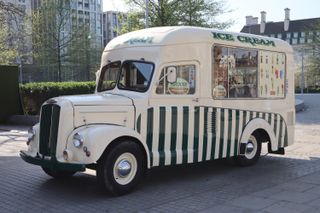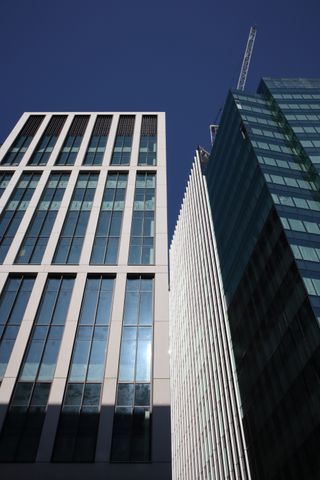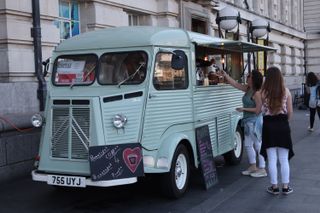 The 15-45mm kit lens does deliver very good all-round results. We're used to inexpensive kit lenses being distinctly second-rate, and the retracting mechanism in this one makes it all the more likely that the optical design might be compromised. However, it's actually very good, delivering edge-to-edge sharpness. If you enable the in-camera corrections you'll also get distortion-free JPEGs, though still with a degree of colour fringing around high-contrast outlines. If you shoot Raw files, your Raw converter will usually be able to make these optical corrections too.
The only thing we did notice is that it seemed to lose some sharpness with close-up subjects shot at full zoom – which is what you need to do in order to get the maximum magnification.
Lab tests
We tested the EOS M50's performance against three key rivals – the Olympus OM-D E-M10 Mark III, Panasonic Lumix GX9 and Sony A6000.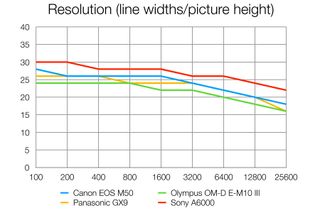 Resolution
The Sony A6000 is the camera to beat in the resolution test, producing the highest figure of all, though the EOS M50 is not far behind. Predictably, the 20MP Panasonic GX9 and 16MP Olympus E-M10 III can't quite match their figures.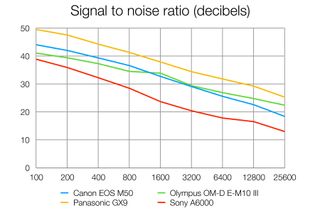 Signal-to-noise ratio
We expected the Canon to win here, but it's beaten by the Panasonic Lumix GX9 and matched by the Olympus OM-D E-M10 III. The sensor in the Sony A6000 is showing its age, with the Sony coming last here.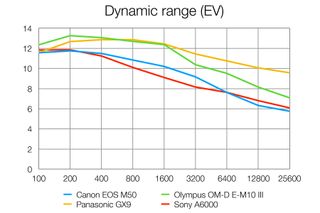 Dynamic range
Surprisingly, both Micro Four Thirds models beat both APS-C cameras in our comparison. The EOS M50's dynamic range isn't bad, but it's not as good as some cameras in this price bracket.
Verdict
At times, it's been hard to see where Canon has been heading with its mirrorless EOS M series. The entry-level Canon EOS M200 is so basic as to be a bit off-putting and the only other option so far with a viewfinder – the EOS M5 – is really rather expensive, doesn't shoot 4K and is and no longer widely available. The alternative is the new EOS M6 Mark II, which does not have a viewfinder built in but can have one clipped on to its accessory shoe – and many resellers are bundling one as standard.
The EOS M50 is different. It comes with a viewfinder built in and the key point is that it's at an affordable mid-range price. It still doesn't feel like a breakthrough camera compared to other mirrorless options, but it does at least feel as if Canon has caught up.
In fact, on the features-to-price front, it's sneaked ahead. Where else will you get a 24MP APS-C mirrorless camera with a viewfinder at this price? The EOS M50 has some strong Micro Four Thirds rivals, but the only other APS-C candidate in this price range is the Sony A6000, and that's a four-year old camera aimed at a very different kind of user. Food for thought.
Read more:
• The best EF-M lenses for your EOS M50
• We pick the best cameras for beginners
• These are the best Canon cameras to buy