The Nikon Z9 has arrived famously late to the pro mirrorless party. However, Nikon maintains that what some might see as tardiness enabled it to really take advantage of the benefits that a mirrorless design – and specifically the Z-mount, with the largest throat diameter and shortest flange distance of any full-frame system – is capable of.
And indeed, the wait has been worth it: the Nikon Z9 boasts features some truly ferocious specifications – some of which blow away those of both the Sony A1 and Canon EOS R3 (as does the price tag). However, both of these rivals have a notable head start on the Z9 – in the case of the A1, it's a full year. So has Nikon done enough to deliver the best professional camera despite the handicap?
From seemingly unlimited 8K 30p recording to an astonishing 120fps maximum burst rate, it's hard to argue that the Nikon Z9 isn't the most capable all-round hybrid camera on the market.
And it handily outperforms both the Nikon D6 (which it replaces as the manufacturer's new flagship camera) and the Canon EOS-1D X Mark III. So between this and the R3, it does rather feel that the best DSLRs' time is up as the premier tool of professionals.
So, how does the new Nikon flagship stack up against its rivals?
• Read more: Canon EOS R3 vs Nikon Z9
Nikon Z9: Specifications
Sensor: 45.7MP back-side illuminated stacked sensor
Image Processor: Expeed 7
AF Points: 493 hybrid phase/contrast detect AF points
ISO range: 64 to 25,600 (exp. 32 to 102,400)
Stabilization: 5-axis, 5.5 stops (up to 6 stops with specific lenses)
Max shutter speed: 1/32,000 sec
Video: 8K up to 60p (via upcoming firmware), 4K up to 120p • 8- or 10-bit H.265, 10-bit Apple ProRes 4:2:2 HQ (firmware), 12-bit in-camera ProRes RAW HQ (firmware)
Viewfinder: Super-bright OLED, 3.69m dots, 100% coverage
Memory cards: 2x CFexpress Type B
LCD: 3-inch bi-directional tilting touchscreen, 1.04m dots
Max burst: 20fps RAW, 30fps hi-res JPEG, 120fps lo-res JPEG
Connectivity: Wi-Fi, Bluetooth, Ethernet, USB-C, headphone jack, mic jack
Dimensions: 149 x 149.5 x 90.5mm
Weight: 1,340g with battery and memory card (1,160g body only)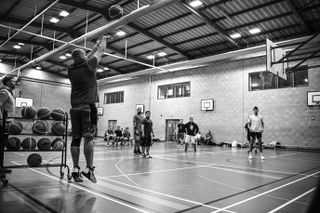 Nikon Z9: Key features
Let's start with a couple of the camera's headline specs: the 120fps continuous shooting speed and 1/32,000 sec max shutter speed. These are possible because the Z9 does away with the conventional mechanical shutter altogether, replacing it with an all-electronic shutter.
This is not a new development, as the Sigma fp and Sigma fp L also eschewed a mechanical shutter – and all mirrorless cameras can shoot electronically (and, thus, silently). However, the stacked nature of the sensor – which sandwiches electronics into layers in order to deliver unheralded readout speeds – means that the rolling shutter phenomenon is virtually eliminated when shooting stills and standard 4K.
There are caveats, of course; the Sony A1 possess a higher resolution 50.1MP sensor, and the Canon EOS R3 shoots twice as fast at 1/64,000 sec. And as impressive as the 120fps burst sounds (literally – the simulated shutter noise has to be heard to be believed!) it is limited to 11MP images, though these are full-readout and uncropped.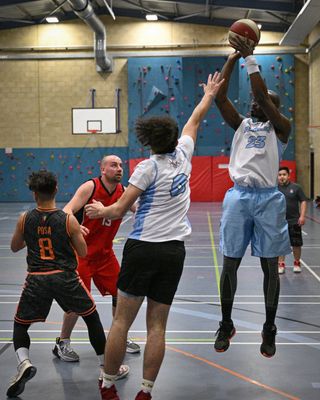 The Z9 can shoot 30fps bursts, but only for JPGs; for RAW shooting, the camera is limited to "just" 20fps – which is still enormously impressive, but the A1 and R3 can both capture RAWs at 30fps (though the Sony only in lossy format). For reference, the more affordable Canon EOS R5 (and even more affordable Canon EOS R6) can shoot RAWs at 20fps. However, the A1 and R5 are limited to 8K video at 30p – and are both subject to fairly austere recording limits.
(It should be noted that Nikon told us the Z9's peak performance would be achieved by using a Delkin Devices Black CFexpress Type B card, which is what we shot with for this review.)
The Nikon Z9, by comparison, can shoot at an astounding maximum resolution of 8K 60p. Admittedly we don't yet know how long it can sustain recording at that resolution – and 60p will only be available via a firmware update coming "in 2022". However, we never once were able to make the camera overheat when shooting 4K 120p or 8K 30p, even at well over 2½ hours.
It can also capture 4K up to 120fps, with 24-bit PCM audio, in a variety of codecs: 8- or 10-bit H.265, 10-bit Apple ProRes 4:2:2 HQ or 12-bit in-camera ProRes RAW HQ (the latter two, again, via the 2022 firmware).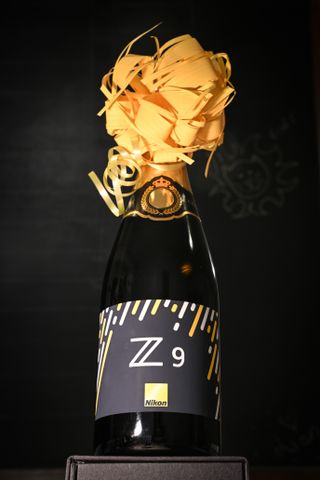 As you would expect, the electronic viewfinder offers blackout-free shooting thanks to a dedicated readout from the sensor for an uninterrupted view of the action. In conjunction with the radically redesigned autofocus system, this means you should never miss a shot.
The new system is powered by Deep Learning AF, which makes the camera capable of nine kinds of simultaneous subject recognition: human eyes, faces, heads and upper-bodies; animal eyes, heads and bodies; and cars, planes, trains and motorbikes. While it has the same 493 AF points as the Nikon Z7 II, it has 5 times more auto-area AF points (to the tune of 405) – though this does pale next to the 4,779 AF points offered by the Canon EOS R3.
The back-side illuminated nature of the new image sensor, which places the electronics behind the photosites, results in superior low light performance – and combined with the native ISO64-25,600 sensitivity (expandable to ISO32-102,400), the Z9 is a formidable low light performer. Though again, at the risk of being a broken record, the R3 offers a native ISO100-102,400 sensitivity (expandable to ISO50-204,800).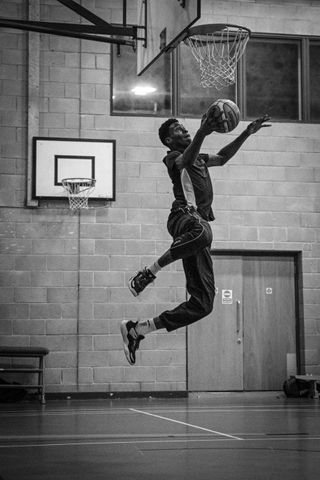 Nikon Z9: Build and handling
When it comes to styling, the Nikon Z9 looks very much like it's cut from the same cloth as the Nikon D6 and its predecessors. It's 20% smaller and 10% lighter than the D6 at 1,340g – though it's significantly heavier than both the A1 (737g) and R3 (1,1015g). It has the deep grip that pro DSLR users are used to, which extends around the bottom of the camera for comfortable shooting both horizontally and vertically, and with a duplicated shutter and other essential controls.
Other notable controls include a release mode dial, like on professional DSLRs, as well as a dedicated AF Mode button, rather than using up one of the Fn buttons, as was the case on the Nikon Z7. Talking of which, there are no less than four customizable Fn buttons, and 11 key buttons light up for low-light shooting (though this can be turned off). The i menu and ISO buttons can be easily accessed when shooting vertically.
The rear LCD has dual-axis tilt that can be tilted 90° horizontally or vertically, so high and low-angle shooting are equally achievable while shooting both horizontally and vertically – useful for shooting vertical content designed to be viewed on phones or billboards. In addition the info display now rotates when you hold the camera vertically, so you can easily read all the on-screen information.
That said, we're not really a fan of the curious and fiddly screen design. While we wouldn't call it flimsy, it certainly doesn't feel very robust – and it's definitely not quick or clean to flip it out for vertical shooting. We would much rather have had a fully articulating screen – something that videographers, who would otherwise be wowed by the Z9's incredible video specs, will be hugely disappointed by. The LCD is also just under half the resolution of the Canon EOS R3's 4.1 million-dot screen.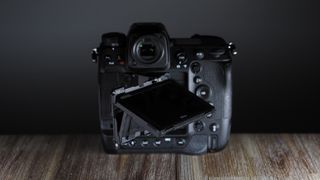 While the viewfinder is the world's brightest, at 3000-nits, it has the same 3.69 million-dot display as the Z 7/6 series – markedly below the 9.44 million of the Sony A1 and 5.76 million of the R3. The refresh rate feels comparatively slower, too, which can lead to a little brainache when shooting fast action.
The camera is built around a sturdy magnesium alloy chassis and is fully weather sealed to withstand extreme temperatures, humidity and dust, and it can be operated in temperatures down to -10ºC. Nikon says it's more rugged than the D6.
No mechanical shutter means no moving parts to go wrong (and no need to worry about increasing the shutter count as the camera is used). But while there's no physical shutter, there is a built-in blind that comes down when the camera is turned off to cover the sensor when changing lenses, protecting it from the ingress of dust.
There are a pair of CFexpress Type B (or XQD) card slots, and the camera comes with built-in ethernet, for fast transfer of images directly to an FTP server. And when there's no wired connection available, the camera boasts in-camera Wi-Fi FTP (with no need for separate transmitter), as well as 5G smartphone connectivity via USB-C. All connection options can now be controlled from a single menu tab.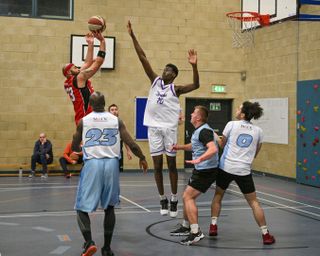 Nikon Z9: Performance
There's no doubt about it – the Z9 is a beast to shoot with, in every possible respect. First and foremost in terms of its size and heft; after using the Sony A1 and Canon EOS R3, this really does feel like a huge step back in terms of the mirrorless dream. Does a pro camera really need to be this heavy, still? It can be helpful when shooting with larger lenses, for sure, but it nonetheless feels needlessly weighty.
Still, the camera's performance is beastly in all the right ways. The Z9 fires off files of impeccable image quality like a finely crafted machine gun. Actually, that's an understatement; essentially you're getting Z7 II-caliber images rattled off at the rate of a Gatling gun.
Some may lament the loss of medium- or low-resolution RAW files, but the new 14-bit RAW formats (including high-efficiency star and high efficiency, which clock in at 1/2 and 1/3 the size of lossless compressed RAWs respectively) enable the camera to perform its rapid-fire frame-rates without clogging the buffer or overfilling your memory cards.
The Z9 won't drain your battery nearly as fast as its rivals, either. We shot over 7,000 frames and a boatload of 8K 30p video during an intense session, and the battery only just dipped below 75% when we turned it off. Its stamina is unreal.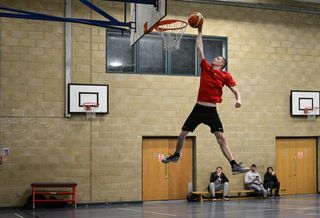 The same can't quite be said for the autofocus. The Z9 has Nikon's most advanced AF system, eclipsing even the D6. Its 493 AF points mean that subject tracking is available across the entire frame and there are no less than 10 AF Area modes, along with 405 Auto Area AF points (five times more than on the Z7), with Deep Learning AF enabling the camera to detect and track up to nine distinct subjects.
The camera's people detection system can switch between eyes, face and the upper body (a new feature for Z cameras), depending on subject distance, while the animal detection algorithms can track the usual cats, dogs and birds plus many other creatures, again detecting whole bodies, heads or eyes.
However, while the camera is truly extraordinary at shooting single subjects, it can struggle when there are multiple people in the frame. While 3D tracking is generally honest, it lacks the Canon EOS R3's ability to reliably stick to a subject's head when the face and eyes are no longer visible; while capturing a basketball player performing a 360° dunk, for example, it decided to shift focus from the athlete and instead went to the eyes of a spectator, sat on a bench in the distance.
The issue is exacerbated in video mode, too. While the camera performed overall well when shooting stills, recording video revealed a lot more inconsistency in the Z9's ability to stick to individual subjects, especially when other people cross in front – and a lack of "instinct" for where it should be focusing, or where the primary point of action is, when it loses track. Admittedly basketball is an incredibly frenetic sport in this sense, but we'd hate to think how challenging this would be in a sport where helmets are being worn.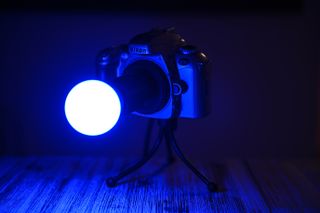 Still, it's a night and day difference to the contrast detect-based AF of the D6. And, to the previous point about the spectator on the bench, the Nikon Z9 is unbelievably good at detecting a subject's eyes even when they are tiny in the frame. Whether it's a player quickly bringing the ball upcourt or a model pacing gracefully in the distance, the AF is uncannily good at recognizing human eyes.
We also had concerns about the electronic-only shutter struggling in artificial lighting conditions. However, flicker and banding were never an issue – though in our experience we would recommend turning the flicker control mode off, as all it does is delay your exposures and regular shooting performs just fine.
Other than the AF challenges, with regard to video the Nikon Z9 is as good as it gets. Its oversampled 4K (from the full 8K readout) blows the Sony A1 out of the water, and the internal 10-bit capture offers pristine quality no matter what resolution you're shooting in.
The internal N-Log offers a great starter point for grading, and there's a lot of latitude in the footage in general. We couldn't have been happier with the 4K performance at 24, 30, 60 and 120p, and the 8K 30p quality is crystal clear. However, while rolling shutter is all but a non-issue at standard 4K resolutions, when shooting at 8K or oversampled 4K the readout speed becomes more sluggish and the Jell-O effect more pronounced.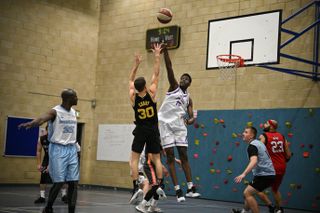 We did our best to torture the video recording limits, but were flatly unable to make the camera overheat. We shot reams of 4K 120p and 8K 30p at the most demanding bitrates, including a single session of well over 2½ hours, and the Z9 didn't even blink. It will be interesting to see if this remains the case when 8K 60p is introduced – which itself is something of a bugbear.
The fact that the Z9's headline video specs – 8K 60p, and ProRes Raw – aren't available on release is unforgivable. If a camera isn't ready, it shouldn't be released in an incomplete state – we are treading perilously close to the trend seen in the videogames industry, where unfinished titles are released at full price and require a patch (the equivalent of a firmware update) in order to function as advertised. And that's assuming that a given consumer has the knowledge or ability to install firmware in the first place. If it's on the spec sheet, it should be ready on day one.
The omission of an articulated screen is, obviously, a bugbear for videography – and not just for "vain vloggers". The quirky contorting screen on the Z9 is serviceable, but seems a baffling limitation for a camera with such astounding video capabilities.
Nikon Z9: Video samples
Watch video: Nikon Z9 sample footage
The above video was captured on the Nikon Z9 with the Nikkor Z 28-75mm f/2.8 lens. It represents samples of 4K 60p and 4K 120p footage, captured handheld with the camera's internal microphones.
Nikon Z9: Lab tests
For our lab data comparison, we compared the Z 9 to two of its pro-level, full-frame mirrorless rivals: the Canon EOS R3 and Sony a1. We also thought it would be interesting to see how Nikon's first pro-spec mirrorless offering compares to its current flagship DSLR: the Nikon D6.
We test resolution using Imatest charts and software, and dynamic range and signal to noise ratio with DxO Analyzer.
Resolution: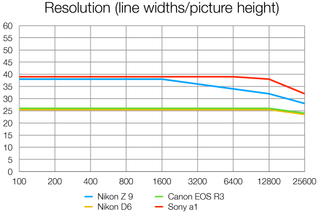 Resolution is measured using standardized text charts which give results in line widths / picture height, which is independent of sensor size.
With 45.7 megapixels on tap, the Nikon Z9 can resolve significantly more detail than its chief rival, the Canon EOS R3, as well as its Nikon DSLR stablemate, the D6. However, the slightly higher 50.1MP sensor in the Sony A1 comes out on top in this test, especially at high sensitivities.
Dynamic range: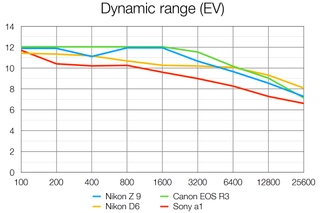 Dynamic range is a measure of a camera's ability to record extreme brightness ranges and still retain detail in the brightest and darkest parts of the scene. It's measured in EV (exposure values, or 'stops').
The Z9 is able to capture excellent dynamic range, equalling the EOS R3 at lower sensitivities, though the Canon is capable of slightly broader dynamic range at ISO3200 and above. The new Nikon is also clearly superior to the D6 in this test, at least at sensitivities below ISO6400.
Signal to noise ratio: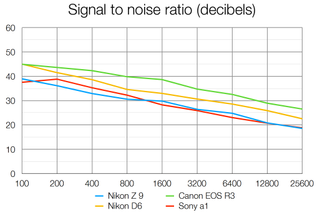 This test compares the amount of random noise generated by the camera at different ISO settings as a proportion of the actual image information (the 'signal'). Higher values are better and we expect to see the signal to ratio fall as the ISO is increased.
You can't always have it all, and with a higher megapixel count comes smaller individual sensor photosites, which in turn has the potential to increase levels of image noise. Consequently, the pixel-packed Z9 and Sony A1 produce very similar noise levels, while the 24.1MP EOS R3 is able to generate significantly cleaner image quality right across our tested sensitivity range.
Nikon Z9: Verdict
The Nikon Z9 is the most capable all-round professional camera we've ever used. Its 45.7MP stills resolution puts it on an effective par with the Sony A1, and its 8K 30p seems able to record as long as you want it to – a far cry from its rivals.
It falls short in its ability to record full-fat RAW files at market-standard speeds, and at first glance the blistering 120fps bursts being only 11MP seems limiting. However, when considered in the context of who this camera is actually intended for, this is absolutely appropriate and, indeed, preferable. Trust us; after coming home with 132GB of data after shooting a basketball game, the prospect of manageable file sizes is what pros actually want.
The autofocus has a tough road to hoe, next to the stellar performance of the A1 and Canon EOS R3, and it does occasionally struggle to maintain tracking with erratic human subjects. However, getting a silver badge in this category is the equivalent of a platinum star compared to DSLR tech of old.
As a professional hybrid body, the Z9 is unmatched – and the scales will only tip further in its favor when the firmware delivers the promised 8K 60p and ProRes RAW. In terms of both power and price, the Z9 is the obvious choice for pros.
Read more:
Best Nikon cameras
Best Nikon Z lenses
Nikon Z7 II review
Nikon Z7 review
Canon EOS R3 review
Canon EOS R5 review
Canon EOS R6 review
Sony A1 review
Sony A9 II review