Pixel shift / multi-shot is one of the most sophisticated weapons in the megapixel arms race. What is pixel shift? In short, it drastically increases the native resolution of your camera by anywhere from fourfold to tenfold.
By leveraging the in-body image stabilization (IBIS) systems of modern cameras, pixel shift literally shifts the image sensor multiple times per second to capture more pixels. It then merges these separate frames into a single image – resulting in a much higher resolution image than the camera could take with its native sensor alone.
• The highest resolution cameras deliver archive-standard pixel density
While Canon has made headlines with its astonishing 400MP pixel shift mode on the Canon EOS R5, the technology isn't at all new – in fact, it's a decade old. OM System pioneered the practice in 2013 with it then-flagship, the Olympus OM-D E-M1 Mark II, as the Micro Four Thirds specialist looked for new ways to take part in the megapixel war that was raging at the time.
These days, megapixel counts don't equate to bragging rights in quite the same way. However, as more and more cameras feature IBIS, what was once a boutique technology used by smaller manufacturers is becoming a serious selling point for the big boys. Indeed, Nikon is currently the only major manufacturer not to employ pixel shift tech in any of its cameras.
What is pixel shift and how does it work?
In-body image stabilization systems essentially float a camera's image sensor in a magnetic field. This protective field cushions the sensor from camera shake and other external movements, so that it stays perfectly steady even when the camera is moving.
Pixel shift takes this technology and turns it on its head; instead of keeping the sensor still while the camera moves, it keeps the camera still while the sensor moves!
When you depress the shutter, instead of taking a single frame, pixel shift mode takes between 8 and 16 frames in the space of about a second or so, shifting the sensor by 1 pixel each time – so your camera effectively captures 4 times as many pixels as it would normally do.
Those individual frames are then processed and stacked into a single shot with quadruple the resolution (except for the Canon EOS R5, where the resolution is almost tenfold thanks to a new spin on the technology). There is, however, an obvious drawback to this.
Since the sensor is moving, and given that it takes around a second or two for the process to complete, if the subject you're photographing isn't perfectly still, any movement will register as ghosting in the finished composite image.
While some cameras enable you to perform pixel shift while shooting handheld (as the IBIS can compensate for some movement), the technique is only practical for stationary subjects like still life, landscape, architecture and so on.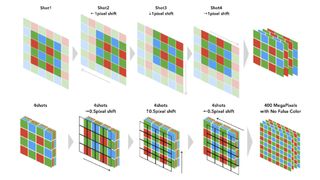 Which cameras have pixel shift?
As noted, every major manufacturer except Nikon has cameras that feature pixel shift – though most of them have their own proprietary name for the technology.
It should also be pointed out that pixel shift isn't always employed to shoot images with increased resolution. Some manufacturers, namely Pentax, have historically employed the technology to provide superior color rendition and pixel quality, rather than density.
We've listed the cameras below that boast pixel shift, as well as the name by which it's referred by the respective brands.
Canon
Canon was the last to the party when it came to in-body image stabilization, but managed to do something with the technology that nobody else has been able to. Not only does Canon's IBIS offer up to 8 stops of compensation, it also delivers a near tenfold resolution increase rather than the fourfold boost that is the ceiling for other manufacturers. It calls this technology IBIS High Resolution.
Canon EOS R5 (45MP > 400MP)
Fujifilm
Fujifilm calls the tech Pixel Shift Multi Shot. While it debuted in the GFX series of medium format cameras, it has since rolled out the feature in its high-resolution APS-C bodies as well.
Fujifilm GFX 100S (102MP > 400MP)
Fujifilm GFX 100 (102MP > 400MP)
Fujifilm GFX 50S II (51MP > 200MP)
Fujifilm X-H2 (40MP > 160MP)
Fujifilm X-T5 (40MP > 160MP)
Hasselblad
The first medium format manufacturer to make use of pixel shift, Hasselblad calls it Multi-Shot – the "MS" in the name of many such cameras it has produced.
Hasselblad H6D-400C MS (100MP > 400MP)
Hasselblad H5D-200C MS (50MP > 200MP)
Hasselblad H5D-50C MS (50MP)
Hasselblad H4D-200MS (50MP > 200MP)
Hasselblad H3D II-50 (50MP)
Hasselblad H3D II-39 (39MP)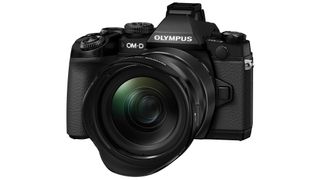 OM System / Olympus
Called High Res Mode or High Res Shot by OM System, pixel shift has long been a staple of the brand's mid-tier and professional camera models.
OM System OM-1 (20.4MP > 80MP)
OM System OM-5 (20.4MP > 80MP)
Olympus OM-D E-M1X (20.4MP > 80MP)
Olympus OM-D E-M1 Mark III (20.4MP > 80MP)
Olympus OM-D E-M1 Mark II (20.4MP > 80MP)
Olympus OM-D E-M5 Mark III (20.4MP > 80MP)
Olympus OM-D E-M5 Mark II (16MP > 64MP)
Olympus PEN-F (20.4MP > 80MP)
Panasonic
Panasonic refers to its pixel shift feature as High Resolution Mode. After debuting in the Micro Four Thirds G9 camera, it has since become a selling point for the full frame S-series bodies.
Panasonic S1R (47.3MP > 187MP)
Panasonic S1 (24.2MP > 96MP)
Panasonic G9 (20.3MP > 80MP)
Pentax
Like OM System, Pentax is one of the OGs of the technology. Primarily using it to produce superior image quality, rather than ramped-up resolution, the brand's Pixel Shift Resolution System has been seen in many of its DSLRs.
Pentax K-1 Mark II (36.4MP > 47.3MP)
Pentax K-1 (36.4MP)
Pentax K-3 Mark III (25.7MP)
Pentax K-3 II (24.3MP)
Pentax K-70 (24.3MP)
Pentax KP (24.3MP)
Sony
It was only fitting that Sony debuted the tech, dubbing it Pixel Shift Multi Shooting, in its A7R line of resolution-focused cameras, though it has since become a headline feature of the flagship A1 as well.
Sony A7R V (61MP > 240MP)
Sony A7R IV (61MP > 240MP)
Sony A7R III (42.4MP)
Sony A1 (50.1MP > 200MP)

If you enjoyed this article, you might be interested in the image quality offered by the best medium format cameras. Check out our Hasselblad X2D 100C review for another camera with 100MP native resolution, or push the boat out with the Phase One IQ4 review and its enormous 150MP native resolution.