Want to treat the photographer in your life this Christmas? Even if it's just yourself – and there's certainly nothing wrong with getting yourself a new toy – it's not too late.
Here are 16 great gift ideas, from budget accessories that you can pop inside a stocking through to more substantial bits of kit. And, for the benefit of those with a strict budget in mind, we've segregated these into four separate price brackets.
Here's what we reckon you should look at this Christmas:
Need more inspiration? Here are 37 of the the best photography accessories
1. Lowepro Adventura TLZ 30 II Holster
A perfect home for a small DSLR or mirrorless kit
Fits: Small DSLR/mirrorless body and mounted lens
Ideal size for single-lens setup
Two side pockets for accessories
Not great if you have extra lenses
Only one colour option
This smart holster happily holds an entry-level DSLR or mirrorless camera with its kit lens attached, with a memory card pocket on the inside of the flap and two pockets around the side for other small items such as lens caps and cloths.
You can wear it on your shoulder or hook it through your belt, although the grab handle on its top lets you carry it around in the hand when it's more convenient to do so (and you can remove the shoulder strap when doing so).
For those with just a basic camera setup, what else could you need?
2. WD 1TB Elements Portable External Hard Drive
This tiny hard drive will happily hold tens of thousands of your shots
Capacities: 500GB, 1TB, 2TB, 3TB
Small size and light weight
USB 3.0 for fast data transfer
Uninspiring design
Mac users need to format drive first
Small enough to be taken anywhere but perfectly happy to just stay put, this affordable 1TB hard drive from storage specialists Western Digital is perfect for those whose libraries are starting to outgrow their computer hard drives.
The USB 3.0 port gives you speedy data transfer with the latest computers, but it's backward-compatible with USB 2.0 types too, and you don't even need a power supply – you just pop it in and drag and drop.
Mac user? Just reformat the drive before you use it and off you go. You can also grab it in a range of other capacities if you need more or less storage space.
3. Manfrotto NX Backpack
A refreshingly stylish design for the image-conscious photographer
Fits: DSLR and lens, two further lenses, laptop and accessories
Lots of space, plus a tripod strap
Great design
Certain colour options pricier than others
Possibly less suitable for full-frame setups
Photo backpacks aren't exactly known for their striking looks, with functionality often taking precedence over design, but the NX from Manfrotto goes against the grain with its unconventional, modern styling.
Despite this, is still manages to offer everything the photographer with a modest collection of kit might need. You get three separate zippered compartments and enough space to get a camera/lens combinations and two further lenses, with adjustable dividers to help you sort the space to your exact requirements.
There's also a dedicated compartment for a laptop measuring up to 15in and enough space for smaller accessories too, while a strap around the side even lets you hook a small tripod to the bag. Not bad for less than £50!
4. Gorillapod Hybrid Tripod
Lightweight, versatile support for mirrorless and DSLR cameras
Holds: DSLR and mirrorless camera kits with a maximum weight of 1kg
Included ballhead and bubble-level
Works with huge range of cameras
Legs might be too short at times
Not as tall as regular tripods
There are many situations in which you might need to support your camera in some way, and not all of them will suit a tripod. From Christmassy group shots and long exposures on the fly to general holidays and travelling, it's good to have a lightweight but effective support to hand for times when a conventional tripod simply isn't practical.
Step in the Gorillapod Hybrid, which weighs next to nothing and still holds up to 1kg of camera kit, with the included ballhead allowing you to get your framing spot on. You can use it like a conventional tripod if you want, but it's main advantage over other supports is that it can wrap around all sorts of things, from posts and railings to table legs and even smaller tree trunks!
5. Cokin Gradual ND Kit with Holder
These three filters and a holder will let budding photographers up their landscape game
Contains: Gradual ND2 filter (P121L); Gradual ND4 filter (P121M); Gradual ND8 filter (P121S); P-Series filter holder
Three useful filters and holder
Can be used together
Adaptor ring needed
No filter pouch included
Cokin is one of the most popular names in filters and this kit provides landscape photographers with three separate ND grad filter options to help balance exposures.
Each filter has been designed with a different opacity, and they can be used either on their own or in combination with one another. You just slip them into the provided holder and line them up with the details in your scene.
Bear in mind that to attach the holder to your lens you'll also need an adapter ring, something that's not provided as standard as the one you need depends on the lens you plan on using. These are very cheap, however, so don't let that put you off.
6. SanDisk Extreme PRO 64GB SDXC UHS-I Memory Card
Huge capacity, strong transfer speeds and RescuePRO Deluxe software thrown in too
Capacities: 32GB, 64GB, 128GB, 256GB, 512GB
Great speeds for images and video
Image recovery software
Not UHS-II
64GB may be overkill for some
Very much a memory card that will stay with you as your needs change, not only does this SDXC card boast a healthy 64GB capacity to match current high-resolution cameras, but it also offers fast transfer speeds, whether you're shooting bursts of images, reading data from your card or recording 4K/Full HD video.
On top of all that you get all the usual goodies from Sandisk's Extreme Pro range, such as protection against water, shock and X-rays, together with a free downloadable version of the company's RescuePRO Deluxe software to help you retrieve any images you delete accidentally.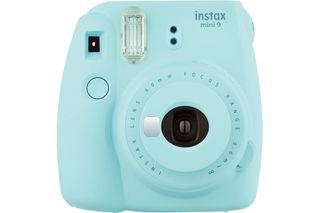 7. Fujifilm Instax Mini 9
Fujifilm's hugely popular instant camera comes in a variety of colourful finishes
Highlight specs: 62 x 46mm picture size, 60mm (35mm equivalent) lens, Real image finder with 0.37x magnification, 0.6m-∞ focusing range, 1/60sec shutter speed, 2 x AA batteries
Useful selfie mirror
Range of colour options
Ongoing costs
Limited creative control
In an age of smartphones, filter effects and constantly changing technologies, it somehow doesn't make sense that an instant camera like the Instax Mini 9 should be such as hit – but a hit it is.
Available in five colourful options, the Mini 9 has been designed with a mirror next to the lens to help you capture the perfect self portrait, and prints are spat out as soon as the image is taken (with just a brief wait until they are fully developed).
While you're somewhat limited in terms of control – an unchangeable 1/60sec shutter speed, for example, and flash firing for every frame – the Instax Mini 9 is hardly intended for technical masterpieces. It's all about fun and rewarding you with something a little different to the norm.