Want to treat the photographer in your life this Christmas? Or maybe yourself? Whether you're looking for a friend, family member, colleague or yourself, we've got you covered.
Here's a selection of great Christmas gift ideas for photographers, from budget camera accessories that you can pop inside a stocking through to more substantial bits of equipment.
Got a strict budget in mind? No problem. We've separated these photography Christmas gifts into four separate price brackets: under $50/£50, under $150/£150, under $300/£300 and under $500/£500.
Here's what we reckon you should look at this Christmas...
Under $50 / £50
Best gifts for photographers for £50 or under
1. KiiPix Smartphone Picture Printer
Print images from a smartphone onto Fujifilm Instax film
Easy way to print from phones
Compact and inexpensive
Fuji's Instax Mini film sold separately
Limited to credit card sized print
Got a camera phone photographer looking for an easy DIY route to make prints from their snaps? For a penny less than $40/£40, you'll be able to gift them this fun printer from manufacturer Tomy that transfers smartphone images onto Fuji's Instax film, the size of a credit card, as used in the latter's instant cameras. No batteries or wires are required, and the KiiPix comes in a choice of three colors. It's advisable to turn the phone's screen brightness all the way up when making images, while the whole contraption folds flat for easy storage and transportation.
2. Canon LiDE 300 scanner
Entry-level photo scanner for digitising shots on the cheap
Cheap as chips
Easy to use
Construction is a little plasticy
Faster option doesn't cost much more
For photographers looking to digitize prints, we present the Canon LiDE 200, a sleek and very affordable latest desktop photo scanner (remember those?) from Canon. Key features here are a 2400x4800 dpi maximum resolution and the ability for the device to deliver a 300dpi color A4 or US Letter scan in just ten seconds. For those who don't mind tipping the budget slightly over £50, there's also a 400 model offering a better 4800x4800 dpi resolution, and the same quality of scan in a speedier eight seconds. Perfectly priced for the hobbyist photographer, then, plus straightforward to use with it.
3. Rogue 3-in-1 Flash Grid
Get creative with that accessory flashgun by adding this light shaping device
Inexpensive light shaping tool
Compact and portable
Not a lot
For a penny under £40, here's a creative light shaping tool in the Rogue product range from ExpoImaging. Attached to your camera's flashgun in Heath Robinson style via a provided band, the 3-in-1 Flash Grid produces 16, 25 and 45-degree spots via stacking honeycomb grids. Weighing a mere 100g, this is an accessory that will snugly tuck into any photographer's camera bag, and when not in use the stacked grids fit handily inside the provided bezel. When attached to the off-camera flash, those self same grids help focus attention on a subject and can help create atmosphere and mood. Also included is a storage pouch.
4. Lowepro Adventura TLZ 30 II Holster
A perfect home for a small DSLR or mirrorless kit
Fits: Small DSLR/mirrorless body and mounted lens
Ideal size for single-lens setup
Two side pockets for accessories
Not great if you have extra lenses
Only one color option
This smart holster happily holds an entry-level DSLR or mirrorless camera with its kit lens attached, with a memory card pocket on the inside of the flap and two pockets around the side for other small items such as lens caps and cloths.
You can wear it on your shoulder or hook it through your belt, although the grab handle on its top lets you carry it around in the hand when it's more convenient to do so (and you can remove the shoulder strap when doing so).
For those with just a basic camera setup, what else could you need?
5. WD 1TB Elements Portable External Hard Drive
This tiny hard drive will happily hold tens of thousands of your shots
Capacities: 500GB, 1TB, 2TB, 3TB
Small size and light weight
USB 3.0 for fast data transfer
Uninspiring design
Mac users need to format drive first
Small enough to be taken anywhere but perfectly happy to just stay put, this affordable 1TB hard drive from storage specialists Western Digital is perfect for those whose libraries are starting to outgrow their computer hard drives.
The USB 3.0 port gives you speedy data transfer with the latest computers, but it's backward-compatible with USB 2.0 types too, and you don't even need a power supply – you just pop it in and drag and drop.
Mac user? Just reformat the drive before you use it and off you go. You can also grab it in a range of other capacities if you need more or less storage space.
6. Manfrotto NX Backpack
A refreshingly stylish design for the image-conscious photographer
Fits: DSLR and lens, two further lenses, laptop and accessories
Lots of space, plus a tripod strap
Great design
Certain color options pricier than others
Possibly less suitable for full-frame setups
Photo backpacks aren't exactly known for their striking looks, with functionality often taking precedence over design, but the NX from Manfrotto goes against the grain with its unconventional, modern styling.
Despite this, is still manages to offer everything the photographer with a modest collection of kit might need. You get three separate zippered compartments and enough space to get a camera/lens combinations and two further lenses, with adjustable dividers to help you sort the space to your exact requirements.
There's also a dedicated compartment for a laptop measuring up to 15in and enough space for smaller accessories too, while a strap around the side even lets you hook a small tripod to the bag. Not bad for less than £50!
7. Gorillapod Hybrid Tripod
Lightweight, versatile support for mirrorless and DSLR cameras
Holds: DSLR and mirrorless camera kits with a maximum weight of 1kg
Included ballhead and bubble-level
Works with huge range of cameras
Legs might be too short at times
Not as tall as regular tripods
There are many situations in which you might need to support your camera in some way, and not all of them will suit a tripod. From Christmassy group shots and long exposures on the fly to general holidays and travelling, it's good to have a lightweight but effective support to hand for times when a conventional tripod simply isn't practical.
Step in the Gorillapod Hybrid, which weighs next to nothing and still holds up to 1kg of camera kit, with the included ballhead allowing you to get your framing spot on. You can use it like a conventional tripod if you want, but it's main advantage over other supports is that it can wrap around all sorts of things, from posts and railings to table legs and even smaller tree trunks!
8. Cokin Gradual ND Kit with Holder
These three filters and a holder will let budding photographers up their landscape game
Contains: Gradual ND2 filter (P121L); Gradual ND4 filter (P121M); Gradual ND8 filter (P121S); P-Series filter holder
Three useful filters and holder
Can be used together
Adaptor ring needed
No filter pouch included
Cokin is one of the most popular names in filters and this kit provides landscape photographers with three separate ND grad filter options to help balance exposures.
Each filter has been designed with a different opacity, and they can be used either on their own or in combination with one another. You just slip them into the provided holder and line them up with the details in your scene.
Bear in mind that to attach the holder to your lens you'll also need an adapter ring, something that's not provided as standard as the one you need depends on the lens you plan on using. These are very cheap, however, so don't let that put you off.
9. SanDisk Extreme PRO 64GB SDXC UHS-I Memory Card
Huge capacity, strong transfer speeds and RescuePRO Deluxe software thrown in too
Capacities: 32GB, 64GB, 128GB, 256GB, 512GB
Great speeds for images and video
Image recovery software
Not UHS-II
64GB may be overkill for some
Very much a memory card that will stay with you as your needs change, not only does this SDXC card boast a healthy 64GB capacity to match current high-resolution cameras, but it also offers fast transfer speeds, whether you're shooting bursts of images, reading data from your card or recording 4K/Full HD video.
On top of all that you get all the usual goodies from Sandisk's Extreme Pro range, such as protection against water, shock and X-rays, together with a free downloadable version of the company's RescuePRO Deluxe software to help you retrieve any images you delete accidentally.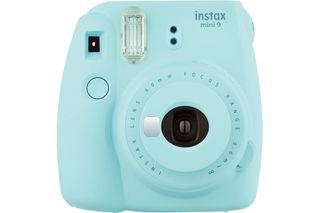 10. Fujifilm Instax Mini 9
Fujifilm's hugely popular instant camera comes in a variety of colorful finishes
Highlight specs: 62 x 46mm picture size, 60mm (35mm equivalent) lens, Real image finder with 0.37x magnification, 0.6m-∞ focusing range, 1/60sec shutter speed, 2 x AA batteries
Useful selfie mirror
Range of color options
Ongoing costs
Limited creative control
In an age of smartphones, filter effects and constantly changing technologies, it somehow doesn't make sense that an instant camera like the Instax Mini 9 should be such as hit – but a hit it is.
Available in five colorful options, the Mini 9 has been designed with a mirror next to the lens to help you capture the perfect self portrait, and prints are spat out as soon as the image is taken (with just a brief wait until they are fully developed).
While you're somewhat limited in terms of control – an unchangeable 1/60sec shutter speed, for example, and flash firing for every frame – the Instax Mini 9 is hardly intended for technical masterpieces. It's all about fun and rewarding you with something a little different to the norm.
11. Photography Guides and Magazine Subscriptions
Give the gift that keeps on delivering
Highlight specs: Print and digital editions, typically 13 issues per year, Canon and Nikon-specific titles available, free gifts with many print titles
Huge savings vs coverprice
Written by experts
Not just for Xmas day!
Well we would say this, since Digital Camera World is a sister title of these photography magazines, but a photo magazine subscription is the perfect gift for the photographer in your life.
With titles aimed at photo enthusiast (Digital Camera and Digital Photographer), Nikon users (N-Photo), and Canon users (PhotoPlus), there are titles for everyone. And whether you prefer reading in print or on a digital device, there are subs options that offer huge discounts on the coverprices.
As well as subscriptions, individual photo guides and books make great stocking fillers, going in depth into subjects like Black & White, Macro, Wedding Photography, Landscape and Wildlife and Nature.
Under $150 / £150
Best gifts for photographers for $150 / £150 or under
12. Canon PowerShot IXUS 185 HS
A Canon camera for under £100? That's right!
Highlight specs: 20MP CCD sensor, 28-224mm (35mm equivalent) zoom lens, 720p HD video, 2.7in LCD screen
Good zoom range
Tiny, handsome body
Video not Full HD
No viewfinder
This 20MP point-and-shoot camera from Canon is not only the slimmest offering in Canon's IXUS compact lineup, but it also offers a very reasonable feature set for its modest asking price.
You get an 8x optical zoom that stretches from 28-224mm (in 35mm equivalent terms), together with HD video, Face Detection and Canon's High Sensitivity 'HS' system that promises better results in low light than would otherwise be the case.
Perfect for those who feel limited by their smartphone but don't want to lug around a bulky camera.
13. LEE Big Stopper
One of the most popular filters among landscapes and seascape photographers
Compatible with: LEE 100mm system (adapter ring and holder required)
Ideal for smoothing movement of clouds and water
Handmade for excellent quality
Adapter ring and holder required
Not quite the cheapest of its kind
There's no question that the Big Stopper is one of the most desirable filters around. In fact, for some time it was hard to get hold of one as LEE Filters just couldn't make them quickly enough to meet demand.
With a ten-stop effect on images, clouds, water and anything else that might might move is reduced to a silky, ethereal blur, the type that contrasts beautifully against anything static in the scene.
This is a square filter that works with the LEE 100 system, and so you need to get a separate adaptor ring and holder to mount this on your camera's lens. If you need these, you can get the Foundation kit with the holder included here, then just grab whichever adapter ring you need for the lens on which it will be used.
14. Canon PIXMA TS6120 / TS6150
This attractively priced all-in-one unit boasts great photo quality
Highlight specs: Five inks (Pigment black, cyan, magenta, yellow, black), A4 maximum print size, 4800 x 1200dpi maximum resolution, USB 2.0, Wi-Fi and Bluetooth
Great photo quality
Superb price
No card slots
Can't print directly to DVDs
In a recent group test, our friends over at PhotoPlus magazine concluded that the five-ink PIXMA TS6120, also known as the TS6150 in the UK, was the best value all-in-one printer/scanner/copier on test.
With an LCD touchscreen on the front, a rear paper input tray around the back and both Wi-Fi and Bluetooth on the inside, it's hard to argue with what it offers for the price.
Crucially, photo quality is also top notch. "Excellent for color photos and pretty good for black-and-white images" was how the review wrapped up, so if you regularly make prints and need an all-in-one, you'll probably be stuck finding something more capable at this price than the TS6150.
Under £300
Best gifts for photographers for £300 or under
15. Fujifilm X-A10 with 16-50mm lens
One of the most affordable mirrorless cameras around also happens to be one of the most handsome
Highlight specs: 16MP APS-C sensor, X-series lens mount, Full HD video, 180degree tilting LCD screen, Wi-Fi
Excellent value for money
Useful selfie-friendly LCD
Lacks Fujifilm's X-Trans technology
No built-in viewfinder
A Fujifilm X-series mirrorless camera and lens for less than £300? Yep, you're not imaging it: this really is the easiest way into one of the most popular systems right now.
For your money you get a 16.3MP APS-C sensor, a flip-up LCD screen and wireless control, together with the same lens mount used by all of Fujifilm's other interchangeable-lens, X-series models.
While you don't get a viewfinder nor the luxury of the X-Trans CMOS III sensor technology in more senior models, if you want to take advantage of Fujfilm's excellent lenses and popular Film Simulation options, the X-A10's low price is currently the most tempting way to do so.
16. Rotolight NEO 2
With an 85,000-flash battery life and no recycling times, the NEO 2 is a genuine game-changer for portraiture
Highlight specs: Bi-color LED panel, 3150-6300 Kelvin color range, built-in Skyport flash receiver, High Speed Sync flash, 6 x AA batteries
85,000-shot battery life
Zero recycling times
Large for a hotshoe-mounted unit
Not cheap if you just need flash
One of the most interesting announcements of the last couple of years, the Rotolight NEO 2 is perhaps the biggest threat we've seen to the traditional hotshoe-mounted flashgun we've seen in recent times.
By using an energy-efficient, bi-color LED panel instead of the standard flash tubes, the panel can last for an astonishing 85,000 frames per battery charge, with zero recycling times and High Speed Sync flash capabilities. The use of LEDs also means it can be used as a permanent modelling light, which means you can view its effects as you frame up your shot.
It's designed with video and portrait photographers in mind, but it's easy to think of many applications beyond this where it could equally come handy. Furthermore, the fact that it's priced lower than the typical flagship flashgun should also give the big camera manufacturers something to think about.
17. Manfrotto Elements Carbon Fibre Big Traveller Tripod Kit
A great-value tripod kit that includes an aluminium ballhead
Holds: DSLR and mirrorless camera kits weighing up to 8kg
Great price for a carbon-fiber kit
Detachable monopod
Some may prefer pan-and-tilt head
Twist-lock legs not to everyone's taste
Another bargain combo, this legs-and-ballhead kit is very attractively priced when you consider that the principal material of the legs isn't aluminium but carbon fiber.
Carbon fiber tripods are typically lighter than aluminium types, and better at absorbing vibrations too, so you get convenience and performance all rolled into one package here.
The 8kg payload is more than enough for most camera-and-lens setups and you can even remove one leg and use it as a monopod if you need to. This in itself is great for those occasions where a tripod isn't convenient, or for more mobile types of photography, such as panning action scenes.
Under £500
Best gifts for photographers for £500 or under
18. Nikon D3400 and AF-P DX NIKKOR 18-55mm f/3.5-5.6G VR lens
Light, cheap and wirelessly connected - meet Nikon's popular entry-level DSLR
Highlight specs: 24.2MP APS-C sensor, Nikon F lens mount, Full HD video, 3in LCD screen, 5fps burst shooting, Snapbridge
Great image quality
Lots of high-quality Nikkor lenses
Snapbridge isn't ideal
No touchscreen
This is not Nikon's newest entry level DSLR, but this older model is now excellent value for money, and a great choice for someone taking up photography - or needing a good system camera for a school or college course
Blending a 24.2MP APS-C sensor with Nikon's longstanding F-mount, and a battery with a staggering 1,200 shots per charge, the D3400 has a strong core that's bolstered by 5fps burst shooting and Full HD video recording up to 50/60p.
Don't know where to start? The Guide mode will take your hand and help you get the best out of the camera, while the Effects will let you instantly treat your images with a range of looks, making image-editing software unnecessary.
Top tip: make sure you get the kit with the 'VR' lens included, as the cheaper non-VR kit isn't really worth the small saving you make. Read our full review here.
19. Canon EOS Rebel T6i / 750D
This upper-entry-level Canon EOS model packs a punch
Highlight specs: 24.2MP APS-C sensor, Canon EF-S lens mount, Full HD video recording, 19-point AF system, 3in vari-angle touchscreen, Wi-Fi and NFC
Vari-angle touchscreen
Strong video specs
No 4K video
New models have Dual Pixel AF
Want to put a massive smile on the face of the budding photographer this Christmas? A fully-featured Canon EOS DSLR will do just that.
Don't let the fact that it was released two years ago put you off: there's a serious set of specs lurking inside that familiar EOS shell. You get a 24.2MP APS-C sensor, a 19-point phase-detect AF system, 5fps burst shooting and both Wi-Fi and NFC to get your creations out easily.
Full HD video recording is also available, and Canon has even thought to fit the model with a port for external microphones to help boost audio quality. Turn the body around and you'll find an LCD that flips away from the camera and turns to a range of angles – even all the way around to face to front – and it's even fully responsive to touch.
The kit includes an 18-55mm lens so the photographer can get shooting right away – just make sure they have an SDHC or SDXC memory card – but the EF-S lens mount provides access to a exhaustive range of optics that stretch back to 1987. As with the Nikon D3400, skip the 18-55mm DC kit and make sure you get the kit with an EF-S 18-55mm f/3.5-5.6 IS STM lens to benefit from image stabilisation.
20. Sigma 105mm f/2.8 EX DG OS HSM Macro
With great image quality and image stabilisation built in, this macro lens is a smasher for the money
Compatible with: Canon EF, Nikon F and Sigma SA mounts
Superb features-to-price ratio
Great image quality
Not the smallest macro lens
Somewhat unrefined finish
Budget macro lenses tend to have a couple of shortcomings to be able to be priced so attractively. Typically it's a lack of internal focus, or a noisy AF motor, but neither of these are the case with this Sigma optic.
With great image quality, an effective image stabilization system, internal focusing, a focus-limit switch and a splash-proof design, it easily competes with the very best macro lenses out there.
Being picky, it's matte finish may not be to everyone's taste, and you'll want to keep your vignetting correction on at wider apertures, but this a small price to pay when you consider that rival macro lenses typically command around double this price.

Need more inspiration?

Stocking stuffers for photographers for under £10 or $10