The best ring lights are used by TikTokers, vloggers, makeup artists, and Facetimers. They are also great for videoconferencing and remote meetings, giving a much brighter and more professional look than room lighting and windows. And they're also used by photographers to achieve soft, sumptuous portraits, and videographers who shoot talking heads or pieces to camera.
The secret is their size and shape. The best ring lights produce a constant, wide, circular light that illuminates the face from all directions – and the bigger the ring, the softer the lighting. The result is incredibly flattering illumination, with spectacular circular catchlights in the eyes, soft falloff, and light that generally wraps and sculpts the face.
Videographers love ring lights not just because of their soft and flattering lighting but because they provide a continuous light – regular camera flash is obviously no good at all for video. Many of the best ring lights enable you to adjust the color temperature to suit different skin tones (making them great for makeup tutorials, too) and to match the ambient lighting conditions. Whether you're using them in the sun, the shade or yellow-tinged indoor light, you can make your lighting look natural.
While the best LED light panels and the best lights for Zoom calls tick some of the same boxes, for the best and most flattering lighting there is no substitute for a ring light. (And if you want to shoot a different kind of close-up, check out our guide to the best ringflash for macro photography.)
Best ring lights: our top picks
Why you can trust Digital Camera World Our expert reviewers spend hours testing and comparing products and services so you can choose the best for you. Find out how we test.
It wasn't long ago that ring lights were the domain of cheap overseas manufacturers, but since the big boys have got involved the quality has really picked up – though accordingly, so have the prices.
For my money, the Razer Ring Light is the sweet spot of price, performance and portability – it became the de facto "lockdown light" in my household for Facetime and Zoom meetings.
Whenever I need to do photography or video work, though, the Lume Cube Ring Light Pro is absolutely my go-to. Whether I need to snap a cheeky headshot or film a close-up for a YouTube video or Instagram story, this gives me the power and more importantly the quality of light that I need.
Also well worth considering is the Neewer Ring Light Kit 18". It still costs a good few bucks, but offers a great price:performance ratio at a larger size than the 12" Razer option.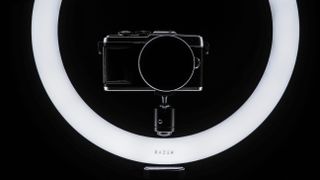 This 12-inch Razer Ring Light does everything you could possibly want. The one downside to it is that it's only powered via USB but that isn't the end of the world - especially considering how good the light quality is. They haven't skimped on build quality either, unlike a lot of ring lights, the Razer feels very sturdy and reliable.
There are cheaper and brighter options out there – along with the more expensive, albeit wireless, Lume Cube Ring Light Mini – but I think this strikes the perfect balance of portability, brightness, and price. It's a fantastic 12-inch ring light perfect for video conferencing, vlogging, or streaming – and you won't regret your purchase (unless your partner starts stealing it for work calls, like mine did!).
Read our full Razer Ring Light for more details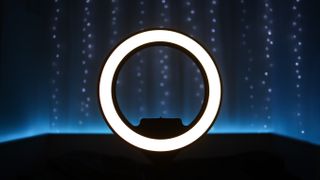 This ring light earns its "Pro" designation with distinction. At 17 inches in diameter, it's an inch smaller than the Lume Cube Wireless Ring Light (below), but it gives you a half hour more battery life, and the new light stand is a half-foot higher. The new remote control is a godsend for lighting yourself without having to keep getting up and down, and the improved diffusion is a dream for lighting portrait subjects. The quality of light is also absolutely spot-on, which is particularly important for creators shooting content such as makeup tutorials.
So everything about this light is premium – though that also includes the price tag, which stands at 60 bucks more than the Wireless model (which, in itself, is over 100 bucks more than the lower grade but still great Razer Ring Light. If performance is paramount, this is the way to go – and this is my go-to ring light when I need to do any "proper" photography or videography. If budget is a factor, though, Lume Cube or Razer's alternatives may be more up your alley.
Read our full Lume Cube Ring Light Pro for more details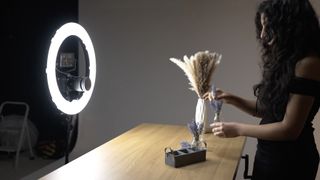 Neewer's 18-inch option offers a good degree of versatility, from a trusted name, at a price that won't break the bank. The light packs 55W of power and offers bicolor 5600K or 3200K temperature (the latter via a clip-on filter), with dimmable brightness via the analog adjustment dial. As you'd expect from Neewer products the ring light is well built and comes with an adjustable light stand, phone clip, carry case and Bluetooth remote.
"This is a great investment for those of you who are YouTubers, makeup artists, whatever you may be doing that will require you to use great lighting for an affordable price," says YouTuber @evamarie4400, whose review has been watched over half a million times. "I definitely recommend this ring light."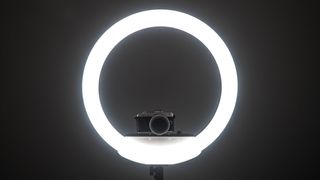 The Lube Cube Wireless ring light might seem overpriced but it has a lot of really great features compared to others. The light itself is really bright, and you can either run it off mains power or for up to 90 minutes on batteries (which are supplied). It also includes an LED readout to monitor your settings and it comes with a sturdy 6.5ft light stand.
It's an 18-inch ring light which makes it perfect for shooting portraits or filming videos. As it's wireless you can use it on location or in the studio which makes it a great option if you want to be able to do both.
The one drawback is that, if you're looking for a ring light to shoot flat lays or unboxing videos, I'm not convinced that the plastic mounting bracket is going to last. But if you're using it in a normal upright position, look no further – and if you're looking for a smaller wireless alternative, check out the 12-inch Lume Cube Ring Light Mini.
Read our full Lume Cube Wireless Ring Light for more details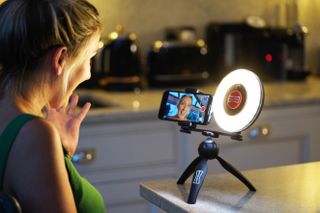 The Rotolight RL48-B Stealth was one of my favorite portable ring lights in years past, but disappeared from the market a while ago. Now it's back in an all-in-one kit, which also includes a Rotolight mini tripod, stand adapter, phone clip and accessory bar – making it the perfect partner for a tabletop smartphone setup.
While this kit is geared towards phones, the RL-48 is also an ideal on-camera light for traditional cameras. I've always found the Rotolight Neo 3 (below) a unwieldy for a hotshoe, but this smaller model is just the right size (though this kit doesn't include a foot for the shoe), and the hole in the middle is perfect to poke a microphone through!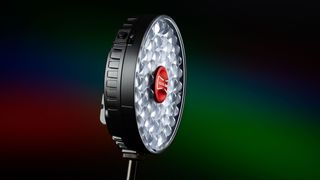 Okay, so technically the Rotolight Neo isn't actually a ring light – but it is round and it works really well. Because it isn't donut-shaped, the light won't be as soft and the catchlights in the eyes won't be as round, but it does have other advantages. Hybrid photographers shooting stills and video often need both a flashgun and a constant lamp for lighting, doubling up on the kit they need to carry.
The Rotolight Neo 3 serves both purposes and, while just about small enough to mount on a camera's hotshoe, it delivers powerful constant lighting and almost twice its maximum output in flash mode – though it's still not as powerful as a traditional flashgun.
If power is what you want, though, along with the ability to use colored gels and presets designed by leading photographers and Emmy-winning cinematographers, I can highly recommend checking out the (even pricier) Rotolight Neo 3 Pro.
Read our full Rotolight Neo 3 review for more details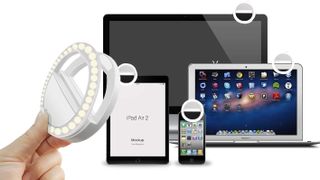 For those moments when you only need a little light, these very little lights from Xinbaohong are perfect. In fact, they're so small you can pretty much keep them on you at all times in a pocket or a bag.
They can be attached to your laptop, tablet or phone so long as it's 18mm or thinner. They're great for taking on nights out so you can capture well-lit selfies, on holiday or even when traveling away from home so that you can Facetime loved ones no matter how much light is around you.
"Everything the Xinbaohong does is all in the name of portability, without sacrificing performance," says Gadget Review in its verdict. "Its design is small and compact, making it easy to stick in your pocket, and there are plenty of LED lights to brighten your face for several hours."
How we test ring lights
While ring lights may seem like simple devices, there's actually a lot to consider. So how we test them is by putting them through their paces in real-world conditions, using them for Zoom calls, photographing portraits, filming YouTube content – all at different times of day, in different natural and artificial light conditions.
We also take them out to see if they're sturdy enough to be transported and used on location, or if they're only really robust enough to stay on your desk or in the corner of your room. It's important to see how the output performs when using batteries versus main power, too, if that's something they offer.
Frequently asked questions
What's the difference between ring light and LED lights?
Modern ring lights are LED lights, since they are powered by clusters of LED bulbs. However, most LED lights come in the form of rectangular-shaped panels, which produce much flatter illumination. Ring lights, on the other hand, are donut-shaped, which is much more flattering to faces. So rather than providing harsh, flat lighting, ring lights sculpt your features and provide a more dimensional, pleasing, professional look.
What are ring lights good for?
Given their donut-shape, ring lights are perfect for headshots and close-ups, whether you're shooting still images or video. So if you photograph or film yourself or others directly looking into the camera, a ring light is perfect for you. Ring lights can also be used like more traditional LED light panels, to provide overall key or fill lighting to a scene, but they are tailor made for shooting faces.
Do professionals use ring lights?
Once upon a time, only professionals used ring lights! Prior to the LED revolution, they were the preserve of glossy magazine shoots and slick music videos. Nowadays, though, technology has made them much more affordable and available to the masses – though plenty of professionals still use them, especially in the world of content creation.
If this has been of interest you might want to check out the best video lights if you need continuous light for moving imagery, or the best photography lighting kits: for studio and location work.