Digital is temporary, but prints are forever. So goes the common maxim, and there's a good deal of truth to it. If you care about your images, it's best not to leave them languishing on hard drives and SD cards or stranded in cloud services, but get them printed out and have a physical copy. And with a portable printer you can do this wherever you are.
Using a portable printer (or pocket printer, as they are often known) need not be an expensive or cumbersome process – there are loads of fantastic portable printers for photos out there, and to make the process easier for you, we've picked out some of the very best. Think of them as a way of turning your camera or mobile phone into an instant camera – allowing you to share prints with friends and family at parties.
We've compared all the models on features like compatibility, connectivity and print quality, as well as roughly what they cost to run, helping you figure out which printer is right for you.
Right now, we reckon the best portable photo printer around is the HP Sprocket Plus, which blends style, affordability and quality in a slim package with loads of fantastic extra features.
There are many other excellent models though, using different types of paper and different printing techniques – many use the same types of instant film used by instant cameras, Inevitably, different ones will be suitable for different photographers - depending on the camera or smartphone they use.
So, enough talk. Let's get started on our rundown of the 10 best portable printers!
Best portable photo printer overall
1. HP Sprocket Plus
An incredible printer in a tiny package
Paper type: HP ZINK S2 photo paper | Approx paper cost: £14.99 / $14.99 for 20 sheets (about 75p / 75c per print) | Print size: 5.8 x 8.6 cm | Connectivity: Bluetooth | Printer weight: 204g | Battery: 1 x Lithium-Ion | Compatibility: iOS/Android
Pocket-sized
Beautiful print quality
Prints from video
Slight crop of images
Providing a fantastic balance between portability and quality, the HP Sprocket Plus is a printer that's small enough to take everywhere with you. It produces fantastically detailed prints on HP Zink S2 photo paper or HP Sprocket Plus Photo Paper, and it's simplicity itself to set up. Simply load the paper in the back, pair the printer with your phone using the built-in Bluetooth, and you're away.
The HP Sprocket app is easy to use and offers a multitude of cool features to make printing more fun – one of the most intriguing is "Embedded Experiences", which lets you print a frame from a video and tag it with details of the people in it or the place it was taken. Once this is done, you can then scan the print with your phone and see it "come to life" in-app, with the video playing and the metadata displayed. It's a cool little feature.
The prints themselves are gorgeously high-quality, with plenty of detail and rich colours. The vibrant memories you'll make with this printer will look wonderful on display, and given that it's the size of a mobile phone, you'll have no trouble taking it everywhere with you.
2. Canon SELPHY CP1300
Outstanding print quality, as you'd expect from Canon
Paper type: Canon postcard-sized photo paper | Approx paper cost: £34.99 / $34.99 for 108 sheets (about 42p / 42c per print) | Print size: 14.8 x 10 cm | Connectivity: USB, Wi-Fi, Apple AirPrint | Printer weight: 860g | Battery: Optional NB-CP2LH battery pack | Compatibility: iOS/Android
Beautiful prints
Cartridge ink/paper system
Large and heavy
No dedicated app
While it's still much lighter and more transportable than a standard printer, the Canon SELPHY CP1300 is definitely on the heavier and bulkier side of portable printers, so if you're looking for something to sling in a handbag or other small bag, this isn't it. If you don't mind a little extra weight, however, the prints it produces are absolutely excellent, with rich colours and clearly defined lines.
Able to connect to Wi-Fi (though with no bespoke phone app), the Canon SELPHY CP1300 is easy to set up and get printing with. It uses Canon's ink/paper cartridge system, meaning it's easy to load with everything you need in as few steps as possible. It's able to print at a maximum of postcard size, though you can also produce various smaller print sizes if you prefer. While it usually requires a power outlet to work, there is also an optional battery pack that allows you to take the CP1300 on your travels more easily.
Best lightweight portable printer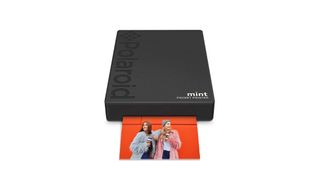 3. Polaroid Mint Pocket Printer
Budget-friendly, stylish and portable
Paper type: Zink | Approx paper cost: £12.99 / $12.99 for 30 sheets (about 43p / 43c per print) | Print size: 2 x 3 in (5.08 x 7.62 cm) | Connectivity: Bluetooth | Printer weight: 162g | Battery: 1 x lithium-Ion | Compatibility: iOS/Android
Cheap to buy and run
Choice of colours
Pre-print customisation options
Frequently needs recharging
You'd expect a mini-printer from Polaroid to do the business well, and the Mint Pocket Printer doesn't disappoint. Available in a range of stylish colours and portable enough to take everywhere, it uses Zink paper to produce colour-rich and detailed prints. It's easy to load and use, and can be paired quickly and easily with a smartphone thanks to its Bluetooth connectivity.
The Mint Pocket Printer has a generous battery life, however it's worth noting that the battery runs down quickly on standby (within a couple of weeks), so if you're using the printer infrequently you'll likely have to get in the habit of remembering to charge it before you use it. As long as this isn't an issue, you'll find this a wonderfully handy portable printer. Use the Polaroid Mint app to make stylish adjustments to your photos, and you'll find the printer is not only useful but fun to use as well, as a Polaroid should be.
Best Instax portable printer
4. Fujifilm Instax Share SP-2 Photo Printer
High-speed, high-quality printing on Instax film
Paper type: Instax Mini Film | Approx paper cost: £14.05 / $15 for 20 sheets (about 70p / 75c per print) | Print size: 4.6 x 6.2 cm | Connectivity: Bluetooth | Printer weight: 250g | Battery: 1 x Lithium-Ion | Compatibility: iOS/Android
Prints in 10 seconds
High-quality, 320 dpi
More expensive per sheet
Small prints
Use your phone to directly create Instax mini prints in the style of Fujifilm's mini-printer – the Share SP-2 is a fast, high-quality printer that creates fantastic results. In as little as 10 seconds you can take an image from your phone's internal storage to a physical 4.6 x 6.2 cm print, with 320dpi ensuring rich colours and outstanding detail in your images. The printer produces 256 levels per colour (RGB).
As well as your phone, the Instax Share SP-2 allows for printing from Facebook and Instagram account – simply use the high-speed Bluetooth connection to connect your device. As it uses an Li-Ion battery, the printer is rechargeable and has a generous battery life, and it's portable enough to take anywhere. Printing on Fuji Instax is a little more expensive than other media, so bear that in mind when making a decision.
Best printer for iPhone
5. Prynt Pocket
An iPhone case that also produces high-quality prints
Paper type: Zink sticker | Approx paper cost: £12.99 / $12.99 for 30 sheets (about 43p / 43c per print) | Print size: 2 x 3 in (5.08 x 7.62 cm) | Connectivity: Wi-Fi | Printer weight: 499g | Battery: 1 x Lithium Polymer | Compatibility: iOS
Prints quickly and easily
Experience-enhancing app
iPhone only
ZINK sticker paper only
More than a printer, the Kickstarter-funded Prynt Pocket also acts a phone case – simply slot your iPhone into the groove and you can instantly start creating high-quality prints on ZINK sticker paper. In as little as 30 seconds you can turn the photos on your phone or on an Instagram account into gorgeous prints full of detail and colour.
The makers have also added lots of interesting extra functionality. Download the Prynt app and you can embed a video inside your printed image for others with the app to discover by scanning the photo themselves – similar to the Embedded Experiences on the HP Sprocket. The Prynt is iPhone only at the moment, though an Android version is reportedly in the works, and will only work with ZINK Sticker paper.
Best portable printer for Android
6. Kodak Mini 2
Wireless and fast, with NFC one-touch communication
Paper type: Kodak Cartridge Printer Paper & Dye sublimation cartridge | Approx paper cost: £34.99 / $38 for 50 sheets (about 70p / 76c per print) | Print size: 5.33 x 8.63 cm | Connectivity: NFC, Bluetooth | Printer weight: 322g | Battery: 1 x Lithium Polymer | Compatibility: iOS/Android
Fast connectivity with NFC
Excellent quality
All-in-one cartridges
App can be unreliable
The handy Kodak app for Android makes this printer a breeze to use (though some report it can be a little unreliable and prone to crashing). Make use of the Near Field Communication (NFC) capabilities of this printer and enjoy printing in seconds, and it's compatible with both iOS and Android via the Bluetooth connection.
The prints the Mini 2 produces are first-rate, making use of Kodak's all-in-one ink-and-paper cartridges for convenience and ease of use It uses 4Pass printing technology, also known as dye sublimation, to make its images, resulting in unmatched quality. The free app also provides access to loads of editing functionality, allowing you to tweak and filter your images to your satisfaction before hitting the print button.
Best budget portable printer
7. Kiipix Portable Smartphone Picture Printer
No power is required for this portable printer – simply crank and print
Paper type: Instax Mini Film | Approx paper cost: £14.05 / $15 for 20 sheets (about 70p / 75c per print) | Print size: 5.33 x 8.63 cm | Connectivity: No | Printer weight: 404g | Battery: No | Compatibility: n/a
Cheap asking price
No battery required
Requires maximum phone brightness
Uses more expensive film
There's no charging the Kiipix Portable Mini Printer, nor any need to plug it in. Simply load it with Instax film, place your phone face down on the scanner (with the brightness cranked all the way up – trust us), using the reflective mirror to ensure it's properly aligned, and then you can manually crank out the prints yourself.
Cheap and cheerful, the Kiipix printer also folds up for easy transportation. It's cheap asking price makes it more attractive than some of the other printers on this list, though it's worth noting that it requires the more expensive Instax film to run, meaning it could work out more expensive in the long run if you plan to make lots of prints (though to be fair you'd have to make a lot of prints before approaching the cost of something like the Sprocket Plus.
8. Kodak Photo Printer Dock PD-450
Still portable, but bulky, this dock printer also requires mains power
Paper type: KPHC-120 Paper Cartridge | Approx paper cost: £39.99/ $49.99 for 120 sheets (about 33p / 42c per print) | Print size: 4 x 6 in (10.16 x 15.24cm) | Connectivity: Micro USB / Lightning, Wi-Fi | Printer weight: 1300 g | Battery: No | Compatibility: iOS/Android
Can dock iPhones and Androids
All-in-one cartridges
Heavy
Requires wired power
Dock your Android device or iPhone easily onto this Kodak printer, which boasts a Micro USB and Lightning connector. Heavier than the other portable printers, this isn't quite one to throw in your backpack for a day's travel – it also needs to be plugged in to work.
If this doesn't bother you though, you've got a solid printer here, which uses Kodak's KPHC-120 Paper Cartridge to produce great-looking prints full of color and detail; like the Mini 2, its prints benefit from dye sublimation technology. If you don't mind having a printer that isn't quite as easy to carry everywhere, the Kodak Dock is ideal. It works especially well in conjunction with a computer, as it is able to print via Wi-Fi as well as the physical phone connection.
9. Polaroid ZIP
Travel-sized and portable, with multiple connectivity options
Paper type: Zink | Approx paper cost: £12.99 / $12.99 for 30 sheets (about 43p / 43c per print) | Print size: 2 x 3 in (5.08 x 7.62 cm) | Connectivity: Bluetooth, NFC | Printer weight: 186g | Battery: 1 x Lithium Polymer | Compatibility: iOS/Android
Versatile smartphone app
Easy, fast printing
Lightweight build
Unexceptional battery life
Another Polaroid printer that strikes a great balance between functionality and fun, the Zip is ideal for travel and creating prints on the go. Download the free app for iOS or Android and you can embellish your photos with edits and filters for a little extra pop, with the prints coming out on Zink paper looking vibrant and fresh.
The Zip uses a rechargeable 500mAh lithium polymer battery which allows it to produce around 25 prints per full charge. This is decent but not exceptional – many of the printers on the list can squeeze more out of a single charge. Connecting your phone via Bluetooth or NFC is simple and fast, allowing you to get printing as quickly as possible.
10. SkyMall Printer
Crisp prints, convenient cartridges and multiple connectivity options
Paper type: Skymall Cartridge | Paper cost: £8.99 / $19.99 for 10 sheets (about 90p / $2 per print) | Print size: 5.33 x 8.63 cm | Connectivity: Wi-Fi, NFC | Printer weight: 272 g | Battery: 1 x Lithium Polymer | Compatibility: iOS/Android
Prints are long-lasting
Fast data transfer
Needs specific cartridges
Expensive to run
Connecting fast to a device via Wi-Fi or NFC, the Skymall Printer is an easy way to get your memories and favourite images off your phone and onto a physical, long-lasting print. The images have preservation overcoat layer to ensure long life, and the printer also uses dye sublimation technology to produce crisp images with a wide colour range.
It uses Skymall's bespoke cartridges with ink and paper, which can be simply slotted in and printed from, and while they do produce images of excellent quality, they are more expensive than all the other paper types on this list. Download the free Skymall app and you can also use your device to edit your images prior to printing, allowing for a little extra personalisation. It's lightweight too, portable enough to take wherever you need to go.
Read more:
Budget inks for printers - the pros and cons