Best portable printer: Quick menu
1: Our top choices
2: Best for square prints
3: Best for mini prints
4: Most compact
5: Best for wide prints
6: Best Zink printer
7: Best hybrid
8: How we test
9: Common questions
The best portable printer is a great thing to have with you at a party, at a wedding, or at any other social event or family gathering. When you've just captured a great photo on your phone, it's even more special to share it with someone in a physical format – especially as not everyone has a smartphone or social media to see your posts.
The beauty of using the best portable printers, much like the best Instant cameras, is that they enable you to give a permanent physical keepsake to a loved one or friend of a moment you both shared together. Mini prints, in contrast, are priceless souvenirs that people will keep and treasure, small enough to keep in a wallet or phone case, too.
The best portable printers, and even the best iPhone printers, do involve some expense – since the printing packs can be pretty expensive – though the printers themselves are usually quite cheap.
Of course, what differentiates these from the best photo printers and all-in-one printers is their tiny size, and they're smaller still than the best compact printers. And some of them also have an integrated digital camera, so you don't just have to print from your phone!
Best portable printers: our top picks
The best portable printers
Why you can trust Digital Camera World Our expert reviewers spend hours testing and comparing products and services so you can choose the best for you. Find out how we test.
Best for square prints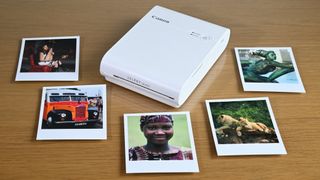 Instagram has brought the square photo back into fashion, and the Canon Selphy Square QX10 is the best portable printer for this format. It produces 2.7 x 2.7 inch (6.8cm x 6.8cm) prints that are claimed to last more than 100 years if stored responsibly.
It boasts enviable dye-sub printing, whereby the cyan, magenta, and yellow dyes are embedded on a ribbon that's contained in a cartridge and laid on the paper in three successive passes before a final protective overcoat is applied that's smudge-proof and water-protected. Not bad for something that's produced in as little as 43 seconds!
The QX10 is small enough to squeeze into the top of a camera bag, or even my partner's handbag, making it perfect for travel and parties. "It's a neat and fully portable printer that gives good-quality results, is dead easy to use and has reasonable running costs," says our reviewer Matthew Richards.
Read our full Canon Selphy Square QX10 review for more details
Best for mini prints
This is my go-to portable printer! The Instax Mini Link makes printing pictures fun – and is a brilliant alternative to using an instant camera. It uses the same film as the most popular Instax Mini cameras – but the advantage here is that by taking the pictures with your camera phone (or your "proper" camera) you get more control over your results, and can just print out the edited highlights of your night out.
The app enables you to add borders, and fun overlays, and even combine several shots into a montage. And not only can you print directly from your phone, you can also use the Mini Link SE app to print Instax photos from your Nintendo Switch! The tiny 1.8 x 2.4 inch (62 x 46mm) prints are great for gifting and scrapbooking, too. A newer version, the Instax Mini Link 2, adds some fun extra features – but is essentially the same printer, so save money by going for the original.
Read our full Fujifilm Instax Mini Link review for more details
Most compact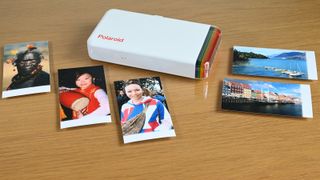 The Polaroid Hi·Print 2x3 is only about an inch thick and weighs a mere 255g, complete with a built-in rechargeable battery. When paired to your smartphone via Bluetooth, it has a companion app that enables you to create 2x3-inch photo prints of your smartphone snaps, and outputs them with speed and style, delivering impressive image quality from its dye-sublimation technology.
All in all, this portable printer is quick, convenient, and compact. Competing with other mobile photo printers like the Canon Selphy Square QX10, the Polaroid Hi–Print 2x3 Pocket Photo Printer uses tried and trusted dye-sublimation or 'dye-sub' technology that predates inkjet printing.
"For small-format photo prints, the Polaroid does a good job of creating high-quality output in a simple and fairly speedy fashion," said Matthew Richards in our review. "The tear-off strip along one edge enables borderless printing and the peel-able back makes for stick-on versatility."
Read our full Polaroid Hi–Print 2x3 review for more details
Best for wide prints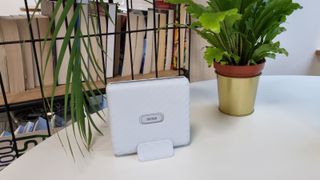 The wider version of Fujifilm's original Instax Mini Link, the Link Wide is one of the best portable printers for casual use, with fun and creative ways to customize images by using templates and emojis. There are some great features of this wireless printer – including its superb QR code functions, although its features aren't nearly as impressive as those available with the original Instax Link Mini (see number 5 in this guide).
It goes without saying that Instax prints don't deliver professional image quality – but they're not supposed to. I love the Instax Link Wide because it gives my photos that unique analog look that you just can't get anywhere else – and its jumbo-sized images are perfect for when my images demand to be a bit bigger than Mini prints. This is great for photographers who enjoy being creative and like a bit of fun.
Read our full Fujifilm Instax Link Wide review for more details
Best Zink printer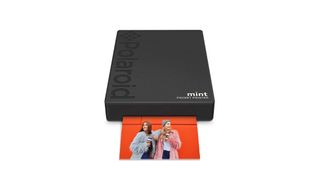 You'd expect a mini-printer from Polaroid to do business well, and the Mint Pocket Printer doesn't disappoint. Available in a range of stylish colors and portable enough to take everywhere, it uses Zink paper to produce color-rich and detailed prints. It's easy to load and use and can be paired quickly and easily with a smartphone thanks to its Bluetooth connectivity.
The Mint Pocket Printer has a generous battery life. However, it's worth noting that the battery runs down quickly on standby (within a couple of weeks), so if you're using the printer infrequently you'll likely have to get in the habit of remembering to charge it before you use it. As long as this isn't an issue, you'll find this a wonderfully handy portable printer. Use the Polaroid Mint app to make stylish adjustments to your photos, and you'll find the printer is not only helpful but fun to use as well, as a Polaroid should be.
"TBH, it's one of the best instant printers out there," reads the headline on iMore's review. "It's portable, it's easy-to-use, it's nice to look at… it's just a fantastic and functional photography accessory all 'round."
Budget option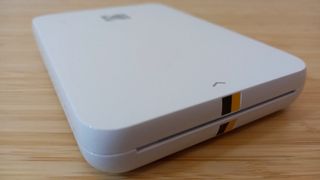 Not to be confused with the Kodak Step instant camera, the Kodak Step Slim printer is a quick and simple way to bring your smartphone shots into the real world. Connect your Android or iOS device via Bluetooth, and you can use the Kodak Step Prints app to do a quick edit of an image or add borders and stickers. But it is cheap, simple, and a lot of fun, with Zink paper meaning you don't need to worry about messy ink refills.
"It uses Zink paper, which means you don't have to add ink, but on the downside this means the picture quality isn't the best," says Tom May in our review. "Still, if you just want to hand out mementos at a social event, it's still a good choice, and it would make a fun gift for kids too."
The prints aren't the highest quality, compared with those from dye-sub printers, but this device is pretty cheap, with low running costs.
For more details, read our Kodak Step Slim review
Best hybrid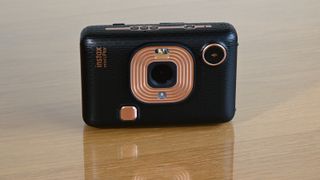 The Instax Mini LiPlay is not marketed specifically as a portable printer, so this one may be easy to miss. Instead, it's one of a new breed of hybrid digital instant cameras that offer the functionality of an instant camera, a digital camera, and a portable printer in the same device.
Unlike standard instant cameras, you therefore have the choice of which pictures you actually print out – as you can look at them on the screen first. But just as useful, this can be used to print pictures from your smartphone (just like other pocket printers). The camera has a modest 4.9-megapixel sensor, but it does enable you to store up to 45 images internally (or more with a microSD card).
"It's easy to get intensely serious about photographic kit and technique but, sometimes, photography should just be fun," says our own Matthew Richards. "There's certainly a lot to be had with the Instax Mini LiPlay. It continues the decades-old tradition of truly instant photography, where you can take and share pictures anywhere and everywhere, capturing and preserving treasured memories on the fly."
Read our full Fujifilm Instax Mini LiPlay review for more details
How we test the best portable printers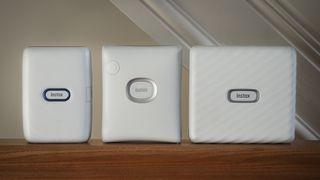 How we test the best portable printers is a little different to the way we test regular printers. Print quality remains of key importance but, given their nature, these devices are as much about their size, handling, portability (and even pocketability), print / paper format, battery life, and connectivity.
As such, the bulk of our testing is based on real-world use. What kind of batteries are used? Are they easily rechargeable or replaceable once depleted? Does it use instant film or printer paper, and what are the cost-quality implications? How good is the connection to your phone or other smart device? Is the printer simply portable, or is it actually practical to use while on the go?
How to choose the best portable printers
Think about why you want to print pictures on the move. Do you want the absolute best image quality? Choose a dye-sublimation printer. Do you want the cheapest prints, regardless of quality? Go for a Zink printer. Do you want the coolest prints? You'll probably want an Instax-based printer.
Instax Link printers have become hugely popular at events like weddings and graduations, as you can snap a picture on your phone (or a "proper" camera) and beam it to the printer, and produce an authentic instant print – just like you can take on an Instax camera. Except instead of it being a one-off, you can print as many as you like, so you can share magic moments with guests. These retro-style instant prints also look great in scrapbooks, wallets, or stuck to the refrigerator.
For youngsters who aren't as invested in quality, but who need something a bit more hardwearing, Zink printers are a great option. Not only is Zink paper waterproof, tear-resistant and smudge-resistant, it also comes with an adhesive back – so your prints can double as kid-friendly stickers, too.
And for ultimate quality, dye-sub printers offer premium print performance on paper that's water-resistant and in some cases said to last for 100 years – perfect for preserving your memories for generations to come.
Frequently asked questions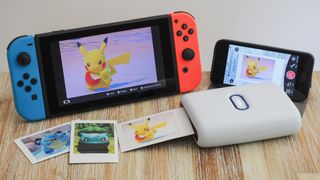 Do portable printers need a computer?
No, these portable printers are designed to work with smart devices such as your phone – and, in the case of the Instax Mini LiPlay, to print directly from its integrated camera as well.
Do I need a physical cable to connect to the printer?
These printers operate wirelessly, using WiFi or Bluetooth technology – or, in the case of the Kiipix, using a mirror!
What paper do these printers take?
This depends on the printer. The Instax Link series uses actual instant film (the same as you put in Instax film cameras) to produce an authentic instant print. This is a definite stylistic choice, giving you a low-detail, low-fidelity, analog quality that can't be achieved on traditional printers, but comes at a cost – as instant film is pretty pricey.
At the other end of the quality scale are dye-sublimation printers, which use all-in-one cartridges containing the paper along with dye ribbons to lay down color. This produces the greatest fidelity, but likewise comes at a cost.
Finally there are Zink printers that use zero-ink paper, embedded with color crystals, that offers the cheapest printing option – with often middling quality that's neither as good as a dye sub print, nor as intentionally lo-fi as an Instax print.
Do portable printers need ink?
Thankfully not! The necessary crystals, chemicals or dyes are included in the paper or paper cartridges, so you don't need to worry about refilling ink in the printers themselves.
If you enjoyed this article, you might also want to check out the best photo printers, the best digital instant hybrid cameras and the best wireless printers.