It's got a 24.2MP sensor, is capable of shooting at 40fps, features new AF tracking modes and captures video as oversampled 6K – this is the Canon EOS R6 Mark II. With double cashback from Canon giving you a £400 discount, it is one of the hottest camera deals around this weekend - but made even sweeter as Park Cameras providing a £200 voucher code. That makes a total of £600 savings!
It was announced in November 2022 as a replacement for the first-generation EOS R6, offering Canon fans a more powerful full-frame mirrorless option with plenty of bells and whistles. It's an excellent option for anyone looking to upgrade from the now-ageing EOS RP and EOS R, or for someone wanting to get their hands on one of the best hybrid mirrorless cameras on the market today.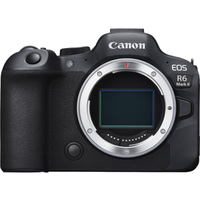 Canon EOS R6 Mk II | was £2,779 | now £2,179
Save £600 at Park Cameras In our Canon EOS R6 Mark II review , we said that this camera "makes mincemeat of other hybrids" and we mean every word. It's Canon's fastest camera and with more AF tracking modes, it's a real beast. To receive this price, enter the voucher code CANON-200 at checkout, then apply for Canon Cashback after purchase.
The EOS R6 Mark II is physically almost identical to the original R6, but there are some noteworthy changes that make this a better body to handle.
• Check out our comparison of the Canon R6 Mark II vs R6
The old power switch is gone from the left shoulder (long-time Canon mirrorless users will be familiar with this), now replaced by a dedicated stills/video switch. The power switch has been moved to the right shoulder, sitting just below the rear exposure dial – this allows stills photographers to handle the camera single-handed, something street photographers in particular will appreciate.
Those familiar with the joystick design on the EOS R5 and older R6 model will spot the difference here as well – the four notches at the cardinal points is gone, removing the tactile control when using the joystick.
Inside, the sensor resolution has been upped from 20.1MP in the older camera to 24.2MP. The sensor-based electronic shutter can now rattle off continuous shooting at up to 40fps, and Canon promises it has reduced the rolling shutter distortion compared to the R6. There's even a RAW Burst Mode that can capture raw images at 30fps with a 0.5 second pre-shooting buffer, making this ideal for sport shooters.
To complement the high frame rates, Canon has improved the AF performance here. In addition to the existing body, eye, face, head and animal recognition (now expanded to horses and zebras – yes, you read that right), the R6 II can recognize cars, motorcycles, aircraft and trains too.
In terms of video capture, the R6 II now shoots 4K/60p using the full width of the sensor (the Mark I R6 has a 1.07x crop). It can also output 6K ProRes RAW to select Atomos external recorders along with focus breathing compensation with compatible lenses, finally catching up with Sony.
Read more:
Best RF lenses
Best full-frame mirrorless cameras
Best Canon cameras