While its big brother has got all the headlines, the Canon EOS R6 is in many ways a far more fascinating camera – and one that's going to appeal to a much larger portion of the market.
Although impressive, the Canon EOS R5 is simply too much camera for most people. Its 8K video in particular is the tech of tomorrow, rather than today, and most people simply don't have the storage capacity or the power on their laptops to handle an 8K workflow – and right now, there aren't a lot of places where 8K files can even be shared.
Ditto the 45MP sensor. It sounds great on paper but, if you want an everyday camera or you shoot a lot of fast action, handling hundreds and hundreds of massive files often leaves you feeling that you've bitten off more than you can chew.
Enter the Canon EOS R6, which features much of the same underlying tech – like the blistering burst speeds and the astonishing autofocus – but applies it to much more manageable specs. Does its 20.1MP sensor go too far in the other direction, though, or is that resolution enough to satisfy the masses?
There's no doubt that the R6 is immediately one of the best 4K cameras for filmmaking, and given its parity with the mighty Canon EOS-1D X Mark III in terms of burst speed and sensor resolution it must also rank as one of the best cameras for sports photography.
So if you're one of the many folks looking to upgrade to one of Canon's new cameras, should you save a huge chunk of change and opt for the R6? Read on…
• Head to head: Canon EOS R5 vs R6 | Canon EOS R vs Sony A7 III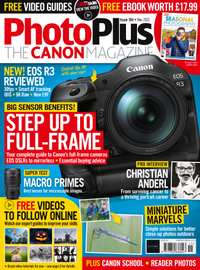 PhotoPlus: The Canon Magazine is the world's only monthly newsstand title that's 100% devoted to Canon, so you can be sure the magazine is completely relevant to your Canon camera system. Every issue comes with free video tutorials and free ebook. Don't miss our Christmas subscription deal – you can save 63% on our Premium print and digital subscription package.
Up to 63% off Offer ends 4th January
Specifications
Sensor: 20.1MP full-frame CMOS 35.9 x 23.9mm
Image processor: Digic X
AF points: 6,072 Dual Pixel CMOS AF II
ISO range: 100-102,400 (expandable to 50-204,800)
Stabilization: 5-axis, up to 8 stops
Max image size: 5,472 x 3,684px
Metering zones: 384
Video: 4K UHD at 60p, 50p, 30p, 25p, 24p / 1080p (FullHD) at 120p, 100p, 60p, 50p, 30p, 25p, 24p
Viewfinder: 0.5-inch OLED EVF, 3,690k dots, 100% coverage, 0.76x magnification, 120fps refresh rate
Memory card: 2x UHS-II SD/SDHC/SDXC
LCD: 3-inch fully articulating touchscreen, 1,620k dots.
Max burst: 12fps mechanical shutter, 20fps electronic shutter
Connectivity: Wi-Fi 5Ghz and 2.4GHz, Bluetooth 4.2, USB-C (USB 3.1 Gen 2), micro HDMI (type D), microphone, headphone, E3 remote
Size: 138.4 x 97.5 x 88.4mm
Weight: 598g body only (or 680g with card and battery)
Key features
The Canon EOS R6 may sit in parallel with the Canon EOS 6D Mark II in the product line-up, but it actually shares more in common with the flagship 1D X Mark III. For starters it features virtually the same 20.1MP sensor sensor, just without the fancy new low-pass filter (which remains exclusive to the Mark III and the EOS R5).
It also boasts the same top shooting speed, capable of cranking out 20 frames per second when shooting electronically or 12 frames via the mechanical shutter. It also has the same amazing autofocus tech, built around Canon's Deep Learning AF – the AI-originated algorithm that enables the camera to track eyes, faces and heads on human subjects.
The R6 even one-ups the flagship, as it also features Animal AF that can track dogs, cats and birds in flight by recognizing their eyes, faces and bodies. And along with the R5, this body is the first to feature the next generation of Canon's core autofocus tech, Dual Pixel AF II.
Its video specs are robust, too, as the R6 can capture 8- or 10-bit 4K UHD footage at up to 60p, with 1080p / FullHD video at up to 120p (the latter not being an option on the R5), with full AF tracking functions supported across all video resolutions and frame-rates.
Low light performance is actually superior on the R6 compared to the R5, thanks to the fewer (and, hence, larger) pixels on the image sensor. Its standard ISO range covers 100-102,400 (expandable to 50-204,800), and it can autofocus down to -6EV – which is the equivalent of a completely blacked-out room lit by a single candle.
And of course, it also features the long-awaited debut of Canon's 5-axis in-body image stabilization system, which offers a CIPA-rated maximum of 8 stops of stability depending on the lens you mount – and it also stabilizes EF lenses, EF-S lenses, cine lenses and dumb lenses (with no electrical contacts).
Build and handling
The R6 closely resembles the Canon EOS RP in both looks and handling, though it's notably chunkier to hold. Like the RP it eschews the top OLED panel, and features a conventional Canon mode dial rather than the hybrid Mode button seen on the Canon EOS R and R5.
The back of the camera features a DSLR-like control wheel, replacing the compass-like D-pad buttons of the R and RP, and it also benefits from a joystick – a very welcome addition, which isn't traditionally found on Canon's 6-series cameras.
Being that it is a 6-series body, the weather sealing is on par with the 6D Mark II. However, because it's so much slimmer, the R6 isn't as substantial as its bigger-boned DSLR counterpart. It's far from a fragile camera, but DSLRs always feel like you could bash down a door with them if you needed to; this mirrorless body won't take the same knocks and drops.
In the hand it really is like using the EOS R or RP, as the ergonomics are so similar. Having the control wheel and joystick definitely improves your ability to interface with the camera, menus and particularly the AF, and these DSLR-style inputs will make you feel more at home if you're moving across from the 6D or Canon EOS 7D Mark II.
The R6 also benefits from having two memory card slots, in the form of twin UHS-II SD slots. This is in some ways an unsung advantage over the R5, which features a single SD card and a CFexpress card slot – which obviously requires you to invest in an expensive new memory format in order to use both slots.
It also uses the same new 2,130mAh battery, the LP-E6NH. This features 14% greater capacity than the LP-E6N that it replaces – and, of course, you can still use those batteries in the R6, if you're anything like us and have loads of them lying around.
Performance: Stills
In most respects, the Canon EOS R6 feels the same as shooting with the R5 – the difference being, of course, that its sensor has significantly reduced resolution. While some might feel that 20.1MP is on the low side, it really comes into its own in service of the continuous shooting speeds; the lower pixel count means that the R6 can buffer almost three times as many JPEGs as the R5.
It can maintain bursts of over 1,000 JPEGs or 240 RAWs, meaning that whether shooting at 12 (mechanical) or 20fps (electronic) you won't miss a moment of the action – which is a very big deal, if you're photographing sports or wildlife, and it really makes the modest amount of megapixels make sense.
And of course, 20.1MP is more than enough for the pros who shoot magazine spreads and front covers, so it should be more than enough for most people. It's still the case, though, that the R6 is one branch down from the top of Canon's full-frame mirrorless tree, but has lower resolution than the entry level 26.2MP EOS RP – and only two-thirds the resolution of APS-C cameras like the Canon EOS 90D.
Speaking of electronic shutter, it's worth noting that rolling shutter (the phenomenon whereby vertical lines and objects appear 'skewed' during panning shots) is more pronounced than it is on the R5, owing to the slower readout speed of the sensor. This is one of the perils of shooting electronically on any camera, and the R6 isn't the worst culprit by any means, but bear in mind that the effect is much less offensive on the R5.
Of course, the big bonus of having a sensor with fewer megapixels is that it gives the EOS R6 an advantage in terms of low light and ISO performance. Anecdotally we experienced cleaner results than both the R5 and the 30.4MP EOS R, though we'll wait for our full lab results for the definitive verdict in this area.
In terms of autofocus, the R6 seems absolutely on par with its big brother – and shares the honor of featuring the best AF system of any camera we've ever used. The Deep Learning AF engine from the 1D X Mark III, combined with the new Dual Pixel AF II, means that the eye, face and head detection is just as reliable as it was on the flagship DSLR, but more impressive is the astonishing Animal AF.
Yes, other cameras have autofocus that can track animals and birds in flight. However, the R6 can track the eyes of birds in flight – an incredible feat, and one that is wholly reliable and positively game-changing if you shoot wildlife. Again the 20.1MP sensor provides an advantage here, as you can machine-gun more frames before the buffer fills up, though of course you have less leeway to crop into your shots than you do on the 45MP R5.
If you're worried about electronic viewfinder lag making you miss shots, you can push the refresh rate of the EVF up to 120hz – it'll gobble up the battery faster, so we'd only advise it specifically for sports or wildlife shooting, but it'll definitely make a difference if you do.
Performance: Video
Moving on to video, the R6 boasts full-readout 4K video up to 60fps – however, since it only outputs UHD video (with no option for DCI), there is actually a minor 1.07x crop invoked. No such crop is present for 1080p capture, though, which can record up to 120p (and it's worth mentioning that 1080p 120fps isn't an option on the R5). And all the new autofocus toys are available in every video format.
While it's easy to be wowed by the 8K capability of the EOS R5, the reality is that many content creators still aren't even shooting (or, at least, outputting) in 4K. It's 1080p that's the common currency of choice for everyday video, so the ability to capture FullHD footage all the way up to 120 frames per second will likely be more relevant than the 4K functions to most people interested in this camera – especially when there are no recording limits in 1080p.
Yes, like its big brother, the R6 is subject to some recording limitations when shooting 4K, which here is oversampled from 5.1K to provide beautifully crisp footage. It can record between 30 and 40 minutes of 4K 60p video before overheating, and between 40 minutes and an hour for 4K 30p – and note that those times will be affected by the temperature of the environment in which you're shooting, as well as the amount of stills photography you've conducted.
Those limitations can be a real frustration, especially if you're a hybrid shooter splitting your time between stills and video (if you're covering a wedding, for example). If you shoot everything in FullHD, or you just want the occasional 4K clip to stick on your Instagram, then you've got nothing to worry about. However, if you're looking shoot 4K video primarily or significantly, the R6 isn't the best body for you.
If you're willing to persevere, though, you will reap the rewards of fantastic 4K footage. You can also take advantage of zebras, a feature new to Canon's consumer bodies, which will prevent you overexpose your shots when shooting in bright conditions. And, while rolling shutter can be a bit obnoxious in stills, the phenomenon isn't very invasive for video.
Lab tests
We compared the EOS R6's lab results with those from three rival full-frame mirrorless cameras to see how it compares technically: the Nikon Z6, Panasonic S1 and Sony A7 III.
Resolution:
Resolution is measured in line widths/picture height, a widely used standard for resolution measurement that's independent of sensor size.
With 'only' 20.1MP on tap, the EOS R6 can't quite resolve the same amount of fine detail as the more pixel-packed ~24MP Nikon, Panasonic and Sony cameras. The R6 does punch above its weight at higher sensitivities, however, where it manages to equal the detail capture of the higher-resolution comparison cameras.
Dynamic range:
Dynamic range is measured in EV (exposure values, or 'stops'). It's a measure of the camera's ability to record detail in extremely bright and dark areas of the scene. The higher the value, the better.
The R6 delivers good dynamic range across our tested sensitivity scale, but it's not enough to match the class-leading Z6 and S1. On the whole, the R6 is comparable with the Sony A7 III, which is somewhat disappointing as the Sony is a considerably older camera.
Signal to noise ratio:
Our signal to noise test measures image clarity, specifically the ratio of the actual image 'data' you want to capture, versus the image noise that you don't want, but will inevitably be visible when shooting at higher ISO sensitivities. The higher the score at a given ISO sensitivity, the better.
All four cameras are closely matched in this test, but at no point does the EOS R6 really come out on top – a theme echoed across all our lab tests.
Verdict
The Canon EOS R6 is a versatile all-round camera that can shoot pretty much anything. Aside from a few physical differences – namely the lack of OLED top screen, dual SD card slots and slightly less robust weather sealing – this is for all intents and purposes an EOS R5 with lower resolution and less high-end video features. So the question is, do you really need the extra 24.9MP, the 4K 120p or the 8K options?
For many the answer is no, as the R5's specs are too much for most people – however, there's a legitimate question of whether or not the R6's resolution is too little. As noted, 20.1MP is the same resolution as the flagship Canon EOS-1D X Mark III – so if that's enough for a National Geographic photographer, it's probably enough for you.
The fact remains, however, that the entry level EOS RP (26.2MP) and even APS-C cameras like the 90D (32.5MP) offer greater resolution. And as born out by our lab tests, the performance of the R6's sensor hardly blows away its rivals in the category.
Still, if you're content with the megapixels on offer here, you'll enjoy one of the most advanced and impressive cameras we've ever seen. Its autofocus is truly otherworldly, the in-body image stabilization is the best of any full-frame system, the 4K video is crispy and delicious (though occasionally overcooked), the dual memory cards make it suitable for professional work, and it unlocks the brave new world of the best Canon RF lenses.
There's no doubt that the modest megapixels will count against it for many people. However, if 45MP and 8K seem like overkill to you, the Canon EOS R6 may well be right up your alley.
Read more:
Canon EOS R5 review
The best Canon camera: Canon's DSLR, mirrorless and compact cameras
Best Canon RF lenses: the best lens for Canon EOS R, RP, R5 and R6 cameras