While most retailers are offering huge discounts on a variety of products for Australia's annual EOFY sale, Amazon is hosting its own Mid-year Sale through the month of June. And it includes a decent AU$510 price drop on a Nikon Z6 kit.
Even though it has a lower resolution sensor compared to the more premium Nikon Z7, we gave the Z6 a full five stars in our review for many reasons. Not only is it relatively more affordable than the Z7, it has a wider ISO sensitivity range, making it ideal for low-light photography, and it has a faster 12fps burst speed (compared to 9fps for the Z7).
And if you happen to favour videography, you get uncropped 4K recording that's oversampled at 6K – your videos will be sharp as tack with plenty of details captured.
If you're just getting into photography or are moving from a reflex system to a mirrorless one, then this bundle deal is perfect as it comes with the Nikkor Z 24-70mm f/4 S lens in the box. It's a compact tube that matches the Z6's form factor, and offers top-notch performance across its entire focal range.
However, the FTZ lens adapter isn't included in this bundle, so if you have existing F-mount optics, you'll need to buy it separately to make use of them.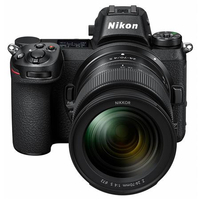 Nikon Z6 + Nikkor Z 24-70mm f/4 S | AU$3,489 (RRP AU$3,999; save AU$510)
For anyone who's moving from a DSLR to a mirrorless system, it makes sense to get a kit that includes at least one lens. It gets you started on the new system at a lower price and Amazon Australia is offering a AU$510 discount on this Z6 kit. You can even shave off a further AU$10 by shopping via the Amazon app on your mobile device and using the code APPONLY10 at checkout.
You'll need to hurry to get your hands on this bundle, though, as Amazon says stock is low. However, if you find you've missed out, then Dick Smith also has the same Nikon Z6 kit listed for a much lower AU$3,222 as a 'marketplace product'. That means the item isn't sold directly by Dick Smith but by a third-party seller using the shopping platform. So make the purchase if you're comfortable with that.
Read more:
The best Nikon cameras in 2020: DSLRs, mirrorless and CoolPix
Nikon Z6 vs Nikon Z7: which should you buy
Best portrait lenses for Nikon users
Best Nikon wide-angle lenses