The big news of late 2018 was, finally, Nikon's introduction of not one but two full frame mirrorless cameras in the 45.7 megapixel Z7 and its more affordable 24.5 megapixel Z6 sibling. Both these very capable options – since joined in 2019 by the more obviously consumer-orientated Z50 model – indicated that the manufacturer had decided to start taking mirrorless cameras seriously, having most obviously seen its market share eroded by Sony, who were quick to spot the full frame mirrorless 'gap'.
Those of us who may have worried it was too little too late from Nikon, had our nerves becalmed by the fact that the Z7 proved to be an instant classic on launch, with the less expensive and slightly pared down Z6 not far behind in terms of plaudits. In fact we said that the Z6, at two thirds of its bigger brother's price, was very much not just a 'consolation prize' for those who couldn't afford the Z7. While Nikon describes the Z7 as 'the perfectionist', it classes the Z6 as the 'all rounder'.
• Read more: Best Nikon camera
The notable talking points as regards both the Z6 and the Z7 mirrorless models are indicated by their nomenclature; namely they utilise their maker's completely new 'Z' mount. This means that use of existing Nikon F and prior 35mm film format lenses requires an optional 'FTZ' adapter. The need and indeed the difference arises because at 55mm across, the Nikon Z mount is 11mm wider than the same manufacturer's F DSLR mount. The idea was/is that this extra girth allows Nikon lens designers to reach further in their ambitions; with Nikon Z system users receiving a step up in terms of image quality.
Whichever of these two full frame contenders you choose, we wager you'll still end up with a result providing you with years of reliable service. But to help you make that first step towards choosing either the Nikon Z6 or the Nikon Z7, we've provided a bunch of comparisons in terms of specification and performance. So, for all there is to know, read on below…
Nikon Z6 vs Nikon Z7
Why you can trust Digital Camera World Our expert reviewers spend hours testing and comparing products and services so you can choose the best for you. Find out how we test.
Sensor and Processor
Nikon Z6 vs Z7: Sensor
The mirrorless Nikon Z6 and Z7 both offer the obvious bonus of full frame photography – meaning that the size of their identically matched sensors is the same as that of a frame of 35mm film. This means that 35mm equivalent calculations can be conveniently jettisoned and that the focal length given on any attached lens will directly translate to what photographers get to play with. Full frame chips in both also ensure that, in theory, image quality will be noticeably better than that achievable with a standard (smaller) APS-C sensor DSLR – particularly when combined with directly compatible full frame 'Z' format lenses.
Yet while both the Z6 and Z7 share a full frame sensor – the resolution that we are getting out of it differs. The 45.7 effective megapixels offered by the Z7 suggests the ability to achieve pin sharp detail and facilitate very, very large image prints – whereas the still very respectable 24.5 effective megapixels boasted by the Z6 suggests it's the better option for those needing a faster capture speed, at the expense of that greater resolution. That said, when it comes to speed of image delivery, both cameras feature the latest generation EXPEED 6 processor, which means that operation fairly zips along.
As regards the Nikon Z series, its maker is maker is giving us a sophisticated and newly developed on-sensor phase detection system. On the Nikon Z7 a whopping 493 phase detection AF points cover 90% of the image area and work in conjunction with a conventional contrast AF system; more on this – and the Z6's slightly less amazing but still very impressive 273-point phase detection AF, also covering 90% horizontally and vertically – later.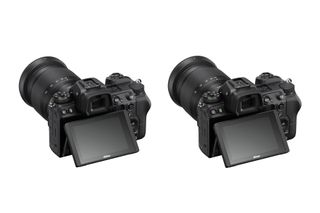 Video
Nikon Z6 vs Z7: Video
The mirrorless Nikon Z6 and Z7 offer the wholly expected capability of 4K capture, up to an actual maximum of 29.97 fps.
The twosome can additionally record Full HD footage at up to 120P for those looking to achieve a slow motion look. Another advantage is the ability to capture and extract still frames whether filming in 4K or at Full HD. Nikon also suggests that, on the Z7, oversampling from 8K has enabled it to provide 4K footage with spectacular detail here – handy for wedding photographers who are also being asked to shot video. As suggested in our intro, the latest generation EXPEED 6 processor aids videographers too, in the case of both cameras, in helping to deliver clean lines and noise and moiré free imagery.
The Z6 likewise brings welcome news for film-makers, in that it too offers full frame un-cropped 4K video, down-sampled from oversampled 6K. It's also worth adding that whichever of these two models you are using, Nikkor Z lenses have been designed with silent auto focus and reduced focus 'breathing' and focus shift when zooming. This all helps ensure that the cameras are as competent and creatively flexible when shooting video as they are when shooting stills.
Burst Shooting (FPS)
While the premium Nikon Z7 is capable of shooting up to an impressive 9fps in continuous shooting mode, the Nikon Z6, in having a lower headline resolution to contend with (and process), ups this to an even faster 12fps, making it more of an obvious contender for sports and wildlife photographers than the 45.7MP Z7.
However, while the Z6 has speed on its side, the buffer capacity feels rather average, in being able to capture no greater than 37 Raw files in one of its 12fps bursts, or alternatively 44 maximum resolution (Large, Fine) JPEG files. Select a lower frame rate therefore to be able to shoot bursts of images longer than 3-4 seconds.
Despite the Nikon Z7's 9fps frame rate straight out of the blocks, the one 'controversy' dogging both these mirrorless models is their reliance on XQD cards only, and the fact that there is just the one card slot. The thinking is that the fast and robust format is ideal for the high-end camera and its equally high-end audience, but it does mean further investment for anyone who already has a drawer full of older SD and CF cards.
In summation, while the Z7 is the camera to go for if you need the ultimate in image quality and razor sharp detail, the still massively capable Z6 is the better option if it is speed of capture for sports and action photography that is of greater import. Just don't get your hopes up of being able to 'machine gun' your way through a shedload of images in one continuous burst.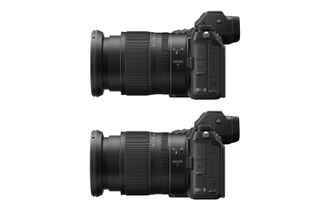 AF System
Auto focus has been very much the battleground for camera manufacturers of late, and on both these models Nikon has chosen to up the ante, while it won't be surprising to learn that at its lower price point the Z6 doesn't feature quite as many AF points as the costlier Z7.
As noted earlier, the Nikon Z7 offers users a sophisticated on-sensor phase detection system, with 493 phase detection AF points covering 90% of the image area and working in conjunction with a conventional contrast AF system – thereby delivering a pretty spectacular full frame hybrid auto focus system. Along with the Z6, it may be its manufacturer's first attempt at full frame mirrorless camera, but it certainly appears to have hit the ground running with the Z7's AF performance. By contrast the Z6 features a still very impressive 273-point phase detection AF system. Even if that is almost half as many AF points as its more highly specified sibling, on both cameras the auto focus performance is hard to fault, in being fast and responsive. Its silent nature also aids the shooting of video.
It's worth additionally mentioning for those with an already significant collection of Nikon 'glass' that said manufacturer's newly developed Z mount does not have an autofocus screw drive, so older AF lenses are restricted to manual focus. However if investing in an optional FTZ lens adapter a wide compatibility with existing Nikon F lenses will enable existing Nikon users to migrate to the new system in their own time and at their own pace.
• The best Nikon Z lenses for the Z6, Z7 & Z50
Viewfinder and LCD
Nikon Z6 vs Z7: Viewfinder & LCD
Offering an electronic as opposed to optical viewfinder, both the Nikon Z6 and Z7 supplement their 100% coverage, 3,690K-dot resolution eye level EVF with a very useful 3.2-inch vertically tilting (as opposed to vari-angle) LCD touch screen at the rear. Said screen can be used to set the focus point and fire the shutter with merely a tap of the finger.
The adjustable backplate monitor's own high resolution of over 2.1 million dots delivers a life-like image when composing and reviewing shots; whether in stills capture or video mode.
On both models the alternative of composing shots using the EVF is so sharp it's easy to forget you're not using an optical viewfinder – should you have a pre-existing preference one way or the other – with its digital nature only becoming apparent if moving the camera very quickly. This can occasionally result in some slight image lag or blurring. That said, it's less pronounced than rival cameras we've tried. In conclusion, Nikon has clearly made the quality of its viewfinder here a priority, utilising an aspherical element and fluorine coatings for the viewfinder's eyepiece.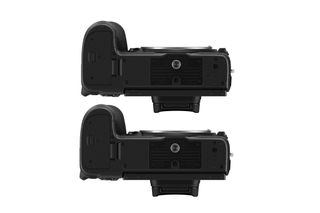 Build and Design
Nikon Z6 vs Z7: Build & design
If the Z7 could be regarded as being essentially a mirrorless version of its manufacturer's D850 DSLR, then the Z6 can be viewed as the mirrorless interpretation of the Nikon D750. Both are smaller than said DSLRs, however, with a shared look and feel closer to Sony's rival A7 full frame mirrorless series.
Both the Z6 and the Z7 weigh a relatively lightweight and manageable 675g without lens. Dimensions are a compact 134x101x68mm for the Z7 and a nigh identical 134x100.5x67.5mm for the Z6. While relatively compact, both find room for an AF-On button on the backplate – a favorite feature of sports photographers – and a thumb stick for moving the focus point around the image area.
Also shared by both the Z6 and Z7 is a first for Nikon: an in-camera image stabilization system that provides the equivalent of an extra five stops – which is, as a result, an important new feature. Should you want to add a degree of robustness and balance when shooting with longer lenses, however, then also take a look at the optional Nikon MB-N10 grip, which can further extend the relatively modest battery life.
In summation, externally the two cameras are indistinguishable, apart from their model names, with both boasting magnesium alloy bodies and extensive weather sealing plus a claimed 200,000 shot shutter life.
Other features
As noted at the outset, on the mirrorless Z6 and Z7 we get the debut of a new lens mount, on which the flange to sensor distance is just 16mm, which is a good degree shorter than the regular Nikon F mount. This allows plenty of space also for the brand's FTZ adapter, which, when affixed, affords the possibility of using the camera with 90-odd current Nikon optics and achieving full auto focus and auto exposure into the bargain.
Both cameras controversially feature just the one XQD memory card slot – whereas a second slot for more common SD card may have been useful.
Battery Life
We'd expect the power performance of a mirrorless camera to be notably less impressive than that of a DSLR – smaller dimensions normally resulting in a physically smaller battery too – and, yes, here neither the Z6 nor Z7 buck that trend.
We described the Z6's battery life as 'weak' upon review, managing just 310 shots from a completely charged battery; here the EN-EL15b. Nikon says that alternatively an older EN-EL15a or EN-EL15 battery can be used – but even less images will be forthcoming from a full charge.
Slightly more respectable is the performance given by the Z7 in conjunction with its own EN-EL15b cell, in being able to manage up to 330 images from a full charge. While that still looks pretty miserly in comparison with the D850's performance, it's nevertheless comparable with others in the mirrorless camera market. It is, however, one area in which there still looks to be room for improvement, and, for 'power users', a spare cell (or better still, an optional battery grip) is advisable to avoid that frustrating feeling of powerlessness just when you need it most.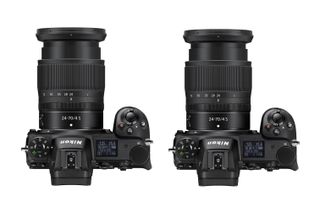 Verdict
Nikon Z6 vs Z7: Verdict
Both the Nikon Z6 and Z7 are impressive first forays into the full frame mirrorless camera market from their manufacturer.
While it might at first appear that the Z6 is a slightly less exciting yet more affordable version of its bigger brother, it is arguably a more versatile camera as well. In short, the Z6 sacrifices resolution for larger pixels and improved sensitivity – so what you'll need to ask yourself when ultimately making your decision is whether 24.5 million effective pixels is 'enough'. While a 24MP camera is hardly headline news these days, what pushes the Z6 beyond the ordinary is the fact that the image quality resulting from the combination of the camera's full frame sensor and Nikon Z-mount lenses is simply stellar.
With straight fives for features, construction and handling, the 45.7 effective megapixel Nikon Z7 could be labelled an instant classic. When it comes to image noise tests, the Z7 is just a little behind the Z6 in terms of performance – which one might expect from more pixels crammed onto the same sized chip – but even so the two cameras are fairly equally matched. So if it's the more lightweight mirrorless camera format that has you tempted, then you won't go far wrong in stumping up the cash for either of the two. Maybe pack a spare battery for both, though, or invest in that optional camera grip.
Best deals
Read more
Best Nikon lenses: expand your Nikon system with these lenses
Best Nikon camera bag
Nikon D750 vs Nikon D850: what's the difference?