Nikon is one of the best known camera brands, but it makes lots of different types, so how do you choose the best Nikon camera? They come in three main types – Nikon DSLRs, mirrorless cameras and compact cameras – and we help you choose the best of each.
Nikon is probably best known for its interchangeable-lens DSLRs. These range from the cheap and novice-friendly Nikon D3500 right up to the high-end Nikon D850. Nikon DSLRs are amongst the best DSLRs you can buy, but you'd have to be living in cave not to know that DSLRs are under threat from mirrorless cameras. In fact there's a whole DSLR vs mirrorless cameras debate going on about this.
This has just got a lot hotter with the launch of the Nikon's first APS-C mirrorless camera, the eagerly awaited Nikon Z 50. This camera is only just out, so we haven't had time to give it a full review, but once we do, we think it's going to come pretty high on this list of the best Nikon cameras.
• Read more: Nikon Z 50 hands on review
DSLRs have some advantages of their own, but mirrorless cameras are generally smaller, lighter and better for video. This is why Nikon now has a new Nikon Z mirrorless camera range alongside its DSLRs. Apart from the brand new Nikon Z 50, the Nikon Z7 and Nikon Z6 are extremely good full frame mirrorless models, and feature in our guide to the best mirrorless cameras.
But an interchangeable lens camera might be more than you need. The best camera for beginners doesn't have to be a DSLR. For family or casual use a fixed-lens Nikon Coolpix 'compact' camera will do just as well, and probably save you some money at the same time. The Coolpix range, which includes some of the best compact cameras and interesting and specialised models such as ultra-zoom bridge cameras and rugged underwater cameras that can stand being submerged, dropped and frozen!
So we'll kick off our list with the best Nikon DSLRs, then take a look at the Nikon Z mirrorless cameras and finally our favorite Nikon Coolpix compacts.
What you need to know about Black Friday 2019
The Black Friday and Cyber Monday sales have always been a great time to pick up camera gear. This is when camera retailers bring out their best camera deals, often for a short time only and while stocks last. So what do we expect to see this year? Well, we think some of the best Black Friday camera deals in 2019 will come via the big-name brands. You may not get massive savings on the latest models like the brand new Nikon Z 50 – instead, the best deals are often on cameras, lenses and accessories that are a little older. So should you wait before you buy? Not necessarily! Makers and retailers bring out promotions and deals all year round, and you can be sure we'll bring you the latest just as soon as they appear!
Nikon DSLRs
Nikon DSLRs come in two sizes: the smaller format APS-C (DX) models aimed at beginners and enthusiasts, and larger full frame (FX) models aimed principally at pros. Our list has both.
Image 1 of 6
Image 2 of 6
Image 3 of 6
Image 4 of 6
Image 5 of 6
Image 6 of 6
1. Nikon D3500
Just getting started? This is the DSLR we'd recommend for beginners
Type: DSLR | Sensor: APS-C CMOS | Megapixels: 24.2MP | Lens mount: Nikon DX | Screen: 3in fixed, 921K dots | Continuous shooting speed: 5fps | Max video resolution: 1080p | User level: Beginner/enthusiast
Great image quality
Neat retracting kit lens
Beginner friendly
Fixed screen not touch-sensitive
If you're just getting started in serious photography you're probably dazzled by all the competing cameras and brands on offer – and by all the different advice you've been getting! Well here's our advice. While you're still learning your feet and deciding what sort of camera will suit you best, you should pick a camera that's simple enough to understand straight away and affordable enough that you can change your mind and swap later if you decide you need something different. The D3500 is the entry-level model in Nikon's DSLR range, but it has a 24.2MP sensor as good as those in cameras at twice the price, and it offers a very good 5fps continuous shooting speed for a beginners camera. The Guide mode will help beginners get started and understand the basic principles, but the D3500 has all the manual controls you need to learn about photography as you improve your skills. It's sometimes sold a little cheaper with a non-VR (non-stabilised) kit lens, but it's definitely worth paying a little more to get the VR version.
Read more: Nikon D3500 review
Image 1 of 6
Image 2 of 6
Image 3 of 6
Image 4 of 6
Image 5 of 6
Image 6 of 6
2. Nikon D5600
As small as the D3500 but more advanced and more versatile
Type: DSLR | Sensor: APS-C | Megapixels: 24.2MP | Lens mount: Nikon DX | Screen: 3.2in pivoting touchscreen, 1.037,000 dots | Viewfinder: Pentamirror | Max burst speed: 5fps | Max video resolution: 1080p | User level: Beginner/intermediate
Fully articulated touchscreen
39-point AF system
Neat and light AF-P kit lens
Lacks the D3500's Guide mode
Nikon's D3000-series cameras (like the D3500 at the top of our list) are entry-level cameras designed for beginners, while its D5000-series cameras are one step up, offering more features and a more adaptable design, with a flip-out rear screen that can be angled in any direction for low-level shots or any other kind of awkward angle. Once you've used a vari-angle screen, you won't want to go back! The D5600 uses Nikon's tried-and-tested 24-megapixel APS-C sensor which is capable of super-sharp results, and it comes with the same neat retracting 18-55mm AF-P lens as the D3500. The 'P' in the lens name refers to Nikon's stepper motor autofocus technology, and Nikon lenses with this not only offer fast and silent autofocus, they also seem to speed up the live view autofocus. If you are going travelling, we recommend getting Nikon's small and light AF-P 10-24mm ultra-wide-angle lens too – it's perfect for interiors, tall buildings and narrow city streets.
Read more: Nikon D5600 review
Image 1 of 6
Image 2 of 6
Image 3 of 6
Image 4 of 6
Image 5 of 6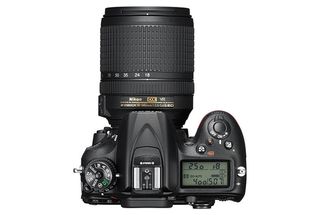 Image 6 of 6
3. Nikon D7200
The D7200 is a great value mid-range DSLR for enthusiasts or students
Type: DSLR | Sensor: APS-C | Megapixels: 24.2MP | Lens mount: Nikon DX | Screen: 3.2in fixed, 1,229,000 dots | Viewfinder: Pentaprism | Max burst speed: 6fps | Max video resolution: 1080p | User level: Enthusiast
More MP than the D500 and D7500
1.3x crop mode allows 7fps
Power and value
No 4K video
It's been around for a while now, but this means the D7200 is now available at very good prices – and this is a camera that just doesn't feel like it's dated at all! It doesn't have a flip-out vari-angle screen, it doesn't shoot 4K video and it can't quite match the continuous shooting speeds of Nikon's newer D7500 and D500 models. But it does have a big, chunky, robust-feeling body, really good external controls and great handling. The D7200's combination of image quality, features and performance has proved an evergreen formula. It doesn't excel in any one particular area, but it's strong in all of them, so it's the perfect all-rounder for students of photography or one of the best cameras for enthusiasts who want to move on up to a more serious camera. It comes with Nikon's long-running and highly-regarded 51-point autofocus system, and while it doesn't have the tough magnesium alloy construction of more expensive Nikon DSLRs, it's still plenty tough enough.
Image 1 of 5
Image 2 of 5
Image 3 of 5
Image 4 of 5
Image 5 of 5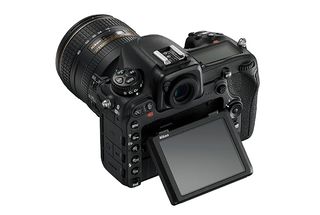 4. Nikon D500
The D500 is built for speed and durability, and that's what you're paying for
Type: : DSLR | Sensor: APS-C | Megapixels: 20.9MP | Lens mount: Nikon DX | Screen: 3.2in tilting touchscreen, 2,359,000 dots | Viewfinder: Pentaprism | Max burst speed: 10fps | Max video resolution: 4K | User level: Enthusiast/professional
Great build quality and handling
10fps continuous shooting
Excellent autofocus system
Pricey for an APS-C camera
The Nikon D500 is built for fast-paced action, sports and wildlife photography. It's also designed to handle the heavy use and tough conditions of professional working environments, so although it looks expensive compared to camera's like the D7200, there's a reason! For action photography you need four things: very fast continuous shooting speeds, a big memory buffer capacity so that you can capture lots of shots in a burst, a fast and powerful autofocus system, and a good viewfinder. The D500 ticks every box. Being an APS-C format camera it's a lot (a LOT) cheaper than the full-frame Nikon D5 pro sports DSLR, but comes close for rugged build and performance and the smaller sensor adds a handy 1.5x focal length magnification which effectively increases the 'reach' of telephoto lenses. The D500 uses Nikon's new and highly-rated 153-point autofocus system, and the optical viewfinder offers the lag-free viewing you need for following fast-moving subjects. It would make a great action-orientated 'second' camera for owners of a Nikon D850 (below).
Read more: Nikon D500 review
Image 1 of 4
Image 2 of 4
Image 3 of 4
Image 4 of 4
5. Nikon D850
This is the ultimate Nikon pro DSLR, the camera with everything
Type: DSLR | Sensor: Full frame | Megapixels: 45.7MP | Lens Mount: Nikon F | Screen type: 3.2in tilting touchscreen, 2,360,000 dots | Viewfinder: Pentaprism | Max burst speed: 7fps | Max video resolution: 4K UHD | User level: Professional
High MP and fast burst shooting
Solid, weather-sealed body
Better battery life than mirrorless models
Expensive
Mirrorless camera fans will often complain about the size and weight of DSLRs, and they have a point. The Nikon D850 is a big bruiser of a camera compared to the new Nikon Z models. But this size works in your favour if you're shooting with big, heavy lenses, and most pro lenses are big and heavy! This is a handling factor that many mirrorless users don't take into account. Being a DSLR, the D850 has a bright, clear optical viewfinder that many photographers still prefer over a digital display, no matter how good. The D850's 45.7-megapixel sensor produces quite superb image quality, yet it can still maintain a shooting speed of 7 frames per second, or 9 frames per second with the optional battery grip. Even without the grip, the D850 has an amazing battery life of 1840 shots – far more than any mirrorless rivals – and it comes with two memory card slots; one for the new XQD card format and one for regular SD/SDHC/SDXC.
Read more: Nikon D850 review
Nikon mirrorless cameras
With the arrival of the Nikon Z 50, Nikon now makes three mirrorless cameras. It's too early to pass judgement on the Z 50, but we've used the full frame Nikon Z 6 and Z 7 models extensively. While the Z 7 is the more expensive option and aimed at pros, the Z 6 is affordable enough for enthusiasts too. They use a new Z-mount lens mount (shared with the smaller APS-C format Z 50), but can come with an adaptor that lets them use regular Nikon DSLR lenses too, so they're perfect for Nikon DSLR owners who want to migrate to a mirrorless system – or use a mirrorless Nikon alongside their DSLRs.
Read more: Nikon mirrorless cameras and lenses
Image 1 of 6
Image 2 of 6
Image 3 of 6
Image 4 of 6
Image 5 of 6
Image 6 of 6
6. Nikon Z6
It's the cheaper Nikon Z model, but better for video and more affordable!
Type: Mirrorless | Sensor: Full frame CMOS | Megapixels: 24.5MP | Monitor: EVF, 3,690k dots, 100% coverage | Continuous shooting speed: 12fps | Viewfinder: EVF | Max video resolution: 4K UHD at 30p | User level: Enthusiast/Professional
Well-designed body and controls
Superb high-ISO image quality
Full frame 4K video
Weak 310-shot battery life
Nikon makes two Nikon Z models. The Z 6 has 24 megapixels, while the more expensive Z 7 has 46 megapixels. Normally, we'd always say more is better, but the Z 6 has a lot going for it besides its lower price tag. For a start, it has a faster continuous shooting speed than the Z 7, better image quality at high ISO settings and the ability to capture uncropped 4K video – so your angle of view doesn't become narrower when you switch to video capture. On paper, the 24.5-megapixel sensor of the Z 6 appears to offer no advantage over smaller and cheaper APS-C cameras, but the sensor's extra size means its images are much crisper and cleaner, especially at higher ISO settings. At the moment Nikon has only released four native Z-mount lenses – we recommend the Nikkor Z 24-70mm f/4 as the perfect kit lens – but more are on the way, and if you get this camera with Nikon's FTZ mount adaptor, you can use any current Nikon DSLR lens without restriction. Is it better than the Nikon D750, Nikon's good but ageing 24-megapixel full frame DSLR? Actually, yes, and by some margin.
Read more: Nikon Z6 review
Image 1 of 6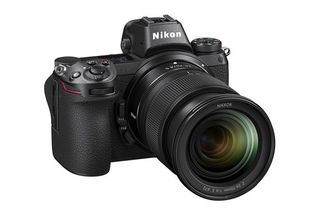 Image 2 of 6
Image 3 of 6
Image 4 of 6
Image 5 of 6
Image 6 of 6
7. Nikon Z7
Huge resolution, high-speed shooting, 4K video... what's not to like?
Type: Mirrorless | Sensor: Full frame CMOS | Megapixels: 45.7MP | Monitor: EVF, 3,690k dots, 100% coverage | Continuous shooting speed: 9fps | Viewfinder: EVF | Max video resolution: 4K UHD at 30p | User level: Professional
Great handling
Superb electronic viewfinder
Not many Z-mount lenses yet
Single XQD card slot
The Z 7 was Nikon's first full-frame mirrorless camera, and an instant classic. We were impressed at how Nikon managed to produce a near-perfect camera at it's first attempt. The Z 7 combines an ultra-high-resolution 45.7-megapixel sensor with a 493-point hybrid autofocus system and the ability to capture images at up to 9 frames per second (without needing a battery grip). In many ways it surpasses our top pro Nikon camera, the D850, though its use of just a single XQD card slot has proved controversial and being a mirrorless camera it has a much shorter battery life. In many ways, the Nikon Z7 vies for the title of top pro Nikon alongside the D850, but we think it's especially well-suited to landscape photography, where its smaller body and lighter weight will be very welcome when you have to. hike long distances (just make sure you take a couple of spare batteries). We've ranked it just below the Z 6 in our list, but it's a close-run thing, and if ultimate resolution is high on your list of priorities, then the Z 7 is the obvious choice.
Read more: Nikon Z7 review
Nikon Coolpix compacts
Some 'compact' cameras aren't very compact at all! Bridge cameras and their big lenses can be as big and heavy as a mirrorless camera or DSLR. The term 'compact' actually refers to the fact that the lens is fixed and can't be removed. This means you have to choose the zoom range carefully when you buy because you can't change it later. Otherwise, a compact camera is perfect for casual snapping and family use.
Image 1 of 5
Image 2 of 5
Image 3 of 5
Image 4 of 5
Image 5 of 5
8. Nikon Coolpix A10
We love the Nikon A10. It's cute, it's simple and its amazing value
Type: Compact | Sensor: 1/2.3-inch | Megapixels: 16.1MP | Screen: 2.7-inch 230k | Viewfinder: None | Lens: 5x zoom, 26-130mm equiv. | Max burst speed: 1.2fps | Max video resolution: 720p | User level: Beginner
Stabilisation for stills and movies
Takes AA batteries
Simple and intuitive layout
720p maximum movie resolution
Can you really get a decent digital camera for so little money? Well, that depends on the standard of picture quality you're expecting. You wouldn't really attempt to make wall-size enlargements with a camera like this, but it's more than adequate for snapshots and social sharing, and it's a lot more versatile (and less expensive to lose or damage) than a smartphone. Obviously the budget price brings compromises in sensor size and image quality, but you still get a 5x optical zoom lens, a decent 2.7-inch screen and a simple control layout that means anyone can just pick it up and use it. We love the fact that it runs on a pair of regular AA batteries, too, so that if it runs out of power you can just get a couple of replacement batteries from any nearby shop. Its continuous shooting mode is a bit too slow to be much use, and it can only capture 720p video, but at this price you've got to accept a couple of compromises and the A10 ticks all the boxes for a low-cost family camera.
Read more: The best camera under $200/£200
Image 1 of 5
Image 2 of 5
Image 3 of 5
Image 4 of 5
Image 5 of 5
9. Nikon Coolpix W300
Best for adventure lovers: the Nikon W300 can survive anything you can!
Type: Waterproof compact | Sensor: 1/2.3in | Megapixels: 16MP | Lens: 24-120mm f/2.8-4.9 | LCD: 3in, 921,000 dots | Viewfinder: No | Maximum continuous shooting rate: not quoted | Max video resolution: 4K | User level: Beginner
Decent zoom range
Excellent waterproofing
Shockproof
No Raw shooting
Big, heavy cameras don't do well in extreme environments. If you're skydiving, surfing or plunging off watery precipices in a kayak, you need a camera that's small, light and tough. There are plenty of GoPro-style action cams to fit the bill, but the Nikon Coolpix W300 is a 'proper' camera with a 5x zoom lens, a 3-inch screen, and camera controls you just don't get on an action cam. Its 1/2.3-inch sensor can capture 16-megapixel stills and 4K video, and it's impressively tough. It's waterproof to a depth of 30m, which is impressive enough, but it's also shockproof, being designed to withstand being dropped from a height of 2.4m. It doesn't shoot raw files, which is a pity, but then that is pretty uncommon in this class of camera, and hardly a deal-breaker. This is the ideal camera for families that like to go a little wild!
Read more: The 10 best waterproof cameras
Image 1 of 6
Image 2 of 6
Image 3 of 6
Image 4 of 6
Image 5 of 6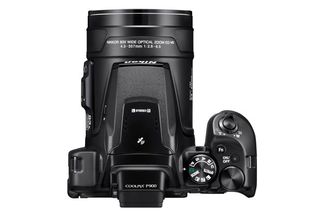 Image 6 of 6
10. Nikon Coolpix P900
The legendary P1000 zooms further, but the P900 is cheaper!
Type: Superzoom compact | Sensor: 1/2.3in | Megapixels: 16MP | Lens: 24-2000mm (equiv.) f/2.8-6.5 | LCD: 3in articulating, 921k dots | Viewfinder: EVF, 921k dots | Maximum continuous shooting rate: 7fps | Movies: Full HD (1080p) | User level: Beginner
5-stop VR system
Mammoth zoom range
Value for money
No raw shooting option
For our tenth camera we've chosen a superzoom bridge camera, a type of camera that continues to be popular. There are compromises – you have to accept a smaller sensor and somewhat reduced image quality in exchange for the huge lens – but what you get is a camera with a colossal zoom range that DSLR and mirrorless camera owners can only dream of. So why did we choose the P900 over the even longer range P1000? Sometimes last year's technology offers the best value for money, and that's certainly true of the P900. When it was launched its 83x zoom lens made headlines, but Nikon's newer (and much more expensive) P1000 goes much further with its trillion-times zoom, or whatever it is. The fact is, though, that an 83x zoom is still A LOT and you might not find many situations where you actually need that kind of magnification. With the P900 you still get a 24-2000mm equivalent zoom range, a five-stop Vibration Reduction system to control the inevitable camera shake at long range and there's even in-built GPS.
Read more: The 10 best bridge cameras
See more buying guides