While we wait patiently for more details on the imminently arriving Fujifilm X-Pro3, we do at least know one thing: it will arrive in a brand new color that's not currently available on the X-Pro line.
Style aside, though, the question of substance is just how many megapixels the Fujifilm X-Pro3 will be packing, now that the Canon EOS M6 Mark II has shaken things up with a huge 32.5MP sensor.
In terms of colors, Fuji Rumors reports that the X-Pro3 will come in a color not offered by the X-Pro2 – which is available in a very conservative choice of either black or graphite. We hope that the X-Pro 3 is a little bit bolder, as the manufacturer's other cameras suggest that things could be very much 'shades of grey'.
The Fujifilm X-T3 can be purchased in silver or dark silver, which isn't a million miles away from the X-Pro's graphite, while the Fujifilm X-T30 has similarly similar silver or charcoal silver options.
Things do get a little more interesting elsewhere, though; the Fujifilm X-T100 comes in a bling-tastic champagne gold colorway, and the Fujifilm X100F came in a much more classic and classy brown leather number. Personally, we'd love to see the company try something like a denim blue, as per our mockup image above.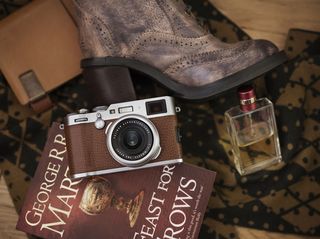 Color aside, precious little else is known about the Fujifilm X-Pro 3. The most recent rumors suggest that the camera could feature a tilting touchscreen and that it is set to arrive in September or October – although a little bird has told us that the announcement might actually take place in November.
As has been noted before, Fujifilm had previously seemed adamant that the X line would not conform to the design dynamics of its SLR-styled bodies. However, tilting screens (at the very least) are all but required by the current camera market – having a fixed screen these days feels less like design purity and more like Luddism.
The biggest question, though, surrounds the X-Pro3's sensor. We're sure that it will at least possess Fujifilm's newest 26-megapixel X-Trans sensor, but Canon has rather disrupted the APS-C landscape with its 32.5-megapixel Canon EOS M6 Mark II.
We've already seen that Sony can't match Canon's firepower, with its just-announced Sony A6100 and Sony A6600 both packing a 24.2MP sensor. Will Fujifilm pull a rabbit out of its hat and reveal a similarly huge sensor – perhaps something born of its new relationship with Samsung, to codevelop new image sensors?
Read more:
Fujifilm X-Pro3 to feature a tilt screen and debut in September/October?
Could this Samsung / Fujifilm sensor challenge Sony's dominance?
Hands-on: Canon EOS M6 Mark II review