The X-T100 is by no means Fujifilm's most advanced X-mount mirrorless camera yet, but it could prove to be one of its most important. That's because it fills a crucial gap in the mirrorless market and takes on DSLRs at their own game.
Until recently, mirrorless cameras have fallen into two main groups: low-cost cameras with no viewfinders and simplified controls for smartphone upgraders, and altogether more advanced cameras with viewfinders for enthusiasts and pros, but with a price tag to match.
What the X-T100 does is bring that DSLR-style viewfinder experience down to a much more affordable price. This is a mirrorless camera that a relative novice can afford, but that has the handling and the potential to take them much further in their photographic journey than the average entry-level compact system camera.
In other words, it plugs that previously large gap between the cheap and cheerful X-A models and the beautiful but pricey Fujifilm X-T20.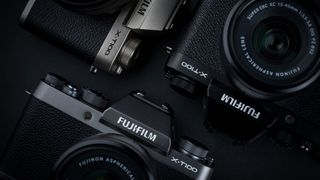 Key features
Sensor: 24.2MP APS-C CMOS, 23.5 x 15.7mm
Image processor: not quoted
AF points: 91-point hybrid phase/contrast AF
ISO range: 200 to 12,800 (exp. 100-51,200)
Max image size: 6,000 x 4,000
Metering zones: 256
Video: 4K UHD at 15p, Full HD at 60/50/24p
Viewfinder: EVF, 2,360K dots, 100% coverage
Memory card: SD/SDHC/SDXC (UHS-I)
LCD: 3.0-inch 2-axis tilting touchscreen, 1,040K dots
Max burst: 6fps
Connectivity: Wi-Fi, Bluetooth
Size: 121.0 x 83.0 x 47.4mm (body only)
Weight: 448g (with battery and memory card)
The specs are basic but effective. Inside the X-T100 is a 24.2MP APS-C CMOS sensor, not the same X-Trans sensor used in Fujifilm's more expensive mirrorless cameras, but it does a great job nonetheless.
You do get 4K video capability, but it's at a maximum frame rate of 15fps which, frankly, is no good to anyone. The X-T100 shares this dubious specification with the cheaper entry-level X-A5.
The continuous shooting performance is nothing special either, topping out at a reasonable 6fps but with a buffer capacity of just 26 JPEGs. If you shoot at a slower 3fps, the X-T100 will keep going until the memory card is full, but it's clearly not a sports specialist.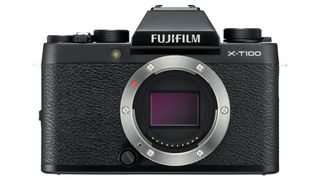 As a camera for novices and enthusiasts to experiment and learn with, however, it has a lot to offer. For a start, it comes Fujifilm's celebrated Film Simulation modes, including PROVIA/Standard, VELVIA/Vivid, ASTIA/Soft, Classic Chrome, Pro Neg (Hi and Std) and Monochrome (with different 'filter' options) – though not the black-and-white ACROS mode found on more upmarket models.
It can also shoot Raw files, of course, and offers in-camera Raw conversion for those who don't want to wait until they can get their images on to a computer. It has Fujifilm's clever extended dynamic range modes, which juggle ISO and tone curve settings to capture a wider brightness range with fewer clipped highlights. And if you want to cover all the bases when you shoot, it has auto-bracketing modes for exposure, Film Simulation, dynamic range, ISO and white balance.
Read more: The best mirrorless cameras right now
If you're not confident with the technicalities yet, there's an Advanced SR AUTO mode which analyses each scene and picks the most appropriate focus and camera settings. If you like instant, in-camera effects, there's also an Advanced Filter mode with a range of different effects too.
The autofocus system appears to be the same 91-point hybrid phase- and contrast-detect system found on Fujifilm's more advanced X-series cameras, so there are no compromises there.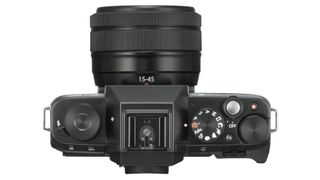 Perhaps the most interesting feature, though, is the new XC15-45mmF3.5-5.6 OIS PZ kit lens, first seen on the cheaper X-A5 model. This is a compact power zoom lens that retracts when it's not in use to take up less space. It also offers a wider angle of view than the average kit zoom, with an effective focal range of 23-69mm in 35mm terms. You lose a little at the long end of the zoom range, but for most users the wide-angle gain at the other end of the range will be more than worth it.
Read more: The best Fujifilm lenses in 2018
Topping all of this off is built in Wi-Fi and Bluetooth, which offer automatic image transfer to your smart device, and a decent 430-shot battery life from the supplied lithium-ion cell.
From the front, the X-T100's design is classic and understated. Remember how old-school amateur 35mm SLRs used to look? Just neat, unadorned rectangles? That's what you get with the X-T100, and it's a million miles from the bulky bulges of a modern DSLR. In a way, mirrorless cameras have given us back the camera shapes we used to have.
It's not much more complicated on the top, with a mode dial, a shutter-release button with a power switch around the outside and two unobtrusive unmarked control dials.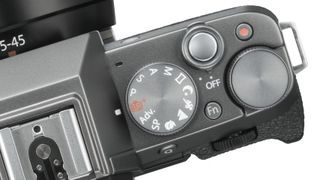 This is where the X-T100's layout departs from the models further up the range. While those cameras swap over to classic external dials for shutter speed, ISO and lens aperture (depending on the lens/body configurations), the X-T100 sticks to the usual digital camera convention of a main mode dial, with shutter speed, lens aperture and ISO settings adjusted via dials and on-screen displays. It's not necessarily better or worse, just what you get used to.
What's interesting, though, is that the X-T100 gives you not just one control dial – the usual setup for an entry-level or mid-range camera – but three. There's the two on the top and a third on the back of the camera used mainly for menu/settings navigation but also for setting the lens aperture in Manual or Aperture-priority mode, and for zooming in in playback mode.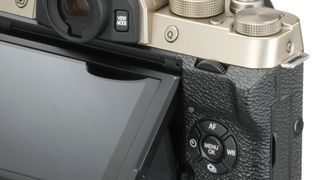 The right-hand dial on the top is usually reserved for exposure compensation, while the one on the left is multi-functional. By default, it cycles between the camera's different Film Simulation modes (very useful) but you can customise it to set the focus mode, metering pattern, white balance, ISO and more.
Customisation fans should note that there's also a Fn button on the top the camera that can be set to a range of uses, and you can customise 'flick' gestures for the touch-screen display. That's a nice touch (sorry), though in general gestures don't work quite so well on the smaller screen on the back of the camera as they might on a larger smartphone screen.
The touchscreen display does work pretty well, however. It's used for camera control rather than menu navigation, and you can set it up for touch focus or touch shutter. It's quite handy to be able just to tap on a subject on the screen and have the camera take a picture in a single action. In playback mode, you can pinch to zoom in on a picture and swipe to move on to the next.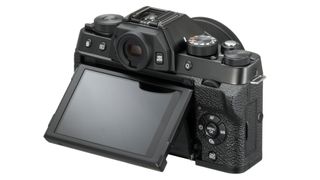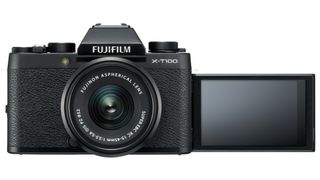 This screen also has a very unusual tilting action. It tilts up and down, which is perfectly common, but it also has a sideways hinge. Not only does this make it great for low-angle portraits and other vertical shots, but also swings through a full 180 degrees for selfies. It's more complicated, but it also feels more robust and predictable than regular side-pivot, vari-angle screens.
The screen, by the way, is bright, contrasty and colourful. In conjunction with the touch-shutter mode it could make you an experimental selfie addict – like the world needs more of those!
There's not too much to say about the pop-up flash, except that it's neat and feels robust and also has the lowest guide number (GN5 @ ISO 100) that we can remember seeing on any camera. Given the decent high-ISO performance of today's digital cameras – the X-T100 included – there aren't many situations where a pop-up flash will add to a picture; often it will make it a good deal worse.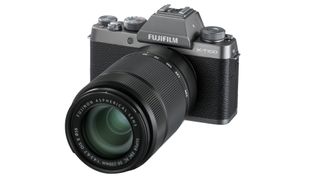 The X-T100's autofocus system is effective, but doesn't feel especially responsive. It's not slow, but it's not fast either, and the mechanical sound of the shutter action is quite drawn out, which can make you feel like the whole process has been more sluggish than it actually is. The X-T100 is not the quickest mirrorless camera out there, though it's easily quick enough.
The aforementioned 15-45mm lens is a mixed blessing. Its small size is a major advantage and its wider-than-usual focal range is extremely useful, but its zoom-by-wire operation lacks the immediacy of a mechanical zoom and you might find it difficult to remember which way to turn the zoom ring to zoom in and out (or it could just be us).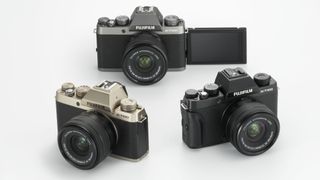 Out of the box, the X-T100 might look a little underwhelming but when you pick it up, all that changes. It feels solid, neat and refreshingly unfussy. It is made of plastic, but the top panel is made of classy anodised aluminium, and you do get a choice of colour schemes: dark silver, black or champagne gold. There's even a detachable grip included for those who can't get on with the stripped-back exterior design.
We did find a few niggling handling and performance issues during our testing. It's actually quite hard to handle the X-T100 without accidentally pressing a button you didn't mean to, typically one of the four directional control buttons on the back. When this happens you have to spend a moment cancelling a menu option or making sure you haven't changed something important.
And if you leave the touch shutter mode enabled, you can expect to get a few random shots of your feet, knees or blurry passing scenery where your hands have accidentally brushed against the screen. You'll probably learn how to handle the camera differently to stop this happening, but it'll be annoying until you do.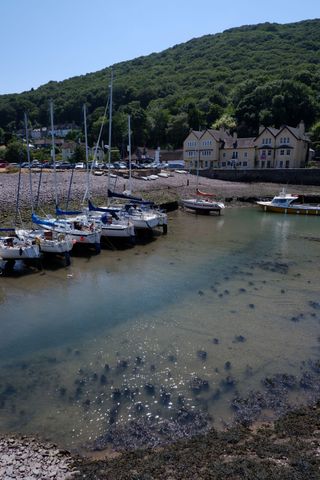 The metering system also seems prone to overexposure, and we had to dial in quite a lot of negative exposure compensation rather more often than we'd like to get a natural-looking rendition. We thought at first that maybe the screen was a little bright, but, in fact, it was at the default exposure levels. Many beginner-oriented cameras do tend to favour shadow areas to avoid dull-looking shots, but our X-T100 went a bit too far, a bit too often.
It's just as well you can apply EV compensation via the dial on the top plate, then, but it would be better to have one set aside specifically for this purpose, and one that turns a little more easily (if you're going to be using it a lot). You do get that with the X-T20, but then that's a more expensive camera.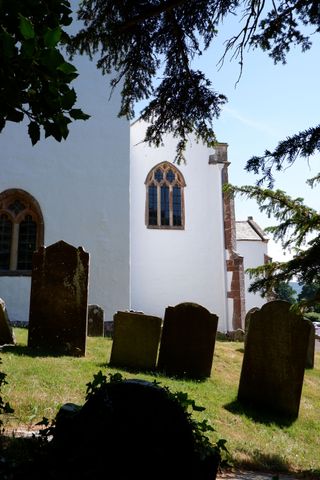 There's nothing to complain about with the X-T100's picture quality, though. Our lab tests show that its resolution, noise levels and dynamic range are on a par with the best of its rivals.
Normally, we test a camera's image quality using Raw files converted with the maker's own software. In this instance, though, we found the bundled SilkyPix software produced distinctly soft-looking images while inflating the X-T100's noise performance. Instead, we used Adobe Camera Raw to convert the Raw files for the lab measurements – and this produced much more realistic and comparable figures.
What the lab results don't show, though, is the particular Fujifilm 'look' of the images. The PROVIA/Standard Film Simulation mode is closest to a standard colour rendition, but even this has a particular vibrant yet natural look. If you like your colours super-saturated, you can swap to VELVIA/Vivid mode or, for a slightly faded vintage vibe, choose Classic Chrome.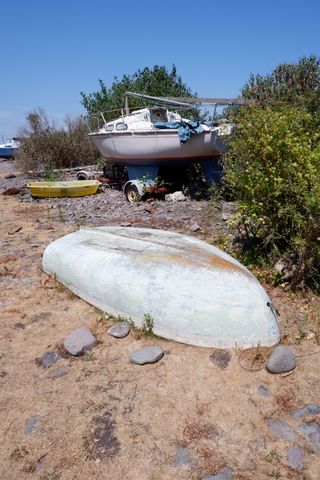 The dynamic range expansion mode is paricularly effective for holding on to shadow and highlight detail in high-contrast scenes – and you get the benefit in the Raw files, too, not the JPEGs. It's also possible to reduce the highlight or shadow tone settings for your in-camera JPEGs to exploit this extra dynamic range. With some canny camera settings, you can capture JPEGs with all the tonal range you'd normally need to shoot Raw for.
The bundled XC 15-45mm F3.5-5.6 OIS PZ is very good for an inexpensive kit lens. Like other mirrorless makers, Fujifilm embeds lens correction profiles in the Raw files, so that you not only get distortion-free JPEGs, but most Raw-conversion programs, including Adobe Camera Raw, will automatically apply the embedded correction too.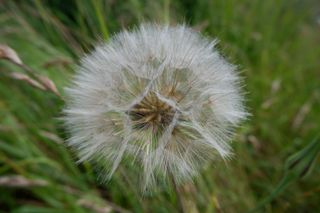 The lens also has a close-up capability that's especially effective for shots of flowers, insects and other small subjects. It's a shame it's only available at the lens's shortest focal length, but that's common with this kind of in-built macro feature.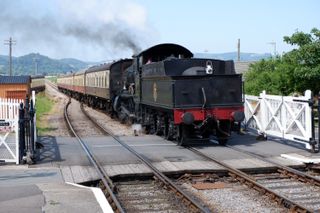 The X-T100 doesn't have Fujifilm's advanced X-Trans sensor – what's inside is just a regular CMOS sensor – but it does benefit from Fujifilm's colour science, so you really don't see much difference. Aside from our misgivings about the exposure system, the X-T100 delivers sharp, saturated and very attractive images, both outdoors and indoors. And while it doesn't have in-body image stabilisation, the kit lens does have a 3-stop optical stabiliser built in, and this seems very effective.
We tested the Fujifilm X-T100 against three key rivals in this sector: the Canon EOS M50, the Olympus OM-D E-M10 Mark III and the Sony A6000. All three are mirrorless cameras with viewfinders aimed at relative newcomers to photography.
Resolution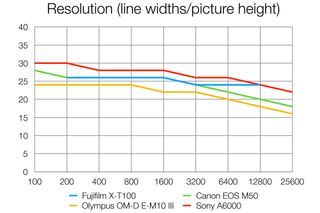 The X-T100 doesn't quite match the resolution of the older Sony A6000, but there's not much in it and it's very similar to the Canon EOS M50. The 16MP Olympus trails slightly behind.
Signal to noise ratio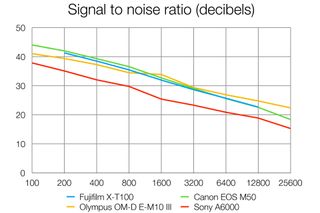 Here, there's very little to choose between the top three cameras. The Fujifilm, Canon and Olympus offer almost identical noise levels across the ISO range. The older Sony A6000, however, is visibly nosier.
Dynamic range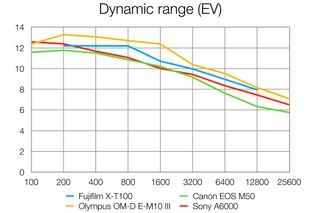 Interestingly, it's the Olympus OM-D E-M10 III that takes the lead here, a characteristic we see often with Olympus and Panasonic Micro Four Thirds sensors. The rest are very close together, with the Fujifilm X-T100 showing a slight dynamic range advantage at medium ISO settings.
Fujifilm X-T100 verdict
Occasional overexposure and some too-easily pressed buttons are just minor annoyances. The X-T100 has a simple, classical design, a practical and compact kit lens, and a very effective control layout. The image quality is top-drawer too. It's comparatively low-price camera that feels like nothing of the sort.
Mirrorless cameras are often touted as the perfect choice for those upgrading from a smartphone, but while basic models are cheap, it's definitely worth paying that little bit extra to get a camera with a viewfinder, and the X-T100 makes that option just a little bit more affordable.
Fujifilm X-T100 competition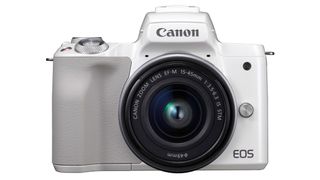 Canon EOS M50
The EOS M50 is small and neat and shoots 4K video at proper frame rates, rather than the pointless 15fps of the X-T100, but it lacks the X-T100's external controls and enthusiast appeal. The EOS M50 is neat, compact and efficient, but somewhat charmless at the same time.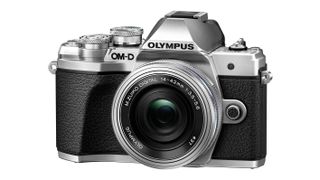 Olympus OM-D E-M10 Mark III
With its M.ZUIKO DIGITAL ED 14-42mm 1:3.5–5.6 EZ "pancake" zoom, the Olympus is small and jewel-like but actually very easy to handle. It only has a 16MP sensor, but it's packed with features for more ambitious beginners who want to learn about photography and not just point and shoot.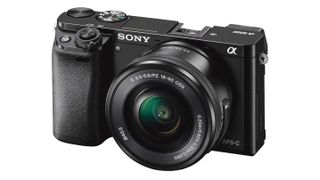 Sony A6000
Over four years old, the A6000 is a one-time advanced mirrorless camera now discounted to extremely enticing entry-level prices. It's old, but still good, though the external controls don't really provide the best access to the camera's features, and it doesn't shoot 4K video.
Fujifilm X-T100 specifications
Sensor: 24.2MP APS-C CMOS, 23.5 x 15.7mm
Image processor: not quoted
AF points: 91-point hybrid phase/contrast AF
ISO range: 200 to 12,800 (exp. 100-51,200)
Max image size: 6,000 x 4,000
Metering zones: 256
Video: 4K UHD at 15p, Full HD at 60/50/24p
Viewfinder: EVF, 2,360K dots, 100% coverage
Memory card: SD/SDHC/SDXC (UHS-I)
LCD: 3.0-inch 2-axis tilting touchscreen, 1,040K dots
Max burst: 6fps
Connectivity: Wi-Fi, Bluetooth
Size: 121.0 x 83.0 x 47.4mm (body only)
Weight: 448g (with battery and memory card)
Read more: