The Fujifilm X100F is the most recent model in X100 premium fixed-lens camera line. Its selling points are its traditional exposure controls, including a lens aperture ring with f-stop settings and a shutter speed dial on the top of the camera. In true retro 35mm film camera style, you lift and turn this dial to change the ISO setting.
Update: The X100F is now almost two years old, and it's not just the competition that's moved on but Fujifilm's own sensor technology too, so we've updated our review to reflect the latest changes. There are rumors of an updated version with Fujifilm 26.1MP X-Trans sensor coming soon
Features
The X100F uses Fujifilm's new 24-megapixel APS-C X-Trans sensor, eight megapixels up on the previous model; a faster X-Processor Pro image engine; and the same hybrid phase-detection/contrast autofocus system seen on the X-T2 and X-T20 (now superseded by the X-T3 and X-T30).
It's a different sort of camera, though. It's not a high speed 4K jack of all trades like the others, but a camera for more considered use, to be appreciated by those who like the simplicity of a fixed focal length prime lens (35mm equivalent f/2) and external exposure controls where you can see the settings and make adjustments even without turning the camera on.
It does have something no other camera has, though, apart from Fujifilm's own X-Pro2, and that's a hybrid optical/electronic viewfinder. You can swap between a parallax-corrected brightline direct vision viewfinder, as used in Leica cameras, for example a regular electronic viewfinder or a hybrid amalgam designed to give you optical clarity and digital information at the same time.
The 35mm equivalent lens is fixed, but there are (somewhat pricey) wide-angle and telephoto conversion lenses that fit on the front to give you a 28mm and 50mm equivalent focal length respectively.
Round the back, the X100F's stripped back approach to photography is even more obvious. The rear screen is fixed (no tilting mechanism) and is not touch-sensitive, though there is a focus lever off to the right.
Perhaps the most alarming omission for some, however, will be the lack of 4K video, as the X100F is restricted to 1,920 x 1,080 full HD. Really, though, this is not a camera for videographers – it's for fans of traditional 35mm camera design who probably won't give a hoot.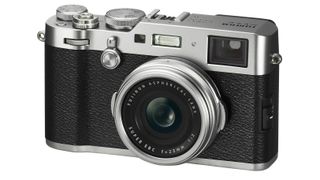 Specifications
Sensor: 24.3MP APS-C format X-Trans CMOS III
Lenses: Fixed 35mm equivalent f/2
Memory: 1x SD/SDHC/SDXC
Viewfinder: Hybrid optical/electronic
Max video resolution: Full HD (1920 x 1080) at 60, 50, 30, 25 or 24p
ISO range: 200-12,800, expanded 100-51,200
Autofocus points: 91/325-point hybrid phase/contrast AF
Max burst rate: 8fps
LCD screen: 3-inch fixed, 1,040k-dot LCD
Shutter speeds: 1/4000 sec to 30 secs, Bulb
Weight: 469g (with battery and memory card)
Dimensions: 126.5 x 74.8mm x 52.4mm
Power supply: NP-W126S Li-ion battery, 270/390 shots
Build and handling
The X100F's hybrid optical/electronic viewfinder is unique, and you switch from the EVF to the OVF via a lever on the front of the camera. The crisp, bright view reminds you of how effective direct vision viewfinders can be.
This optical framing is less accurate than a through-the-lens view, but the advantage is you can see things just outside the frame, which can help with composition and timing and is one of the factors for the continued popularity of Leica rangefinder cameras. In optical mode, there's naturally no lag, and no blackout as you shoot.
The lens aperture and shutter speed controls are simple, effective and refreshing, although the clickable thumbwheel on the back is hard to turn without accidentally pressing it and cancelling the adjustment you were trying to make.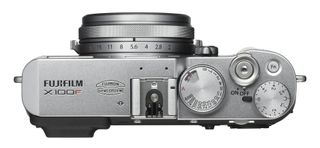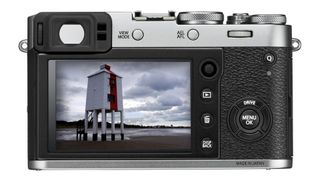 The X100F is also a pretty fair size for an APS-C fixed-lens camera, but that goes well with its retro styling and analog controls. It may look big from the front, but both the body and the lens are slim, so it would be easy to slip this camera into a coat pocket.
Performance
The image quality is excellent, as are Fujifilm's Film Simulation modes – including the new Acros black-and-white mode. Fujifilm's dynamic range expansion modes are effective too, especially for retaining delicate highlight detail.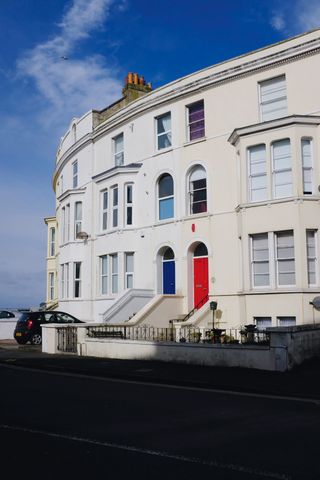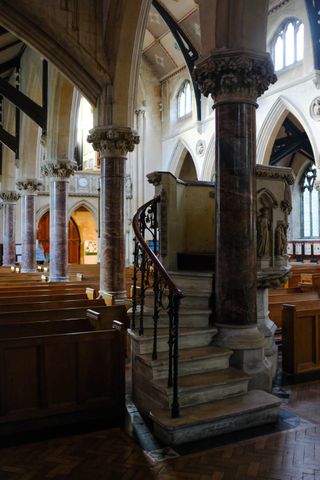 The 23mm f/2 lens is a little less impressive. It's sharp and largely aberration-free at regular aperture settings, but the test shots we took at f/2 look slightly hazy. The autofocus isn't especially fast, either. The lens seems to be the issue, with a relatively slow and noisy AF actuator.
Lab tests
We carried out our usual battery of lab tests on the Fujifilm X100F and compared its results to those from four key rivals: the Canon PowerShot G1 X III, Leica Q and Ricoh GR II.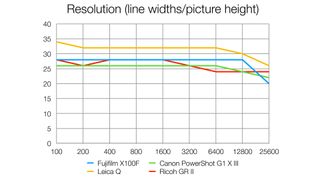 Resolution
The Leica Q scores a significant win here, even though it shares the same 24MP resolution as the Fujifilm X100F and Canon PowerShot G1 X III. We put it down to the larger sensor (the Leica is full frame), the lack of a low-pass filter on the sensor and the expensive Leica 28mm F1.7 Summilux lens on the front. Amongst the APS-C cameras, though, the X100F is very slightly the best.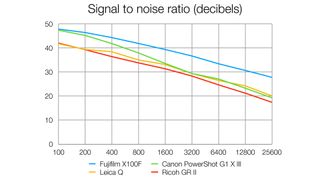 Signal to noise ratio
Here, the X100F scores a clear win, even over the full-frame Leica Q. We suspect it's helped along by the SilkyPix raw converter bundled with the camera, though the X100F's JPEGS are similarly sharp and smooth at high ISO settings.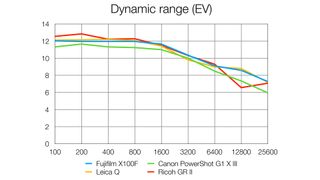 Dynamic range
All four cameras in this group are very close for dynamic range. The Ricoh GR II does especially well, perhaps because it has a 16.2MP sensor, but the X100F matches it from ISO 400 onwards. None of these cameras is a clear winner/loser here, though.
Verdict and competition
Despite its foibles, the X100F is a beautiful camera to use, particularly for those who used traditional film cameras before digital took over. It is expensive, and you can get more for your money elsewhere – but no other camera (except the Fujifilm X-Pro2) gives you the same shooting experience as this.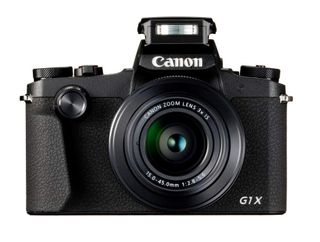 For about the same price as the X100F you can get this 24-megapixel APS-C camera with a 3x zoom. The Canon's maximum aperture is much, though, at f/2.8-5.6, and it lacks the X100F's traditional controls and hybrid optical viewfinder.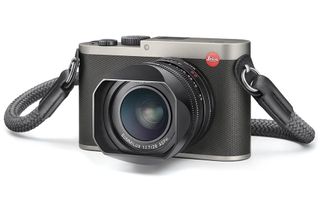 Leica Q
It's a lot of money for a camera, but it's a bargain for a full-frame Leica. You don't get the interchangeable lenses of the M-series, but the Q is a beauty. The 24MP sensor delivers really good resolution, though is no better than APS-C rivals in other respects, but you get an excellent f/1.7 lens.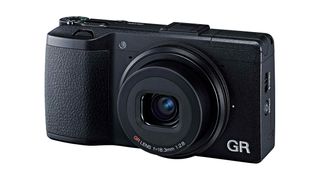 It's easy to forget about the GR II as it seems to have been around for ages and it has an older 16.2MP sensor (a new version is promised for 2019). But this is a little gem of a camera, that's fast, portable and still delivers excellent all-round image quality. The only drawback is its 28mm equivalent lens has a modest f/2.8 maximum aperture.
Read more:
• The 10 best digital compact cameras in 2019
• The best Fujifilm cameras in 2019
• The best travel camera in 2019
• The 10 best enthusiast cameras in 2019