Sony doesn't want the A7R IV to be thought of solely in terms of resolution, but that 61MP sensor is bound to be what grabs all the headlines. It beats its full frame rivals by some margin and re-establishes Sony as a front-runner in a full-frame mirrorless camera market that's suddenly become very busy.
But the Sony A7R IV is not just about resolution. It has a very rounded balance of overall image quality and versatility, combining its ultra-high-resolution with 10fps continuous shooting capability and a buffer that can sustain this speed for up to 7 seconds. We were impressed by the broad feature set on the Sony A7R III, and this new camera moves this versatile concept even further forward.
Is the A7R IV destined to be the best mirrorless camera you can buy? That will depend on your budget and your own needs as a photographer/videographer, but it's definitely going to be on the list.
Sony's epic hybrid AF technology takes another step forward here, with 567 phase detection AF points spread across 74% of the image area and 325 contrast AF points. It now offers Real-Time AF tracking in its movie mode too.
And just to drive home the resolution point once more, the A7R IV has a Pixel Shift Multi Shooting mode than can combine 4 images for full-colour data for each pixel (avoiding the usual demosaicing interpolation) or 16 images with sub-pixel movements to create 240-megapixel photographs.
Specifications
Model number: ILCE-7RM4
Sensor: 61MP full frame Exmor R CMOS sensor
Image processor: BIONZ X
AF points: Hybrid AF, 567 phase detection, 325 contrast AF points
ISO range: 100 to 32,000 (exp. 50-102,400)
Max image size: 9,504 x 6,336
Metering modes: Multi-segment, centre-weighted, spot, average, highlight
Video: 4K UHD at 30p, 24p
Viewfinder: EVF, 5.76m dots
Memory card: 2x SD/SDHC/SDXC (UHS II)
LCD: 3-inch tilting touchscreen, 1.44m dots
Max burst: 10fps
Connectivity: Wi-Fi, Bluetooth, NFC
Size: 128.9 x 96.4 x 77.5mm
Weight: 655g (body only, with battery and SD card)
Build and handling
Sony's A7 series was the first full-frame mirrorless camera design, and it's still the smallest (though the upcoming Sigma fp is smaller than this and any other full frame mirrorless camera right now). That's great in principle, but when you match up these bodies with Sony's bigger, high-performance lenses (especially the premium G Masters), the combination quickly starts to feel front-heavy.
This has been addressed in the A7R IV with a larger grip. It doesn't sound much of a change but it makes a considerable difference. It's immediately obvious when you pick up and handle these cameras side by side.
There's a bigger AF-ON button too, and the EV compensation dial now has a lock to prevent accidental adjustments (easily done when your thumb is reaching for the rear control dial).
The EVF now has 5.76 million dots, which ought to make is super-clear, though it does have a 'digital' look – you can't see the dots, of course, but object edges have a slightly oversharpened look.
The 3-inch rear screen is starting to feel a little small on a camera of this class too, especially when shooting video, where you lose the top and bottom edges to the narrower 16:9 ratio.
Performance
We haven't had longe enough with the Sony A7R IV to run our regular lab tests and we've had only limited time for real-world shooting. Our initial impressions are that the image quality is first rate.
You do have to be particularly careful with the shutter speeds and focusing to get the full benefit of the 61MP sensor, and although Sony claims a 5.5-stop shutter speed advantage from the 5-axis in-body-stabilisation, you'd be unwise to rely on it completely. We tried some handheld shots with the new Sony 35mm lens at slow shutter speeds between 1/8 and 1/2sec, which should be in its safety zone, and got a pretty poor success rate.
Image 1 of 4
Here are some sample images shot with the Sony A7R IV.
Image 2 of 4
Here are some sample images shot with the Sony A7R IV.
Image 3 of 4
Here are some sample images shot with the Sony A7R IV.
Image 4 of 4
Here are some sample images shot with the Sony A7R IV.
The dynamic range and colour rendition look first rate, though. We'd need to check a sample in the lab to confirm Sony's 15-stop dynamic range claim, but our outdoor shots under a tricky overcast sky came out really well, with subtle sky detail and no 'blow-out' or colour shifts. Sony says it's tweaked the processing to produce subtler highlight gradations, so perhaps that's the explanation.
The Eye AF works almost uncannily well, though if you're the sort of photographer who likes to make up your own mind about focus points, you might want to switch it off. Wedding, portrait and social photographers are likely to love it, though.
Early verdict
Most people are going to concentrate on the Sony A7R IV's resolution, but this is actually a very rounded camera. It might be pitched heavily at professional and commercial photographers, but the 10fps shooting mode and reasonable buffer capacity means it can be a pretty handy tool for sports when it needs to be. Naturally, the A7R IV also shoots 4K video, though apart from the inclusion of real-time AF tracking and a new digital audio interface, it feels like not much has happened here. The A7R IV can no doubt shoot great video, but it's probably not the first camera you'd choose to do the job.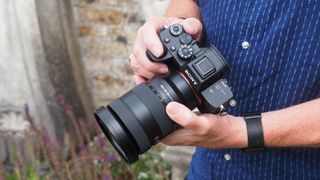 Nevertheless, at first glance, the A7R looks an extremely capable and well-judged replacement for the A7R III. Its redesign means it handles better, the autofocus is improved and image quality looks first class in our initial tests, and not compromised at all by the high resolution. Sony's been pretty quiet of late, but now we know what it's been doing!