If DSLR doesn't cut it for you, the next step up – and the very pinnacle of image making for professionals – is the medium format camera.
These are the preserve of those not only wanting the highest resolution images possible but also the sharpest, most detailed and most colour accurate – perhaps because said shots need to be blown up as physically large as possible for commercial reasons – for use on a billboard, for example, or in a high-end advertising campaign, where the budget required to own or rent one of these devices is less of an issue.
Yes, at one time, medium format photography, at least as far as digital photography was concerned, used to be prohibitively expensive, with cameras running into the tens of thousands of pounds.
However, medium format is no longer limited to the traditional high-end photographic brands specialising in medium format, such as Hasselblad and Phase One.
Fujifilm dipped a toe into digital medium format territory with the launch of its GFX mirrorless series and the inaugural 50S in 2017, bolstered in late-2018 with the addition of the GFX 50R and, in 2019, the promised GFX 100 Megapixels camera.
Similarly, Leica has a new medium format S3 camera on the way in 2019, updating its older S2 model. And then there's Pentax's 645Z, now a little long in the tooth itself, but also worth considering. All offer more affordable alternatives to the previous big beasts of the medium format imaging world.
Without further ado then, let's explore the options for those wanting to attempt medium format photography. In doing so, we'll attempt to discover the best medium format camera you can buy in 2019…
Fuji's first foray into mirrorless medium format digital photography proved a bold move
Sensor: Medium format | Megapixels: 51.4MP | Lens mount: Fujifilm G mount | LCD: 3.2" touchscreen, 2.36 million dots | Viewfinder: Hybrid (optical and electronic) | Max continuous shooting speed: 3fps | Max video resolution: 1920x1080 (Full HD) | User level: Professional
Robust weather-sealed construction
Accurate autofocus performance
Awkward EV comp control
AF can be a little tardy
For a company that had built its reputation over the past 20 years as a purveyor of stack-'em-high-and-sell-'em-cheap compact cameras, the introduction of the medium format GFX came as something of a welcome surprise – albeit not an outright shock, as the company was already making progress in attracting a more photo enthusiast/semi pro audience via its mirrorless X series.
Files boasting a whopping 50 megapixels from a medium format sensor were now within reach of those (pros or otherwise) who couldn't alternatively afford a £20K Hasselblad, while the GFX 50S' robust body was of weather proofed magnesium alloy construction.
Key features to note are the fact the GFX 50S easily copes with the large 117MB files its sensor and resolution generates, while the combination of an eye-level viewfinder boasting a life-like 3.69 million dot resolution, and a tilting 3.2-inch touchscreen at the rear, as well as a small top plate window displaying key settings, makes for both convenience and a level of user friendliness that ensures the camera rapidly becomes an extension of your own arm/eye.
Burst shooting may be a modest 3fps, but then, like all medium format cameras, this Fuji's all about delivering pin-sharp detail, not the rapid response beloved of sports of wildlife specialists.
Mirrorless medium format camera from traditionally the biggest, most important player in medium format photography
Sensor: Medium format | Megapixels: 50MP | Lens mount: Hasselblad X | LCD: 3.0" touchscreen, 920K dots | Viewfinder: Electronic, 2.36 million dots | Max continuous shooting speed: 2.3fps | Max video resolution: 1920x1080 (Full HD) | User level: Professional
Impressively lightweight yet robust build
Stunningly detailed imagery
Some operational quirks
Slower to start up than we'd like
A game-changer on launch, this relatively compact offering from Hasselblad, going by its own standards and largely thanks to its mirrorless design, boasted the headline grabbing feature of a 50-megapixel resolution, a feat more recently matched by Fuji's GFX series.
Being likewise a medium format model, the Hasselblad X1D-50c requires a tad more attention and care than your typical camera for its user to be rewarded with eye popping, detail rich imagery.
This isn't a camera for 'machine gunning' your subject therefore, but rather a more considered and thoughtful approach; indeed maximum burst capture speed is a modest 2.3fps, which wouldn't trouble the average consumer DSLR.
That said, we are getting a medium format option here in a shell barely bigger than a DSLR, albeit one at price tag that places it beyond the reach of all but the most well heeled enthusiasts and professionals.
We loved the eye-level electronic viewfinder with its impressive resolution, provided alongside the rear screen and its minimalistic smattering of physical controls at least concentrates the mind. In short, everything you need is here for stunning results.
Fuji's follow-up foray into mirrorless medium format digital photography
Sensor: Medium format | Megapixels: 51.4MP | Lens mount: Fujifilm G | LCD: 3.2" touchscreen, 2.36 million dots | Viewfinder: 0.5" OLED, 3.69 million dots | Max continuous shooting speed: 3fps | Max video resolution: 1920x1080 (Full HD) | User level: Professional
Rangefinder-style top plate controls
Weather-resistant compact body
No 4K video offered
Modest burst mode and leisurely AF
The 'R' in Fuji's latest 50R model, first unveiled late-September 2018, stands for 'Rangefinder'. Like the 50S before it, which remains in the range, the weather-sealed 50R boasts a 51.4MP medium format image sensor.
However, Fuji has managed to make the 50R 25mm slimmer this time around and lighter by 145g, its maker leading the pack when it comes to ever more portable, affordable and accessible medium format cameras.
It's half the price of its Hasselblad rival, for example. Indeed its manufacturer was pitching this as a 'super full frame' camera on launch, pitting it against recent 35mm frame sized sensor-based rivals from Canon, Sony, Nikon et al.
It holds its own against these by providing the world's lightest medium format camera combination when twinned with Fuji's compatible GF 50mm f/3.5 lens, while being full compatible with Capture One software for those professionals who love to shoot with camera tethered to a PC, for monitoring purposes.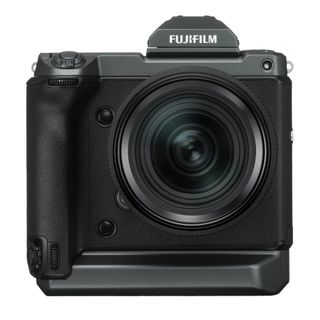 Fujifilm GFX 100
Forthcoming for 2019: a Fuji medium format camera with huge 100MP resolution
Sensor: Medium format | Megapixels: 100MP | Lens mount: Fujifilm G | LCD: TBC | Viewfinder: TBC | Max continuous shooting speed: TBC | Max video resolution: 4K at 30fps | User level: Professional
Massive resolution
Impressively compact body given its high-end spec
Expensive, if you don't need the boost in pixels
Vertical handgrip adds bulk
The clue to the appeal of this one – which we expect to go on sale in June – is all in the name.
Not only will this be the first 100-megapixel mirrorless model when released this year – Fuji is saying it's on course to debut in the first half of 2019 – but we already know that it will feature in-body image stabilization, an on-sensor phase detection auto focus system, plus will offer 4K video capture at 30fps, something that neither the 50S or 50R medium format models currently do.
We also get an integrated vertical handgrip – something we may see more of in 2019, while overall size and weight are promised to be roughly equivalent to a high end DSLR.
Naturally, this level of specification doesn't come cheap; although it will be more affordable still than medium format cameras from anyone but Fuji would typically be.
Its maker estimated the price will be around $10,000 + tax when it was first unveiled at Photokina 2018. We'll bring you a full report as soon as we know more!

• Fujifilm GFX 100 hands-on review
An evolution in medium format for the German premium camera brand, updating the long-in-the-tooth S2 model
Sensor: Medium format | Megapixels: 64MP | Lens mount: Leica S | LCD: 3", 921,600 dots | Viewfinder: Pentaprism type with illuminated LCD bar | Max continuous shooting speed: 3fps | Max video resolution: 4K at 24fps | User level: Professional
High resolution
Splash and dust-resistant construction
Luxury price tag
Modest burst shooting speed
Another new medium format model arriving in 2019 – scheduled for the spring, in fact – is the magnesium bodied Leica S3, which comes complete with dust and splash proofing, plus non-slip rubber armouring.
Essentially the size of a conventional DSLR, in updating the Leica 37.5MP S2 from a decade ago, this latest iteration boasts a 64MP sensor with dimensions of 30x45mm, bettering the Fuji 50S and 50R in terms of headline resolution.
We also get 4K cinema-quality video capture with stereo sound via built-in microphone or optional accessory mic, and continuous stills burst mode speeds up to 3fps, which looks to be becoming industry standard for its class.
Also of note is a maximum ISO sensitivity of ISO 50,000, a Live View mode with 60fps refresh rate upon which a histogram can be imposed, 3-inch monitor screen, plus a built-in electronic spirit level for achieving straight horizons.
While pricing was yet to be set at the time of writing, with this being a Leica we can bet it will arrive with a luxury price tag to match.
Pentax 645Z
Coming on like a supersized version of its K-series DSLRs, but with a medium format sensor, this is one of the more affordable medium format models
Sensor: Medium format | Megapixels: 51MP | Lens mount: Pentax 645AF2 | LCD: 3.2", 1,037,000 dots | Viewfinder: Prism type | Max continuous shooting speed: 3fps | Max video resolution: Full HD at 30fps | User level: Professional
Large sensor with big pixel count
Tilting Live View-enabled screen
Heavy and bulky compared with a DSLR (over 1.5kg without lens)
High price compared to a 35mm alternative too
Four years old at the time of writing, which is relatively ancient for a digital camera, there will be deals to be had on the Pentax 645Z, revolutionary for its time.
As expected, this model from the once distinguished marque is solidly built and weatherproof, as well as being easy to use – thanks to the likes of a tilting 3.2-inch LCD monitor – and at the more affordable end of the medium format camera market.
On top of this, images are, as expected, superb in terms of the huge amounts of detail delivered. Replacing the older Pentax 645D, the 645Z has a Sony CMOS sensor at its heart and has had its resolution boosted from 40 to 51 million pixels.
Maximum shooting speed is once again a modest-sounding but in fact standard-issue for its class 3fps, for up to 10 Raw images or 30 highest quality JPEGs. These are written to two SD card enabled slots.
With the same AF system as found in Pentax's own K-3, the camera boasts 27 AF points, 25 of which are the more sensitive cross type, enabling it to capably work down to the equivalent of -3EV.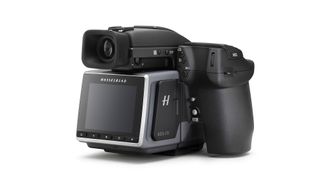 Hasselblad H6D-400c
Got a huge budget? Then check out the medium format giant's latest multishot medium format camera, following on from the 100MP H6D-100c
Sensor: Medium format | Megapixels: 400MP (from 100MP CMOS sensor) | Lens mount: Hasselblad H system | LCD: 3.0", 920K dots | Viewfinder: Eye-level or waist-level viewfinder options | Max continuous shooting speed: N/A | Max video resolution: 4K at 25fps | User level: Professional
Highest resolution, most colour-accurate medium format images on the market
The pinnacle of what's achievable via medium format photography right now
Eye-watering price tag
Huge file sizes in terms of data usage
With a price tag running into tens of thousands (around £40K at the time of writing), this obviously isn't going to be your entry point into medium format photography.
Nonetheless we thought it worth including here as an example of the current pinnacle of the medium format world (plus, there's always the option of renting it out!).
Like the same manufacturer's previously released H6D-100c, this features a 100MP CMOS sensor, with its maximum effective resolution of 400MP being achieved via six-shot image capture.
The process involves the sensor being moved one pixel at a time for the first four shots to achieve real colour data – the capture of red, green and blue colour information – before being returned to its starting point.
At this juncture, two final half pixel movements are undertaken, one vertical and one horizontal, to complete the 400MB image. This is delivered as a 2.3GB TIFF file.
Designed for tethered shooting with the aid of a Mac or PC, there are two available card slots, while the 3-inch, 920K-dot screen at the rear utilises a smartphone style user interface for relative ease of use.
While not one for 'machine gunning' your subject but, rather, more considered use, this medium format camera option from the venerable Hasselblad is a bit of a beast.