Medium format film cameras were the tool of choice for professional film photographers but their digital replacements proved slow, cumbersome and massively expensive. Not any more! Medium format cameras are back, and with the latest tech they're starting to make those full-frame cameras we used to lust after look very ordinary.
Medium format cameras have larger sensors and generally higher resolutions than full-frame cameras, even the best mirrorless cameras and the best DSLRs. There are some full-frame cameras that set out to give full-frame equivalent quality, like the brand new Sony A7R IV, but the appeal of bigger medium sensors is strong. Either you get the same resolution but bigger photosites (less noise, more dynamic range), or you get a bigger sensor and more megapixels – like the amazing Fujifilm GFX 100.
If DSLR doesn't cut it for you, the next step up – and the very pinnacle of image making for professionals – is the medium format camera.
Until a short time ago, digital medium format photography was limited to extremely expensive professional modular camera systems from the likes of Hasselblad and Phase One, with camera prices running into the tens of thousands of pounds.
The Pentax 645Z bucked that trend as a much more affordable camera with a more conventional design, while the Leica S2 is a beautiful but old DSLR design waiting for the Leica S3 replacement due late in 2019. In reality, it took the arrival of the Fujifilm GFX 50S and the Hasselblad X1D to really turn things around in the medium format market.
So let's find out which is the best medium format camera you can buy in 2019…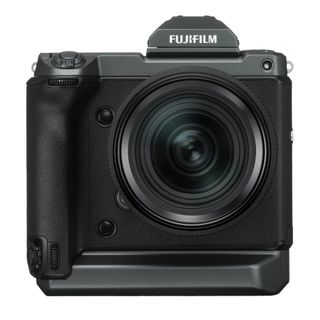 1. Fujifilm GFX 100
It's expensive, but not for medium format. It's also quite exceptional
Sensor: Medium format | Megapixels: 102MP | Lens mount: Fujifilm G | LCD: 3.2-inch touchscreen, 2.36 million dots | Viewfinder: EVF, 5.76 million dots | Max continuous shooting speed: 5fps | Max video resolution: 4K at 30fps | User level: Professional
Incredible resolving power
Full frame 4K video
Controls may divide opinion
In-body stabilisation isn't foolproof
The GFX 100 is big and expensive compared to regular cameras, but in the world of medium format photography (sensors larger than 35mm full frame), it's a positive bargain. It's also a groundbreaking camera that changes our expectations about what medium format cameras can do. Its 100-megapixel resolution challenged our own testing procedures, its in-body stabilisation is a medium format first, and its hybrid AF (thanks to a recent firmware update) is a huge step forward. On the downside, the in-body stabilisation is valuable extra insurance, but you'd be unwise to rely on it, and while the body is relatively compact, when it's matched up with Fujifilm's medium format glass, the combination gets quite tiring for prolonged handheld use. But this camera's image quality is simply spectacular, and once you've seen what it can do, any handling quibbles are instantly forgotten.
Read more: Fujifilm GFX 100 review
If the GFX 100 is too big and expensive, what about the GFX 50R?
Sensor: Medium format | Megapixels: 51.4MP | Lens mount: Fujifilm G | LCD: 3.2" touchscreen, 2.36 million dots | Viewfinder: 0.5" OLED, 3.69 million dots | Max continuous shooting speed: 3fps | Max video resolution: 1920x1080 (Full HD) | User level: Professional
Rangefinder-style top plate controls
Weather-resistant compact body
No 4K video offered
Modest burst mode and leisurely AF
The 'R' in Fuji's latest 50R model, first unveiled late-September 2018, stands for 'Rangefinder', though actually this means 'rangefinder style' (it doesn't actually have rangefinder focusing). Like the 50S before it, the weather-sealed 50R boasts a 51.4MP medium format image sensor. However, Fujifilm has managed to make the 50R 25mm slimmer this time around and lighter by 145g, its maker leading the pack when it comes to ever more portable, affordable and accessible medium format cameras. It's half the price of its Hasselblad rival, for example. Indeed its manufacturer was pitching this as a 'super full frame' camera on launch, pitting it against recent 35mm frame sized sensor-based rivals from Canon, Sony, Nikon et al. We love the GFX 50R because it's relatively compact, very much like a conventional camera to use, and while it's easily the cheapest route into medium format photography, the design, build quality and finish feel absolutely first class.
Style and image quality combined... at a price
Sensor: Medium format | Megapixels: 50MP | Lens mount: Hasselblad X | LCD: 3.0" touchscreen, 920K dots | Viewfinder: Electronic, 2.36 million dots | Max continuous shooting speed: 2.3fps | Max video resolution: 1920x1080 (Full HD) | User level: Professional
Impressively lightweight yet robust build
Stunningly detailed imagery
Some operational quirks
Slower to start up than we'd like
Most professionals will choose function over style every time, but the X1D feels like it's aiming at a very different, design-conscious market. It's a much more minimal 'statement' camera than the Fujifilm GFX 50R, despite sharing the same dimensions and sensor specs. It's also more expensive. The Hasselblad lenses, however, are superb, as is the image quality – especially the dynamic range. Hasselblad has just announced a new X1D II 50c which we've tried briefly but we haven't been able to properly test yet, and this comes with a host of performance and operational improvements (we found the first version a little flaky from time to time). This isn't a camera for 'machine gunning' your subject, but rather a more considered and thoughtful approach. It's also a camera for those who appreciate engineering and design finesse – perfect for people who like to appreciate cameras as physical objects too, and not just image capture tools.
A great camera slightly overshadowed by recent releases
Sensor: Medium format | Megapixels: 51.4MP | Lens mount: Fujifilm G mount | LCD: 3.2" touchscreen, 2.36 million dots | Viewfinder: Hybrid (optical and electronic) | Max continuous shooting speed: 3fps | Max video resolution: 1920x1080 (Full HD) | User level: Professional
Robust weather-sealed construction
Accurate autofocus performance
Awkward EV comp control
AF can be a little tardy
Fujifilm rocked the medium format world when it announced the GFX 50S. Files boasting a whopping 50 megapixels from a medium format sensor were now within reach of those (pros or otherwise) who couldn't alternatively afford a £20K Hasselblad, while the GFX 50S' robust body was of weather proofed magnesium alloy construction. The GFX 50S easily copes with the large 117MB files its sensor and resolution generates, while the combination of an eye-level viewfinder boasting a life-like 3.69 million dot resolution, and a tilting 3.2-inch touchscreen at the rear, as well as a small top plate window displaying key settings, makes for both convenience and a level of user friendliness that ensures the camera rapidly becomes an extension of your own arm/eye. So why is it not at the top of the list? The GFX 50S is an excellent 'sensible' buy, but it's upstaged by the resolution of the GFX 100, the GFX 50R is smaller (just) and cheaper, and the Hasselblad X1D has an extra dose of style.
It looks wonderful, but we still can't buy one yet
Sensor: Medium format | Megapixels: 64MP | Lens mount: Leica S | LCD: 3", 921,600 dots | Viewfinder: Pentaprism type with illuminated LCD bar | Max continuous shooting speed: 3fps | Max video resolution: 4K at 24fps | User level: Professional
High resolution
Splash and dust-resistant construction
Luxury price tag
Modest burst shooting speed
We tried the Leica S3 as far back as Photokina 2018 and thought it was wonderful... but you still can't buy one yet. Leica says it's now due to arrive in the second half of 2019. It's essentially the size of a conventional DSLR, but this latest iteration boasts a 64MP sensor measuring 30x45mm, bettering the Fuji 50S and 50R in terms of headline resolution, if not the GFX 100. The Leica S3 will offer 4K cinema-quality video capture with stereo sound via built-in microphone or optional accessory mic, a maximum ISO sensitivity of ISO 50,000, a Live View mode with 60fps refresh rate. We've got this at number 5 in our list because it's such a beautiful thing, but we still don't know what it will cost and when you will be able to get one, so that might change!
6. Pentax 645Z
It's like a supersized Pentax K DSLR, and affordable too
Sensor: Medium format | Megapixels: 51MP | Lens mount: Pentax 645AF2 | LCD: 3.2", 1,037,000 dots | Viewfinder: Prism type | Max continuous shooting speed: 3fps | Max video resolution: Full HD at 30fps | User level: Professional
Large sensor with big pixel count
Tilting Live View-enabled screen
Heavy and bulky (over 1.5kg without lens)
It's good, but 5 years old now
Five years is a long time in the digital camera market, and that's how long ago the Pentax 645Z was launched. Revolutionary for its time, the 645Z is solidly built and weatherproof, easy to use and at the more affordable end of the medium format camera market. On top of this, images are excellent, even by current standards. Replacing the older Pentax 645D, the 645Z has a Sony CMOS sensor at its heart and has had its resolution boosted from 40 to 51 million pixels. The maximum shooting speed sounds modest at 3fps, for up to 10 raw images or 30 highest quality JPEGs, but this is fine for a medium format camera. With the same AF system as found in Pentax's own K-3, the camera boasts 27 AF points, 25 of which are the more sensitive cross type, enabling it to capably work down to the equivalent of -3EV. The only worry with the 645Z is that things move slowly in the Pentax world, so it's hard to predict what lenses and what upgrades might come in the future.
7. PhaseOne XF IQ4 150MP Camera System
This is the highest resolution camera you can get
Sensor: Medium format | Megapixels: 151MP | Lens mount: Phase One | LCD: 3.2" | Viewfinder: Eye-level or waist-level viewfinder options | Max continuous shooting speed: N/A | Max video resolution: N/A | User level: Professional
Highest native resolution available
53.4 x 40mm 'full frame' MF sensor
Massively expensive
Considered (slow) photography
Obviously the PhaseOne IQ4 system is way outside the scope of regular photographers, but for high-end commercial photographers with well-heeled clients who demand the highest standards, it's a very sound commercial proposition to either buy or rent. The XF IQ4 needs careful handling and considerable investment. It's not a walkaround camera you can stuff into a backpack. But this, and high-end medium format cameras like it, can achieve a level of quality, precision and control you wouldn't believe. Hasselblad (below) can claim 400 megapixel capture with its multi-shot H6D-400c, but the PhaseOne PhaseOne XF IQ4 150MP has the highest single-shot native resolution of all.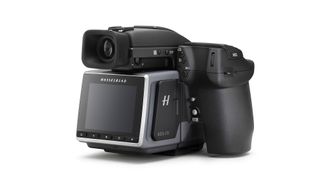 8. Hasselblad H6D-400c
For those with megapixel mania, this is the ultimate
Sensor: Medium format | Megapixels: 400MP (from 100MP CMOS sensor) | Lens mount: Hasselblad H system | LCD: 3.0", 920K dots | Viewfinder: Eye-level or waist-level viewfinder options | Max continuous shooting speed: N/A | Max video resolution: 4K at 25fps | User level: Professional
Highest resolution images on the market
Modular 'system camera' design
Eye-watering price tag
Huge file sizes!
With a price tag running into tens of thousands (around £40K at the time of writing), this obviously isn't going to be your entry point into medium format photography. We're including here as an example of the current pinnacle of the medium format world (there's always the option of renting it out!) and what medium format photography used to cost until the latest camera releases. The H6D-400c features a 100MP CMOS sensor, with its maximum effective resolution of 400MP being achieved via six-shot image capture. The process involves the sensor being moved one pixel at a time for the first four shots to achieve real colour data – the capture of red, green and blue colour information – before being returned to its starting point. It's designed for tethered shooting with the aid of a Mac or PC.