The best medium format cameras deliver peerless image quality and that impossible-to-replicate medium format "look". Their large sensors offer depth and dynamic range that outstrips full-frame counterparts in terms of sheer quality.
For years these cameras had a niche popularity, with a reputation for being impressive on the inside but horribly bulky and impossibly expensive. However, the game has changed.
While Hasselblad gave us the first mirrorless medium format camera, it was arguably Fujifilm that kicked off the revolution by introducing its impressive GFX cameras. Smaller and much more affordable than traditional medium format options, these models started making big-sensor photography more mainstream than it has ever been. Hasselblad then used its magic with modular system cameras to breathe life into old equipment.
Packing bigger sensors and making the highest resolution cameras, like the Fujifilm GFX 100s or the Hasselblad X2D 100C can be used handheld, with better-than-ever ergonomics. They aren't the only ones with skin in the game, and we've also made room on this list for the DSLR-style Leica S3 and some truly specialized big-pixel options from Phase One.
There are always plenty of rumors about what the future might hold as well – some eagle-eyed fans are convinced they spotted a medium format mirrorless model at Leica HQ, and there's also talk that drone-maker DJI, which is a majority stakeholder in Hasselblad, might get in on the medium format action.
These cameras aren't cheap and never will be. But if you're looking for the best you can get in terms of digital image quality, they're right here. Check out our guide on how to upgrade from full-frame to medium format if you're curious about what steps to take.
Best medium format camera: Our top picks
When it comes to medium format there are a few things to consider such as if you only use cameras in a studio or work in outside locations too, another is resolution, will 50MP be enough for your workflow, or will 100-megapixel plus result in bigger is better?

If I had to choose the best medium format camera for performance, portability, and usability it would be the Fujifilm GFX 100S. However, if you're looking for the best image quality straight out of the camera, then it has to be the Hasselblad X2D. But, if you're a more traditional, only shoots-in-a-studio photographer then I would be inclined to recommend the Hasselblad H6D-100c.
Best medium format camera in 2023
Why you can trust Digital Camera World Our expert reviewers spend hours testing and comparing products and services so you can choose the best for you. Find out how we test.
Best overall
Refining a formula that has worked exceptionally well for Fujifilm, the GFX 100S continues to bring medium format to the masses by packing a big sensor into a comparatively small body. On the outside, there's not a lot to distinguish the Fujifilm GFX 100S from any other full-frame mirrorless camera. But on the inside, it's a different story, with a 102MP BSI-CMOS 43.8x32.9mm medium format sensor running the show.
When we tested the Fujifilm GFX 100S for a full review, we found the level of detail captured by the camera to be simply incredible. The dynamic range is also superb, and all these pair beautifully with improved autofocus and in-body image stabilization.
This IBIS isn't quite good enough for on-the-go vlogging or shooting handheld at 1/8sec, but it's still very impressive. Fujifilm's gorgeous film simulation modes also make their obligatory appearance, opening up some fun shooting possibilities and the ability to experiment with different looks.
This is smaller, lighter, and cheaper than any other camera offering 100MP right now. The Fujifilm GFX 100S is an outstanding achievement and an exciting glimpse into the future of medium format.
Read our full Fujifilm GFX 100S review for more details
Best for image quality
If you're looking for ultimate photographic quality, look no further – the Hasselblad X2D is the definitive still imaging machine. Thanks to the stunning 100MP image sensor and Hasselblad's exceptional Natural Colour Solution technology, simply put I have never seen images as stunning come straight out of any other camera – photos are gallery ready, directly out of the X2D.
Employing hybrid phase detect autofocus, Hasselblad's latest mirrorless marvel has the fast and robust AF system it deserves – and it also boasts a stunning seven stops of in-body image stabilization, which is unprecedented for a medium format camera, making this a truly hand-holdable device that can shoot whatever, wherever.
In addition to a 5.76 million dot viewfinder, which enables you to see every ounce of detail in your 100MP shots, the camera supports CFexpress B cards but also boasts 1TB of internal storage. No more scrambling around for cards!
The asterisk is that the X2D does not shoot video in any way, shape, or form. Honestly, though, nobody buys a medium format camera to vlog with, so this should be the farthest thing from your mind. Take one look at the image files it produces and you will be in love.
Read more: Hasselblad X2D 100C review for more details
Most affordable
Fujifilm is continuing its tradition of portability and affordability in its medium format cameras, making the GFX50S II one of the most tempting propositions yet. It's the fifth model in the GFX series and on paper, there doesn't seem to be a huge difference between the Mark II and its predecessor – It reuses the 51.4MP sensor from the original GFX 50S, but it's housed in the more compact body of the GFX 100S, and Fujifilm have added in-body image stabilization worth 6.5 stops - a first for a GFX model.
What's more, you get all this at a cheaper price point than the original GFX 50S, making the GFX 50S II a seriously compelling option for photographers switching to medium format. When we reviewed the Fujifilm GFX 50S II, we reckoned it was the next vital step for medium format in becoming truly mainstream, and we still think that's the case – it brings you that incomparable medium format look, for a price that's comparable to full frame.
The original GFX 50S can still be found new at some retailers, but often for more money than the superior GFX 50S II, so there's little reason to consider buying the old model now.
Read our full Fujifilm GFX 50S II review for more details
Best retro-feel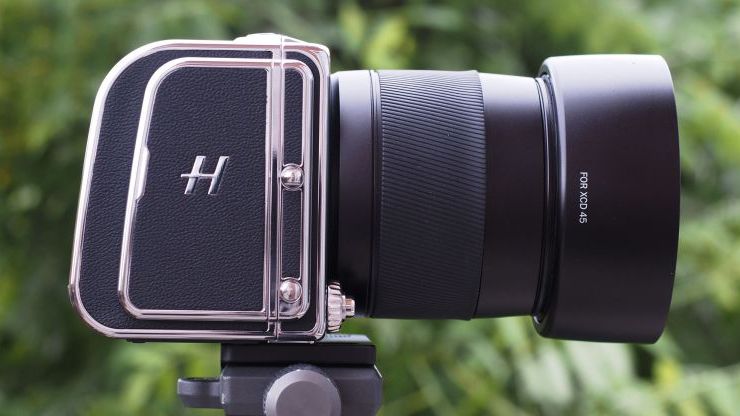 Hasselblad 907X 50C might share the same 50MP resolution and range of XCD lenses as the X1D, but it enjoys a clever modular design. Along with the CFV II 50C digital back which handles the image capture, there's a new 907X body that's so thin it looks like a lens adapter. This is the physical and electronic bridge between the digital back and the lens, but what's really impressive is that the CFV II 50C can breathe new life into your old Hasselblad 500cm (if you're lucky enough to have one) as it'll take the place of the film back.
There's a large 3.2-inch tilt-angle touchscreen at the rear, but no EVF, while the AF performance can bit a touch sluggish. The quality of the finish though, including the lovely black leatherette trim and chrome edging, is classic Hasselblad, while the results are gorgeous. As we said in our review, the Hasselblad 907X 50C is a slow and awkward tool, but it's one designed for considered, careful use, and provides a gateway into a modular system for a fraction of the cost you might expect.
Many may be better served by the X1D II 50C or a Fujifilm GFX camera, but this incredible feat of camera engineering is a winner as far as we're concerned.
Update: To celebrate its 80th anniversary, Hasselblad came out with the 907x Anniversary Edition Set. This special edition is an absolutely gorgeous version of the 907X in Lunar Grey rather than chrome, packaged alongside a matching 30mm f/3.5 lens. It's an absolutely gorgeous set, and it also retails at about $15,000, so you do have to really want it. They've only made 800 of them, so act fast.
Read our full Hasselblad 907X 50C review for more details or Best Hasselblad lenses
Best rangefinder option
First unveiled in 2018, the GFX 50R has now been officially discontinued, replaced indirectly by the GFX 50S II. However the 50R is still widely available to buy, and there are plenty of reasons why I think you'd want to! The 'R' in Fuji's 50R model stands for 'Rangefinder', though actually, this means 'rangefinder style' (it doesn't actually have rangefinder focusing).
Like the original 50S before it, the weather-sealed 50R boasts a 51.4MP medium format image sensor. However, Fujifilm has managed to make the 50R 25mm slimmer this time around and lighter by 145g. We love the GFX 50R because it's relatively compact, very much like a conventional camera to use, it's accessibly priced, and the design, build quality and finish feel absolutely first class. It's getting harder to find in some territories but is worth considering if you find one at a good price.
Read our full Fujifilm GFX 50R review for more details
Best for handheld
The GFX 100 is expensive compared to regular cameras, but in the world of medium format photography (sensors larger than 35mm full frame), it's a positive bargain.
It's also a groundbreaking camera that changed our expectations about what medium format cameras can do. Its 100-megapixel resolution challenged our own testing procedures, its in-body stabilization was a medium format first, and its hybrid AF (thanks to a recent firmware update) is a huge step forward.
It's a much more practical proposition for handheld photography than the Hasselblad 907x, though more expensive too. We gave the GFX 100 a glowing review when we tested it – but of course, it has since been eclipsed by its real rival, Fujifilm itself, namely the stunning GFX 100S at our #1 spot. But outshines its sibling for handling, as it has a big vertical built into the design as standard - which aids handheld use, particularly with longer lenses
Read our full Fujifilm GFX 100 review for more details
Best for Studio
Canon and Nikon have been duking it out for years in the DSLR market, but in the world of medium format, it's Phase One vs Hasselblad. The H6D-100c is the latest in Hasselblad's long-running modular medium format system, and while Hasselblad can't match Phase One for megapixels without resorting to multi-shot models like the H6D-400c.
It does have the cachet and customer loyalty of the Hasselblad brand, and the company has been extremely good at combining its new tech with its much-loved legacy products. This is the best Hasselblad camera on the market today for full-blown medium format shooting that achieves 100MP in the studio, and of course, having a mirror means you get that traditional and super-sounding shutter noise and mirror slap.
Best for DSLR users
The year 2014 was a long time ago in the digital camera market, and that's when the Pentax 645Z was launched. Revolutionary for its time, the 645Z is solidly built and weatherproof, easy to use, and at the more affordable end of the medium format camera market. On top of this, the images are excellent, even by current standards.
Replacing the older Pentax 645D, the 645Z has a Sony CMOS sensor at its heart and has had its resolution boosted from 40 to 51 million pixels. The maximum shooting speed sounds modest at 3fps, for up to 10 raw images or 30 highest quality JPEGs, but this is fine for a medium format camera.
With the same AF system as found in Pentax's own K-3, the camera boasts 27 AF points, 25 of which are the more sensitive cross-type, enabling it to capably work down to the equivalent of -3EV. The only worry with the 645Z is that things move slowly in the Pentax world, so it's hard to predict what lenses and upgrades might come in the future.
Read our full Pentax 645Z review for more details
Best for landscape photographers
The Phase One XT is an extraordinary camera. Phase One doesn't want to call it a 'technical' camera, or a 'field' camera, but that's the closest description. It's an extremely compact modular system that takes the same IQ4 digital backs as the Phase One XF system but is designed for portability and travel.
It has its own built-in lens movements for perspective correction and relies on the LCD display on its digital back for composing images. It also uses its own lens mount and lenses, so the purchase cost of the XT itself is just the start.
We've been hands-on with the Phase One XT, and it's a remarkably streamlined camera for something with this much resolution. It's not going to be for everyone, but landscape and architectural shooters who want a lot of resolving power in a field-ready kit are going to absolutely fall in love with it.
Read our Hands on: Phase One XT for more details
Best for Leica users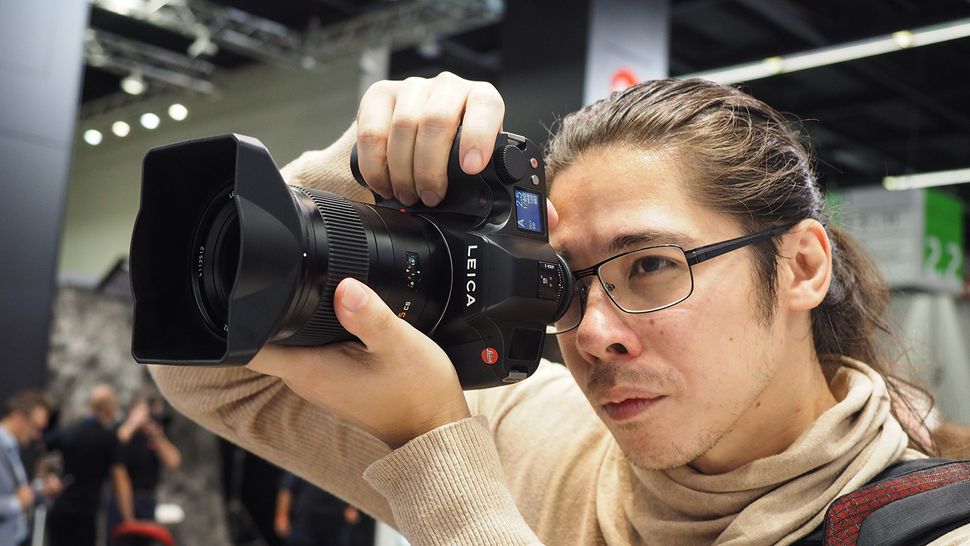 We tried the Leica S3 as far back as Photokina 2018 and thought it was wonderful... but we had to wait until March 2020 for it to become officially available. It's essentially the size of a conventional DSLR, but this latest iteration boasts a 64MP sensor measuring 30x45mm, bettering the Fujifilm GFX 50S II and 50R in terms of headline resolution, if not the GFX 100 or GFX 100s.
The Leica S3 promises 4K cinema-quality video capture with stereo sound via a built-in microphone or optional accessory mic, a maximum ISO sensitivity of ISO 50,000, and a Live View mode with a 60fps refresh rate. It's such a beautiful thing, but the S3's price means that its appeal has been limited to high-end pros and very well-off Leica enthusiasts.
Might Leica make a medium format mirrorless camera, GFX-style, in the future? It's certainly possible, but we're retaining a healthy skepticism until the day an announcement hits.
Read our full Hands on: Leica S3 for more details
Best for commercial work
Obviously, the PhaseOne IQ4 system is way outside the scope of regular photographers, but for high-end commercial photographers with well-heeled clients who demand the highest standards, it's a very sound commercial proposition to either buy or rent.
The XF IQ4 needs careful handling and considerable investment. It's not a walkaround camera you can stuff into a backpack. But this, and high-end medium format cameras like it, can achieve a level of quality, precision, and control you wouldn't believe.
Hasselblad (below) can claim 400 megapixel capture with its multi-shot H6D-400c, but the PhaseOne XF IQ4 150MP has the highest single-shot native resolution of all.
Read our full PhaseOne XF IQ4 150MP review for more details
Best for multi-shot
With a price tag running into tens of thousands (around $40K at the time of writing), this obviously isn't going to be your entry point into medium format photography.
We're including it here as an example of the current pinnacle of the medium format world (there's always the option of renting it out!) and what medium format photography used to cost until the latest camera releases.
We're including here as an example of the current pinnacle of the medium format world (there's always the option of renting it out!) and what medium format photography used to cost until the latest camera releases. ots to achieve real color data – the capture of red, green, and blue color information – before being returned to its starting point. It's designed for tethered shooting with the aid of a Mac or PC.
Medium format sensor size
It is worth noting that medium format sensors come in two main sizes: The 'full frame' medium format size is used by Phase One, and in Hasselblad's H-series cameras, and it corresponds closely with the old 645 film format. There's also a smaller size, midway between this and full frame sensors, which is used by the Hasselblad X, Fujifilm GFX, Pentax, and Leica S cameras.
How we test cameras
We test camera resolution, dynamic range and noise under scientifically controlled conditions using two key testing tools: Imatest Master and DxO Analyzer. All DSLRs and mirrorless cameras are subjected to these tests and, in some instances, high-end compact cameras.
We use these real-world testing and lab results to inform our comments in buying guides.
1. Resolution (ISO-12233): We use a resolution chart based on ISO-12233 from Applied Image inc to indicate the limit of the camera's vertical resolution at the centre of the frame. The higher the value, the better the detail resolution.
2. Dynamic range (DxO Analyzer): This is a measure of a camera's ability to capture detail in the highlights and shadows. We use DxO's transmissive chart, which enables us to test a dynamic range of 13.3 stops.
3. Noise (DxO Analyzer): We use the dynamic range transmissive chart to analyze the signal-to-noise ratio for RAW and JPG files at every sensitivity setting using DxO Analyzer. A higher value means the signal is cleaner.