We've waited quite a long time to get the Panasonic Lumix S1R into our labs, the new full-frame mirrorless camera for professionals.
First announced at Photokina 2018 and rumored long before that, the new Panasonic Lumix S range is a big step up from the smaller Micro Four Thirds format cameras made by Panasonic until then.
Designed for professionals, experts and advanced amateurs, the Lumix S range consists of two cameras – the cheaper 24-megapixel Panasonic S1 and the more expensive Lumix S1R reviewed here.
There is a small selection of lenses to go with these new cameras from Panasonic with more to follow, but the key factor here is Panasonic's membership of a new L-Mount Alliance with Sigma and Leica, so all three makers will be producing lenses for this new format, and Sigma has already adapted a number of it's 'Art' prime lenses for this format. Panasonic has promised no fewer than 42 different lenses by the end of 2020.
Panasonic's speciality, of course, is 4K video, so as well as trying to make the best mirrorless camera you can buy, Panasonic would also like it to be seen as the best 4K camera for filmmakers.
• Panasonic S1 and S1R: everything you need to know about the new Lumix range
• L-mount lens roadmap: Panasonic promises 42 lenses by the end of 2020
We're testing the Lumix S1R with the Panasonic 24-105mm f/4 standard zoom, which looks like the best kit lens choice for this camera at the moment.
Panasonic S1R: Specifications
Sensor: 47.3MP full frame CMOS, 36.0 x 24.0mm
Image processor: Venus
AF points: 225-area DFD contrast AF
ISO range: 100 to 25,600 (exp. 500 to 51,200)
Max image size: 8,368 x 5,584
Metering modes: Multi, centre-weighted, spot, highlight weighted
Video: 4K UHD at 60p, 50p, 30p, 25p, 24p
Viewfinder: OLED EVF, 5.76m dots, 100% coverage, 0.78x magnification
Memory card: SD (UHS II compatible) + XQD
LCD: 3.2-inch tilting touchscreen, 2.1m dots
Max burst: 9fps, 6fps with CAF
Connectivity: Wi-Fi, Bluetooth
Size: 148.9 x 110.0 x 96.7mm (body only)
Weight: 1,016g (body only, with battery and SD card)
See also: Best Panasonic camera in 2019
Panasonic S1R: Key features
Like Sony and Nikon, Panasonic has produced two externally identical cameras but with two different resolutions and price points. The Panasonic S1 has a 24-million pixel sensor and is priced to appeal to enthusiast photographers (and professional videographers), while the Lumix S1R has a 47 megapixel CMOS sensor, which is the highest resolution yet offered in a full frame mirrorless camera, if only by a small margin. A third video-centric version of the family, called the Panasonic S1H, has been announced which should go on sale later this year.
As if that wasn't enough, these cameras also offer a multi-shot High Resolution mode which combines eight images captured with a series of minute sensor shifts to produce super-high resolution image well beyond the sensor's native resolution.
On the S1R this means huge 187-megapixel photos that exceed the pixel count of even the most powerful medium format cameras – though it relies on static subjects and with the camera mounted on a tripod, so you could only use this for certain types of subject.
This high resolution mode is made possible by Panasonic's 5-axis in-body stabilisation system, which offers 5.5 stops of shake compensation on its own but up to 6 stops of shake compensation when used with one of Panasonic's new image-stabilised lenses.
Other headline features include the ability to shoot 4K video at up to 60/50fps for the first time in a full frame mirrorless model, the world's highest resolution electronic viewfinder, with 5,760 million dots, and a continuous shooting speed of 9fps.
Though if there is a chink in the S1R's armour it's here. That 9fps frame rate is achieve only with the AF locked on the first frame. With continuous autofocus the frame rate drops to 6fps, and while the S1R also has a 6K Photo mode that can capture 18-megapixel images at 30fps, it's not quite the same thing.
Panasonic S1R: Build and handling
Panasonic has taken a pretty uncompromising approach to the S1R's build quality, with a magnesium alloy construction and weather sealing that makes it dust and moisture resistant and 'freeze-proof' down to -10 degrees. It's a pretty substantial camera to pick up and hold and perhaps feels closest to Nikon's Z 6 and Z 7 models in general size and feel.
It goes further in a number of respects, though. The electronic viewfinder's resolution is on a whole new level, for a start. It's not just superbly sharp, contrasty and saturated, it's also remarkably lag-free. We're used to electronic displays blurring and 'smearing' with fast camera movements, especially in low light, but Panasonic does seem to have raised the bar here and this perhaps the closest we've yet come to a genuine 'optical' viewfinder look.
The screen on the back of the camera deserves some special praise too. Its resolution of 2,100k dots means it's exceptionally sharp, but it also has a clever tri-axial tilt mechanism that allows for sideways movement as well as up and down, so this is a tilting screen you can also use with the camera held vertically.
The movement is restricted to about 45 degrees, however, it hinges in one direction only (to the right) and you have to slide a slightly fiddly catch on the side of the screen to release it.
It's interesting that Panasonic chose this mechanism rather than the regular flip-out vari-angle screens used on some of its Micro Four Thirds models, but this was done to offer maximum robustness and durability – we were shown how it was possible to hold the camera by gripping the fold-out screen alone.
This sense of strength and durability is everywhere. Inside, the S1R has a shutter with a life expectancy of 400,000 shots, and on the outside it has really firm, positive controls – and lots of them.
It's great to get a dedicated drive mode dial and a dual-function focus dial for setting both the focus mode and selecting the focus area. There's also a focus lever/joysticks for setting the focus point and a lock lever to prevent unintentional adjustments while handling the camera.
The only issue we had was with the sensitivity of the touch-screen display – it's very easy to inadvertently set the focus point near the bottom left corner of the frame when your nose touches the screen during shooting.
This is a common problem with cameras that offer touch-focus control and the S1R is by no means alone – if it's too annoying, you can always deactivate the touch control.
The memory card door latch feels slightly awkward, too. You need to push down on a sliding catch flush with the camera body slide the card door towards you at the same time, and it's not particularly easy to do.
Panasonic S1R: Performance
We found the pre-production Lumix S1 and S1R autofocus systems tended to hunt a little in very dim light, but this production camera showed no such hesitation, and even though
Panasonic is using its DFD contrast AF system rather than the theoretically faster phase-detection AF used by rival makers, Panasonic's high-speed data processing and AF algorithms feel very fast and responsive.
The Eye AF system is particularly impressive. In this mode, the camera automatically identifies bodies and faces in the scene with a rectangular marquee – if there's more than one, it will usually select the face nearest the camera, but you can change the face selected using the focus lever.
When a face is detected, the AF system will pick out the subject's eyes with a set of crosshairs – again, you can choose which eye is selected using the focus lever.
Image 1 of 3
Panasonic's Eye AF system proved fast and effective when we tried it and can focus on either eye as required (images from a pre-production Lumix S1).
Image 2 of 3
Panasonic's Eye AF system proved fast and effective when we tried it and can focus on either eye as required (images from a pre-production Lumix S1).
Image 3 of 3
Panasonic's Eye AF system proved fast and effective when we tried it and can focus on either eye as required (images from a pre-production Lumix S1).
If you're taking pictures of people with a high-resolution full frame camera and fast lenses used at wide apertures, then a fast and accurate Eye AF system could really improve your success rate of sharp shots.
The Eye AF crosshairs are not especially easy to recognise, however, so while this system is very quick, effective and accurate, the visual AF display is a little cluttered.
The hybrid image stabilisation seems to work very well, though as ever it's worth repeating that there are no guarantees in hand-held photography and image stabilisation simply improves your chances.
In our tests we were able to shoot hand-held with the lens set to 105mm at 1/6sec with about the same success rate of sharp shots as shooting at 1/125sec without stabilisation – that's a gain of around 4 stops.
It's a little short of Panasonic's claimed figure, but our tests were carried out in day-to-day shooting, not in a lab, and in any event that's a good outcome compared to results we've achieved with other cameras using in-body-stabilisation.
The image quality is excellent, especially at higher ISO settings. Because of this camera's high resolution and hence relatively small photosites, we'd expect to see noise appearing quite soon and image quality falling as the sensitivity is increased, but the S1R's images hold up remarkably well.
In fact, it's only at ISO 12,800 and ISO 25,600 that you seen any substantial loss of visual sharpness and fine textures starting to smooth over.
It's hard to fault this camera's resolving power. Both in the lab and in real-world testing, it delivered extremely sharp detail, and the 24-105mm f/4 zoom can take a lot of the credit. You can see more sample images in the gallery below.
Image 1 of 6
Image 2 of 6
Image 3 of 6
Image 4 of 6
Image 5 of 6
Image 6 of 6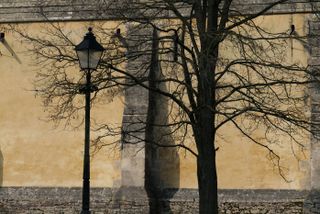 Lab tests
We chose three key rivals for the Panasonic Lumix S1R to compare the results from our lab tests. We included the medium format Fujifilm GFX 50R to see if its larger sensor offered any measurable advantages, the Nikon Z 7 as a direct rival, and the older Sony A7R III as an established and much cheaper rival.
Resolution
We measure resolution using a standardised method based on the number of line widths each camera can record over the full height of the image (line widths/picture height). The higher the number, the greater the resolving power of the camera.
In this test, the Fujifilm GFX 50R showed a slight advantage over the rest, which we suspect is partly due to its higher 50MP resolution and partly its larger sensor, though the differences are small.
The Lumix S1R and Nikon Z 7 run pretty much neck and neck across the ISO range. We normally expect to see resolution fall at higher ISO settings, but the Panasonic and the Nikon held out extremely well.
The Sony A7R III was not quite in the same league. It matched the others for resolution at ISO 100, but its performance dropped off noticeably as the ISO setting was increased.
Signal to noise ratio
This test measures the amount of noise generated by the camera against the amount of actual image data. It's measured in decibels, and the higher the figure the better because it means noise makes up a relatively low proportion of the image.
The Fujifilm GFX 50R showed an advantage here, as we'd expect from its larger sensor, and hence larger photosites.
The Lumix X1R wasn't far behind, though, and produced less noise than both the Nikon Z 7 And Sony A7R III. Noise increases with the ISO setting, so the signal-to-noise figures goes down, but the Panasonic still stayed ahead of its other full frame rivals right across the ISO range.
Dynamic range
Dynamic range is a measure of the camera's ability to record detail in the brightest and darkest parts of the picture. It's measured in exposure values (EV) and the higher the number the better.
A dynamic range of 12EV is very good, and anything above that is a bonus. Like the signal to noise ratio and resolution, we expect the dynamic range figure to fall as the ISO setting increases.
We're used to seeing good dynamic range figures from Panasonic cameras, and the Lumix S1R didn't disappoint us.
Between ISO 200 and 1600 it showed a slight advantage over its rival cameras, even the medium format Fujifilm GFX 50R, though the differences were small, and although they were measurable in the lab, it's unlikely you'd notice them in real-world shooting.
Panasonic S1R: Verdict
The Lumix S1R is big, hefty and solid and feels like it means business. It handles well and produces excellent image quality – and offers 60p 4K video, too.
But while it offers a few features its Sony, Canon and Nikon full frame mirrorless rivals don't have, the S1R doesn't deliver any killer blows.
We can see pro photographers and videographers buying it based on a careful analysis of its features, but we are still waiting to see what kind of lens system will emerge around it.
The results are very good indeed, but we wouldn't expect anything else from a 47-megapixel full frame camera with the latest imaging technologies and lens design.
The S1R is a little bigger and heavier than the Nikon Z 7, however, and a little more expensive too, while the Sony A7R III is substantially cheaper and has a wide range of 'native' lenses already.
Competition
The Panasonic S1R certainly seems like it ticks all the boxes – but then so do its rivals, and given the Panasonic's price, weight and lack of any definite killer features, all of its rivals deserve careful consideration too.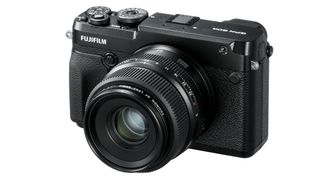 Fujifilm GFX 50R
We wouldn't put forward the GFX 50R as a direct rival to the Lumix S1R as they are completely different cameras. The GFX 50R is a slower, heavier and more expensive medium format camera that doesn't even shoot 4K video. But it is a rival in one specific respect – price. If your only goal is all-out image quality, it offers more resolution than the S1R and a much larger sensor, and for only a little more money.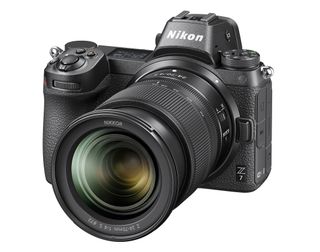 Nikon Z 7
Compared to the Sony A7R III, the Nikon Z 7 feels quite a bulky camera; compared to the hefty Lumix S1R, however, it's a positive lightweight. It's slightly less expensive too, and although Nikon's 'native' lens system is scarcely more advanced than Panasonic's, the Z 7 can use all existing Nikon DSLR lenses, without operational restrictions, via an inexpensive adaptor. The Lumix S1R, by contrast, is starting from scratch.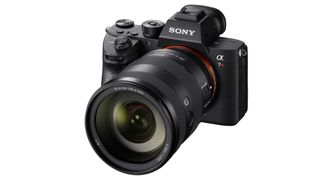 Sony A7R III
The Sony A7R III is a good deal older than these other cameras, but its 42.4-megapixel sensor, and Sony's excellent G Master lenses, are still capable of extremely high levels of resolution. The A7R III has been steadily discounted over time, too, so that it's now a lot cheaper than the Lumix S1R and Nikon Z 7. It also has wide lens support, both from Sony itself and from a host of independent lens manufacturers.
Read more:
• L-mount lens roadmap
• Best camera for professionals
• Best mirrorless camera
• DSLR vs mirrorless cameras
• The cheapest full frame cameras
• Best full frame DSLR