Specifications
Sensor: 51.4MP medium format CMOS, 43.8 x 32.9mm
Image processor: X-Processor Pro
AF points: TTL contrast AF, 425 points
ISO range: 100 to 51,200 (exp. 50-204,800)
Max image size: 8,256 x 6,192px
Metering zones: 256
Video: 1,920 x 1,080 at 30p, 25p, 24p
Viewfinder: EVF, 3,690k dots OLED, 100% coverage, 0.77x magnification
Memory card: 2x SD/SDHC/SDXC UHS II compatible
LCD: 3.2-inch tilting touchscreen, 2,360k dots
Max burst: 3fps, unlimited JPEGs, 13 lossless compressed raw
Connectivity: Bluetooth, Wi-Fi
Size: 160.7 x 96.5 x 66.4mm (body only)
Weight: 775g (body only, with battery and memory card)
Introduction
The Fujifilm GFX 50R is a very exciting camera for a number of reasons. First, it's the most affordable medium format digital camera camera yet to hit the market – it's a full £1,000/$1,000 cheaper than the DSLR-style Fujifilm GFX 50S, the previous record-setter.
Second, 2018 is touted as the year of the full frame mirrorless camera, but the sensor in the GFX 50R is a full 67% larger than full frame. Indeed, Fujifilm has deliberately skipped the whole full-frame market to go larger still.
Third, the 51-megapixel resolution. It's the highest yet outside of seriously expensive studio kit, and it's not been achieved by cramming in lots of tiny photosites – the larger sensor means even 51 million pixels have room to breathe.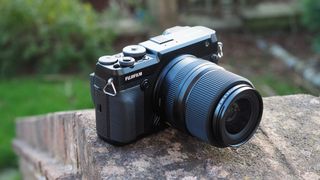 Fujifilm GFX 50R vs GFX 50S
With the GFX 50R has essentially released a cheaper 'rangefinder' version of its GFX 50S medium format camera. The differences physical rather tan technical, and the GFX 50R is aimed at a different style of photography.
It's much slimmer than the GFX 50S, for a start (though wider, interestingly). The grip is smaller, so it's better suited to use with Fujifilm's smaller prime lenses. That's in keeping with it's rangefinder camera style, where the electronic viewfinder is moved to a rear corner rather than being mounted on the camera's optical axis.
The viewfinder magnification is slightly smaller than the one on the 50S, but you probably won't notice. With the 50S you can remove the viewfinder and replace it with an angled 'finder, but not here. Other differences in the GFX 50R are the lack of a top-mounted status display and a rear screen that only tilts up and down, not side to side.
GFX 50R sensor size
The sensor size used in this camera deserves a closer look. There are actually a number of different 'medium format' sensor sizes and it's now used as a catch-all term for anything larger than full frame.
If you used old 6 x 6cm film cameras you probably thought the cut-down 6 x 4.5cm format was a bit of a step down. Well, this is the new 'full-frame' medium format size and you still pay a lot of money for these cameras.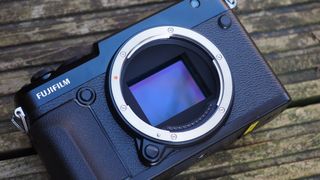 The GFX 50R, 50S and other affordable 'medium format' cameras use a smaller sensor size, somewhere between full frame and full size medium format. If you think of the relationship of APS-C cameras to full frame cameras, then that's what you've got here with the GFX 50R versus 'full size' medium format. So far, this has been the only way to make medium format cameras affordable and wieldy enough for regular handheld shooting.
So it's not a massive step up in sensor size compared to full frame but the sensor in the GFX 50R still brings a substantial advantage over the smaller format. It's also worth pointing out that even when it's set to non-native aspect ratios, it can still deliver big, high resolution images. For example, square 1:1 images and wide 16:9 images still come in at 38 million pixels.
The big sensor means, of course, that you need to apply a focal factor, or 'crop factor' to work out the equivalent focal length of its lenses. Taking into account its slightly taller 4:3 native aspect ratio compared to the narrower 3:2 ratio of full frame sensors, this gives the GFX 50R a crop factor of approximately 0.8x.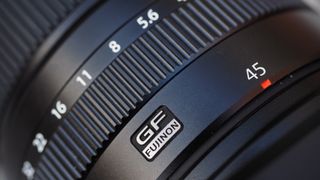 This means the GF45mm F2.8 R WR semi-wide prime and GF63mm F2.8 R WR standard prime have effective focal lengths of 36mm and 50mm respectively. In fact there are now seven lenses in Fujifilm's GF lineup. The widest is the Fujinon GF23mm F4 R LM WR (18mm equivalent), the longest is the GF250mmF4 R LM OIS WR (200mm equivalent, boosted to 280mm with an optional 1.4x converter) and there's handy a GF32-64mm F4 R LM WR 2x standard zoom too (26-52mm equivalent).
Key features
The GFX 50R's 50.1-megapixel resolution will be a big draw for quality-conscious photographers, and its sensitivity range is pretty good at ISO 100-12,800, expandable to ISO 50-102,400.
Right now, however, you do have to accept some technical compromises when you move beyond full frame cameras into medium format territory. For a start, the GFX 50R is limited to 3fps in continuous shooting mode, and while it can capture unlimited JPEGs, it has buffer capacity for only 13 compressed raw files (or 8 uncompressed).
It also relies on a precise but slow contrast-based autofocus system, as hybrid on-sensor phase-detection AF has yet to make it on to these bigger sensors. However, with up to 425 selectable AF points covering most of the frame, together with face detection, eye detection, single-point AF, zone AF and wide/tracking AF, it doesn't lack sophistication.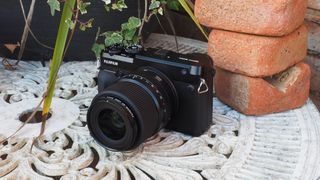 The GFX 50R doesn't have in-body stabilisation (though Fujifilm's promised GFX 100S, due in 2019, will have this), and so far the specialist 250mm telephoto is the only GF lens to feature an optical stabiliser.
On the plus side, its big focal plane shutter still manages a maximum speed of 1/4000sec and a flash synchronisation speed of 1/125sec, and Fujifilm claims a 150,000-shot shutter life.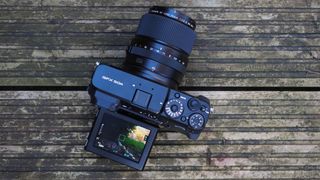 Elsewhere, the features are classic 'Fujifilm', with external physical dials for lens aperture and shutter speed control, a choice of multi, spot, average and centre-weighted metering options and further control over exposure and tonal range via dynamic range expansion (up to 400%) and separate shadow and highlight tone control.
This is on top of Fujifilm's regular array of Film Simulation modes, now totalling 15 different options, from super-saturated Velvia through to its rich Acros black and white mode. These are applied to in-camera JPEGs, but it's also possible to 're-process' raw files in-camera to produce as many variations as you like, saving them to the memory card either as JPEGs or as 8-bit TIFFs. It's also possible to add a film-like 'Grain' effect and employ Fujifilm's new Color Chrome Effect, which increases the depth of strong colours without losing fine, textural detail or 'clipping' the colour data.
Build and handling
Fujifilm says the GFX 50R is not only durable, but "astonishingly compact and lightweight". Well, on paper maybe, but it reality it's a bit of a beast. It does have a slimmer body than the GFX 50S, but it's wider too, which seems to offset any advantage. Is it usefully smaller and more wieldy than the GFX 50S? Possibly.
But while it's a good deal cheaper, Fujifilm doesn't appear to have cut any corners in the GFX 50R's construction. Its magnesium alloy body is dust-resistant, weather-resistant and freeze-proof down to -10 degrees. It's nicely finished too, with dials milled from solid aluminium blocks.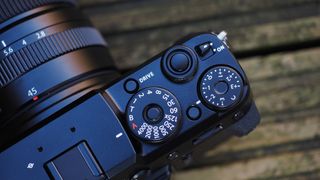 Exposure controls
The controls will take a little getting used to for anyone swapping from another digital camera brand. It does offer program AE, aperture-priority, shutter-priority and manual modes, but there's no mode dial. Instead, there's just an aperture ring on the lens and a shutter speed dial on the camera. For full program AE exposure, you turn both to their 'A' setting; for aperture-priority control you leave the shutter speed dial on 'A' and use choose the aperture setting manually, for shutter-priority you use the shutter speed dial and leave the aperture ring on 'A'; for full manual you just turn the dials to the settings you want.
For long-time photographers used to film cameras, this is just perfect, and one of the traditional features that has drawn so many fans to the Fujifilm camera range. If you've been raised on screens and dials and this is all a bit too much to take in, it is possible to swap to regular control dial operation for both settings (bah!)
Buttons and dials
But these control dials do highlight a slightly odd feel about the GFX 50R's design – it's a big camera, but many of the controls feels as if they've simply been swapped over from a smaller model. The front control dial around the shutter release button works fine but feels as if it could be bigger, the rear dial isn't quite big enough to give you a proper purchase with your thumb and the rear focus lever (also used for menu navigation and other purposes) just feels too small.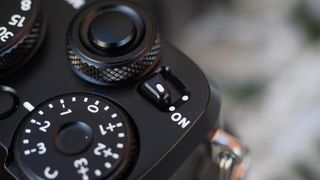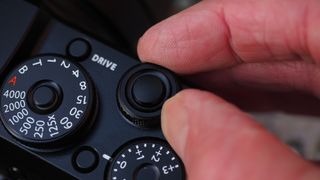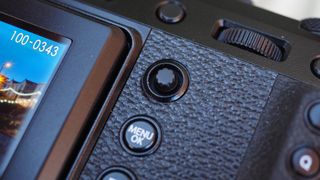 The GFX 50R is, however, extremely customisable, with no fewer than five assignable buttons on the body, four swipe options for the touchscreen display and a customisable 'click' action for the rear control dial.
The touchscreen display is pretty effective, though the 3.2-inch screen feels slightly swamped on the large back surface of this camera, and a couple of times the touch-focus failed to focus properly, though a biting December gale is probably not the best time to be testing the subtleties of touchscreen control.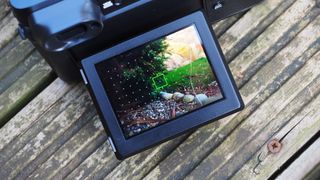 The fact is, the GFX 50R is a big, muscular camera which feels built for physical controls. It's possible to see the advantages of the touchscreen in calm, considered (warm) shooting situations but it doesn't feel like it really adds much to this camera.
The display quality is very good though and, with this being a mirrorless camera, there's no penalty in autofocus options when switching to live view, and the very good EVF can display all the shooting and settings information need.
We have to mention this camera's extensive bracketing options, which include exposure bracketing (of course), Film Simulation bracketing (a choice of three), dynamic range bracketing, ISO bracketing, white balance bracketing and even focus bracketing.
Performance
If you want to get the kind of results it's capable of, the GFX 50R demands a certain amount of time and attention. The autofocus system is perfectly usable, but not fast, and the extraordinary resolution of the sensor – and Fujifilm's GF lenses – means you might want to think twice about what constitutes a 'safe' handheld shutter speed.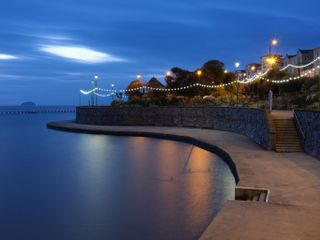 Staying sharp
The saying goes that you should use a shutter speed that corresponds to your lens's effective focal length, so for a 30mm lens, say, you should not use a shutter speed slower than 1/30sec. With the GFX 50R you should at least double or triple that figure – or risk losing that ultra-sharp fine detail you've paid so much to get.
Remember, there's no image stabilisation and this is a heavy camera, and if you holding it to your eye for any length of time a bit of muscle fatigue is likely to creep in.
It's also difficult to get a sense of the shutter speed from how the camera sounds, because the focal plane shutter has a drawn-out mechanical action that makes it hard to tell if it just shot at a 1/25sec or 1/125sec – so you need to watch the shutter speeds.
The GFX 50R is fine for handheld use if you keep this in mind but, more so than with smaller format cameras, this one really benefits from being on a tripod. Despite its 'rangefinder' design, this is not really a quick-fire street camera.
You should also forget about depth of field! The screen can display the depth of field range, but since there's usually about half as much as you hoped for, that information can be quite depressing. With larger format cameras, you need to be much more conscious of your focus point as there is very little 'fudge factor' to be gained from smaller lens apertures.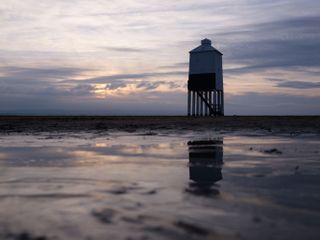 Image quality
The payback for all this attention is simply stunning image quality. It's not just the 50.1-megapixel sensor at work here, but Fujifilm's excellent GF lenses, which not only produce aberration-free images, but are sharp from edge to edge.
It's worth increasing the ISO to get faster shutter speeds just to make sure of this. Bumping up the ISO to 800 for some post-sunset shots in fading light yielded images where the knife-edge sharpness easily outweighed any slight increase in grain.
And if you shoot raw files rather than JPEGs you'll discover terrific reserves of highlight and shadow information, especially if you use the camera's extended dynamic range modes. These reduce the exposure and apply a modified tone curve to offer up to two stops extra dynamic range.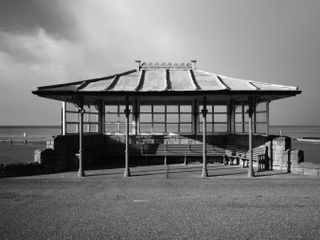 Even after using cameras like the Nikon D850, Z 7 and Sony A7R III, there's still an undefinable extra spatial quality and depth in this camera's raw files that we've only ever seen in other medium format cameras.
The GFX 50R's 400-shot battery life won't impress DSLR owners, but it's about what we've come to expect from a mirrorless camera. If you're going to be spending any time out in the field you'd be wise to take along a couple of spares.
Don't get this camera if you're worried about file sizes. Our fine quality JPEGs came in at around 13.7MB each, while our uncompressed raw files were around 117MB. The GFX 50R has an uncompromising approach to image quality, and this is the price you pay!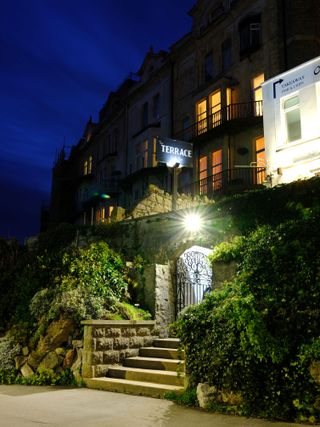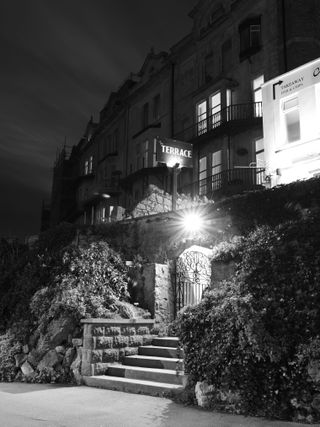 Lab tests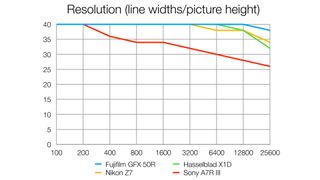 Resolution
We compared the GFX 50R's lab results with those from three rivals: the Hasselblad X1D, Nikon Z 7 and Sony A7 III. All but the Sony exceeded the maximum resolution of our test chart up to ISO 3200. After that, the GFX 50R stretched away from the others.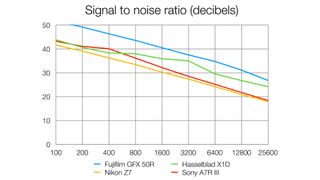 Signal to noise ratio
The lab data gives the GFX 50R a clear advantage over its rivals, even the Hasselblad X1D. We have noted, though, that Fujifilm's Silkypix-based raw conversion software can flatter the noise results. Tested with Adobe Camera Raw, the Fujifilm's figures are closer to the Hasselblad's.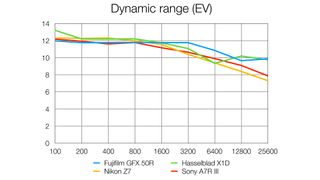 Dynamic range
Without its extended dynamic range option, the GFX 50R offers no advantage over its rivals at low to medium ISO settings, but does show better performance past ISO 1600. We obtained similar results from the GFX 50S.
Verdict and competition
Fujifilm GFX 50R verdict
The GFX 50R has somewhat ponderous autofocus and a weak burst mode, but it was never designed for fast action and you only have to take a look at its raw files for the first time to instantly forget all its weaknesses. The GFX 50R was designed for superb medium format image quality at a price we haven't seen before and in a portable, resilient camera, and it does that quite superbly.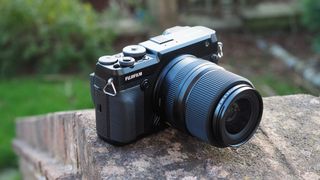 The rivals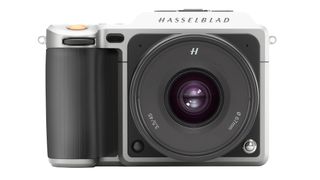 Hasselblad X1D
The Hasselblad X1D has a uniquely contemporary look and matches the Fujifilm's image quality, sensor size and resolution. Like the GFX 50R, it uses a mirrorless design and has a growing selection of premium quality lenses. It's chic minimalist design comes at a price, though – an X1D body will cost you twice as much as the GFX 50R.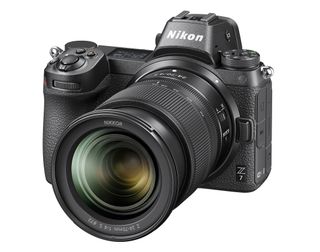 Nikon Z 7
The new full frame mirrorless Nikon Z7 produces superb image quality and gives the GFX 50R a run for its money in our lab tests. In real-world use, the GFX 50R's images just seem to have slightly more biting clarity and an undefinable 'something' that comes from the larger sensor size – back in the day, you got just the same effect with larger format film sizes.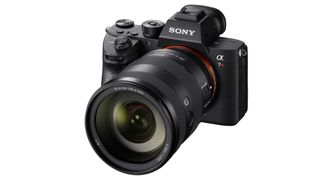 Sony A7R III
It's a great buy at current prices, but the Sony A7R III, Sony's highest-resolution full frame camera, is starting to be edged out by rivals. Its 42.4-megapixel sensor still delivers super-sharp images and its image size (in pixels) is not so far behind the GFX 50R's, but the arrival of affordable medium format cameras has stolen some thunder from full frame models like this.
Buying guides:
Best cameras for professionals
The 10 best full-frame cameras right now