The Photography Show & The Video Show Virtual Festival is only a few days away – and there's plenty to look forward to from this virtual show. Beginning on Sunday 20 September and running until Monday 21 September, The Photography Show will have over 120 exhibitors and over 170 free talks for viewers to watch – and it's completely free.
This is a unique opportunity to access two days of exclusive content, chat to renowned brands and even buy kit – all from the comfort of your own home. The best thing is that it's totally free!
• Register FREE for The Photography Show & The Video Show Virtual Festival
Two of the most exciting talks will come from Doug Allen, the winner of eight Emmys and 5 BAFTAS, and Sarah Waiswa, a Canon ambassador based in Nairobi. Doug will invite us into his world of wildlife documentary filmmaking, while Sarah will discuss her approach to photographing social issues across the African continent.
If you're a female photographer looking for guidance from fellow industry professionals, the Women Who Photo & Film ambassadors will be talking about finding their flow and carving out their niche to be recognized by big brands and high-end clients.
Discover the full list of free talks and demos here.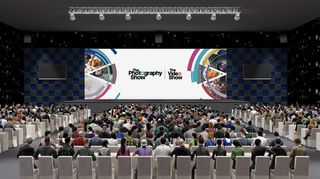 Alternatively, why not drop in on the Editing 101 session. Whether you're a complete novice or a seasoned pro there's something to help every photographer and filmmaker speed up and improve their editing skills in our program - from video editing for beginners to getting your colors calibrated on your monitors for more outstanding results.
There are also some fantastic talks and demos to help you gain some practical tips on how to get the most out of your camera. From flying a drone with Carys Kaiser to shooting epic locations photography with Drew Gardner to mobile journalism with Douglas Shaw and David McClelland, there are lots of informative demos on the 'Out & About' stage to keep you both informed and entertained.
In addition, if you're a keen videographer or vlogger, why not up your video game by attending Emma Wilson's talk on how to capture great audio in various situations. There are also sessions on 360º cameras, expanding your rig and taking the leap from photography to video.
You will also be able to visit your favorite photo brands in the exhibition halls, (including Canon, Nikon, Olympus, Sony, Panasonic and Fujifilm). You can search by company name and by product category too in the virtual exhibition hall. As well as hosting lots of information about their latest products and services, including live demos and ambassador Q&As throughout our opening hours,
all of the stands have a team waiting to talk to customers – all you need to do is click on the CHAT
button to say hi.
To attend The Photography Show & The Video Show, simply register for free now and you'll receive a link to log in when the event opens!
Read more
Welcome to The Photography Show: Burst Mode!
How to use your camera as a webcam
How to set up a virtual hangout: the easy way to get people together on Zoom