As per all the leaks, Tamron has officially announced its new lens: the Tamron 28-200mm f/2.8-5.6 Di III RXD for Sony E-mount cameras.
The manufacturer isn't being bashful in talking up the lens, describing it as an "epoch-making all-in-one zoom" and proclaiming that "the amazingly compact size, light weight and reasonable price immediately became wildly popular with photographers around the world."
The bragging isn't without warrant, as the Tamron 28-200mm f/2.8-5.6 Di III RXD really does have plenty to shout about – and that f/2.8 aperture at the wide end is one of the first things that comes to mind, which it maintains up to 50mm when f/3.5 kicks in, becoming f/4.5 at 100mm and maxing out at f/5.6 when it hits 200mm.
Also noteworthy is the lens' weather sealing, sleek 117mm length and slight 575g weight, making it a practical and versatile all-purpose and everyday optic – and one that compares favorably, at least on paper, with the existing Sony FE 24-240mm f/3.5-6.3 OSS.
Tamron's new contender boasts 18 elements in 14 groups, which includes an assortment of specialist glass including low dispersion, extra low dispersion, hybrid aspherical and glass molded aspherical elements, to control aberrations while delivering high resolving ability.
• Read more: Tamron 28-75mm f/2.8 Di III RXD review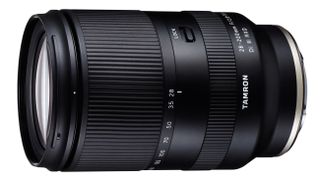 It also offers impressive close-up shooting performance, able to focus at 0.19m at the wide end (with a maximum magnification ratio of 1:3.1), and 0.8m at the telephoto end (with a 1:3.8 ratio).
And something that will make owners of existing Tamron lenses happy is that the new optic shares the same 67mm filter size as the Tamron 20mm F/2.8 Di III OSD M1:2, Tamron 24mm F/2.8 Di III OSD M1:2, Tamron 35mm F/2.8 Di III OSD M1:2, Tamron 28-75mm F/2.8 Di III RXD, Tamron 17-28mm F/2.8 Di III RXD and Tamron 70-180mm F/2.8 Di III VXD.
The Tamron 28-200mm f/2.8-5.6 Di III RXD is set to be available on 25 June (though the company notes that may be delayed, due to COVID-19 issues) at a price of $729 / ​£799.99 (approx AU$1,150).
Pre-order the Tamron 28-200mm f/2.8-5.6 Di III RXD at B&H (US)
Pre-order the Tamron 28-200mm f/2.8-5.6 Di III RXD at Adorama (US)
Pre-order the Tamron 28-200mm f/2.8-5.6 Di III RXD at Wex (UK)
Read more:
Best telephoto lens: top zooms for your camera
The best Sony lenses: top lenses for Sony mirrorless and Alpha cameras
The best Sony camera: from Alphas through to simple Cyber-shots