Choosing the best lenses for the Sony A7 III means being realistic about the cost of the camera, what you shoot with it, and how much you want to spend. Sony makes lots of fabulous G Master lenses, but these come with fabulous prices too, and since the A7 III is at the lower end of the Sony Alpha price range, we reckon most users will want to keep the cost of lenses in check too.
For a long time, the Sony A7 III (opens in new tab) has been one of the best full-frame mirrorless cameras (opens in new tab) since it performs just as well at stills as it does video. Many hybrid shooters, therefore, require superior quality lenses that lend themselves to both disciplines, namely lenses that have smooth focusing and silent operation.
Included in this list are fast ultra-wide angle lenses for astrophotography, landscapes, and real estate photography but also super sharp primes ideal for isolating beautiful portrait subjects against a busy background. Longer lenses are important too and help reach out and capture the action when taking wildlife, sports, or action shots so we've picked the best of those as well. Of course, many of these lenses will also prove perfect for other Sony full-frame lenses from the original A7 to the A7R IV (opens in new tab), and even the pro A9 II (opens in new tab).
Read on to find the best lenses for the Sony A7 III and bag the perfect companion for your camera. We'll do this in order of focal length, from the widest to the longest...
Best lenses for the Sony A7 III in 2023
Why you can trust Digital Camera World Our expert reviewers spend hours testing and comparing products and services so you can choose the best for you. Find out more about how we test.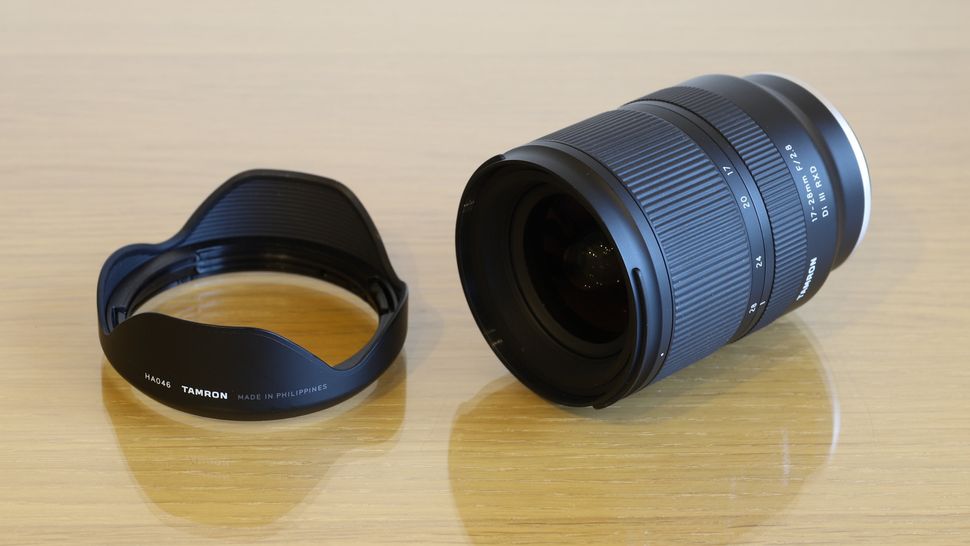 (opens in new tab)
Sony makes some great ultra-wide zooms of its own, but they cost a packet. This wide-angle Tamron zoom puts its money where its mouth is and competes well against all other lenses in its class at a much lower price.
A useful zoom range makes it perfect for landscape photographers who need a little more flexibility when it comes to recomposing shots or wishes to shift perspectives a little. A fast, constant f/2.8 aperture also suits low-light subjects and astrophotography.
It's not just large vistas this lens excels at though, thanks to the 19cm minimum focusing distance at 17mm it can also pick out details cleanly. A rapid eXtra silent stepping drive (RXD) produces fast, silent autofocus making it adept at video shooting too, helping to pull focus without interference.

See our full Tamron 17-28mm f/2.8 Di III RXD review (opens in new tab) for more details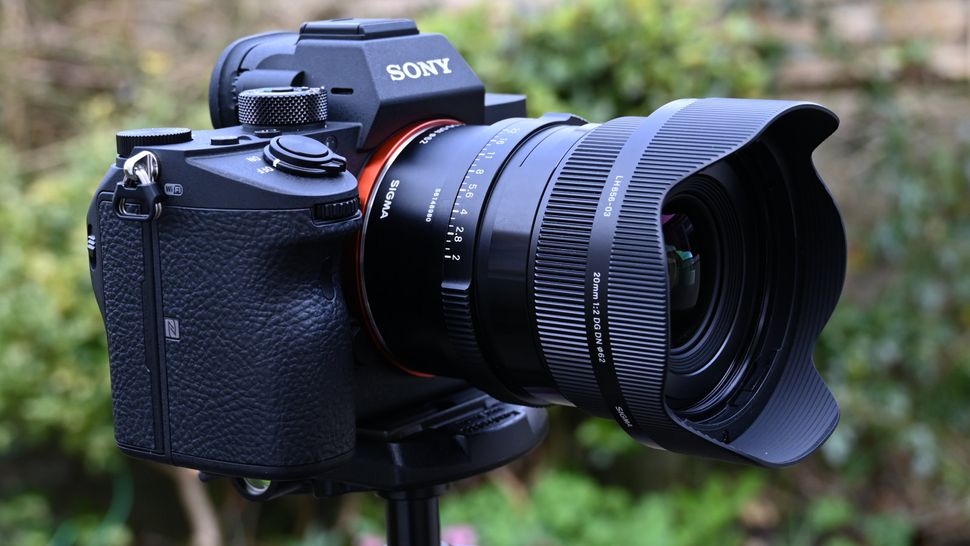 (opens in new tab)
The Sony FE 50mm f/1.4 is the lens that is most suited to most Sony shooters, impressively light and compact, but not compromising one bit on optical quality, this lens is almost perfect when it comes to sharpness in the center. With only a small falloff towards the edges of the frame and some vignetting wide open, this lens gets almost full marks.
The 50mm perspective offers a very versatile focal length, and it is definitely a lens that can be left on your camera for a moment's notice. If you don't need the extra aperture stop, or the added size, weight, or considerable cost of the FE 50mm f/1.2 GM, then the Sony FE 50mm f/1.4 will serve you perfectly.
Unfortunately, the downside is the lens is expensive when compared to similar rivals, with much cheaper third-party glass out there that will achieve similar visual results. However, few which share quite the same size and weight, lightning-fast autofocus, and solid moisture-resistant construction that this lens offers.
Read our full Sony FE 50mm f/1.4 GM review (opens in new tab).
Ultra-wide zooms are great, but they are also pretty big and expensive and have a modest maximum aperture. Sometimes a faster, ultra-wide prime is just more convenient. Smaller and lighter than Sony's 20mm f/1.8, yet almost as fast, Sigma's 20mm f/2 is a simply superb wide prime.
Despite being such a lightweight lens, it features a robust, full-metal construction and high-quality optical path. Intuitive handling combines with impressive image quality: the Sigma delivered very good levels of sharpness in our real-world tests, right out to the corners of the frame even when shooting wide-open at f/2.
Vignetting is quite severe at apertures wider than f/5.6 but in-camera corrections are generally available for this as well as for distortion. Autofocus is fast and near-silent, based on a stepping motor. Overall, this is an ideal ultra-wide-angle lens for architectural interiors, sweeping landscapes, astrophotography, and more besides.

Read our full Sigma 20mm F2 DG DN | C full review (opens in new tab) for more details
(opens in new tab)
Depending on which standard zoom you got with your A7 III, you might decide you need an upgrade, and rather than the Sony FE 24-70mm G Master, which is the obvious but expensive choice, we rate Sigma's 24-70mm f/2.8 Art lens. This newer 'DN' edition for Sony full-frame E-mount cameras isn't just a tweak of the original DSLR version, but rather a complete redesign.
The all-new optical path includes no less than six FLD ('Fluorite' Low Dispersion) and two SLD (Special Low Dispersion) elements. Top-notch construction includes comprehensive weather seals and a super-fast, virtually silent stepping motor autofocus system.
Barrel distortion at 24mm and vignetting at f/2.8 are rather noticeable when uncorrected in-camera but overall handling, performance, and image quality are excellent, and it's ultra-sharp. Bokeh is enhanced by an 11-blade diaphragm, whereas the DSLR version of the lens only has nine blades.

Read our full Sigma 24-70mm f/2.8 DG DN Art review for more details
There's a lot to love about this lens, and so there should be given that it's pricey for 35mm f/1.8 prime. It has a solid, weather-resistant construction featuring a metal barrel and mounting plate, while handling is very refined with a tactile focus ring and customizable function button. The image quality is excellent overall, although there's heavy vignetting at wide apertures.

Read our full Sony FE 35mm f/1.8 review for more details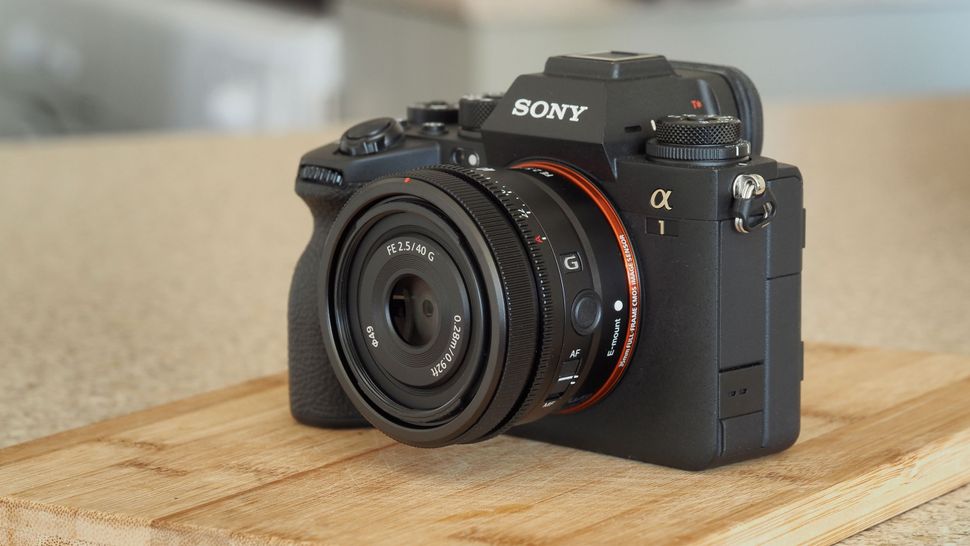 (opens in new tab)
Most Sony full frame lenses are pretty hefty, but the Sony FE 40mm f/2.5G bucks the trend. It is the middle lens in Sony's new series of compact full frame mirrorless lenses. For anyone fed up with the front-heavy feel of Sony's big, heavy zooms, it's perfect, completely changing the balance and feel of the camera.
Like the other two primes in this new series, it's small and light and has an aperture ring that can be de-clicked for video. These three lenses are even the same size and weight (near enough), and share the same 49mm filter thread.
We've been complaining long enough that Sony lenses are too big, and now we've got these – and they are brilliant. The 40mm is our favorite of the three – just – for its handy standard/wide focal length and edge-to-edge sharpness.

Read our full Sony FE 40mm F2.5 G review (opens in new tab) for more details
(opens in new tab)
If portrait photography is your main thing, then the Sony 85mm f/1.8 G Master might be the obvious choice, but if portrait photography is just an occasional thing for you, then we think the cheaper, lighter, and nimbler f/1.8 version is the sensible alternative.
The 85mm focal length sits perfectly to balance perspective compression whilst maintaining a level of accuracy to facial features. The focal length, combined with the fast f/1.8 aperture, creates a flatteringly shallow depth of field for creamy background bokeh that isolates subjects with ease.
Although it comes without image stabilization, (for that you'll have to rely on the in-body stabilization of the A7 III) it's significantly cheaper and lighter than the more expensive FE 85mm f/1.4 GM making it more suited for portrait photographers that like to travel light and shoot on location.

See our full Sony FE 85mm f/1.8 review (opens in new tab) for more details
(opens in new tab)
Sigma's Art line is known for impressive image quality and robust builds and this 105mm macro is no exception. With a strong, slimline profile it has weather seals all-round to protect it from the elements. Double that with a fluorine coating on the front element and it becomes a lens that could be taken anywhere.
Good as a mid-telephoto portrait lens thanks to its ability to focus to infinity, it quite obviously excels at macro images rendering genuine 1:1 reproduction ratios with outstanding detail. Utterly sharp throughout the frame and a special lens design that reduces color fringing that can't be compensated for by the camera makes it likely the best macro lens for the Sony A7 III for the money, even more so than the Sony FE 90mm macro.

See our full Sigma 105mm f/2.8 DG DN Macro | Art review (opens in new tab) for more details
(opens in new tab)
Sooner or later, every photographer will want a telephoto zoom to keep in the bag for events, sports, portraits, and other longer-range shooting. The Sony FE 70-200mm f/4 G OSS is a great lens that's smaller and much lighter than the f/2.8 edition and only costs half the price.
It's true that a 70-200mm f/2.8 is seen as a 'must-have' lens in any professional system, but you pay the price very literally, and there's a weight penalty with the f/2.8 version (below) too. This f/4 lens is cheaper, lighter, a lot less expensive, and only one f-stop slower.

See our full Sony FE 70-200mm f/4 G OSS review (opens in new tab) for more details
(opens in new tab)
There comes a time when photographers need to reach in close to the action and that's exactly what the Sony FE 200-600mm f/5.6-6.3 G OSS does. A huge focal length range aids the honing of frames for wildlife, sports, and action photography.
Though it has a slightly slower aperture range than other lenses on this list it's equipped with an in-built optical steady shot feature that pairs with the A7 III's in-built stabilization to provide a smooth shot whether handheld or on a monopod. It has three OSS modes and customizable focus hold buttons placed around the barrel at 90-degree intervals.

See our full Sony FE 200-600mm F5.6-6.3 G OSS review (opens in new tab) for more details
It's not every third-party manufacturer that's brave enough to go toe-to-toe with Sony's G Master lenses, but the Samyang AF 135mm F1.8 FE is one that pulls it off. This lens is half the price of Sony's version, and is absolutely excellent, earning a perfect score in our review. Its robust, weather-sealed build boasts exceptional handling, and its autofocus perfectly synergizes with the latest Sony cameras.
We were seriously impressed with the results we achieved with the Samyang AF 135mm F1.8 FE in our lab testing – at f/4, the lens achieved incredibly consistent sharpness from the centre of the frame to the corners, which is not a result you see every day.
The Sony FE 135mm f1.8 GM (opens in new tab) is a near-faultless lens, also achieving the full five stars in our review. If you need the absolute best, it's probably the buy, but the Samyang is an incredible achievement for half the price.
Read our full Samyang AF 135mm F1.8 FE full review (opens in new tab) for more details
(opens in new tab)
Following on the heels of Sony's FE 12-24mm f/4 G zoom, the new G Master edition delivers the same ultra-wide viewing angles but goes a f/stop wider in aperture. The f/4 lens is still on sale and a lot cheaper, so don't rule it out.
By necessity, the front optical elements of this f/2.8 version are considerably larger but the lens is reasonably lightweight and easily manageable. It certainly goes large in terms of performance, with outstanding image quality and rapid autofocus, making it well worth the typically high asking price for a G Master lens.
Before, the Sony FE 16-35mm f/2.8 G Master was the widest f/2.8 G Master lens in the Sony range, but the new Sony FE 12-24mm f/2.8 G Master has stolen its crown.
Read our full Sony FE 12-24mm f/4 G review for more details
How we test lenses
We test lenses using both real world sample images and lab tests (opens in new tab). Our lab tests are carried out scientifically in controlled conditions using the Imatest testing suite, which consists of custom charts and analysis software that measures resolution in line widths/picture height, a measurement widely used in lens and camera testing. We find the combination of lab and real-word testing works best, as each reveals different qualities and characteristics.
Read more:
Best Sony camera (opens in new tab)
Best Sony lenses (opens in new tab)
Best macro lenses (opens in new tab)
Best 100-400mm lenses (opens in new tab)
Best 150-600mm lenses (opens in new tab)
Best lenses for astrophotography (opens in new tab)