The Tamron 28-75mm f/2.8 Di III RXD is a welcome addition to the Sony mount lens market. This is because, while the Sony FE 28-70mm f/3.5-5.6 OSS is a top-seller, it's widely bundled as a kit lens with A7-series cameras. It's certainly small and lightweight but the aperture shrinks to a disappointing f/5.6 at the long end of the zoom range, and it delivers lacklustre sharpness away from the central region of the frame. If you want to step up to an own-brand Sony standard zoom with a fast and constant f/2.8 aperture, you'll need to invest in the mighty FE 24-70mm f/2.8 G Master, which costs around £1,800/$2,200 and weighs nearly a kilogram, negating the advantage of a slimline, lightweight mirrorless camera. That sets the stage perfectly for this class act from Tamron.
• Read more: Best Sony lenses
Tamron 28-75mm f/2.8 Di III RXD: Specs
Mount: Sony E
Lens construction: 15 elements in 12 groups
Angle of view: 75-32 degrees
Diaphragm blades: 9
Minimum aperture: f/22
Minimum focusing distance: 0.19m (W) 0.39m (T)
Maximum magnification ratio: 0.34x (W) 0.25x (T)
Filter size: 67mm
Dimensions: 73x118mm
Weight: 550g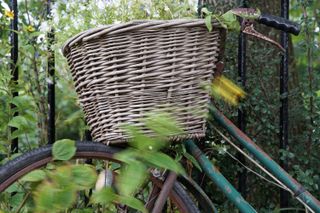 Tamron 28-75mm f/2.8 Di III RXD: Build and handling
The Tamron 28-75mm standard zoom takes over neatly from its 17-28mm stablemate. Not only do the focal lengths follow on without any gap or overlap, but both lenses have the same high-quality handling characteristics, and both have a fast f/2.8 aperture rating which remains available throughout the whole zoom range.
At the long end, the Tamron is two complete f/stops faster than the Sony 28-75mm competitor. Advantages include the availability of a much tighter depth of field, particularly useful for portraiture and still life photography, along with faster shutter speeds under dull lighting without needing to bump up the camera's sensitivity setting. One downside is that the Tamron lacks stabilization, which is featured in the Sony OSS (Optical SteadyShot) lens, but that's only really an issue if you have one of the first generation of A7-series cameras, which lacks sensor-shift SteadyShot.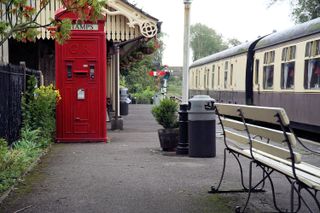 Up-market glass includes one LD (Low Dispersion and one XLD (eXtra Low Dispersion) element, for improved sharpness and contrast and to minimize chromatic aberrations, along with three aspherical elements. Tamron's nano-structure BBAR (Broad-Band Anti-Reflection) coating is also applied, to improve light transmission and reduce ghosting and flare. Like the companion 17-28mm lens, the 28-75mm is unusually compact and lightweight for an f/2.8 standard zoom, without sacrificing anything in performance or weather-sealed build quality.
Tamron 28-75mm f/2.8 Di III RXD: Performance
Excellent image quality is another similarity between this lens and the Tamron 17-28mm. Sharpness and contrast are excellent throughout the entire zoom range, and corner-sharpness is highly impressive even at f/2.8. Distortions are well-controlled, although colour fringing can be noticeable towards the corners, as can vignetting when shooting wide-open. In-camera corrections for these facets of image quality are available in current Sony bodies.
Autofocus is courtesy of Tamron's RXD (Rapid eXtra-silent stepping Drive) system, which is both very fast and very quiet in operation. Accuracy proved very consistent in our tests, right down to the impressively short minimum focus distance, which ranges from 19cm to 39cm as you extend through the zoom range. Naturally, the Tamron can't compete with 85mm f/1.4 or f/1.8 prime lenses for giving a really tight depth of field but, especially at the long end, you can throw the background out of focus and the quality of bokeh is very pleasant
Tamron 28-75mm f/2.8 Di III RXD: Lab tests
Sharpness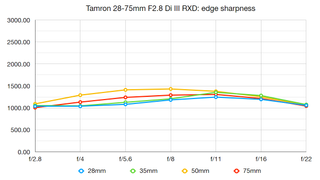 Centre-sharpness is outstanding even at f/2.8, while mid-to-edge sharpness proved much better in real-world shooting than close-range lab tests would suggest.
Fringing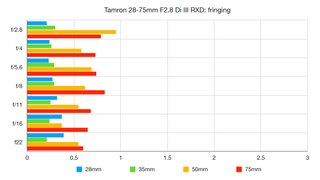 Color fringing is extremely minimal in the short half of the zoom range and remains very minor in the longer half.
Distortion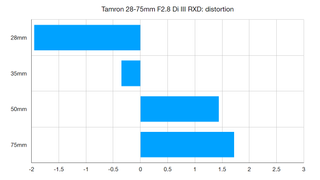 There's a typical swing from barrel to pincushion as you extend through the zoom range but it's pretty minor throughout.
Tamron 28-75mm f/2.8 Di III RXD: Verdict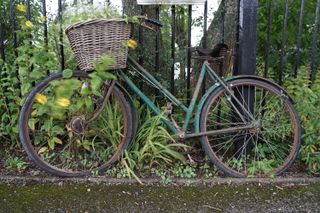 Tamron has come up with the perfect lens for everyday shooting on a Sony A7-series body. It gives you a generous zoom range that stretches from wide-angle to short telephoto focal lengths, along with a fast and constant f/2.8 aperture. And, unlike the Sony 24-70mm G Master lens, the Tamron does this while keeping the size and weight to easily manageable proportions. Image quality and all-round performance are exceptional, making the lens unbeatable value at the price.
Read more
Best camera, lens and accessories for wedding photography
Best lens for portraits: best 85mm lenses in 2019
Best Sony cameras in 2019: from pocket-size compacts to mirrorless