Photographers with Sony A7 or A9 cameras who want an ultra-wide zoom will feel a natural pull towards the Sony Vario-Tessar T* FE 16-35mm F4 ZA OSS, which sells for just north of £/$1,000. For around twice the price, there's the more exotic Sony FE 16-35mm f/2.8 G Master, which has a faster aperture rating but is comparatively big and heavy, weighing in at 680g. However, the Tamron 17-28mm f/2.8 Di III RXD matches the G Master with a constant-aperture f/2.8 design, but in a more compact and lightweight package, and at a much more affordable price.
• Read more: Best Sony lenses
Tamron 17-28mm f/2.8 Di III RXD: Specs
Mount: Sony E
Full frame: Yes
Autofocus: Yes
Image stabilization: No
Lens construction: 13 elements in 11 groups
Angle of view: 103-75 degrees
Diaphragm blades: 9
Minimum aperture: f/22
Minimum focusing distance: 0.19m (W) 0.26m (T)
Maximum magnification ratio: 0.19x (W) 0.17x (T)
Filter size: 67mm
Dimensions: 73x99mm
Weight: 420g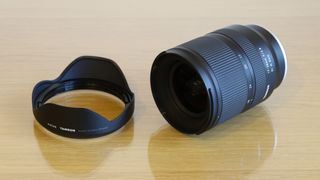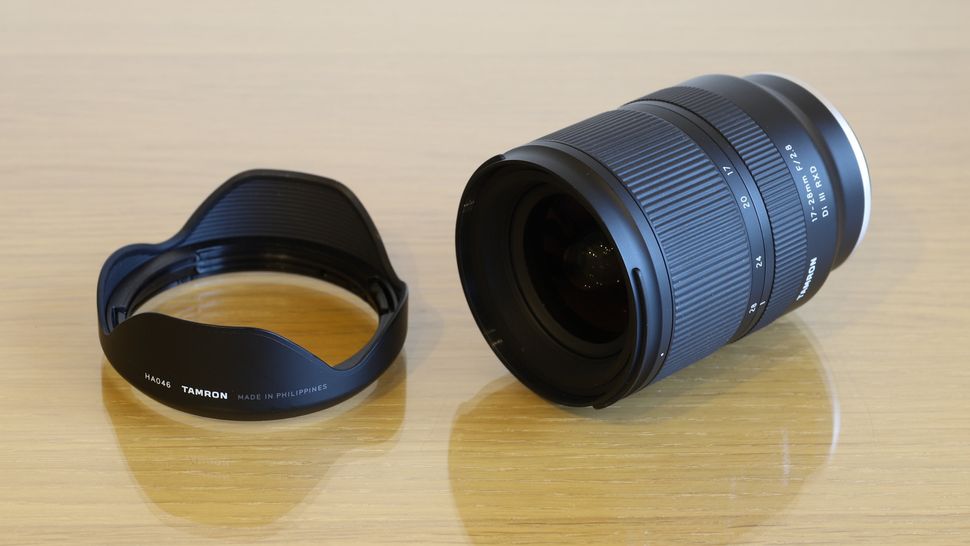 Tamron 17-28mm f/2.8 Di III RXD: Build and Handling
Fans of own-brand Sony lenses will be quick to point out that the 16-35mm options go a little wider than the Tamron, and have a greater overall zoom range. However, the Tamron's maximum viewing angle is still very generous at 103 degrees, losing only 4 degrees to the Sony lenses. And most of us tend to use ultra-wide zooms at or near their shortest focal length anyway. The 28mm cut-off makes perfect sense, considering that the companion Tamron 28-75mm f/2.8 Di III RXD picks up the baton at that point, as does Sony's 28-70mm kit lens.
A glaring omission, compared with the slower Sony 16-35mm OSS lens is that the Tamron doesn't feature optical stabilization. It's surprising in a way, considering that Tamron's proprietary 'VC' (Vibration Compensation) system works so well. However, it's only really an issue for early adopters of the A7, as second-generation models onwards, as well as the A9, all feature highly effective 5-axis in-body stabilization anyway.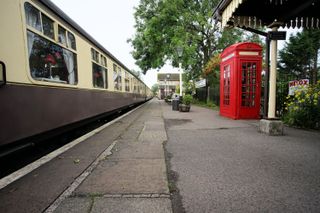 Optical highlights include LD (Low Dispersion) and XLD (eXtra Low Dispersion) elements, along with a well-rounded nine-blade aperture. There are 13 elements in total, packed into a high-quality, weather-sealed barrel. An additional weather-seal is fitted to the metal mounting plate. Overall handling is excellent, with smooth-action, high-precision zoom and focus rings. Measuring just 73x99mm and weighing a mere 420g, the lens feels ideally suited to A7 and A9 bodies, producing a well-balanced package.
Autofocus is based on Tamron's RXD (Rapid eXtra silent stepping Drive) stepping motor. This aims to offer excellent performance while also being compatible with in-camera features (where available) including Fast Hybrid AF, Eye AF and DMF (Direct Manual Focus). There's also compatibility with in-camera lens corrections for shading, lateral chromatic aberration and distortion.
Tamron 17-28mm f/2.8 Di III RXD: Performance
Living up to its billing, autofocus performance is super-fast, virtually silent and consistently accurate. It's always a challenge for ultra-wide lenses to maintain sharpness into the corners of the frame, but this Tamron does a spectacular job. Moreover, excellent sharpness across the entire frame is on tap even when shooting wide-open at f/2.8, which is even more of an achievement.
Color fringing is minimal, although can be slightly visible towards the corners of the frame, if uncorrected. Distortions are similarly well controlled. Vignetting is rather noticeable at f/2.8 throughout the zoom range but is much reduced when narrowing the aperture by a single f/stop.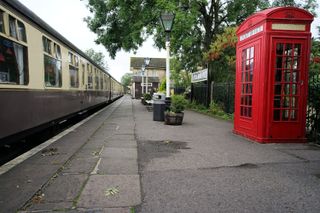 Tamron 17-28mm f/2.8 Di III RXD: Lab tests
Sharpness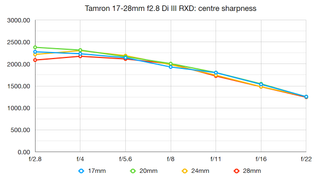 For our very short-range test charts, edge-sharpness looks disappointing but it's excellent in real-life shooting at more regular distances.
Fringing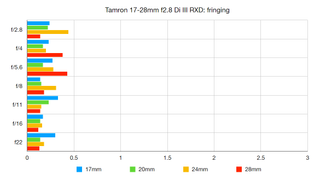 Color fringing is minimal even in the corners of the frame, throughout the zoom range.
Distortion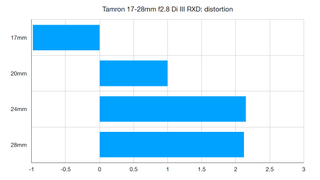 Barrel distortion is minimal at 17mm and there's very little pincushion towards the long end of the zoom range.
Tamron 17-28mm f/2.8 Di III RXD: Verdict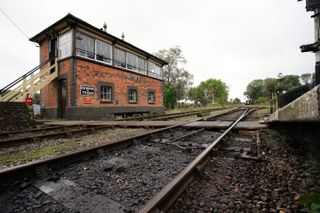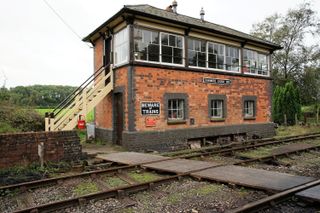 It's certainly not a cheap lens but the Tamron is less than half the price of Sony's f/2.8 G Master wide-angle zoom. Some still feel that Tamron specializes in low-budget alternatives to own-brand lenses but, in reality, the company makes some superbly crafted optics, and has been steadily raising its game over the last few years. This 17-28mm is proof that you can get spectacular performance, great handling and stunning image quality, without paying over the odds.
Read more
Best wide-angle lenses for Nikon cameras: for DSLRS and Nikon Z
Best Canon lenses: go longer, wider and closer with your Canon camera
Best Nikon lenses : from telephotos to ultra-wide lenses and more