The Hero 9 Black is the best GoPro action camera to date, delivering 5K video and 20MP stills. There's even an extra screen on the front!
This 1.4-inch colour display is aimed at vloggers who want to frame themselves perfectly – it also now challenges the DJI Osmo Action and Akaso Brave 7 LE action cams that feature front-facing screens.
Other features on the Hero 9 Black include upgraded HyperSmooth 3.0 video stabilisation, TimeWarp 3.0 and HDR Night lapse video, though for videographers it's the inclusion of 5K at 30fps that will most excite. It uses a bitrate of 100Mbps, as does the stepdown 4K 60fps mode. The Hero 9 Black can also be used out of the box as a webcam for videoconferencing.
As well as being the biggest upgrade and the highest resolution GoPro so far, the Hero 9 Black is also the most expensive – it will set you back AU$699 for the camera alone, or you can get it for AU$599 directly from the manufacturer when you get a one-year GoPro subscription for AU$69.96.
However, GoPro has dropped that price on its official store, and you can now pick up the Hero 9 Black, a one-year GoPro subscription, an extra battery and a 64GB microSD card for just AU$559.95 – that's AU$140 off the usual camera-only RRP.
All other major retailers in Australia have discounted the camera to AU$599, making GoPro direct your best option if you're keen on capturing your (mis)adventures in perfect clarity.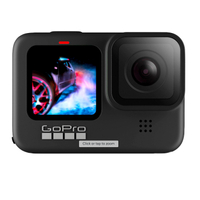 GoPro Hero9 Black | AU$699.95 AU$559.95 from GoPro (save AU$140)
This price includes not just the camera itself but also a one-year GoPro subscription, an extra battery and a 64GB memory card – that's a pretty darn good discount in books. A GoPro subscription gets you unlimited, best quality photo cloud storage and 50% off accessories when purchased directly from the manufacturer.