The Sigma fp, the world's smallest full-frame mirrorless camera, has proved to be a very big hit in Japan, outselling Sony, Canon and Nikon at two of the country's biggest camera retailers.
Despite not being released until 25 October, the Sigma fp managed to become the best-selling interchangeable lens body at Yodobashi Camera during the second half of October, and the best-selling camera overall at MapCamera during the entire month.
At Yodobashi – a major national electronics retailer with a huge presence in camera sales – the fp became the first camera to outsell the Sony A7 III in two and a half months (thanks, Capa Camera Web). It held two spots on the top ten rankings, at number one with the Sigma 45mm f/2.8 lens and at number ten body only.
This beat out a number of heavy hitters, particularly the Sony A7 III (twice), Sony A7R IV, Sony A6400, Canon EOS 90D, Nikon Z7 and Nikon D5600:
1 – Sigma fp + Sigma 45mm f/2.8 DG DN
2 – Sony A7 III
3 – Sony A7 III + FE 28-70mm f/3.5-5.6 OSS
4 – Sony A7R IV
5 – Canon EOS 90D + Canon EF-S 18-135 IS USM
6 – Nikon D5600 + Nikkor AF-P DX 18-55mm f/3.5-5.6G VR + Nikkor AF-P DX 70-300mm f/4.5-6.3G ED VR
7 – Sony A6400 + Sony E PZ 16-50mm f/3.5-5.6 OSS + Sony E 55-210mm f/4.5-6.3 OSS
8 – Nikon Z7 + Nikkor Z 24-70mm f / 4 S + Mount Adapter FTZ
9 – Olympus OM-D E-M10 Mark III + M.Zuiko 14-42mm f/3.5-5.6 EZ + M.Zuiko 40-150mm f/4.0-5.6 R
10 – Sigma fp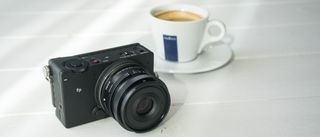 Things were even more impressive at MapCamera, where it was October's best-selling camera overall – putting it above such heavy hitters as the Canon EOS R, Canon EOS RP, Nikon Z6, Nikon D850 and Sony RX100 VII.
1 – Sigma fp
2 – Sony RX100 VII
3 – Nikon Z6
4 – Sony A7R IV
5 – Canon EOS RP
6 – Canon IXY200 / Canon IXUS 185
7 – Sony A7 III
8 – Canon EOS R
9 – Nikon D850
10 – Canon EOS Kiss X9i / Canon EOS Rebel T7i / Canon EOS 800D
The Sigma fp's performance in outselling so many bigger and better established cameras is made more noteworthy given the economic climate in Japan, as October was the first month after the country's consumption tax increase, which resulted in a hesitancy for consumers to purchase.
In fact, there weren't a lot of pre-orders for the Sigma fp – it wasn't until customers could actually handle the camera in-store that interest began to surge.
"There were not many reservations for this camera before its release," wrote the retailer. "However, as soon as it was launched and you could try out the actual machine at the store, the popularity soared!"
It is definitely a camera that is harder to appreciate without seeing in person, but when it's in your hands you really do start lusting after it. Check out our hands-on Sigma fp review for our impressions.
Read more:
The best mirrorless camera in 2019: we pick the best compact system cameras
Mirrorless camera Black Friday deals in 2019: we bring you the best prices
Sigma 45mm f2.8 DG DN review