The Sony RX100 Mark VII is the latest iteration of Sony's diminutive RX 100 series cameras. It's a pocket powerhouse that combines a 28-200mm equivalent zoom with 20fps shooting (up to 90fps in a new short Single Burst shooting mode), 4K video capture now with human and animal eye AF and the performance (says Sony) of its flagship full frame mirrorless sports camera, the A9.
Of course, if the little RX100 could do what the Sony A9 does, Sony wouldn't make the A9. It's simply drawing a comparison between the RX100 Mark VII's shooting speed and autofocus technologies with those of its professional camera.
Update: A lot has happened since the Sony RX100 VII first appeared in 2019; unfortunately, the price coming down isn't one of them. Instead, we've had the much more affordable Sony ZV-1, a much better proposition for vloggers and, if you don't mind doing without an EVF, pretty good for stills photography too.
Inside the RX100 Vii's diminutive body is a 20-megapixel 1-inch sensor, which is a decent size for a compact camera but outgunned by the sensors in mirrorless cameras and DSLRs, many of which are also a good deal cheaper than this camera. Being a compact, the RX100 VII doesn't take interchangeable lenses, but the Zeiss 24-200mm equivalent f/2.8-4.5 lens has a decent range, if not up to the standards of a travel zoom camera like the (much cheaper) Panasonic ZS200/TZ200.
Sony's RX100 series cameras have long been amongst the best compact cameras, but the RX100 Mark VII is in danger of pricing itself out of that market. Is it one of the best cameras for vlogging? Well, it's got some competition here too. And the best Sony cameras are, arguably, its mirrorless cameras, so the RX100 VII has tough rivals at home too.
The newly developed 'stacked' sensor works alongside Sony's latest BIONZ X image processor to produce the camera's super-high-speed shooting capabilities, and the AF system has no fewer than 357 phase detection AF points covering 68% of the frame, together with 425 contrast AF points. The RX100 VII also has Sony's latest Real-time Tracking AF and Real-time Eye AF for both humans and animals.
This does make the RX100 Mark VII a bit of an odd fish. It's the size of a pocket compact camera, with a long-ish zoom lens that might be handy for travel, but it also packs in high-end video capabilities, high-end autofocus and high-speed shooting modes. This pushes the price well north of the $1,000/£1,000 mark… so who exactly is this camera aimed at?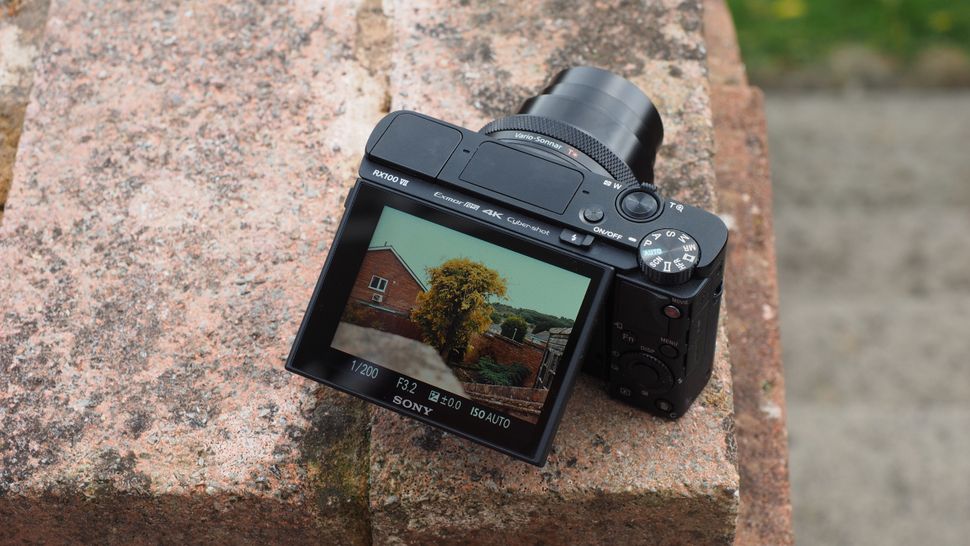 Specifications
Sensor: 20.1MP 1-in Exmor RS CMOS
Image processor: BIONZ X
AF points: 357-point phase AF, 425-point contrast AF
ISO range: 100 to 12,800 (exp. ISO 64)
Max image size: 5,472×3,648
Metering modes: Multi-pattern, centre-weighted, spot, average, highlight
Video: 4K UHD at 30p, 24p
Viewfinder: Pop-up EVF, 2.36m dots
Memory card: SD/SDHC/SDXC (UHS I)
LCD: 3-inch tilting touchscreen, 921k dots
Max burst: 20fps (90fps short burst mode)
Connectivity: Wi-Fi, Bluetooth
Size: 101.6 x 58.1 x 42.8 mm
Weight: 302g (body only, with battery and SD card)
Build and handling
The RX100 VII gives little hint of its power from the outside. It's barely bigger than a regular point and shoot compact, though when you power it up and the lens extends, it's a slightly different story – especially when you zoom right the way to 200mm.
The body has a semi matt black finish which is a little slippery, and there's no grip on the front to help you keep a secure hold. There is an electronic viewfinder but it's hidden – you slide a switch on the side of the camera to pop it up, then push it back down into the body when you're done. It's clever, but it also feels like an unnecessary complication. Wouldn't it be better if the body was just a little bit wider so that this fiddly pop-up mechanism wasn't needed?
The mode dial on the top of the camera is small but works well, and the same can be said of the combined control dial and four-way controller on the back. All the buttons and levers are tiny, though, so it's fine if you have delicate digits, but not so good for those with big hands.
The limited space for external controls means there's a heavy reliance here on the menu system, touchscreen display and Fn/quick menu button. Sony has done well to make this cameras complex array of functions reasonably accessible, but this does feel like a camera whose capabilities have long since outstripped its physical design.
Performance
The 1-inch sensor is a bit step up in size from the smaller sensors in smartphones and point and shoot cameras, and the Zeiss branding on the 24-200mm lens promises premium performance.
You don't quite get it. At short to medium zoom settings the image quality is pretty good, but at full zoom detail is disappointingly soft. If your main interest is stills photography, the RX100 Mark VII is an average camera at a high price.
It is blindingly fast at continuous shooting, but it's difficult to get too excited about this because it's just the wrong size and shape for sports and wildlife photography – and you can't change lenses. It is good at capturing life's fleeting moments outside of these two disciplines, but you do have to spend a bit of time learning the options and finding them in the menus.
The autofocus tracking is very fast and effective, though some subjects will still defeat it if they're moving a little too fast to follow smoothly. The animal eye AF is uncannily effective, provided your subject is relatively close and has well defined eyes… and it isn't darting around too quickly. Posed pet portraits will be easy; fast-moving animals might be trickier.
This camera does have one very annoying characteristic. If you fill the buffer (not difficult at these frame rates) you can't zoom into your pictures in playback mode or change camera settings until the buffer has cleared. This takes around a minute – yes, really – even with one of Sony's own 299MB/s UHS-II cards. In fact, a UHS II card won't help you because the RX100 VII, for all its hyper-fast capture speeds, only has a UHS I card slot. You can take more pictures while the buffer is emptying, but at some point you are going to have to stop and wait while the camera catches up.
Sony says it's improved the image stabilisation for movies by adding digital stabilization (you'll note a slight crop factor on the screen to allow for movement). Even so, handheld video is a bit of a lottery, and you'll be better off using a gimbal.
The video quality and AF performance is excellent, however, and at full zoom the RX100 VII does produce fairly tight depth of field for a nice 'cinematic' look. Sony has added a microphone port to this new model (and about time too), but there's no headphone jack.
Verdict
As a stills camera, the RX100 VII is distinctly unimpressive, considering you can get cameras just as good, or better, at half the price. The high-speed shooting is unique in a compact camera… but also a bit bizarre. The 4K video is terrific but, again, why spend this much when you can get a mirrorless 4K camera for much less money?
The Sony RX100 VII might be a remarkable technological achievement, but for each of the things it's good at, we'd choose a different camera. The RX100 VII only makes sense if you need ALL of its powerful features – including the ultra-high-speed shooting, zoom range, 4K video, advanced AF system and tiny size, and that narrows its potential audience considerably.
Read more:
• We think these are the best Sony cameras right now
• Which are the best compact cameras on the market?
• Looking for the best camera for vlogging? Start here!