If you're looking to take to the skies for the first time and looking for your first done, perfect for beginner pilots or you are looking for a compact action camera that can record the action as and when it happens in stunning 4K or take your phone cinematography skills to the next level with a gimbal for perfect, smooth gliding footage, these amazing DJI deals from Jessops have something for everyone, and every budget.
As always with these spotlight deals, we highlight the best deals for you to make your buying decisions that little bit easier, whilst offering important information about each product, just to make sure it is definitely an item that would help your photography or cinematography.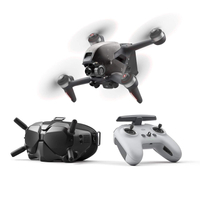 DJI FPV Combo |was £1249|now £999
SAVE £250 Take to the skies with amazing Combo deal that gives you the full immersive flight experience with DJI's Goggles v2 providing HD video transmission up to 120fps, along with the super-wide 150 degree field of view and 4k 60p video recording.
UK DEAL
£250 off DJI FPV Combo:
The DJI FPV was the big drone launch of 2021, and now thanks to this amazing deal from Jessops, this high-speed acrobatic quadcopter is available at its best price yet.
It is currently available at a mouth-wateringly tempting £999 - and this is a combo kit that comes with the highly-desirable goggles, and the controller, to allow you a fully-immersive pilot experience.
FPV, or first person view drone flying was the preserve of racing drone fans - who tended to build their own aircraft to their own custom spec. DJI, the best known drone manufacturer, has now entered the market with an out-of-the-box FPV flying experience - and bringing its expertise in flight control and safety.
The DJI FPV offers a blistering top speed of 87mph, with a range of up to 6 miles. Typical flying time from a single charge of the battery is 20 minutes. The camera offers 12 megapixel stills, and can shoot video in 4K at up to 60 frames per second.
The DJI FPV Combo package includes the drone, DJI Goggles V2, Remote Controller2, propellers, and Intelligent Flight battery.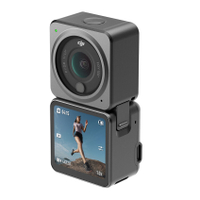 DJI Action 2 dual-screen Combo|was $455|now $399
SAVE £56 Whether you're looking for the best action camera or a compact selfie camera, the DJI Action 2 can do it all with the dual-screen combo, offering DCI 4K 60p or slo-motion 4K 120p or even 240p at 1080p – this is a tiny but versatile camera for action, vlogging or both!
UK DEAL
£56 off DJI Action 2 Dual Screen Combo:
The dual-screen combo from DJI can capture up to 160 minutes of your everyday life, sports efforts, or travel adventures. Designed with a clever snap-together, magnetic modular form, the Action 2's versatile recording options include 32GB of internal storage, up to DCI 4K 60p, and slow-motion UHD 4K 120p, and even 1080p at 240p video, and with a 155 degree view you can be sure that all the action is not going to be missed. It also features HorizonSteady, which keeps your footage level, no matter how wild the action gets. From go-karting to dirt biking, DJI's built-in stabilization algorithm detects and corrects camera shake and rotation in real-time, plus it can capture photos up to 12MP in RAW and JPEG, giving you creative freedom over the final look of your images.
Even though the Action 2 itself is waterproof to 33 feet, the touchscreen module must use a separately available case for waterproof operation – which is slightly annoying but needed if you want to claim the added benefits. This magnetic, snap-on module also extends your runtime up to 160 minutes and adds 3 mics to create a 4-mic array with audio zoom for improved sound capture, giving your vlogging videos that extra crunch in audio quality.
This is truly the perfect combo for any vlogger or filmmaker that is looking for the next compact solution without giving up on too many compromises, the DJI Action 2 can be your fun action camera for when you want to let your hair down and go for a surf, and with just a click, the touch screen module can be your little mini vlogging studio – it is a remarkable bit of technology and with a £50 saving it makes this little video studio in your packet that little bit sweeter.
Other deals worth a quick mention are:
• £120 off DJI Air 2S Fly more Combo
• £50 off DJI Action 2 Power Combo
• £30 off DJI Pocket 2 Creator Combo kit
• £20 off DJI RSC 2 Pro gimbal
Read more:
DJI Action 2 review
Best camera drones
DJI FPV Combo review
Best GoPro alternatives
Best camera for vlogging
Best drones for beginners
Drone rules: US, UK and beyond