Finding a great Sony A7R IV deal can be difficult, but you'll want to hold onto your hat for this one. You can now pick up this 61MP mirrorless marvel with eight extra accessories valued at over $500 at no extra cost. This kit includes a Sony A7R IV, Flashpoint Zoom Speedlight, SanDisk Extreme 128GB Pro SDXC memory card, Lowepro backpack and more for just $3,498.
The Sony A7R IV is one of our favorite Sony cameras, capable of 10fps continuous shooting for up to 7 seconds. It also has 567 phase detection AF points spread across 74% of the image area and 325 contrast AF points. It offers Real-Time AF tracking in its movie mode too.
• Read more: Best Sony camera
We don't know how long this deal will stick around for, but we wouldn't be surprised if it disappeared soon. Click the link below to take advantage of this fantastic deal now!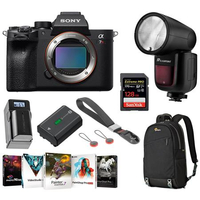 Read more
Best mirrorless camera in 2020, for beginners, enthusiasts and professionals
Best Canon camera in 2020: Canon's DSLR, mirrorless and compact cameras
Best Sony lenses in 2020: top lenses for Sony mirrorless and Alpha cameras