November is here, and so is the onslaught of early Black Friday deals! And if you're a Nikon user this is one that you absolutely can't miss, as the fantastic Nikon 24-70mm f/2.8E has been slashed by $500.
And not only is the Nikon 24-70mm f/2.8E ED-IF AF-S VR just $1,596.95 (a massive drop from its usual $2,096.95 price), you also get over $113 of extras thrown into the deal absolutely free!
This includes an 82mm filter kit (with a UV filter, a 2x neutral density filter and a circular polarizer), a cleaning kit, lens wrap, flexible lens shade, lens cap leash, and the Corel Photo Video Art Suite Software Kit with five separate software packages.
So not only do you get one of the best Nikon telephoto lenses with a 24% discount, you also get just about every extra you need – along with a host of photo and video software applications.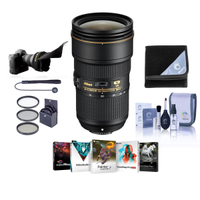 The Nikon 24-70mm f/2.8E ED-IF AF-S VR is one of the best Nikon lenses for anyone after a fast, versatile, professional-grade lens.
Perfect for all-purpose shooting, everyday photography and of course weddings and events, it's weather sealed to withstand the elements, boasts four stops of image stabilization and features an ultrasonic motor for quick, quiet focus.
Read more:
The best Nikon lenses: lenses to build up your Nikon DSLR and Z system
The best Nikon telephoto lenses: zooms for every budget
Best telephoto lens: top zooms for your camera