If you were tempted by Amazon's ridiculously good Sony A7 deal (opens in new tab) back on Prime Day but missed your opportunity, fear not: you have another chance.
Amazon UK has again cut the price of Sony's original A7 camera and FE 28-70mm f/3.5-5.6 OSS lens kit (opens in new tab) to just £719 (was £899) – and with Sony offering a further £150 cash back, the price of this full-frame camera drops to a staggering £569. The retailer is also offering the Sony A7 camera body (opens in new tab) for £639 – which with cashback becomes just £489.
These are two amazing deals for anyone who want to step up to a full-frame (opens in new tab) or mirrorless camera (opens in new tab) – but they're only available until 11:59pm tonight (or as long as stocks last).
The bargains come as part of Amazon UK's biggest-ever August Bank Holiday sale. Running from 22-29 August, the eight-day event will see great discounts on a wide range of items, from consumer electronics and Amazon devices to school bags and stationery.
The sale is open to everybody, but Amazon Prime members – and anybody signed up to a free 30-day Prime trial (opens in new tab) – will benefit from a 30-minute early access period to all Lightning Deals. These are quick-fire offers where products become available at a discount, in limited quantities, for limited period of time.
Get the Sony A7 for just £489
The Sony A7 was the first full-frame compact system camera on the market. And although it's been superseded twice now, the fact that Sony's kept it available for all this time shows just how relevant it remains.
While it lacks some competitive features, such as touchscreen functionality and 4K video, its 24.3MP Exmor CMOS sensor continues to produce excellent Raw images. The Sony A7 is a fantastic first-time full-frame buy for anyone on a budget, and it's a great candidate for a secondary body, too.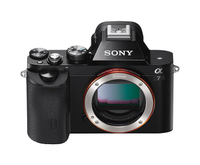 (opens in new tab)
Sony A7 full-frame camera body: £489 (was £796) after cashback (opens in new tab)
Sony is offering £150 cashback on its A7 camera body if you buy it through Amazon UK. And with the sale price at £639 for 24 hours, you can pick up this full-frame camera body for just £489. That's the cheapest full-frame camera deal we've seen yet. Get the Sony A7 camera body for just £489 (opens in new tab).
Deal ends: 11:59PM 24 August 2018
Deal subject to availability, cashback claimed via Sony post-purchase and subject to T&Cs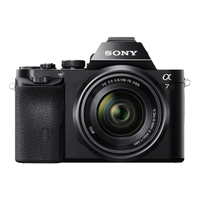 (opens in new tab)