The Fujifilm GFX 100 can now capture gigantic 400-megapixel images, courtesy of newly released firmware announced today by the manufacturer.
With its 102MP medium format image sensor, the Fujifilm GFX 100 was already capable of capturing enormous (and enormously detailed) files, but the new firmware version 3.00 adds the much-anticipated Pixel Shift Multi-Shot feature. This captures and combines 16 images into a single 400MP shot.
• Read more: Highest resolution cameras
This is made possible by the GFX 100's in-body image stabilization system, which is designed to counteract camera shake by making micro-adjustments to the image sensor in order to compensate for movement.
Pixel Shift Multi-Shot, however, turns this technology on its head, and instead shifts the image sensor by 0.5 pixels between each frame to incrementally record high-resolution RGB pixel information while capturing 16 RAW images. You can then open these files into Pixel Shift Combiner to merge them into a single 400MP image, which can then be outputted as a DNG RAW file in editing software such as Capture One.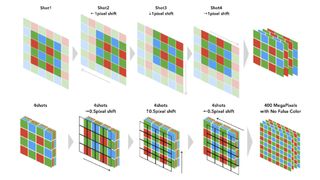 While we haven't had a chance to test this procedure for ourselves, it appears that this process is not an in-camera one (as it is with cameras like the Olympus OM-D E-M1 Mark III, which captures 16 files from its 20.1MP sensor and combines them into an 80MP RAW file in-camera).
Rather, it seems that the file merging needs to be conducted externally on a computer – and this can be performed via the tethered capture functionality that is also facilitated by the new firmware.
The technology isn't new; cameras like the Sony A7R IV can produce 240MP images from its 61MP sensor, and the 100MP flagship Hasselblad H6D-400c MS can already produce 400MP images using the same process.
However, Fujifilm is keen to stress that the GFX 100 offers "unparalleled color reproduction, with next to no false colors occurring, even in the finest of details," making it the ultimate way to record images "that require immense color fidelity and the reproduction of fine details" such as archival photography.
Firmware version 3:00 for the GFX 100 and the Pixel Shift Combiner software are available to download now. For more information, visit the Fujifilm X website.
Read more:
Fujifilm GFX 100 review
Best medium format cameras
12 highest resolution cameras