The Olympus OM-D E-M1 Mark III is a distillation of the company's greatest technology, and is the apex of its professional camera aspirations. The smallest and lightest pro system in the world, it offers an unparalleled 7.5 stops of image stabilization (6.5 as a base), unmatched 60fps shooting bursts (18 with AF / AE), and advanced features that simply aren't possible on any if its rivals.
However, when its rivals include the just-launched Canon EOS-1D X Mark III and the brand new Sony A9 II, does the Olympus OM-D E-M1 Mark III have what it takes to topple the best professional cameras on the market?
And exactly why has Olympus given us another pro body when it only released the Olympus OM-D E-M1X just over a year ago? If you're feeling a little confused about the manufacturer's current top-tier product line, you're not alone.
Whether you're a professional wedding or events photographer, a wildlife specialist or a pro sports shooter heading to the Olympics in July, let's find out if Olympus' latest flagship is right for you.
• Read more: Olympus OM-D E-M10 III vs E-M5 III vs E-M1 II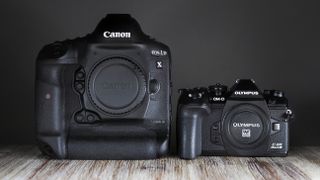 Specifications
Sensor: 20.4MP four thirds Live MOS
Image processor: TruePic IX
AF points: 121 cross-type on-chip phase detection
ISO range: Low to 25,600 (ISO200 base)
Max image size: 7,776 x 10,368
Metering modes: ESP, spot, centre weighted, highlight, shadow
Video: C4K at 24fps, 4K at 30fps, 1080p at 120fps
Viewfinder: EVF, 2.36m dots, 0.84x mag
Memory card: 1x UHS-II SD, 1x UHS-I SD
LCD: 3-inch fully articulating touchscreen, 1037K dots
Max burst: 60fps
Connectivity: Wi-Fi, Bluetooth, USB-C
Size: 134.1.4 x 90.9 x 68.9mm
Weight: 504g (body only; 580g with battery and SD card)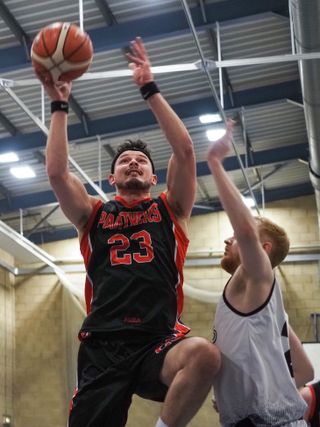 Key features
Last year saw the release of the E-M1X – a mirrorless camera the size of a pro DSLR with built-in vertical grip, dual batteries and twin TruePic XIII processors. All of which amounted to a monstrously powerful camera – but also a monstrously sized camera by Micro Four Thirds standards (which are supposed to be about offering much smaller form factors than full-frame systems).
While the E-M1X isn't without its place, we're very pleased to see Olympus return to convention with the Mark III – which, in short, combines the raw power of the X with the smaller, familiar form factor of the Olympus OM-D E-M1 Mark II.
Does that mean that the X was a failed experiment? We don't believe so. There are certainly situations where a bigger body with built-in grip and extra batteries comes in useful – especially if you're pairing it with Olympus' line of phenomenal f/1.2 Pro lenses. In most cases, though, users choose Micro Four Thirds because they want to stay small, light and agile. So this new 504g body is a welcome return to form.
While we're disappointed that Olympus is trotting out the same 20.4MP image sensor yet again (it is a great sensor, but come on, guys – it came out in 2016!!!), along with the same old EVF and same old screen, this time we do get a brand new processor: TruePic IX. To illustrate how powerful this new processor is, the E-M1X required two TruePic VIIIs to perform its more advanced features – such as Live ND filters, Intelligent Subject Detect AF, and the handheld 50MP High Res Shot.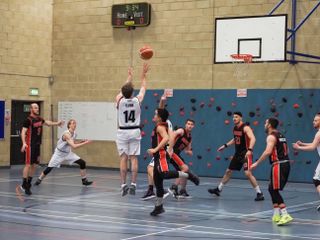 The fact that the TruePix IX can perform all these tricks, and more, tells you just how much more beastly it is than its predecessor. Indeed, among its new party pieces are an improved Face Priority / Eye Priority AF algorithm (which keeps a better lock on subjects, even side-on) and the new Starry Sky AF algorithm (which comprises accurate astro autofocus, a fine-tuned scan option for telephoto lenses, as well as a special image stabilization-powered mode for handheld astrophotography shots).
The E-M1 Mark III carries over other signature features from the E-M1X, such as 80MP High Res Shot for tripod-based photography, 7 stops of image stabilization (7.5 with Olympus Sync-IS lenses), custom AF targeting to create bespoke focus clusters (such as a straight, vertical, person-shaped line rather than a clump of squares), new AF target modes for stills and video, and 4K / C4K capture up to 30fps, with OM Log400 and bespoke movie stabilization good enough to retire your gimbal.
And of course it boasts all the familiar flagship features, such as 60fps burst shooting (with focus locked, and 18fps with full AF / AE tracking), 1080p video at up to 120fps, in-body Focus Stacking and Focus Bracketing, and world-class weather sealing.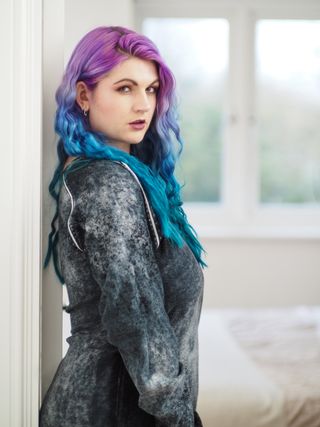 Build and handling
The Olympus OM-D E-M1 Mark III is identical in size to the Mark II, and is only heavier by six grams. And while the ergonomics are likewise almost the same, there is one key difference: like the E-M1X, the camera now possesses a Multi Selector (that's a joystick, to you and us).
Up until the E-M1X, Olympus bodies relied on either the D-pad or Touch and Drag using the rear LCD screen to maneuver focus points around. However, D-pads are too finicky for fast movement – and if you've ever used a camera in cold weather or with gloves on, you'll know that Touch and Drag is only good until it isn't.
So the addition of a joystick is a very welcome one, especially if you're shooting fast action or sports. To accommodate the joystick, the INFO button now sits where MENU used to be, and MENU now resides at the far left of the camera's rear.
Another incredibly useful addition ported over from the E-M1X is a dedicated ISO button, which now resides on the camera's right shoulder above the rear thumb grip (displacing the Fn1 button). It was only an extra click or two to change ISO settings using the Super Control Panel before, but having a specific button is undoubtedly useful in the heat of the moment.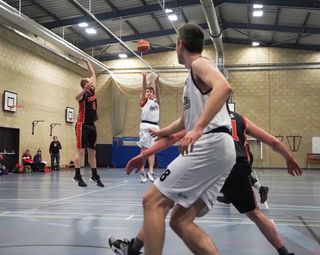 Speaking of the Super Control Panel (Olympus' brilliant one-stop menu for changing any and every critical shooting setting), the E-M1 Mark III now offers the choice of an alternative, pro-oriented control panel. This abolishes less crucial options (such as aspect ratio, IBIS modes and shadow and highlight settings) along with video controls for a cleaner, friendlier interface.
As with the E-M1X, the Bulb function has been added to the mode dial, giving direct access to Olympus' brilliant Live Composite, Live Bulb and Live Time modes for light painting and star trails – yet another nod, along with the fascinating suite of Starry Sky AF options, towards professional astrophotographers, whom it seems the company is keen to attract.
The camera supports charging via USB cable, and also supports the USB PD (Power Delivery) standard to enable the camera to be used while charging – which means that you can plug in a power bank and keep on shooting (provided you attach the optional HLD-9 battery holder). And, when you do get back to a proper power supply, the battery can be charged in just two hours.
Finally, in less exciting but nonetheless important points, the new camera is rated to 400,000 shutter actuations (doubling the Mark II's shutter life) and also boasts an improved Supersonic Wave Filter that reduces sensor dust by a factor of 10 – both hardware boosts being brought over from the more heavy duty E-M1X.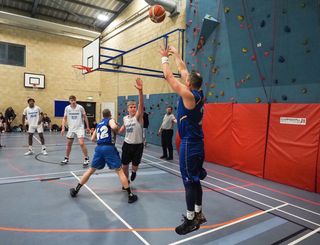 Performance
As you'd expect, the Olympus OM-D E-M1 Mark III confidently outperforms the Olympus OM-D E-M1 Mark II. Everything here feels superior, from the faster and more robust autofocus to a significant improvement in ISO performance, and of course in the video capabilities. If you're an existing Mark II owner and you're wondering if this is worth the upgrade, you'll notice a dramatic boost in its core performance – and that's before factoring in the wealth of all-new features.
The camera performs at least on par with the E-M1X (unsurprising, given that many of the same algorithms are running under the hood), and meaningfully outpunches it in a number of areas. In particular, handheld 50MP pixel-shift images are far more consistent (previously it was prone to more errors when rendering), and Focus Stacking / Bracketing autofocus and accuracy feels far improved.
The in-body image stabilization is truly otherworldly. The E-M1 Mark III delivers 7 stops of stabilization as standard, but when paired with a Sync IS Pro lens (the Olympus 12-100mm f/4, 300mm f/4 and the upcoming 150-400mm f/4.5) that becomes an astonishing 7.5 stops. Bearing in mind the 2x crop factor, we've shot rocksteady handheld images at 1,200mm – something that makes this camera a powerhouse for wildlife shooting. The IBIS provides enormous advantages for shooting handheld in general, especially in low light.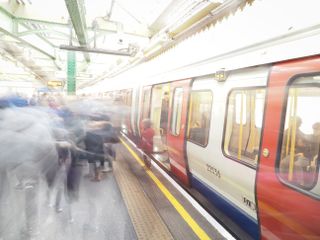 We mentioned that 50MP handheld shots are far more consistent, and the 80MP images are a real force to be reckoned with. Yes, other modern cameras have caught onto the pixel-shift trick now (with the Fujifilm GFX 100 promising 400MP images in a future firmware upgrade), but the option to shoot super hi-res imagery is quite incredible – and it's worth noting that the edge-to-edge sharpness is, anecdotally, superior to natively hi-res sensors, which might be be a deal-maker for archivists and other detail-focused shooters.
Pro Capture mode remains one of our favorite features in the camera industry – and it's something that not even the mighty Sony A9 II or Canon EOS-1D X Mark III are capable of. If you're unfamiliar, Pro Capture records 35 frames when you half-press the shutter and up to 120 frames (a new improvement) after you've pressed it – meaning that, even if you're half a second slow on the draw, you never miss the critical moment, whether it's a bird of prey taking off or a runner bolting from the starting blocks.
The face detect AF and tracking feels decidedly more 'sticky'; even when your subjects turn to the side, the AF is able to keep track of and focus on the sides of faces. There is also the handy ability, if the camera detects more than one face in the frame, to select which one to track – definitely a boon for social, event and wedding photographers!
As mentioned, Olympus appears to be gearing the E-M1 Mark III towards the astrophotography market (something of a trend, perhaps, given the recent release of the dedicated stargazer Canon EOS Ra) and this is also born out in the improved Live Composite mode. You are now able to keep the shutter open for six hours – doubling the three-hour maximum of the Mark II – to capture starry skies and light trails. Couple with the ability to plug in a power bank to keep the camera running, it opens all kinds of creative possibilities.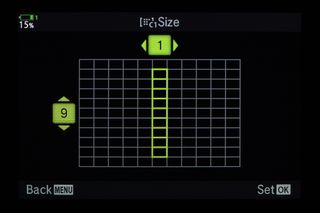 Action and video
The Olympus OM-D E-M1 Mark III is a very capable camera for sports and fast action photography. Its subject acquisition and tracking is both quick and accurate, and we found it to be highly capable and reliable in this arena – which is dominated by the sports shooting specialists, the Canon EOS-1D X Mark III and Sony A9 II.
To put the camera through the ultimate torture test, we shot some basketball – perhaps the most erratic and difficult sport to photograph – under decidedly unfriendly indoor lighting conditions. To make it an even more difficult test, we shot the E-M1 III side by side with the 1D X Mark III to see not just how well the camera performed, but how well it performed against the king of the hill.
The E-M1 Mark III did a stellar job of keeping up with the very challenging action. This was greatly aided by the custom AF targeting ability, with which we organized our focus points into a vertical 'person-shaped' strip (instead of a rectangular cluster) that told the AF system know exactly where in the frame to look.
The Olympus did as good a job as the Canon in terms of keeping faces in focus, though the 1D X III was able to reacquire faces more quickly if they disappeared behind other players and then re-emerged.
Of course, the real edge that the Canon enjoyed in our testing was in its cleaner ISO output. With its smaller image sensor, it's important to keep the ISO as low as possible on the E-M1 Mark III – we were able to shoot at 1/5000 sec (to freeze the action) while sticking to ISO2000 or ISO2500.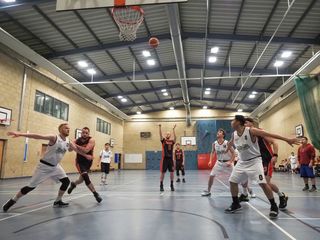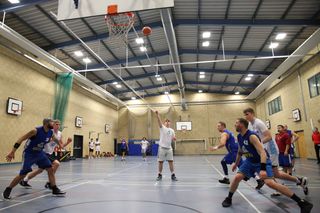 However, we pushed the 1D X Mark III to ISO10,000 and achieved noise around the same level or slightly lower (which is to be expected, given both the larger sensor and the bleeding-edge processing technology in the latest Canon). So if you really intend to push the ISO, and you want the cleanest possible images, a full-frame system will give you inherent advantages.
In terms of video, the Olympus again performed exceptionally – even in a shooting scenario as hostile as this one, with such erratically fast-moving subjects, it does require quite vigilant focus point movement (made much easier with the joystick) to make sure the camera knows what and where to target.
In the sample 4K video below, you can see the only two instances in all our footage where we were a step slow on moving the focus to the ball handler, leading to the camera hunting for a moment. In all other videos, it was able to keep track of players as they dribbled, drove, dunked, faked and changed direction – all things that push AF systems to their limit.
It's in video mode that you appreciate just how formidable the 7-stops image stabilization really is, too. This footage was shot with the camera held out at arms' length, frantically panning and trying to follow the action while zooming the lens in and out, and we think it's pretty damned stable. While a gimbal or full rig would no doubt improve stabilization, this footage attests that you can absolutely shoot steady video without needing such things.
Watch video: Olympus OM-D E-M1 Mark III 4K video test (ungraded, IBIS only)
Lab data
Resolution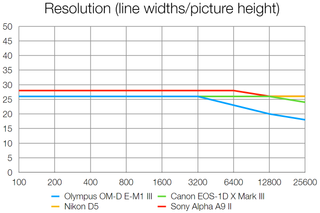 With the OM-D E-M1 III, Canon EOS-1 D X III and Nikon D5 all packing sensors in the region of 20MP, it's no surprise these three cameras are capable of resolving similar amounts of fine detail, at least at lower sensitivities. But at ISO 6400 and above, the smaller photosites on the Olympus' MFT sensor are more susceptible to generating image noise than the big full frame sensors in the Canon and Nikon. The 24MP Sony A9 II is, unsurprisingly, top dog here.
Dynamic range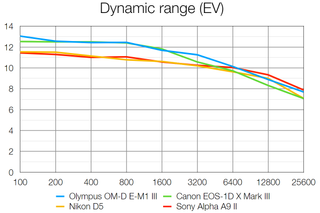 Olympus's 20MP Micro Four Thirds sensor has always been strong on dynamic range, and it still performs superbly in this respect. Only the new EOS-1D X III can match the Olympus, and even this falls behind by around 2/3-stop at ISO 3200 and above.
Signal to noise ratio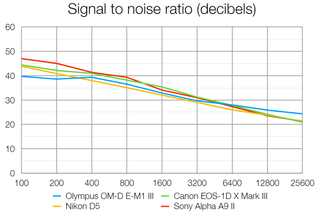 Our signal to noise test measures image clarity, specifically the ratio of the actual image 'data' you want to capture, versus the image noise that you don't want, but will inevitably be visible when shooting at higher ISO sensitivities. The higher the score at a given ISO sensitivity, the better.
The OM-D E-M1 III gets off to a mediocre start but at ISO 400 it's performing in the middle of the pack, and at higher sensitivities it's producing the cleanest images.
Verdict
The Olympus OM-D E-M1 Mark III is the ultimate all-round professional camera for general practice photography. When shooting sport, its autofocus can keep up with the mighty 1D X Mark III. When shooting high resolution, its 50MP and 80MP options outmuscle most medium format cameras. When shooting fast frames, its 60fps burst leaves everything else in the dust. And when shooting absolutely anything, its 7.5 stops of image stabilization outperform every camera on the market.
If you want a specialist sports camera, then the 1D X Mark III and Sony A9 II are the best in that dedicated area. If you want a specialist high-resolution camera, the Fujifilm GFX 100 and Sony A7R IV are the rulers in that fiefdom. Specialist cameras are, after all, the best at what they specialize in.
However, all of those cameras are – to a greater or lesser extent – one-trick ponies. If you want a single professional camera that can take on all those assignments and plenty of others besides, the E-M1 Mark III is it.
Its 20.4MP sensor may be five years old, and we certainly wish Olympus had pushed the boat out for its flagship camera to give us something truly cutting edge, but it still delivers great image quality with more megapixels than the 1D X Mark III. It's harder to forgive the long-in-the-tooth EVF and LCD screen, but although they offend our tech sensibilities they hardly affect your ability to take images.
Many have been conditioned to scoff at Micro Four Thirds because of its smaller sensor size (and, no doubt, its smaller price tag). But that smaller sensor equates to incredible things – the 7.5 stops of IBIS, for example (and remember that IBIS on smaller sensors is inherently better than it is on larger sensors) unlocks things like handheld astrophotography shooting, which is something that not even dedicated astro cameras offer.
When you look at the price of this camera (and, more importantly, of the lenses), the numbers are incredibly one-sided. Factor in the size and weight advantages (trust us, lugging around the 1DX III and its giant lenses just about finished us off while shooting basketball), the gestalt benefits of the system become overwhelming.
Let the snobs scoff, and buy three different specialist cameras for three different purposes. If you're someone who wants to shoot weddings, wildlife, sport, starscapes, portraits, architecture and archival images, the Olympus OM-D E-M1 Mark III is a tool that takes on all the tasks of a general practice working pro.
Read more:
The best cameras for professionals in 2020: which pro camera system is best?
Olympus OM-D E-M1 Mark III: world-best 7.5 stops IBIS, handheld astro, 60fps burst + 80MP images!
Olympus 12-45mm f/4 Pro review