A photo calendar is a great gift for pretty much anyone, even if someone receives multiple, one can be kept at home and one at work. We've all got those friends and family members who are really hard to buy for. Either they have everything, don't want anything or are just very selective about things. If you don't want to go down the easy route with gift vouchers or money, why not create a personalized photo calendar for them? They're easy to design, can be sent direct to you or your loved one and will be used throughout the year. It's a practical present with a lot of personality.
There are so many print services out there that offer personalized calendars so it can be a bit of a minefield choosing where to go. The last thing you want is to end up with a paper-thin, poorly printed calendar where the images don't accurately represent the photo you uploaded. Since Christmas Day is just around the corner (where did the year go?!) there isn't much time to rectify things if they do go wrong so it's best to go somewhere that is tried and trusted.
There are so many calendar styles to choose from including appointment photo calendars, A4 photo calendars or even a personalized year planner. To help you choose what style and service to use, we've put together a list of some of our favourite options.
Some personalized calendars you will be able to create entirely on the website by uploading or importing photos from your computer or Google Drive/Facebook/Instagram. Other services such as Cewe however, recommend you download its purpose-built software to ensure the process is as simple as possible.
Cewe
Why you can trust Digital Camera World Our expert reviewers spend hours testing and comparing products and services so you can choose the best for you. Find out how we test.
Founded in 1961, Cewe has 60 years of experience in photo printing. Its extensive range of services covers everything from personalized calendars to wall art and even phone cases. When designing your calendar, there are lots of different options to choose from including style, paper finish, size and orientation. Prices for Cewe calendars start at just £3.49 for an A4 year planner and go up to the £79.99 for a premium, A2 photo calendar with luxurious embossed gold text.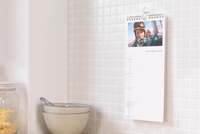 Kitchen Photo Calendar - from £12.99
An extra-long, personalized kitchen calendar is a great way of organizing the whole family. Each day of the month has its own line for important events and each month has space for one image at the top. This calendar is perfect for busy households with lots going on.
Boots Photo
Lots of people know Boots develop photos, but did you know you can also get personalized gifts printed including photo calendars. Although the printing side of Boots is powered by Cewe (mentioned above) there are a few subtle differences depending on which service you use. For example, if you decide to go through Boots you can collect items in-store within 6-8 working days and you can use the Boots Photo App to create your product. Boots is also currently offering 15% off photo calendars wit the code GC150FF so now is the perfect time to design yours!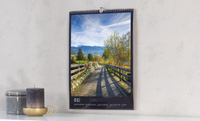 A3 Photo Calendar - from £21.99
If you want the photos to be the main attraction of your calendar and don't need any space for writing, this A3 photo calendar is perfect. You'll even be able to see the smallest detail in the larger scale print. There's an option to have it printed on photographic paper for an extra £11 which will really make your images stand out.

Mixbook Photo Calendars
If you're after a photo calendar that you can be a little more creative with, Mixbook has a beautiful range of calendar templates that allow you to add both photos and text in a variety of fonts. You can even mark special events on the calendar throughout the year with stickers or text for an added surprise. Although it's a US-based company, you can get items shipped to the UK for a very reasonable £4.99 although you'll have to jump on it quickly as it could take two weeks to arrive.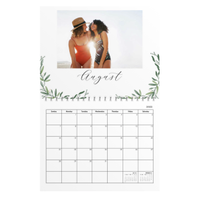 Greenery Photo Calendar - from £9.74
As Mixbook are currently offering up to 50% off everything even with postage costs you can order a beautiful personalized calendar for less than £15! There are hundreds of designs to choose from to suit every taste and calendars can be created on the Mixbook website.
Bonusprint Photo Calendars
Perhaps you've left gift buying really last minute this year and want to get multiple people a personalised calendar. Well, good news – Bonusprint offer discounts when purchasing more than three. There are plenty of templates to choose from or you can use a black template and design every bit yourself if you're feeling inspired. Prices start at £9.99 for a square calendar and go up to see £24.99 for an A3 calendar. Bonusprint is also offering 50% off all calendars until 11pm tonight with the code 50XMAS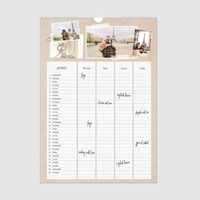 Crafter Planner - from £24.99
There are lots of different styles of calender to choose from but this family planner is particularly handy if you want to keep track of what everyone's doing. You can even add everyone's birthdays when designing it. Bonusprint is also offering 50% off all calendars until 11pm tonight with the code 50XMAS.

Vistaprint Photo Calendars
Vistaprint is probably one of the better-known names in photo printing but they offer a wide range of services including photo calendars. There are lots of styles to choose from including wall calendars, desk calendars, poster calendars and magnetic calendars. Once you've decided what size you need out of double A4, A4 or A3 it's time to get designing using the simple web editor. Simple drag and drop or upload your photos and choose which layout you want on each page.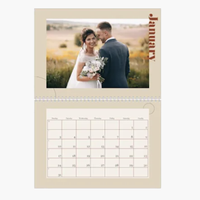 Double A4 Photo Calendar - from £5.99
Vistaprint offers very competitive pricing anyway but until midnight tonight (8/11/12) you can save 60% off all calendars. There aren't quite as many templates to choose from as some of the other services but sometimes that makes the decision easier!
Read more:
25 of the best gifts for photographers
Best online photo printing services
Best canvas print services