The best budget camera phones can represent a chance to have a capable camera in your pocket at all times without having to spend a fortune. Cheap phones used to have a reputation as being a prime example of false economy, but these days manufacturers have done a great job of filling out the cheaper ends of their offering with affordable, but capable handsets.
And then there's also the option of buying an older phone, forgoing the latest tech in favor of a much more reasonable price tag, sometimes with just a good camera as the latest flagships.
If you have a sneaking suspicion that you don't actually need a triple camera array, more than 100 megapixels, a sophisticated optical image stabilization system, or whatever else, and you in fact just need a simple camera phone that works, then this is the guide for you.
As you might expect, there are plenty of cheap camera phones available for Android, but Apple users needn't miss out. Budget iPhones do exist, and we've included plenty of models in this guide. Indeed, the price difference between these and the absolute best camera phones you can buy is absolutely staggering. Need to go even cheaper than this? We've also got a guide to the best burner phones if you can forgo having a camera in your pocket wherever you go. And do also read our guide to the Best cell phone providers in the US, if you are looking to save on running costs.
Here, we've focused on cheap phones still capable of taking pictures that are decent. So here's the best of the budget camera phones you can buy right now...
Best budget camera phone in 2023
Why you can trust Digital Camera World Our expert reviewers spend hours testing and comparing products and services so you can choose the best for you. Find out how we test.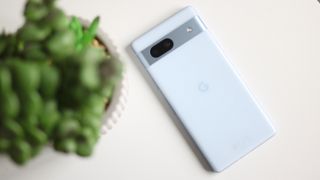 We think the Pixel 7a is a fun little device packed with helpful features. It might not be the best overall phone of the year, but it certainly offers the most value for money right now; with outstanding camera software, heaps of processing power, and a low price, it is the best budget phone we believe you can buy right now.
At 6.1 inches, the Google Pixel 7a is as small as a modern smartphone can be without overly reducing quality. It isn't quite as little as the iPhone SE but it is still smaller than what most consumers will be used to. This might not be for those with massive hands or people that want a big bright screen for streaming.
Read our full Google Pixel 7a review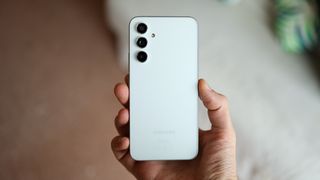 We don't think Samsung's A54 5G is the best phone around when it comes to style or power, and for photography enthusiasts, its camera system is hamstrung by some particularly heavy-handed processing. However, if you can appreciate Samsung's very saturated, high-impact look, then it could be the best budget camera phone for you.
Photos are clear and sharp, with excellent resolution, and the fact it combines optical image stabilization with a large primary sensor means shots and videos look well held together, even at night.
For anyone who is embedded in the Samsung ecosystem, and wants a new device without having to pay out for the much pricier Galaxy S22 range, then we think this might just be the best phone for you.
Read our full Samsung A54 5G review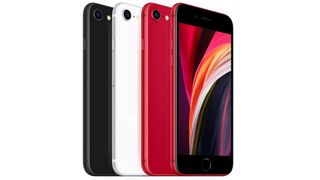 If you want a cheap iPhone and don't mind a small (4.7 inch) screen, the latest update to the iPhone SE is our top recommendation. At a quite affordable price, you'll get many of the same advanced capabilities and performance you'll find in much more expensive iPhones.
This latest iteration of the iPhone SE features 5G, longer battery life, and improved durability. It also features an all-new camera system powered by A15 Bionic, with a 12MP f/1.8 aperture wide camera on the rear that offers great tools like Portrait mode and the same Smart HDR 4 tech as the iPhone 13. The rear camera (7 MP, f/2.2) isn't half bad, either.
The iPhone SE (2022) is rated IP67 for water and dust resistance features the familiar Home button, and supports Touch ID – an easy, private, and secure alternative for logging in to apps, authorizing purchases, and making Apple Pay transactions.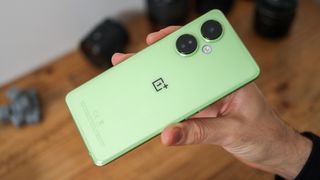 The OnePlus Nord CE 3 Lite 5G is perhaps one of the worst-named phones of the year, however, don't judge a book by its cover, or a phone by its unesessary acronyms.
Practically speaking, we found the Nord CE 3 Lite has been great to use. Its camera immediately impresses. OnePlus's pared-back photo processing and its software optimization really are the CE 3 Lite's saving graces, as is its fun, zingy styling in green.
We know there are better value options elsewhere packing superior camera mixes and AMOLED screens with more punch and brightness, but we think the OnePlus Nord CE 3 Lite is fun to use and is a phone that looks set to be greater than the sum of its parts.
Read our hands on OnePlus Nord CE 3 Lite 5G review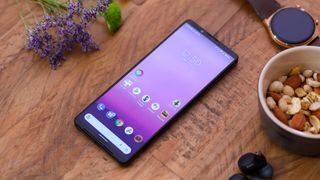 Buying a budget phone doesn't just mean putting up with tech that's a few years old. The Samsung Galaxy A52 5G was announced in March 2021, and it sits pretty much perfectly in the middle of the smartphone offers: neither dirt-cheap nor prohibitively expensive. It's good to see Samsung continuing to cater to users who can't afford the latest models.
And "continue" is the operative word here; one of the great things about the Samsung Galaxy A52 5G is that Samsung has committed to keeping it on the list for monthly OS updates, major Android updates, and security updates or at least three to four years. So you know you won't be buying a lemon and that nothing will work within a year's time.
The camera array on the Samsung Galaxy A52 5G is very solid for a phone at this price, a three-camera setup that produces punchy bright images at a range of distances. The standard photo modes perhaps smooth things out a little too much – you can detect the hand of an algorithm at work – but it probably won't bother most users, and it certainly doesn't look bad. The 120Hz screen also looks the business, and the 4,500mAh battery will comfortably last the day for all but the heaviest of users. This ticks absolutely loads of boxes, and while it's a more expensive budget smartphone, in terms of value for money it's right up there.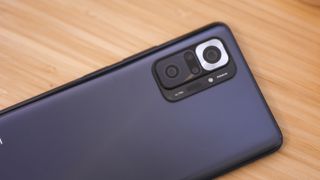 No stranger to fantastic budget camera phones, Xiaomi hasn't always nailed user experience, but it tends to get value very right, and its cameras are also competitive. This has never been more true than with the Redmi Note 10 Pro.
Its 108MP camera system is best-in-class by a wide margin, its screen sounds like something that fell off a flagship spec sheet, and with a huge battery, sleek design and enough power to deliver smooth performance, it really should cost more! Make no mistake, this is one sensational budget camera phone.
Read our full Redmi Note 10 Pro review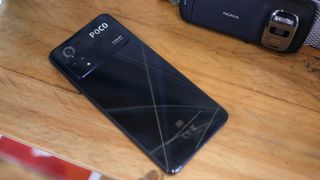 The Poco X4 Pro 5G is a low-cost, high-impact phone that's big in every way – from its styling to its pixel count, screen size, and that battery – all big. Bang for the buck is therefore the name of the game here, but that isn't necessarily the case specifically when it comes to the camera. The Redmi Note 10 Pro actually outperforms the X4 Pro 5G's camera, despite costing less.
With 5G connectivity, and an across-the-board competent feature set matched with good, not great photography capabilities though, Xiaomi's Poco X4 Pro 5G can still take excellent photos and is generally pretty easy to recommend at the right price.
Read our full Poco X4 Pro 5G review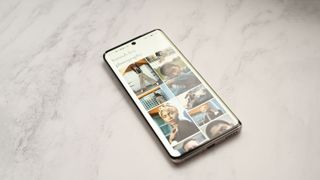 If you're looking for a mid-range smartphone that has a good front and rear camera, looks stylish, and has excellent battery life, the Honor 50 is a good choice. It might not have the processing power of some of the latest iPhones, but it is considerably cheaper.
Features such as the curved screen, the OLED display, and the 4,300mAh single-cell dual circuit battery capable of reaching full charge within an hour you'd expect to see in pro series phones, so for the price you do get some nice features.
Living in a world where we document our entire lives on social media, it's nice to have both a front-facing camera and a rear camera that produce high-quality images. However, both 2MP cameras could've been left out and it still would've been a solid phone – perhaps even a little cheaper.
Read our full Honor 50 review
---
How we test camera phones
As a photography website, we pay special attention to the photo and video quality of camera phones. We rate resolution, noise and color rendition in the context of what rival cameras can do, and where there are any special features, such as 'night modes' or 'portrait modes', we check that these perform as the makers describe.
Camera phones are all-round digital assistants too, of course, so we also check general handling, usability, and practicality – such as battery life.