Don't leave your best photos gathering virtual dust on your hard disk! We show you how to create a canvas print in just a few simple steps. We're using photo service Mixbook, but there are lots of others to choose from and the principle just the same – and just as simple!
It's a shame that so many great digital photos never see the light of day. Buried in a hard drive, they only get to be displayed once in a blue moon, or maybe never at all. There's a lot to be said for creating high-quality, large format prints to hang on the wall. Not only are they available for viewing 24/7, but the resolution of prints can be far greater than what's available on a screen. All in all, big prints can have far more impact, as well as being great decorations for your home.
Different online photo services have their own products, but Mixbook offers a range of print styles, starting with conventional glossy or matte silver halide poster prints, complete with mounting and framing options. For a more modern look, there's the option of flat or curved metal prints. You can also opt for an acrylic print, which has a high-end gallery look with a glass-like finish. For this project, we're going for a Mixbook canvas print, which comes fully finished and ready for hanging.
• Read more: The best canvas print services in the UK in 2020
01 Pick your print type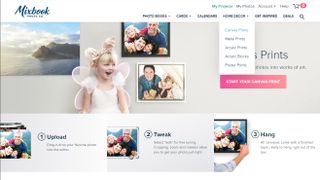 On the Mixbook home page, click the Home Décor link to get a pull-down menu with all of the main options. Click on Canvas Prints, at the top of the list, and you'll be taken directly to the start of the process. Other options include poster, acrylic and metal prints.
02 Choose a size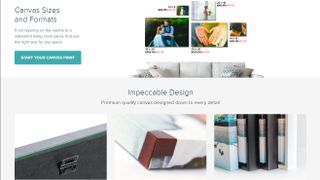 There's a variety of sizes on offer, including 10 x 8-inch, 14 x 11-inch, 20 x 16-inch, 30 x 20-inch and 36 x 24-inch. Naturally, larger sizes are more expensive but give greater impact. As well as the actual size of the canvas, think about how the aspect ratio will suit your image. The two largest canvas sizes are the best fit for the native 3:2 aspect ratio of DSLR and most mirrorless camera images.
03 Prepare your photo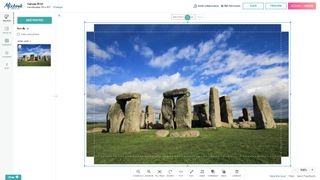 Click the 'Start your canvas print' button and you'll be asked to upload the image that you want to use. Next, click the 'Change' link at the top left and choose the size of the canvas that you want. Now drag and drop your uploaded image onto the template. If the aspect ratio of your original image isn't an exact match for your selected canvas, you can click on the centre of the image and move it around to the optimum position. By default, the image is 'bled' around the edges of the canvas's 1.25-inch deep frame, as indicated by the preview picture.
04 Alternative designs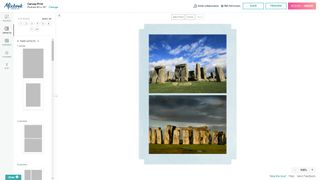 You don't have to limit yourself to one image on your canvas. If you upload extra pictures, you can use alternative templates, available from the 'Layouts' section on the left. These include wide-ranging options for everything from single images to collections of eight or more pictures. Further options include the addition of a solid or pictorial background, a variety of 'stickers' and text panels, all available from the left of the screen.
05 Mounting options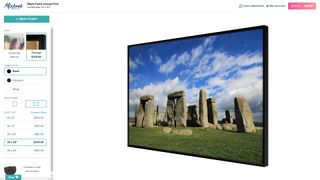 Canvas prints from Mixbook come ready to hang on the wall, but don't rule out alternative display options, like mounting your canvas on an easel. There's no fear of sagging because, unlike many 'stretched canvas' prints from other suppliers, Mixbook canvases are mounted on a solid front panel that fits within the surrounding framework. For a finishing touch, you can add an additional frame, which is available in black, white or espresso color options. The total dimensions of a framed canvas are 1.5 inches taller and wider than the canvas print itself, and the front of the frame is recessed a little from the canvas itself.
06 When will I get my prints?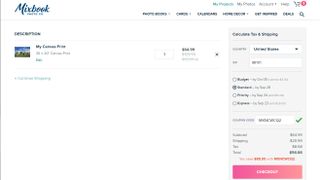 For shipping to the USA and Canada, budget, standard, priority and express delivery options are available. With express delivery, you should receive your finished canvas print in just over a week. Priority and standard delivery take one to three days longer respectively, while budget delivery takes about two weeks. For other countries, only economy dispatch is generally available and delivery speed is slower due to the canvas being shipped from the USA. For example, shipping to the UK takes around two and a half weeks.
Read more:
• Best photo books
• Best picture frames
• Best digital photo frames
• Best gifts for photographers
• Best photo calendars
• The best photo printing online
• Best photo albums
• Best photo gifts