Using one of the best photo printing online services means all of those images stored on your phone or PC can finally get the recognition they deserve. And while we love a good photo printer, keeping it fed with with genuine inks and premium paper can can hurt your pocket, and it can also be a pain trying to nail the right settings to get the best possible print quality.
With plenty of online printing companies offering to print your shots at 6x4-inch size for as little as a few pence each (plus a little extra to post them to you), it can be a cost-effective and hassle-free way to get printing. Some of the best online photo printing services also have high street shops that may even let you have your prints delivered to a local store for free.
But not all photo prints are created equal, and there can be a marked difference in print quality between printing companies. Here's how to identify the best online photo printing services:
5 things to look out for when choosing the best online photo printing services
Size it up: 7x5-inch enlargement prints can suit 3:2 and 4:3 images with minimal cropping, and they often cost little more than 6x4 prints.
Extra ratios: Some printers also offer 7.5x5, 6.5x5, and 5x5-inch variations of the standard 7x5 size, so you can tailor your prints to perfectly match your images' aspect ratios.
Photo finish: almost all online printers will give you a gloss or matte print surface choice, and some also offer a luxury heavyweight paper option.
Delivery: Forget waiting for weeks to get your prints - most printers should be speed with their delivery, without charging premium P&P rates.
Uploading: Clear and easy-to-use print preview software will minimise the chance of you receiving prints that aren't as expected - ensure you're aware of whether an image is likely to get cropped, and by how much.
US: The best photo printing online
01. Adorama Pix
A photo printing service where the quality is second to none
Standard 7x5 print cost: $0.95 | Ships to: US & Canada | Free shipping: No
Excellent quality
Two order modes
Cheaper options
Expensive shipping
If it's quality prints you're after, you'll be hard pushed to find better than that of Adorama Pix. The online service of Adorama, a pro photography shop in NYC, the website alone speaks volumes in the company's expertise. Combine that with the variety of photographic and fine art paper, printing technique and creative options on offer here, and you're guaranteed to walk away with the highest quality prints.
Silver halide prints set Adorama Pix apart from other service, boasting a larger colour gamut for stronger, brighter, more vibrant colours than prints produced by most mass production labs.
Adorama's photo editor offers an express order mode, with which you order the same print size, paper type and quantities of all your photos. But there's also a detailed order mode, where users can handpick different print sizes, paper types and quantities for each individual photo.
You won't be surprised to note it's not the cheapest option (but also not the most expensive either), especially when you add a rather hefty shipping cost on, but for the quality of finish, the cost per print still equates to good value for money.
02. Mixbook
Good quality photo prints at an affordable price
Standard 7x5 print cost: $0.99 | Ships to: Worldwide | Free shipping: No
Good quality
Simple photo editing app
Cheaper options
Expensive shipping costs
One of the best online photo printing services around, Mixbook offers a good balance of quality and affordability. The website is easy to understand and its photo editing app is relatively easy to use. There a number of templates on offer, should you wish to add one to your photos, all of which are fully editable.
Photo prints are available in four sizes: 4x6, 5x5, 5x7 and 8x10, all of which are printed on quality photographic paper to ensure the best colour accuracy and level of detail. Wallet sized prints are not on offer so you'll need to look elsewhere if that's what you're after.
Mixbook's prices aren't the lowest, but there are always promo codes and deals available. Right now new users can save a whopping 50 per cent on their first order, which is not something to be sniffed at. However, bear in mind that shipping is neither free or cheap.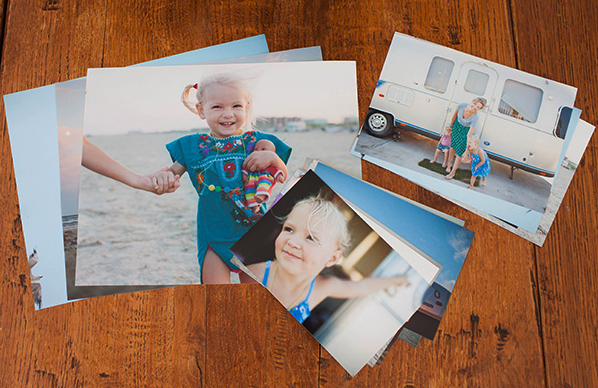 03. Picaboo
A professional photo printing service without the huge price tag
Standard 7x5 print cost: $0.82 | Ships to: US | Free shipping: No
Good quality
Affordable
Caption/filter options
Better quality options
If a quality finish is high on your agenda, but you're looking to pay less than a dollar per print, Picaboo is an excellent option. Although only marginly cheaper than our top two options (17 cents less to be exact), if you need to order multiple prints, it's a saving that will soon add up.
Quality might not also be right up there on a par with Adorama and Mixbook, but it's still more than good enough to pass the test of any untrained eye. Picabook uses high-quality ink for top colour accuracy, and automatically reduce red eye wherever necessary.
Picaboo also offers the option to add captions to the front of your photos, with a variety of font styles and colours to choose from. There's also the option to switch to black and white or sepia if you're after a more vintage feel.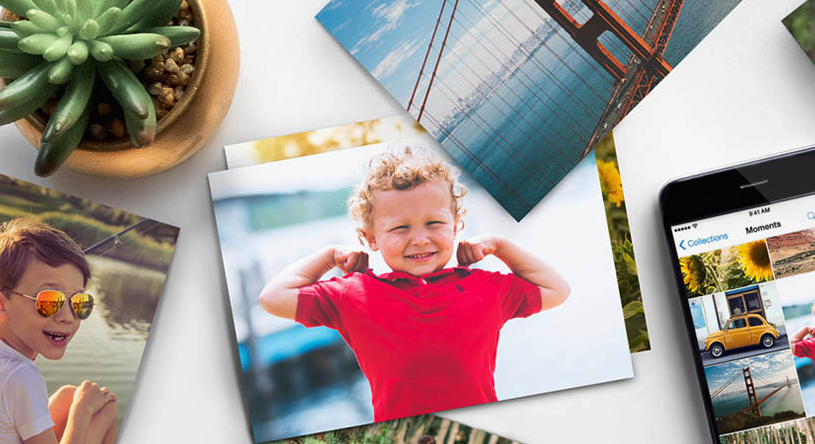 04. Walmart Photo
A reliable, highly affordable photo printing service
Standard 7x5 print cost: $0.59 | Ships to: US | Free shipping: On orders over $35
Highly affordable
One-hour pick-up service
Not the best quality
Walmart might not be the first place you'd think to go for your photo prints, but in actual fact, it's one the best online photo printing services around if you're on a budget. Significantly cheaper than other services on this list, Walmart charges up to 40 cents less per print, depending on quantity of the order, plus free shipping on all orders over $35.
It also has the advantage of having physical stores, meaning you can collect prints in just one hour (although fees are slightly higher for this service). If you've a lot of frames to fill and are looking for affordability and convenience over super high quality, Walmart offers the perfect photo printing solution.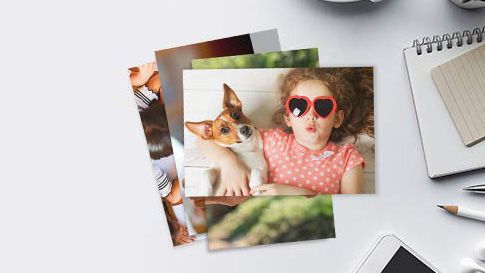 05. Amazon Prints
The best photo printing service for Prime members
Standard 7x5 print cost: $0.58 | Ships to: US | Free shipping: Yes
Excellent value for money
Good quality
Prime membership required
You can get pretty much anything on Amazon these days, including reasonable quality, highly affordable photo prints. The cheapest on the list so far, a bog standard 7x5 print will set you back just 0.58 cents per photo, just one cent cheaper than Walmart. You do, however, have to sign up to Amazon Prime to access the service.
Made to order, Amazon photo printing provides accurate colour representation, in either matte or glossy finish, and being an Amazon Prime member means you get them delivered for free. Add all this up and Amazon Prints almost took the top spot for being the best budget online photo printing service, however the Prime member sign up and one-hour collection service on offer at Walmart just pipped it to the post.
For more information on Amazon Prints services and requirements, head to the website.
UK: The best photo printing online
01. Bonusprint
Though Jessops Photo's print quality is a bit better, Bonusprint is the best all-rounder
7x5 print cost: £0.14 | Ships to: UK & Europe | Free shipping: No
Plenty of aspect ratio options
Automatically detects photo sizes
Great print quality
Colour/contrast could be better
Bonusprint gets off to a good start with its clever uploading page that automatically detects the aspect ratio of your images and selects an appropriate print size to match. In addition to the usual 7x5 option, there's 7.5x5 to suit a 3:2 APS-C or full-frame image, 6.5x5 caters for four-thirds cameras and smartphone shots, and there's a 5x5 square format. All these variants cost a very reasonable 14p per print.
Thankfully print quality doesn't let the side down. Colours are accurate, highlight and shadow areas well resolved, and there's plenty of fine detail. Those comprehensive aspect ratio options also ensure no nasty cropping surprises.
Once you order, Bonusprint aims to deliver photos within 4-6 working days, although often it's sooner. Shipping isn't free, but is capped at £2.99 in the UK, so you'll never pay more, regardless of how many prints you order.
02. Jessops Photo
Only limited print size options prevent Jessops Photo taking the win
7x5 print cost: £0.18 | Ships to: UK | Free shipping: No (Free collection in-store)
Class-leading print quality
Quick, free delivery to store
Reasonably priced
No ratio variations
Being a high-street retailer, Jessops Photo offers a click-and-collect print service where you can pick up your prints in just two hours, at a tempting cost of 30p per 7x5 print. If you opt for the online service costing 18p/print and have them delivered to a local store for free, Jessops Photo is the most cost-effective printer for small-volume orders.
The online uploader and image editor strikes a good balance of functionality and ease of use. It's not quite as effortless as Bonusprint's uploader, however, and you don't get any aspect ratio variations of typical print sizes. But it's hard to fault print quality.
Much like Bonusprint, shipping is capped at £2.99 per order, however Jessops has the option to collect in store for free, which is definitely worth taking advantage of if you live nearby to one of Jessop's UK high street shops.
03. Cewe
Cewe's prints mostly look good - they just lack a little wow factor
7x5 print cost: From £0.12 | Ships to: UK | Free shipping: No
Good print quality
Fast, reasonably priced delivery
Cost-effective for bulk orders
Few aspect ratio options
Cewe offers comprehensive downloadable print preparation software, but the online previewer is short on functionality. Only the software allows full control over how images are cropped to fit the six available print sizes. There are no non-standard aspect ratio options and square prints are only available in a set of at least 16.
Price-wise, it's 20p per 7x5 print, but this quickly drops to 17p/ea if you order 20 or more, and 12p per print when buying 200+. Postage is a fair £2.95, with an average delivery time of two working days.
We enabled Cewe's Photo Optimisation option – a free feature claimed to tweak image sharpness, colour, and contrast for better prints. Sadly it wasn't quite enough to give our samples a winning edge. Though we didn't spot any major issues, many prints had overly lightened shadow areas, leading to slightly flat overall contrast. Black and white shots also exhibited a small but noticeable magenta cast, and this was also visible in neutral areas of colour images.
04. Snapfish
You won't be disappointed with Snapfish's prints; but neither do they truly impress
7x5 print cost: £0.21 | Ships to: UK | Delivery cost: £2.99 | Delivery time: four working days
Good online image editor
Decent overall print quality
Relatively slow and costly
Better quality options
Some web-based image upload and preview pages can seem a bit dated and are clunky to use, but Snapfish's software is, well, snappy. It's also clear and intuitive, but while you can get square 5x5 prints, there are no other aspect ratio variations of the 7x5 print size, so expect 3:2 images to arrive cropped.
Print quality is mostly attractive, with good colour, contrast, and detail. The only issue we found was a subtle but nevertheless noticeable magenta colour cast affecting black and white prints, as well as neutral areas of colour images. That's a pity given the relatively expensive cost per print. We were also less than impressed with the four-working-day delivery time - the slowest by some margin - although at least the P&P cost is reasonable at £2.99.
It's worth noting that Snapfish also provides Boots Photo with its online print services. Plus, like many online printers, Snapfish regularly runs discount codes that can substantially cut the cost of your order.
05. Photobox
Only worth considering if you can use one of Photobox's regular discount offers
7x5 print cost: £0.25 | Ships to: UK | Delivery cost: £2.99 | Delivery time: two working days
Fast delivery
7.5x5 and 5x5 ratio options
Acceptable print quality
Relatively expensive
At a relatively pricey 25p per 7x5 print (and that doesn't even drop if you bulk order), we were expecting a lot from Photobox's image quality. Unfortunately we found it average at best. Our test chart print sample revealed slight pixelation of fine lines - an issue not visible in the same print from the other printers - yet all our other sample photos were slightly soft, blurring fine detail. We also spotted minor banding in areas of subtle gradations, and flat contrast made some images look relatively uninspiring and washed out - especially mono prints. The only consolation is none of these issues are glaringly obvious.
Photobox does at least offer a 7.5x5-inch print option, in addition to the usual 7x5. The difference may seem subtle, but a 7x5 print of an image captured by an APS-C or full-frame camera will be noticeably cropped on either side.
Standard delivery is £2.99 and we had our prints in just two working days, but if you need even faster service, expedited delivery is also available.
Scanned prints
Here's a comparison of scanned prints so you can see actual print quality up close
Image 1 of 5
Image 2 of 5
Image 3 of 5
Image 4 of 5
Image 5 of 5
Image 1 of 5
Image 2 of 5
Image 3 of 5
Image 4 of 5
Image 5 of 5
Read more:
The best photo books in 2019
The best photo albums for your prints