Dating from 2015, the Sony Cyber-shot DSC-RX1R II was a remarkable camera at the time. Eight years on, it is now one of a very select band of full-frame compact cameras – and still has features that make it stand out from other fixed lens cameras.
Sony's RX1R II has the same full-frame 42.4 million pixel sensor found in the Sony A7R II mirrorless camera, but it also boasted the world's first variable optical low-pass filter (OLPF). Removing a low-pass filter increases detail resolution, but also increases the chance of moiré patterning. A variable filter means you can switch the effects of an OLPF on or off depending on the subject you're shooting.
Other new features include 30% quicker autofocusing speeds than its predecessor the RX1R; the ability to record uncompressed 14-bit raw files; an electronic viewfinder which retracts into the camera body; and a hybrid autofocusing system with 399 phase-detection autofocus points and 25 contrast detect points.
Sony has stuck with the classic 35mm focal length as with its very similar predecessor the RX1R, and this wide-angle focal length is versatile for landscapes, portraits, architecture and street photography.
Specifications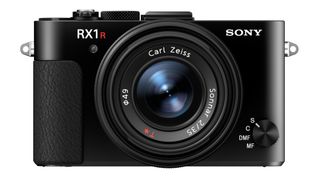 Sony model code: DSC-RX1RM2
Sensor: Back-illuminated 35mm full-frame CMOS sensor with 42.4MP
Lens: Fixed Zeiss Sonnar T* 35mm f/2.0
Memory: SD/SDXC/SDHC/Memory Stick Duo
Viewfinder: 0.39-inch electronic viewfinder, retractable, 2,359,256 dots
Max video resolution: Full HD
(1,920 x 1,080)
ISO range: 100-25,600 (expandable to 50-102,400)
Autofocus points: 399
Max Burst rate:5fps
Screen: 3-inch, 1,228,800-dot Xtra Fine TFT LCD
Shutter speeds: 1/4,000-30 secplus Bulb
Weight: 507g (with battery and memory card)
Dimensions: 113 x 65 x 72mm
Power supply: Rechargeable Battery Pack NP-BX1 (supplied)
Build & handling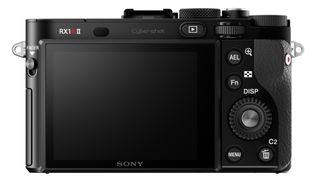 Those who appreciate an array of dials and buttons will like the RX1R II. As the screen is not touch-sensitive, each control must be adjusted physically: aperture is altered using a ring around the lens, while exposure compensation can be adjusted via a dedicated dial.
Performance
You're going to need a pretty speedy computer to manage the files a 42-megapixel sensor can produce, but if you've got a good machine you'll be delighted with what the RX1R II is capable of. It's almost impossible not to be impressed by the stunning level of detail the sensor can capture. Real-world shots taken throughout the sensitivity range look fantastic at standard printing sizes, and also hold up well to scrutiny at 100%. Colours are beautifully saturated too.
Sadly, battery life is problematic and you're likely to need a second battery. Image processing and zooming to check critical focus are also slow because of the large file sizes. There's also no optical image stabilisation, making the slowest 'safe' handheld shutter speed you can rely on around 1/125 or 1/100 sec.
The amount of fine detail the RX1R II is capable of resolving is absolutely superb, but uncompressed raw files can be around 80MB each.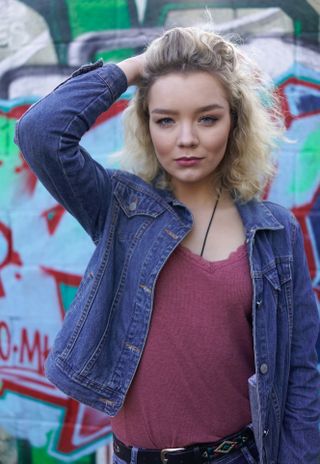 Lab tests
We compared the Sony RX1R II with three other luxury compacts from the same era: the Sony RX1R (its full-frame predecessor), the first-generation full-frame Leica Q, and the smaller-sensored Fujifilm X100T.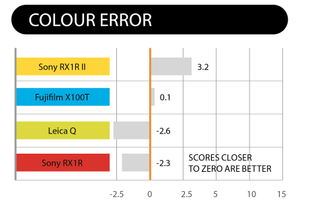 Not quite as accurate as the Fujifilm X100T to our test, in real-world images the RX1R II's colors are good, with pleasing saturation.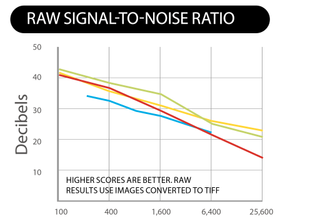 With a very strong performance throughout the range, the RX1R II was just beaten slightly by the Leica Q in the medium ISO range, but picks it up again past ISO 6,400.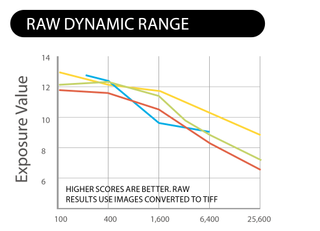 The cameras are quite closely linked at the lower end of the range (ISO 100-800) but from ISO 1,600 onwards, the RX1R II beats all of the other cameras comfortably.
Verdict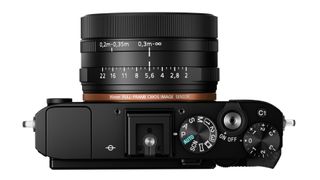 Sony has produced a fantastic camera with the RX1R II, making for excellent competition for its nearest rival, the Leica Q2. The high-resolution sensor, the addition of the viewfinder and the variable optical low pass filter are great new features; but there are enough reasonably small niggles to add up to a less than perfect offering.
Best full-frame compacts
Best APS-C compact cameras
Best Sony cameras
Best compact cameras