The Sony A7R II was launched in the early days of Sony's full frame mirrorless camera range, but even now its specifications look compelling. It's true that later models are faster, more versatile and more powerful, but at today's prices you won't find this combination of features and performance anywhere else.
Update: With the 2020 holiday season approaching, we expect to see some great deals on the Sony A7R II. Forget the fact that it's five years old – this is a 42-megapixel full frame camera with phase-detect AF and 4K video, and we expect to see some very aggressive price deals where this camera might cost as little as $1,200/£1,200 or even less. If so, the Sony A7R II will be one of the bargains of the year.
The list of Sony A7 cameras could quickly get confusing, so let's clarify it a little. There are essentially three models. The regular A7 is an affordable general purpose model with 24 million pixels; the A7R is a high-resolution model originally launched with 36 million pixels, but then with 42 million and now 61 million. The A7S was a 12-megapixel video-centric model and the first to offer 4K video, but unless we see a new Sony A7S Mark III quite soon, we must assume that this line had ended.
• Read more: Sony A7R IV vs A7R III vs A7R II
The Sony A7 is now up to the Mark III version, while the Sony A7R is up to Mark IV. The original Sony A7 is quite hard to find now, but the later A7 Mark II can now be found at heavily discounted prices. Likewise, the original Sony A7R has all but disappeared, but the far superior A7R Mark II and A7R Mark III are still available.
The A7 series and A7R series cameras both appear in our list of the best Sony cameras to buy today, not to mention the best mirrorless cameras generally. The A7R Mark IV is also one of the best cameras for professionals, while the A7 II is moving up our list of the cheapest full frame cameras you can buy today.
It's worth spelling out one more time that the specs of the five-year-old Sony A7R II still look good today, and when it was launched it was well ahead of its time.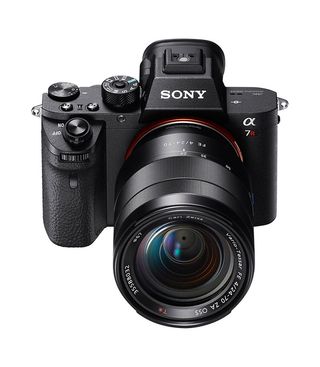 Specifications
Sony model number: ILCE-7RM2
Sensor: 42.4 million effective pixel full-frame (35.9 x 24mm) Exmor R CMOS
Focal length conversion: 1x
Memory: SD/SDHC/SDXC and various Memory Stick options
Viewfinder: 2,359,296-dot OLED
Max video resolution: 4K (3,840 x 2,160) at 30p
ISO range: 100-25,600; expandable to ISO 50-102,400 for stills
Autofocus points: 399
Max burst rate: 5fps at full resolution
Screen: 3-inch LCD with 1,228,800 dots
Shutter speeds: 30-1/8,000 sec for stills
Weight: 582g (body only)
Dimensions: 126.9 x 95.7 x 60.3mm
Power supply: NP-FW50 lithium-ion battery (supplied)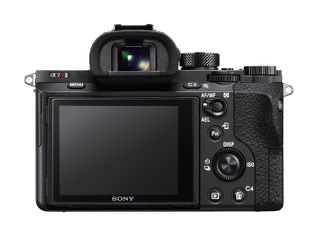 Key features
The Alpha 7R II was the second addition to the A7R range, a higher-resolution model which trumped the original A7R's 36 million pixels with an effective pixel count of 42.4 million. To push detail resolution even further, the sensor has no optical low pass filter (OLPF). This resolution was only exceeded four years later in 2019, with the launch of the Sony A7R Mark IV.
As well as having the first full-frame back-illuminated (BSI) sensor, the A7R II was the first full-frame camera to feature in-body five-axis image stabilisation and the ability to record 4K movies internally.
Other specification highlights include Sony's Bionz X processor, which enables a maximum sensitivity setting of ISO 102,400; a 399-point hybrid autofocus system; a new 500,000-cycle life shutter unit that creates less vibration than before; and a 2,359,296-dot OLED electronic viewfinder (EVF).
At the time of launch, the A7R II was an expensive camera and these specs seemed about what you might expect for the money. At today's prices, however, they are exceptional.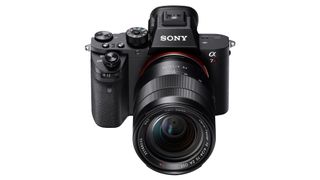 Build and handling
Like the other cameras in the Alpha 7 line, the A7R II has retro SLR-like design. However, Sony has taken on-board some of the criticisms made of the original A7 and A7R and made the same handling tweaks to the A7R II as it did to the A7 II. Consequently, the front grip is more pronounced, making it more comfortable and secure in use. The shutter release button is also moved forward onto the top of the grip, and beneath it there's a conveniently placed recessed dial for adjusting settings. This has created space for a second customisable button on the camera's top-plate.
The A7R II has a magnesium alloy construction and the camera feels very solid, with a pleasant density. Our early test sample had a front grip which creaked when held tightly, but later 2020 versions we've tried feel solid as a rock.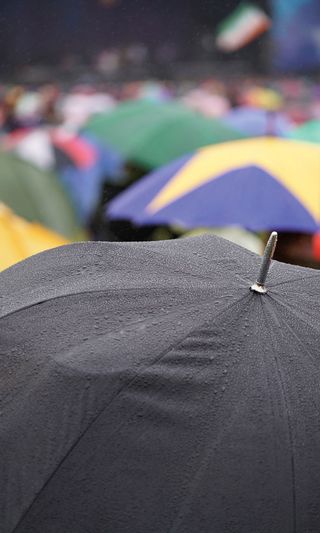 One of the great things about the A7R II is that it's highly customisable. The control wheel on the back of the camera, for example, can be set to adjust one of six features – I found it useful for adjusting sensitivity quickly – and any of 62 functions can be assigned for access via four Custom buttons.
Three of the navigation buttons and the centre button can also be used as shortcuts to features, and 12 of 34 functions can be assigned for access via the Function menu.
The default set-up makes a good starting point, but it's worth experimenting with other options until you have the optimum control arrangement for your needs.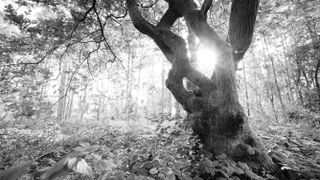 It's relatively easy to connect an NFC or Wi-Fi enabled phone to control the camera or share images, and while the electronic viewfinder makes the scene look a little more vibrant than it is in reality, the images captured are a good match for the scene.
Performance
One thing that's clear from our real-world and lab tests is that the Alpha 7R II can resolve a lot of detail. As you'd expect, the highest level of detail is captured at the lowest sensitivity settings. It doesn't quite out-resolve our resolution chart, so it can't match the 50MP Canon 5DS for detail, but the level of resolution remains exceptional given current prices for this camera.
As sensitivity increases to mid-range values, the JPEGs take on a slightly painterly appearance at 100% on-screen. This becomes even more evident at high values and the edges of elements become a little harsh while the areas in-between are a softer wash of colour. We do expect high-resolution cameras to be more compromised at higher ISO settings. With this camera, you'll have a lot more control over the image rendition if you shoot raw.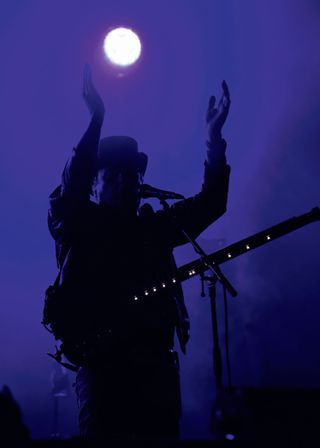 Noise levels are perfectly acceptable throughout the native sensitivity range (ISO 100-25,600), but you might want to avoid the high expansion settings unless getting a shot is more important than its quality.
The A7R II's autofocus (AF) system is pretty good. It's capable of getting moving subjects sharp quickly, and can even follow them around the frame in fairly low light provided there's a reasonable level of contrast. When this drops, it can become rather ponderous. It's also hard to predict exactly where the focus will be when using Lock-on AF. Although it does a good job of tracking a subject, in practice the precise point of focus may turn out to be slightly off where you want it to be.
Lab tests
We compared the lab test results for the Sony A7R Mark II against those of three rival cameras. For this comparison we chose the Sony A7 Mark II, the lower resolution Sony model from the same time, but also cheaper, the Canon EOS 5DS DSLR and the Nikon Z 7. These two cameras are more expensive than the Sony A7R Mark II but offer a good comparison of its image quality.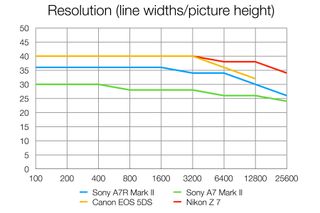 Resolution
Not surprisingly, the Canon EOS 5DS and Nikon Z 7 scored highest in our resolution test, hitting the maximum 4,000 lw/ph value our charts of the time could record. The Sony A7R Mark II is not far behind, though, and easily beats the cheaper Sony A7 Mark II.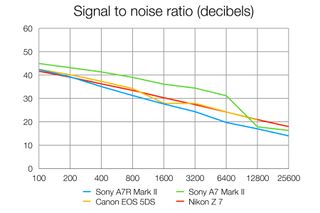 Signal to noise ratio
We expect to see more noise (hence lower figures) with cameras that have high resolution sensors, so it's not surprising to see the Sony A7R Mark II, Canon EOS 5DS and Nikon Z 7 trailing the lower resolution Sony A7 Mark II. Lower resolution cameras do offer increased image quality in terms of noise and, often, dynamic range.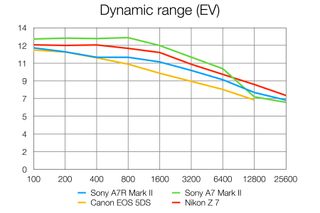 Dynamic range
Again, it's the 24-megapixel Sony A7 Mark II that wins out in this test, beating the dynamic range figures of the three higher-resolution models in this comparison. For a camera launched in 2015, though, the Sony A7R Mark II acquits itself pretty well.
Verdict
Although it has a high pixel count and can record lots of detail, the A7R II's compact design and in-body image stabilization means it needn't be limited to use on a tripod, and while its autofocus system is a couple of generations behind Sony's latest AF technology, it's still capable of getting moving subjects sharp.
The key point about the Sony A7R Mark II, though, is that while it shows its age against modern rivals in the same class, it's now priced at a similar level to amateur/enthusiast mirrorless cameras – and for resolution it blows these away completely. Old as it is, the Sony A7R II is still a highly versatile and effective camera and, more to the point, there's nowhere else you can get this kind of resolution at this kind of price.
Read more:
• The best mirrorless camera
• The best Sony cameras
• Sony A7R IV vs A7R III vs A7R II: pixels vs price, and how to choose the right model