When Fujifilm announced the X-T3 it was straight after the full frame Nikon and Canon mirrorless camera launches, so it was unlikely to attract the same kind of attention.
After all, it's just a routine upgrade of the existing Fujifilm X-T2, right? Well that just shows how appearances can be deceptive, because the exterior might be quite similar, but inside the X-T3 has had a pretty massive overhaul.
There's it's new 26.1 megapixel sensor for a start. This is barely 2 megapixels more than the previous X-T2, but the extra resolution isn't the point. For a start, this is Fujifilm's first back-illuminated X-Trans sensor, which means the electronic wiring is at the back of the sensor and not obscuring the photodiodes at the front. This means better light gathering power and better overall image quality.
More important, the new sensor has 2.16 million phase detection sensors spread across the full image area. That's a big step up from the X-T2, and the autofocus performance is boosted still further by the inclusion of a new X-Processor 4 image processor that's three times faster than the one before.
This means faster focusing, improved subject tracking and increased autofocus sensitivity, down to -3EV.
The enhanced autofocus performance goes together with upgraded continuous shooting speeds. The X-T3 can now shoot at 11fps with its mechanical shutter (the old X-T2 needed an external booster grip to achieve this speed) and an excellent 30fps in electronic shutter mode with the camera's new 1.25x cropped 'Sports Finder' mode.
Even more impressive than all of this – for videographers at least – is the X-T3's ability to capture 10-bit 4K video at up to 60p with 4:2:0 colour sampling (if you use an external recorder, that goes up to 4:2:2).
This is a pretty exceptional video specification for a stills/video crossover camera. We won't be able to test the video quality fully until we get a sample of the X-T3 in for a review, but did get a chance to try the camera out for a day at the UK's Goodwood Revival meeting, so we do have some early thoughts on this camera's handling, build quality and performance.
Build quality and handling
The X-T3 is a mid-sized mirrorless camera that's a good deal smaller than an enthusiast DSLR but still big enough for a good range of external controls.
These have become a Fujifilm speciality, as it recreates the controls of pre-digital analog film cameras. There's no mode dial on the X-T3 as it uses an external shutter speed dial and lens aperture ring instead. Even the ISO is set on an external dial.
The advantage of this setup is that you can see the camera settings without even switching it on, and it's much easier to make manual adjustments with dedicated physical dials than it is to press buttons, turn dials and peer and screens.
We tested the X-T3 with Fujifilm's 18-55mm f/2.8-4 kit lens most likely to be bought with the X-T3, but we also tried out the company's 'red badge' XF50-140mmF2.8 R LM OIS WR and XF100-400mmF4.5-5.6 R LM OIS WR lenses.
Annoyingly, not all Fujifilm lenses have an aperture ring. Fujfilm's premium lenses do, but the 18-55mm f/2.8-4 has an auto-manual switch instead. Here, you adjust the aperture by turning a ring on the lens, and the value is shown on the camera display, not on the ring itself.
The XF18-55mmF2.8-4 R LM OIS feels a perfect fit as a kit lens, and the 50-140mm and 100-400mm zooms don't make it feel quite as front-heavy as you might expect. You will be able to get a VPB-XH1 battery grip which will both extend the battery life and improve the handling with long lenses.
The electronic viewfinder is excellent. It has a resolution of 3.69 millions dots and Fujifilm claims its 100fps refresh rate gives it a lag time of just 0.005 seconds. That should mean smoother movement when panning with fast-moving subjects like sports cars, for example.
The rear screen sharp and clear too, and we'd expect nothing less from a modern digital display. It's not fully articulating, but it does have a sideways hinge which allows it to flip both up and down and to the right. It's a smaller range of movements than a fully articulating screen, but it doesn't fold out to the side and does stay more or less on the camera's optical axis, which does feel like a more natural way of shooting.
There is a drive mode dial stacked under the ISO dial on the far left of the top plate and a metering mode dial under the shutter speed dial on the right. There are two inset control dials, one on the front and one on the back, and these have a 'click' action. In playback mode, for example, you can click on the rear dial to zoom in to a magnified image to inspect it for sharpness.
The back of the camera also has a small 'thumbstick' for moving the focus point around the frame.
Alternatively, you can move the focus point using the touchscreen display, which can also be used in touch-shutter mode and for changing camera settings. It's pretty sensitive, though, and it's very easy to end up in the 1.25x Sports Finder mode through accidentally swiping the display as you handle the camera.
The X-T3 does have extensive customisation options, so customising its touch-screen responses (or even disabling touch-sensitivity altogether) is probably one of the first things new users should look at.
Performance
The new autofocus felt fast and responsive with all of the lenses we tried. It also handled fast-moving subjects very well, even when moving towards the camera. The trick is to select the correct focus mode – using focus 'zone' with a cluster of AF points is easier than trying to keep a single AF point over a moving subject.
We look forward to trying out the X-T3's continuous shooting capabilities properly in our full review, but our first impressions are very good.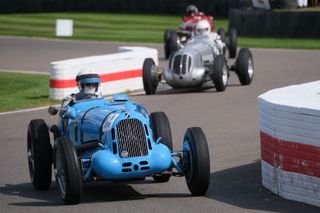 Usually with mirrorless cameras, the EVF is the weak point for capturing fast action, not the autofocus system. It's hard to follow fast-moving subjects with a jerky screen refresh. The X-T3 looked pretty good here, too, as subject movement in panning shots was a lot smoother than we're used to seeing with EVFs.
Fujifilm as yet to update its bundled raw conversion software so we are only able to rate its JPEGs in this early hands-on test. As ever, Fujifilm's Film Simulation modes offer rich, dense, natural-looking colours, and the expanded dynamic range option really does help prevent bright highlights burning out.
The X-T3 has a new Colour Chrome effect to improve the appearance of highly saturated colours, and a Warm Black/Cool Black adjustment to add depth to monochrome images. We'll report on both of these when we carry out our full review.
Unlike the pro-orientated X-H1, the X-T3 does not have in-body image stabilisation, but the lenses we shot with all have optical stabilisation built in, so camera shake was not an issue.
In fact, the level of detail captured in some of these shots is very impressive indeed. The X-T3 uses an APS-C sensor rather than full frame, but the combination of its low-pass filter-free sensor design and Fujifilm's top-quality X-mount lenses produced some outstanding results from our Goodwood day out.
Early verdict
The X-T3 handles just like the X-T2 and X-T1 before it, and feels much more like an old-school film SLR than a modern digital SLR does, which is ironic. It's well balanced, with firm, positive controls and a real premium-quality feel.
A few people might complain that there's not much of an increase in resolution, but the real point of this upgrade is the X-T3's massive boost in processing power, autofocus and 4K video capability.
We can't wait to spend a lot more time with this camera to find out what it can really do – and we can't wait to get our hands on Fujifilm's new 8-16mm ultra-wideangle zoom, too.
Canon and Nikon may have grabbed all the headlines with their new full-frame mirrorless camera systems, but the X-T3 brings a balance of features, size and affordability that those two big names are not going to be able to match.