Olympus has played two aces with the E-M1 II. Its 60fps burst mode is a spectacular leap forward in high-speed shooting, and even though you have to step down to 18fps to get focus tracking with moving subjects, that's still a poke in the eye for heavier, more expensive – and slower – pro SLRs like the Canon EOS-1D X II and the Nikon D5.
• Read more: Olympus OM-D E-M10 III vs E-M5 III vs E-M1 II
This camera's other party trick is its new all-phase-detection autofocus system – designed to prove that mirrorless cameras can match SLRs for tracking moving subjects. The AF system uses 121 on-sensor phase detection AF points arranged in a rectangular array that covers a much larger area of the frame (80% of the frame width, 75% of the frame height) than regular digital SLR systems.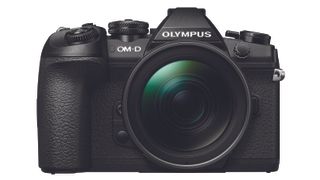 But let's get back to that continuous shooting capability. The bald fact is the E-M1 II can shoot full-resolution, uncropped 20-megapixel images at 60 frames per second, and it can keep this up for 48 frames (raw or JPEG) – long enough to be much more likely of capturing a key frame than a regular SLR.
And if you're not sure your reactions will be quick enough, there's a Pro Capture mode that starts buffering frames as soon as you half-press the shutter release so that when you press it the rest of the way, you don't just capture frames from that point on, but the preceding 14 frames too.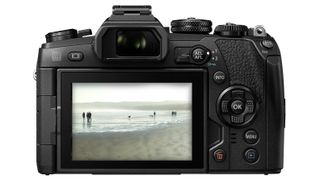 All this happens using the OM-D M1 Mark II's silent shutter mode. It has to lock focus and exposure at the first frame, but it's designed to be used where the point at which the action will occur can be framed up in advance.
The new camera is splash-proof, dust-proof and cold-proof down to 10 degrees Centigrade. It comes with a quoted shutter life of 200,000 shots and an optional new HLD-9 battery grip that doubles the battery life (always a sore point with mirrorless cameras) and has dedicated controls for vertical shooting.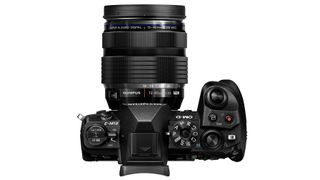 Inside the body is a 20.4-megapixel Live MOS sensor measuring 17.3 x 13mm, with an ISO range of 'Low' to 25,600. It's equipped with a newly redesigned five-axis image stabilisation system, which can work in conjunction with a new 12-140m f/4 IS lens, launched at the same time as the camera.
The E-M1 II can shoot 4K video in both the C4K (4,096 x 2,160) and 4K/UHD (3,840 x 2,160) formats – and this new lens is designed not only to offer a useful focal range for videographers (24-200mm equivalent) but to offer even better hand-held footage thanks to its own in-built image stabiliser. Olympus is claiming a 6.5-stop shutter speed advantage for this camera and lens, and its video credentials are enough to make it one of the best 4K cameras for filmmaking right now.
Build and handling
The E-M1 Mark II is the largest camera in Olympus's OM-D range, but it's positively diminutive next to a pro SLR. The smaller sensor size of the Olympus means it's at a disadvantage for ultimate image quality, but it brings two big advantages: size and weight.
It's not just about the size of the body, but the lenses too. The 12-40mm f/2.8 Pro lens (24-80mm effective) is half the size and weight of a full-frame equivalent; this goes right across the board, right up to Olympus's 40-150mm f/2.8 (80-300mm equivalent) and 300mm f/4 super-telephoto (600mm equivalent).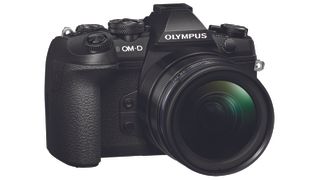 Despite the E-M1 II's relatively small size, Olympus has managed to squeeze on a lot of external controls without making them feel cramped. The key dials are on the right side of the top plate, and consist of a regular mode dial and two unmarked control dials whose function depends on both the mode you're in and the position of a lever on the back of the camera, just to the right of the viewfinder eyepiece. This effectively doubles up on the control dial functions – as long as you remember to set the lever to the correct position.
This is a camera that you can easily get confused with, at least initially. Despite the array of external controls, it also relies heavily on its menu system and an interactive touch-screen control layout, activated by the OK button in the middle of the four-way controller.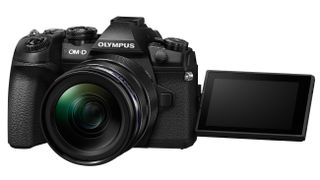 You don't have to use the touch system – you can also navigate through the options using the four-way controller buttons and the control dials on the top of the camera.
But what about the revolutionary continuous shooting and autofocus modes? These are key features that surely deserved a rethink of the camera's external layout, with dedicated controls for each. Instead, the E-M1 II follows the same generic exterior layout as its predecessor, giving no real external clue to its enhanced capabilities.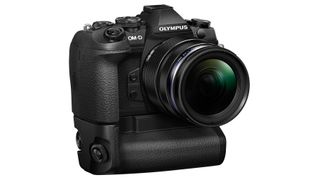 The actual shooting experience is hard to fault, though. The electronic viewfinder is crisp and clear with little lag, even in low light, and the shutter action is unusually soft – much softer than its predecessor's. The feel of the materials and controls is first-rate – this feels such a finely made, high-precision device that you have to remind yourself it's also been 'ruggedised' for outdoor conditions.
Performance
The OM-D E-M1 II's sensor is half the size of APS-C and around one-quarter the size of a full-frame SLR sensor, yet you wouldn't know it from the images it produces. They are extremely sharp; the roll-off in bright highlights is smooth and subtle; and lens aberrations like distortion and fringing are processed out so well that they effectively cease to exist.
The OM-D II performs well at higher ISOs too, although larger-sensor rivals pull ahead here.
Olympus OM-D E-M1 II sample images
The high-tech autofocus system is harder to judge. We got a mixture of duds and successful shots in our early tests. What's obvious straight away is its static AF speed. It feels at least as fast in single-shot AF mode as any pro SLR. It hunts from time to time in low light, however, or with low-contrast subjects, but the speed at which it can refocus from infinity to a subject close to the camera and back again borders on the uncanny.
The E-M1 II is a fraction of the weight and cost of a high-speed pro sports SLR, but it has an autofocus system which narrows or perhaps even eliminates the performance gap between mirrorless and SLR technologies – and can shoot at speeds that no SLR can match.
Olympus OM-D E-M1 II specifications
Sensor: 20.4MP Micro Four Thirds Live MOS sensor (17.3 x 13mm)
Focal length conversion on lens: 2x
Memory: 2x SD/SDHC/SDXC (1x UHS-1, 1x UHS-II)
Viewfinder: EVF, 2,360k dots
Max video resolution: 4K (4,096 x 2,160)
ISO range: 'Low'-25,600
Autofocus: Hybrid phase/contrast detection, 121 points, all cross-type
Max burst rate: 60fps AF locked, 18fps with AF
Screen: 3-inch vari-angle, 1,037k dots
Shutter speeds: 60-1/8000 sec, Bulb
Weight: 574g, body only, with battery and memory card
Dimensions: 134 x 91 x 69mm
Power supply: BLH‑1 lithium‑Ion battery (supplied), 440 shots
Lab tests
We use Imatest and DxO Analyzer hardware and software to test cameras for their colour accuracy (colour error) signal to noise ratio (the amount of noise in the images) and dynamic range (their ability to capture detail in very bright and dark areas). We also pick three rival cameras to test them against.
Colour error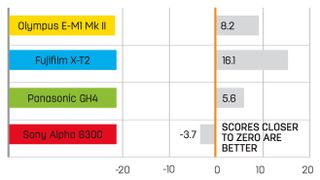 It's not the worst, it's not the best. The OM-D E-M1 II's colour rendition is more accurate than the X-T2's, but the Sony A6300 and Panasonic GH4 are more neutral.
Signal to noise ratio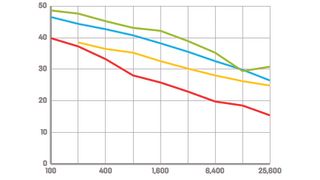 The Olympus doesn't achieve the same performance as the X-T2 or, surprisingly, the rather good GH4. It did better than the Sony A6300 at higher ISOs, though.
Dynamic range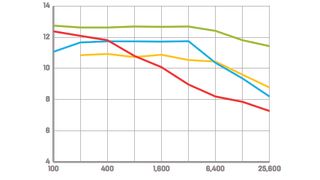 The Panasonic GH4 and Sony A6300 are the winners here, but the Olympus is not so far behind and maintains its dynamic range right through to higher ISO settings.
Verdict
We'd want to do more extensive tests before reaching any final decision about the Olympus OM-D E-M1 II's continuous focus tracking performance, but it's an extraordinary camera in every other respect. The image quality belies its small sensor, and its static autofocus and burst shooting modes are exceptional.
Read more
Olympus OM-D E-M10 III vs E-M5 III vs E-M1 II
Best mirrorless cameras
Best Olympus cameras