Nikon might be one of the world's top digital SLR makers, but for some time it had a big gap in its camera line-up. Canon has an affordable high-speed, professional-quality APS-C format digital SLR for enthusiasts in the EOS 7D Mark II, but Nikon's had nothing to match it. There was the much-loved Nikon D300S, but that was discontinued long ago. So for Nikon users, the D500 was very big news indeed. The spiritual successor to the D300S has the same rugged build but much faster 10fps continuous shooting, a high-tech 153-point autofocus system and 4K video.
The D500 delivers more than many had hoped for: it's much more closely aligned with Nikon's pro-level full-frame camera than the D300 was. Apart from the fact that it has a DX- rather than an FX-format sensor, the D500 has a similar specification to the D850 or even the D5.
This makes the D500 a much more affordable route to high-end technology, giving you the best that Nikon has to offer in terms of autofocus, white balance and metering performance in a body that weighs much less than a D5.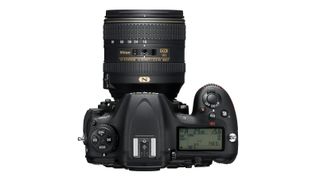 Features
One surprising fact about the D500 is that its APS-C format sensor has 20.9 million effective pixels, fewer than Nikon's other recent (24-megapixel) SLRs of the same format. The D5, announced at the same time, has 20.8 million pixels on its full-frame sensor, and the two cameras use the same sensor architecture.
Having the same pixel count as the D5 but on a smaller sensor means that the D500's photo receptors are smaller. This naturally has an effect on their light-gathering power and low-light performance. Consequently the D500 doesn't have quite the same crazy sensitivity range as the D5; its standard range is ISO 100-51,200, and there are five expansion settings taking it up to the equivalent of ISO 1,640,000 – a stop lower than the D5's maximum, but still an incredibly high figure.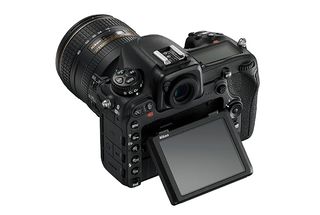 There are many other similarities between the two new cameras, all of which make the D500 an exciting proposition. The Expeed 5 processor is the same, for example, as is the new 153-point Multi-Cam 20K autofocus system with 99 cross-type points. The processing engine also brings a maximum continuous shooting rate of 10 frames per second (the D5 can hit 12 frames per second when shooting normally) for up to 200 14-bit lossless compressed raw files – a staggering feat by any measure. It makes the D500 enticing for sports photographers.
Whereas the D5's 4K shooting capability is limited to three minutes, it's possible to shoot 4K UHD (3,840 x 2,160) 30p/25p/24p video for up to 29 minutes and 59 seconds with the D500. 4K UHD time-lapse movies can be created in-camera, and there's electronic Vibration Reduction to reduce camera shake when shooting movies hand-held.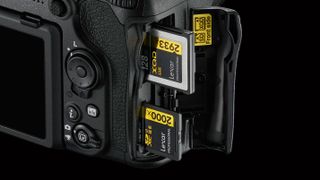 Another feature that distinguishes the D500 from the D5 is Nikon's new SnapBridge technology, which allows the camera to stay permanently linked to a smart device via a low-power Bluetooth connection (or Wi-Fi). After the first connection has been made, images can be transferred automatically to your phone whenever you shoot.
The D500 has two card slots. One accepts SD cards, while the other is for the faster XQD format. Although they've been around for quite some time, XQD cards haven't quite become commonplace yet, but this could be about to change.
Nikon D500 specifications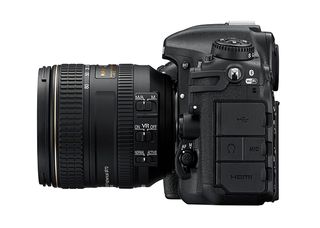 Sensor APS-C-format DX CMOS, 20.9MP
Crop factor 1.5x
Memory 1 x SD, 1 x XQD
Viewfinder Optical pentaprism, 1x magnification, 100% coverage
Video resolution 4K (UHD) 3,840 x 2,160 pixels at 30/25/24fps, Full HD 1,920 x 1,080 pixels at 60/50/30/25/24fps
ISO range 100-51,200, expands to 50-1,640,000
Autofocus points 153, including 99 cross-type; 15 points sensitive down to f/8
Burst rate 10fps
Max buffer capacity 200 shots
LCD screen Tilting 3.2-inch touchscreen, 2,359,000 dots
Shutter speeds 1/8,000 sec to 30 sec, Bulb, timer, sync 1/250 sec
Weight (body only) 760g
Dimensions 147 x 115 x 81mm
Power supply EN-EL15 battery
Build and handling
Although the D500 doesn't have a full metal body like the D5, its metal chassis is more durable than that of the old D300S. The degree of sealing is greater, too, so the camera can be used in harsher conditions. Nikon has also omitted a pop-up flash to make the camera sturdier, and the hotshoe is protected with a weatherproof seal.
The camera certainly feels solid, without having the weight of its full-frame sibling. On the front is a decent grip with a textured coating; a ridge on the back marks the thumb rest, making for a comfortable holding experience.
All the direct controls that you would expect are present, along with a ridged mini-joystick controller for selecting the AF point quickly when the camera is held to your eye. This sits just to the left of the resting position for your thumb on the back of the camera. A little lower down is the familiar rocker-style navigation pad, with a central button for scrolling through the menu and making settings selections.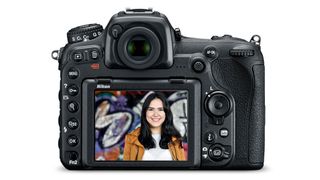 The D500 has a 3.2-inch 2,359,000-dot screen that's touch-sensitive. Settings can't be selected nor the menu navigated by touch, but it's possible to enter text, set the AF point or scroll through and zoom into images with taps and swipes on the screen. The screen is responsive, but it would be nice to be able to use it a bit more.
The screen's high resolution means that image previews are very sharp, and there's plenty of detail visible. The tilting bracket is one of the most rugged-feeling I've used.
As with some other Nikon SLRs, including the D5, it frustrates me that the Information screen brought up by pressing the Info button isn't interactive, and that the options revealed by pressing the i button aren't customisable. That aside, the D500's control arrangement is great. When walking with the camera on a strap over my shoulder, however, I frequently found that the Focus selector lock (around the navigation control) had activated accidentally, and I had to turn it off before I could change AF point.
As usual with a high-end camera, Nikon has opted for a pentaprism viewfinder for the D500. This provides a 100 per cent field of view when shooting in DX format, or 98 per cent when shooting with the 1.3x magnification option selected. The view is nice and bright, and the blackout time when you're shooting at the maximum frame rate is very brief, so it's easy to keep up with fast-moving subjects.
• The best Nikon lenses right now
Performance
The D500 does most things well most of the time. The vast majority of images are well-exposed, have attractive, accurate colours and are sharp. Video quality is also high.
Examining images in more detail reveals that its low-light performance is very good within its native sensitivity range. Images taken at the lower sensitivity settings have lots of detail, achieving excellent scores in our resolution tests. This starts to drop off at ISO 6,400, but the results at ISO 12,800 are still very good, and there's just a hint of chroma noise in raw files viewed at 100 per cent on-screen. This coloured speckling becomes more obvious from ISO 25,600, but it's well within acceptable limits.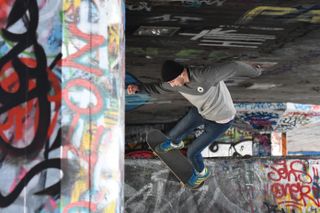 The lowest expansion setting, Hi 1 (ISO 102,400), is pretty good for such a high value, but banding starts to creep into images shot at Hi 2 (ISO 204,800) and it's visible in the darker areas of images sized to A4. It's not worth using the values above these two settings, as there's lots of noise and subjects become lost in the murk.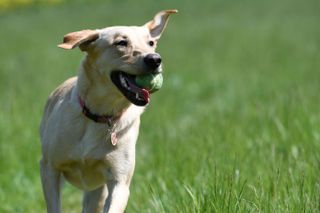 Sports and action photographers are unlikely to be disappointed by the D500's fast and accurate autofocus performance. It adjusted focus quickly when I shot skateboarders in London's gloomy Undercroft on the South Bank and kept track of them effortlessly. A bounding labrador proved a more challenging subject, but it was rendered sharp as long as the active autofocus point or group was in the right place.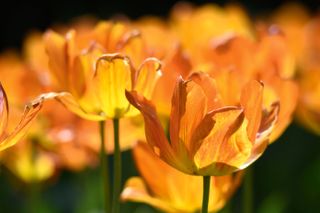 The contrast-detection autofocus system that operates when the camera is in Live View or video mode also seems a little better than the ones in Nikon's other DX-format cameras. Even in bright light there's some backward and forward adjustment before the subject is sharp, but it doesn't get much worse in low-light conditions. It can be used hand-held, though moving subjects are best avoided.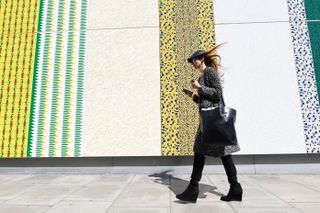 The D500's automatic white balance and metering system didn't throw up any unpleasant surprises. The general-purpose Matrix metering system put in a solid performance, recommending balanced exposure values in a wide range of situations. It copes well with bright subjects and often doesn't result in the underexposure we might traditionally anticipate.
Nikon D500 specifications
Nikon D500 lab tests
We use Imatest and DxO Analyzer hardware and software to test cameras for their colour accuracy (colour error) signal to noise ratio (the amount of noise in the images) and dynamic range (their ability to capture detail in very bright and dark areas). We also pick three rival cameras to test them against.
Colour error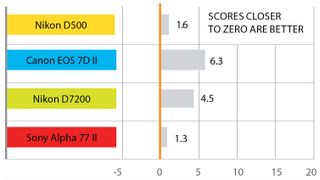 We tested the D500 against three of its key rivals: the Canon EOS 7D II, Nikon D7200 and Sony A77 II. The lab tests indicate that the D500's colour accuracy is one of the best in the group, beaten only marginally by the Sony and much better than the D7200 or the EOS 7D II.
Signal to noise ratio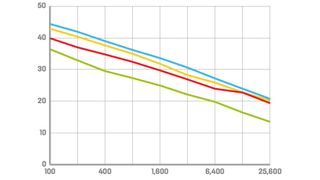 The slight drop in resolution compared with the Nikon D7200 brings a big reduction in noise levels. The D500 is near the front of the group, especially at low or mid ISO settings.
Dynamic range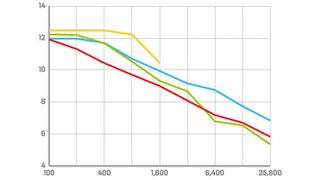 The D500 matches the superior dynamic range of the D7200, narrowly shading the Canon EOS 7D II and the Sony A77 II – though differences may be small in real-world shooting.
Nikon D500 verdict
The Nikon D500 is a dream camera. It has a fast, effective autofocus system, 10fps shooting capability and first-rate metering and white balance systems. For the money, this might be the best digital SLR Nikon has ever made. Its 4K video, high-tech autofocus and overall image quality raise the bar for APS-C SLRs.
Nikon D500: the rivals
Canon EOS 7D II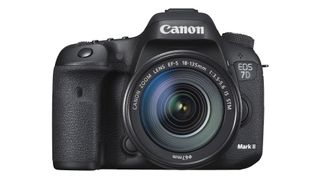 The Canon 7D II is a good choice if you're a Canon shooter after a camera like the D500 – although the D500 edges ahead on paper.
Nikon D7200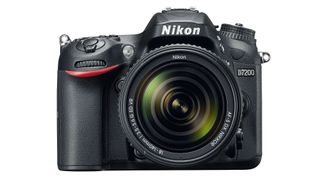 The Nikon D7200 is the next model down in Nikon's DX range. It has more megapixels but can't match the D500's continuous shooting and AF.
Sony A77 II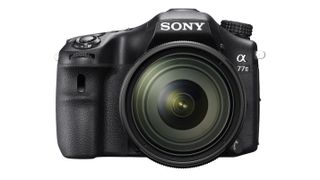 This 24MP SLT has an electronic viewfinder, along with an AF system that's fast and accurate even in low light.
Read more:
The best Nikon DSLRs right now
The best Nikon lenses right now