This all-in-one box of tricks follows in the tradition of Fujifilm instax cameras, combining a camera with an instant portable printer that uses a chemical process to 'develop' the print in the good old-fashioned analogue way. But it goes further than most by adding a digital image sensor that sits behind the lens, so you can compose and review your shots before you print them. It also adds a microphone, enabling you to record a few seconds of sound and add it to your photo. More on that later...
Specifications
Print type: Fujifilm instax mini instant film
Camera resolution: 5MP
Print size: 86x54mm (62x46mm image)
Max resolution: 318dpi
Power source: Internal rechargeable battery
Display screen: 2.7-inch
Interfaces: Bluetooth, microSD
Dimensions (WxDxH): 83x123x37mm
Weight: 255g (excluding film pack)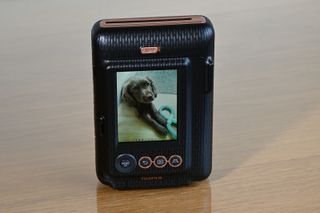 Features
At the front end of the features list is a digital camera based on a 28mm f/2 lens (full-frame equivalent) with an autofocus range of 10cm to infinity. It has a 5 megapixel 1/5-inch CMOS image sensor that outputs 2590x1920 digital images. There's a shutter speed range of 1/4 to 1/8000th of a second, a sensitivity range of ISO 100-1600 and a small built-in flash. Up to 45 photos can be stored in the camera's internal memory, and there's also a slot for adding a microSD card.
The built-in printer is based on tried and trusted Fujifilm Instant Film instax mini, which uses a chemical reaction rather than dye-sublimation or inkjet technology. The 'film' comes in packs of 10, with a print size of 86x54mm, the actual image covering a smaller area of 62x46mm.
Around the back, there's a 2.7-inch color LCD which you can use for composing shots (there's no viewfinder) and selecting images to print. On the menu, controlled by a row of buttons and a 4-way pad, are basic image adjustments and the addition of various frames and filters. Prints take around 10 seconds to output, followed by a couple of minutes of development time. One of the endearing attractions is that you can watch your print come to life from a blank sheet, in the palm of your hand. There's a fixed, internal battery with enough juice for up to 100 prints, after which recharging takes around two to three hours, via a USB Micro-B port. The USB port is just for recharging, not for connecting to any other devices.
Part of the 'play' is that you can record a few seconds of sound with your image and add a QR code to the print. Scan the code with your smartphone and you can play it back to add another dimension to viewing your photos.
As well as being a camera cum printer in its own right, the instax mini LiPlay can pair with your smartphone via Bluetooth. You can therefore print any of the photos that have stored on your phone, using the companion app. The app also enables you to use your smartphone as a remote controller, which can be easier than using the little 'selfie mirror' on the front panel of the camera.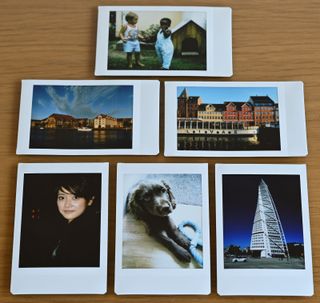 Performance
There's no denying that the camera is pretty basic. Autofocus is sluggish and there's only a single AF point, at the center of the image frame. There's no zoom facility and the megapixel count of just five makes the camera pretty low-res. Even so, that's more than enough for the print size.
Print quality itself has the usual instax charm, giving a bold and punchy look to images. Technically though, color accuracy and tonal range aren't a match for decent mini dye-sub printers like the Canon SELPHY SQUARE QX10 or the Polaroid Hi·Print 2x3 Pocket Photo Printer. Naturally, you need to shoot with your smartphone or another device when using these Canon and Polaroid printers, so the instax mini LiPlay wins out for all-in-one versatility. Running costs work out to around 75c/65p per print.
Verdict
It's easy to get intensely serious about photographic kit and technique but, sometimes, photography should just be fun. There's certainly a lot to be had with the instax mini LiPlay. It continues the decades-old tradition of truly instant photography, where you can take and share pictures anywhere and everywhere, capturing and preserving treasured memories on the fly.
Read more
Best photo printer
Best instant cameras
Best digital instant hybrid cameras
Budget inks for printers - the pros and cons
Best online photo printing services
Best wireless printer
Best laser printers
Best scanners for documents
Best 3D printers
Best laptop stands