Polaroid really started something with the launch of its first instant camera, all the way back in 1948. Naturally, the business of instant, analogue printing has been comprehensively overtaken in the digital age but there are times when you can't beat a paper print for sharing around, or for putting somewhere you can actually see it without resorting to using a gadget.
The Polaroid Hi–Print 2x3 Pocket Photo Printer teams up with your smartphone via Bluetooth pairing, while its Polaroid Hi·Print companion app for iOS and Android enables you to quickly and easily create a photo print in one minute flat.
• Read more: Best portable printer
Thanks to its integral, rechargeable Li-ion battery pack, there's no mains power required. You can just grab your phone from one pocket and the printer from another, and make prints anywhere you fancy.
Specifications
Print type: Dye-sublimation
Inks: Cyan, magenta, yellow
Max print size: 2x3-inch
Max resolution: 291x291dpi
Power source: Internal rechargeable battery
Display screen: None
Interfaces: Bluetooth
Dimensions (WxDxH): 80x150x27mm
Weight: 255g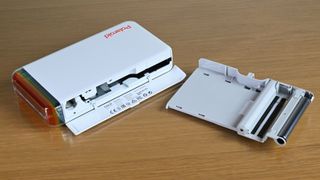 Features
Competing with other mobile photo printers like the Canon SELPHY Square QX10, the Polaroid Hi–Print 2x3 Pocket Photo Printer uses tried and trusted dye-sublimation or 'dye-sub' technology that predates inkjet printing. As such, cyan, magenta and yellow dyes are embedded on a ribbon that's contained in a cartridge and laid on the paper in three successive passes, before a final protective overcoat is applied. As such, the paper passes through the printer four times in total before the final print is completed. The Polaroid Hi–Print companion app lets you know what's going on at every stage of the progress, reporting back via your phone screen.
The Bluetooth pairing is simple to carry out and ensures that your phone or other iOS or Android smart device can stay in touch. However, there are no Wi-Fi Direct or other connectivity options, and you can't print from a computer via the Micro USB port, which is purely for charging the internal battery. The battery itself takes about an hour to charge and has enough juice for creating 20 photos before it needs recharging again.
Although nominally a 2x3-inch or 50x75mm printer, the print size is a little larger at 53x86mm, plus a tear-off strip at one end, which is required for paper handling. The aspect ratio therefore falls about midway between the 3:2 of most cameras, and the 16:9 widescreen format. The paper itself has a removable covering on the back, which you can peel off to reveal a self-adhesive surface, so you can stick your photos in a scrapbook or just about anywhere else.
You can buy the printer on its own or as a starter kit with two cartridges, which is a more cost-effective option. Each cartridge is completely self-contained comprising both 20 sheets of photo paper and sufficient dye-sub ribbon for printing them. Unlike with an inkjet system, the amount of dye ribbon is fixed per print, no matter how much or how little of each color dye you need to use.
There aren't any onboard controls on the printer, as everything's taken care of by your smartphone via the Polaroid Hi–Print app, which has a useful range of features while being simple to use.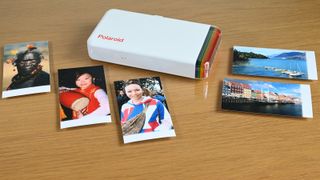 Performance
The Polaroid isn't particularly fast for a dye-sub printer but it's no slouch. As we've mentioned, it takes about 60 seconds to create a print from start to finish. For comparison, the Canon SELHY SQUARE QX10 takes 43 seconds to output a 2.7-inch square print, and the bigger Canon SELPHY CP1300 takes 47 seconds to make a 4x6-inch postcard sized print.
Image quality is very appealing, with accurate yet vibrant color rendition and good tonal range, closely matching the competing Canon dye-sub printers. The only real niggle is that the size of the prints can seem a bit on the small side, especially compared with 4x6-inch postcard prints.
Verdict
For small-format photo prints, the Polaroid does a good job of creating high-quality output in a simple and fairly speedy fashion. The tear-off strip along one edge enables borderless printing and the peel-able back makes for stick-on versatility. The actual size of prints might look a bit small but that's really the price you pay for having such a compact, pocket-sized device. Print cost works out to around 50p/$1.00 per print, which is a bit on the high side, but the price of the printer itself is competitive.
Read more
Best photo printer
Best instant cameras
Best digital instant hybrid cameras
Budget inks for printers - the pros and cons
Best online photo printing services
Best wireless printer
Best laser printers
Best scanners for documents
Best 3D printers
Best laptop stands