Editing video doesn't need to be complicated, it can be incredibly simple for those of us who don't need all the bells, whistles and inevitable complications of professional software. ACDSee Luxea Video Editor 6 is arguably one of the easiest to use yet surprisingly feature-packed video editing software options available and is perfect for beginners getting started with video editing as well as intermediate users looking for quick and easy to use software.
Video editing software is typically resource-hungry and often requires powerful computers to function correctly. But as consumer-focused editing software, Luxea 6 requires only modest specs, although the more powerful your computer the better it will ultimately perform.
For Luxea 6 you simply need a computer with at least an Intel Core i3 or AMD Ryzen (2GHz or faster) processor, 8GB Ram (16GB Ram recommended), a DirectX 10 compatible graphics adapter, a 1024x768px display (1920x1080px recommended) and just 4GB of available hard disk space. This puts the software firmly in reach of almost anyone with a Windows-based PC – the software is unfortunately not available for Mac.
ACDSee Luxea Video Editor 6 offers an interesting set of pricing plans where the first is completely free with all features working and free updates, the only downside here is that a short intro and outro advertising the software is added to videos.
The Lifetime plan is likely to be of most interest since this costs just $79.99 (approx £57.59) for a perpetual license, with free updates to version six and there's no intro and outro added to videos. Finally, there's the Individual plan which costs $29.99 per year (roughly £21.59) and includes all updates and also upgrades to new versions of the software including and beyond version six with no intros and outros.
ACDSee Luxea:Features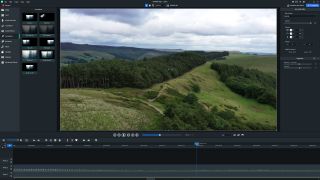 ACDSee Luxea 6 offers everything and more than the average person could ever need for editing their videos quickly and easily. But while the software is almost unbelievably easy to use, it still manages to offer powerful and advanced controls including LUTs for cinematic color effects, frame-by-frame scrolling with keyboard arrow keys, frame rates up to 60fps, proxy editing for faster smoother editing of high-resolution footage, limitless tracks for video, audio and images and much more.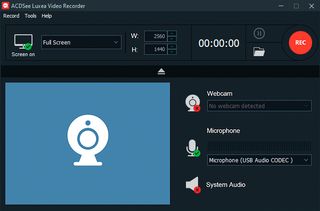 Luxea 6 also comes with ACDSee Luxea Video Recorder, which is a recorder for screen capture and video capture through a webcam or USB attached camera with webcam functionality. You can capture the screen, webcam audio from the microphone and computer sounds together, or these can be recorded separately or in any combination. So, while the core aim of the Luxea Video Recorder is to capture video, it can be used to capture just audio, which is ideal for recording voiceovers, for instance.
Everyone loves something for free, and with Luxea 6 there's plenty to shout about here. As previously mentioned, there's a free version of the software, with advertising added to videos, but other even more welcome freebies are the eight Video Editor Content Packs that provide themed filters, animations, transitions, overlays, images, videos, text styles and much more. These can be used to add flare to your videos and clicking on the downward arrow icon in the top right corner of the software interface will take you to the download page on the ACDSee website.
Interface and usability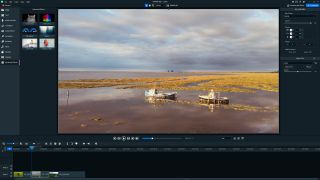 Simplicity is truly at the heart of this software, and with just a single workspace there's no moving between different areas to perform different editing tasks. And while the interface couldn't be laid out more intuitively – it's unbelievably clear to use – this certainly doesn't mean that the overall capabilities of the software or the features suffer.
The apparent simplicity belies what's possible with Luxea 6, but thanks to drag and drop functionality and easy to adjust effects in the Properties panel, editing videos is just about as easy as it could possibly be, making the software ideal for beginners and intermediate users.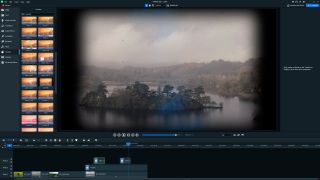 One aspect of the software that takes a little getting used to, but in no way diminishes the end result, is that adjustments such as brightness, contrast, white balance and color correction etc. are applied by dragging a filter onto the desired video clip. These can then be controlled in the Properties panel and can also be stacked so more than one Filter can be applied at once. Also, Filters can be copied and pasted from one clip to another to speed up the workflow and to achieve a consistent look across clips.
When it comes to outputting video, the simplicity continues with just a dialogue box that pops up when the Produce and Share button is clicked. This dialogue is split into four tabs to render a local file on your computer, a file for a specific device such as a smartphone or games console and there's also the ability to upload directly to YouTube and Vimeo.
Quality of results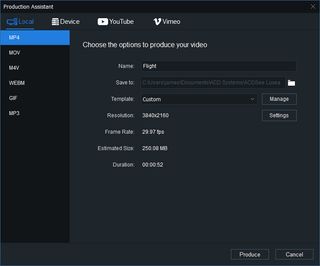 In terms of the overall quality of the transitions, animations and behaviors for editing from one video clip to another, all work well with default settings or controls to achieve a more unique result. While some of them won't be for everyone, there are lots to choose from ranging from standard transitions to more quirky and creative behaviors where clips can be made move or bounce into place in a multitude of ways.
Exporting videos, as previously mentioned, is extremely easy and offers a variety of levels of control ranging from simply selecting an output preset or diving into settings to take more control. Three quality settings provide varying degrees of compression; Normal, Better and Best, and it goes without saying which of these provides the best quality output.
The output file size is, however, still quite large when outputting at Normal quality at 4K, for instance, so you may want to use video compression software to reduce file sizes further while maintaining the best balance between file size and quality possible. If you're uploading to YouTube or Vimeo, these websites compressive videos massively anyway so additional compression wouldn't be necessary in this situation.
ACDSee Luxea: Verdict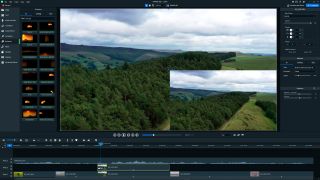 ACDSee Luxea Video Editor 6 is one of the most intuitive and easy to use video editing programs we've ever used. Not to mention the pure simplicity of the software makes it a pleasure to use compared to many other video editing software options at both the consumer and professional ends of the market.
While Luxea 6 isn't aimed at professionals, the software provides all the features and functionality the majority of users will ever need and more. Plus, this software is so easy to use that anyone with even basic video editing experience will be able to use it immediately without the need to follow tutorials and with free, lifetime and subscription-based licensing options available, this Windows-only software provides an option for every budget.
The software is incredibly well priced with perpetual and subscription-based licenses available so there's something for everyone. There's also a free version that adds an intro and outro to videos which isn't ideal in the long term but provides an excellent way to test the software before making a purchase. It's a shame it's not available for Mac, but PC users can rejoice that there's a video editing program that anyone can easily learn to use.
Read more:
• The best laptop for video editing
• Best cinema cameras
• Best 4K cameras for filmmaking
• Best vlogging cameras
• Best video editing monitors
• Best keyboard for video editing
• Best audio recorders
• The best desktop computers
• The best photo-editing software you can buy
• The best VPN
• The best website builders for photographers
• Best recovery software for photos
• Best password manager