The Zhiyun Crane has always been one of the best gimbal stabilizers for use with big camera set-ups, but the latest Crane 2S offers a great load capacity and more shooting flexibility than its predecessor.
Designed primarily for use with DSLRs and mirrorless camera set-ups, the Crane 2S is the successor to the popular Crane 2 – and with the three-axis motorized gimbal designed to handle larger cameras such as the BMPCC 6K, Panasonic S1H, and Canon EOS 1DX Mark II. No maximum payload is given, as the set-up depends as much upon the size of the camera being used. The weight of the gimbal is 1.88kg (4.1lbs).
The new larger 0.96-inch OLED screen in the CRANE 2S offers a wider view that enable you to navigate through the entire menu system and switch between modes swiftly. Three detachable 18650-type lithium ion batteries are said to give a maximum running time of over 12 hours.
A new feature, is that the gimbal can now he used for vertical shooting - without the need for additional accessories.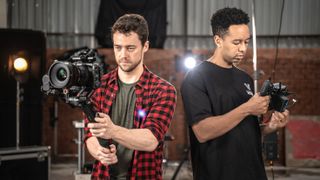 The Crane 2S is equipped with multiple mounting points: a 1/4" screw hole on the back of the quick release base plate for the camera to shift between different devices such as sliders and video tripods. Two 1/4" screw holes with crown gear and a 3/8" screw hole on the gimbal for creative adaptation. The TransMount Image transmitter can directly slide into the bottom of quick release base plate without screws
Zhiyun's Crane 2S provides six gimbal modes which promise "buttery smooth movement", satisfying all demands from basic to advanced: pan following, locking, following, full-range POV, Vortex mode, and Go mode. Advanced cinematic effects include Panorama, Timelapse, Motionlapse, and Long Exposure Timelapse modes.
The Zhiyn Crane 2S will be available in three different configurations from the end of August, with prices starting at $599/£599.
Read more
Best cameras for YouTube
Best cameras for vlogging
Best 4K cameras for filmmaking
Best camcorders
Best cinema cameras
Best camera for streaming
Best microphones for vlogging
Best video tripods
Best gimbal stabilizers
Best camera sliders
Best on-camera monitors
Best LED light panels
Best reflectors
Best collapsible backdrops