Best camera for streaming in 2023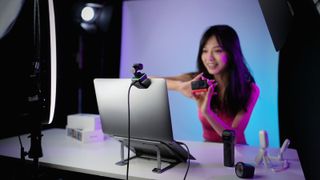 The quick list
1. Best for most
2. Best for ease of use
3. Best for movement
4. Best for lighting
5. Best for multicam
6. Best for features
7. Best compact camera
8. Best action cam
9. Best for price
10. Best for tracking
11. Best for PlayStation
12. Best mirrorless camera
How to choose
Picking the best camera for streaming is crucial if you want to see success – or, at the very least, see the best video quality – on platforms like Twitch, Facebook, YouTube, and TikTok (if you pass the thousand-follower threshold).
Obviously, you can stick with the native camera on your laptop or desktop computer, but don't kid yourself – the results won't be a patch on what you can expect from the best cameras for streaming. Both the video and audio quality are significantly better on a dedicated device, which won't just elevate your content – it will hopefully increase your viewership, too.
That's why we've put together this guide, with all the products we have reviewed and used in real life to help you choose the best camera for streaming. You'll see a lot of cameras on here which look like traditional webcams, because a lot of streaming takes place via a computer. The USB interface in Mac OS and Windows will recognise cameras – and can cope with broadcast quality input, but webcams are a super-simple starting point, and if you purely want a camera for streaming or video calls on your computer, these are ideal.
Then there are cameras designed for a main purpose but which have streaming features as an adjunct because it is easy enough to add the protocols. Finally, there is an emerging category of devices that are built specifically for serious streaming, for example by supporting broadcast standards.
All have pros and cons, so you'll just have to decide what is most important to you and best suits your budget.
Most cameras here come with a pretty decent built-in mic, but to get the very best out of your audio it would be a good idea to pick up one of the best microphones for vlogging as well. You might also want to think about getting a ring light or an LED panel so that your video is well-lit. However, if you can only afford to get a mic or a light, we suggest you go for the mic.
The Quick List
Load the next 6 products ↴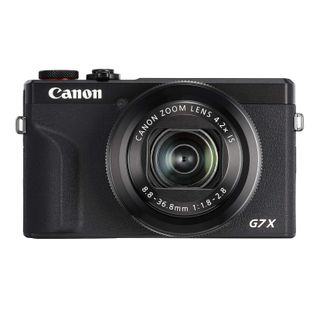 Best compact camera
7. Canon PowerShot G7 X Mark III
Best compact camera
A streaming and photography camera in one, the Canon PowerShot G7 X Mark III is a great choice. It's one of the most popular compact cameras when it comes to live streaming thanks to its front-facing screen.
Read more below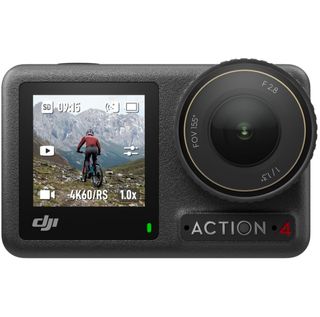 Best action cam
Best action cam for streaming
Though the GoPro cameras can also stream, the DJI Osmo Action's 4 larger image sensor gives you this capability in a wider range of lighting situations – compact size and great image quality.
Read more below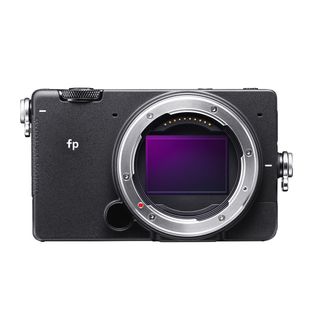 Best mirrorless for streaming
Best mirrorless for streaming
If you're looking to seriously increase the quality of your streaming, a high-end full-frame mirrorless camera like the Sigma fp will fit the bill with modes specific for streaming, and the camera's tiny size (for a full-frame camera).
Read more below
The best camera for streaming in 2023
Why you can trust Digital Camera World Our expert reviewers spend hours testing and comparing products and services so you can choose the best for you. Find out how we test.
The best streaming camera for most people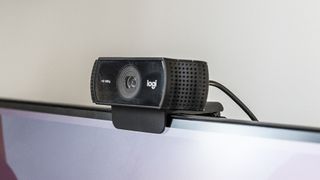 Despite it being a relatively old product, we still think the best camera for the average streamer – from a fixed spot, anyway – is the Logitech C922. This is a standout choice for anyone either getting into streaming for the first time, and is looking for something better than the webcam they already have.
It clips neatly onto the top of your television or PC monitor or can be attached to a tripod if you want to get more creative with your angles and framing. The camera shoots and streams live in 1080p Full HD resolution at 30 frames per second, and there's also a 'hyperfast' mode for streaming 720p at 60fps.
Dual microphones create stereo audio, saving you from setting up separate microphones, and the camera comes with an 18.5cm tall tripod. The lens offers a 78-degree wide view, and it comes with a free three-month license for Xsplit streaming software. Also, check our guide to the Best Logitech webcams.
Read our full Logitech C922 Pro review for more details
The best streaming camera for ease of use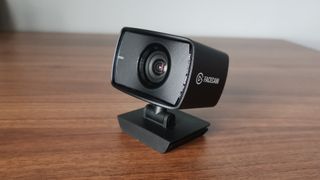 The Elgato Facecam is a relative newcomer to the streaming circuit, placing a firm emphasis on accessible, high-quality content. It shoots video at a streaming-friendly resolution of 1080p, uncompressed, with a 60p frame rate.
The default image it produces is bright – some might call it overexposed – but if it's not to your taste then it's easy enough to fix the settings with Elgato's Camera Hub software.
In other respects, the camera is pretty simple. The focus is fixed, and in a move that seems surprising but makes sense once you think about it, there's no onboard mic. Elgato's reasoning is that anyone who's willing to spend almost $200 on a streaming camera probably isn't planning to use a crappy on-board mic, and either has or is going to acquire their own. Fair enough, though this does mean you have to factor in the cost of a mic on top of the already slightly chunky asking price. See our full Elgato FaceCam review.
Read our full Elgato Facecam review for more details
The best streaming camera for movement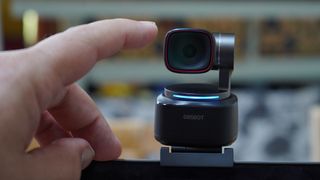 Obsbot's original Tiny was so-called to distinguish it from the 'Tail' – a camera which was designed for streamers. The thing is, for many, streaming requires nothing more than a good webcam and the Tiny 2 (actually the third, after the Tiny 4K), is a very good webcam which also will track its subject so, for example, if you want to do your own live cooking show, it's got you covered.
Of course there are reasons to look for the Tail series (which is just about to get an update), but unless you need features like NDI|HX3 and multi-cam setups managed by the cameras themselves then the smarts you need can all be found in this sophisticated webcam. If you use a platform like OBS it'll have no issue recognising it, and the 4K image is good, even in relatively low light thanks to the 1/1.5-inch sensor.
Our only real complaint is that we thought the 770MB for the Obsbot app seemed a little excessive, but the provision of Mac and Windows support is appreciated. Obsbot also provide an excellent hard case and the device is tiny enough to sit on a laptop screen and run from USB-C power only (though has a tripod screw). You can check samples I took in my full review of the Obsbot Tiny 2.
The best streaming camera with built in light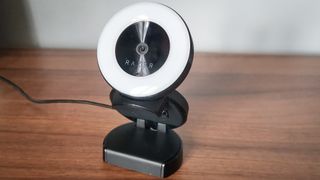 Lighting is a crucial part of video production, and you'll want to make sure your face is brightly and evenly lit when streaming. You can invest in standalone lighting to help achieve this, but on a tight budget, you could be better off with the Razer Kiyo, which has its own integrated light ring made up of 12 LEDs. The light ring surrounds the camera and its brightness can be adjusted; the lights offer up to 10 Lux of brightness at a distance of one meter, with a color temperature of 5600K. As well as brightening your face, the light should also help prevent your face from mirroring reflections of gameplay from your screen, making for a more professional look.
As for the camera itself, the Razer Kiyo streams at 1080p Full HD resolution at 30 frames per second (the gold standard for streaming at this price range), and a 60fps at 720p option is also available. Although a little larger than some other streaming cameras, the Kiyo still clips neatly to the top of your PC display.
See our full Razer Kiyo review for more details
The best streaming camera for automatic features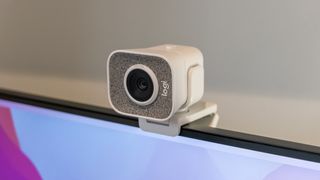 While the Logitech C922 Pro has staked out a place as a near-ubiquitous camera for conferences and the like, the Logitech Streamcam is a newer model that's pitched directly toward streamers. Its video quality is excellent, with 1080p 60fps footage that looks excellent. You'll have no reason to worry about your streaming quality once this camera is up and running – the auto framing and exposure features keep you centered and keep the image balanced for a pleasing output. You can also install the Logitech Capture software, available for Windows or Mac, to further streamline the process.
The cuboid Logitech Streamcam looks pretty chic and comes with a range of mounting options including a diddy desktop tripod, which makes it easy to put the camera at exactly the angle you want it. Our only real gripe is the fact that the USB-C cable is both short and non-detachable, meaning you can't simply replace it with a longer one of your own. This does diminish positioning versatility a bit, but it's a small strike against an excellent streaming camera.
Read our full Logitech Streamcam review for more details
The best compact camera for streaming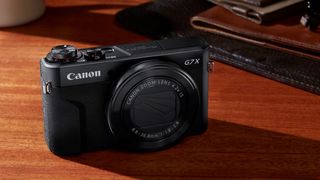 If you want to improve the quality of your live streams and also have a camera that can be used for photography, the Canon PowerShot G7 X Mark III is a great choice. It's one of the most popular cameras when it comes to vlogging thanks to its front-facing screen and the addition of live streaming capabilities makes it even more desirable.
You can shoot high-quality 4k with no crop, it has a 24-100mm lens which offers a versatile shooting range and there is also a 3.5mm port for connecting an external microphone. One of the downsides of the G7 X III is there isn't a viewfinder so you'll have to rely on the LCD screen but if you're using it mainly or streaming, this won't be an issue.
Read our full Canon PowerShot G7 X Mark III review for more details
The best action camera for streaming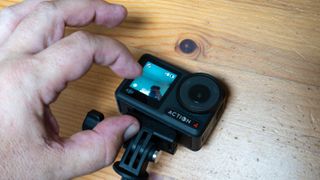 Live streaming from an action camera is a brilliant idea; the cameras themselves are portable and already equipped with connectivity. Both DJI's Osmo Action series and the better-known GoPro Hero series it is attempting to supplant are both so equipped. Both, too, can live stream, albeit via a phone app.
It's something of an area of debate, but Adam Juniper's pick is the DJI camera thanks to the larger image sensor – when you're streaming there is no advantage to 5.3K video since you won't use that resolution, and you can rotate the camera to your preferred broadcast angle so the GoPro's much-vaunted 8:7 sensor is distinctly 'Meh'. What is inescapable, though, is the clearly better low-light performance of the Osmo Action 4 (but, by all means, read our thoughts on the GoPro Hero 12 Black).
Another plus – if you have it – is the ability to use it with DJI's excellent radio microphone system though, though the GoPro has the option of a wireless mic or a media mod too.
Read our full review of the DJI Osmo Action 4.
The best streaming camera on a budget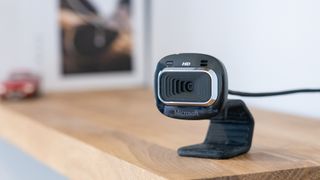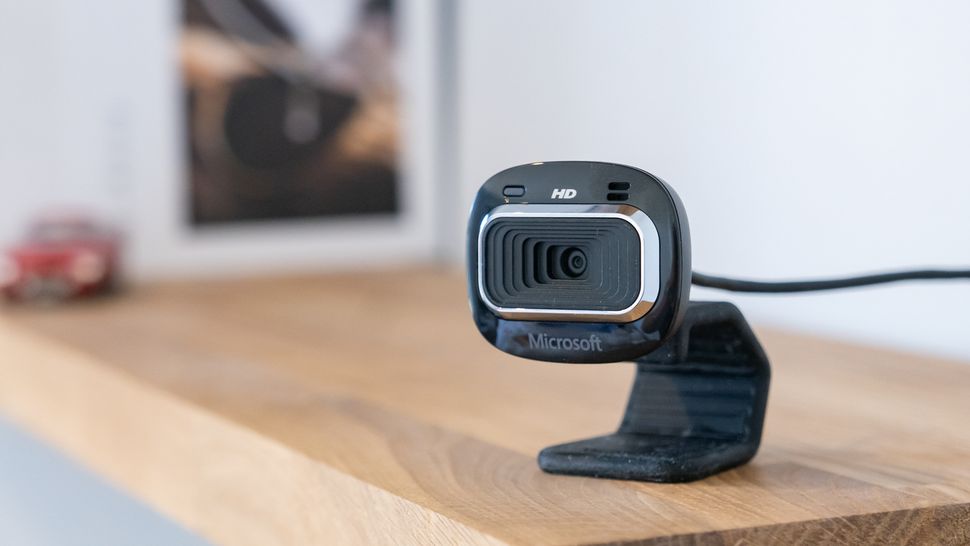 A budget option, the HD-3000 by Microsoft proves you can start streaming without having to shell out the big bucks. This webcam is limited to 720p HD resolution at 30 frames per second, but that's still high definition and will be perfectly acceptable when viewed on a mobile device like a smartphone. The camera offers automatic face tracking, and low-light adjustment has a built-in microphone and claims to attach to all types of computer monitors.
There is also a digital zoom function, although we would advise against using this, because the 720p resolution, while acceptable when viewed normally, doesn't provide enough pixels for images to remain sharp when zoomed in. Finally, there is a manual focus option for making sure the image stays exactly the way you want it – we prefer this, as autofocus can have a habit of incorrectly adjusting in some lighting conditions, taking you out of focus.
Read our full Microsoft LifeCam HD-3000 review for more details
The best mirrorless camera for streaming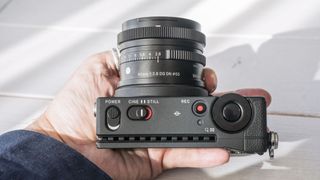 It may seem a very leftfield recommendation, but the Sigma fp has an ace up its sleeve – it works natively as a webcam over USB, meaning that you don't need to invest in an additional HDMI capture card to use it. Of course, you do have to invest much more in the camera itself, but this can work both ways; since the Sigma fp is a highly modifiable, modular system, it can replace your webcam, your 'proper' camera, and your video camera. So if you stream, shoot, and film, this could be the ideal purchase.
The key benefit, of course, is the ability to achieve a cinematic look on your live streams by taking advantage of the full-frame sensor's depth of field capability, as well as the choice of any lens you want. If you want to use an f/1.2 lens for bokehlicious blur and tip-top low-light performance, now you can – and it will certainly make your streams stand out from the crowd. Yes, it's expensive, but the cheers you receive for your image quality might pay dividends!
Something else to note: Sigma has released a successor to this camera, the Sigma fp L. While we were pretty impressed by this camera in our full review, we're sticking with the Sigma fp as our streaming recommendation, as it's much cheaper and does everything a streamer needs – and then some!
Read our full Sigma fp review for more details
How to choose the best camera for streaming
Between cameras, lighting, and audio equipment, it can be easy to quickly rack up an expensive bill when investing in good live streaming equipment. However, the best camera for streaming definitely doesn't need to break the bank. While it's essential to have a certain level of production value (which all of the cameras on this list fulfill), pricey lights and fancy backdrops aren't going to be the deciding factor on whether or not your audience tune in – they're there to watch you after all!
If you're working with a smaller budget, then a basic webcam such as the Microsoft LifeCam HD-3000 is perfect, with 720p HD video that's great for being viewed on a camera phone.
However, if you have a little more cash to play with, then you might want to take a look at the Logitech C922 Pro, which is a standout choice for anyone wanting to stream in 1080p Full HD. This live-streaming camera isn't overly expensive but packs a lot of bang for its buck. Alternatively, you might also want to take a look at 4K cameras, cameras with zoom and slow-motion, and – the gold standard of streaming cameras – one with an audio input option. This means that you'll be able to connect an external microphone, which will help boost your audio quality.
However, if you're obsessed with image quality and you only want the best for your audience, then why not consider investing in a mirrorless or DSLR camera. Up until as recently as last year, streaming with an interchangeable lens camera was a little complicated, but now most manufacturers have provided firmware updates that turn cameras into USB webcams, including the Canon EOS R. The Sigma fp was actually one of the first "proper cameras" that could be used natively as a webcam without an HDMI capture card, but now the streaming world is your oyster!
Another interesting option that you might want to consider a recent model from our guide to the best action cameras, like the DJI Osmo Action or GoPro Hero series. Both of these cameras feature a front-facing display that makes it easy for users to frame themselves and see what their viewers will see. Camcorders have a similar function as well, featuring articulating displays that are incredibly helpful for streaming. If you are looking for a permanent installation, for a church or theater say, then a more professional option is a PTZ camera with a built-in motorized head and zoom.
When you're investing in your new live streaming camera, it's worth remembering that many cameras can't actually stream at the same resolution that they're capable of recording at. For example, some cameras may be able to record in 4K Ultra HD, but are only able to output 1080p Full HD when being used to stream.
Another feature that you might want to keep an eye out for is automatic background deletion. This is where a camera gives you the ability to cut yourself out of video footage and replace your background with anything you like. Lighting is also a key element that you'll want to keep in mind. You might want to invest in one of the best ring lights for added production value, but it's worth noting that the Razer Kiyo actually has its own integrated LED light ring.
Ultimately, you'll have to decide what features are most important to you – and how much you're happy to spend to get them. If you're just starting out, we'd recommend investing in a more affordable option while you build up your audience. However, if you're looking to upgrade your kit, then it might be time to pick up an action cam, a camcorder, a mirrorless camera or a DSLR to give you even more creative control over your streaming.