The Blackmagic Pocket Cinema Camera 6K came out of nowhere, carrying forward everything that made the Pocket Cinema Camera 4K excellent. Both are no larger than a mirrorless camera but fully featured filmmaking tools.
The new 6K model comes with a larger Super 35mm sensor capable of 6K RAW capture, and the lens mount has been swapped from MFT to Canon EF, so the Pocket Cinema Camera 6K will take your Canon lenses, and all for £2,099/$2,495. If you have a collection of Canon lenses and are a current or wannabe filmmaker in need of a second or third body, this sounds almost too good to be true!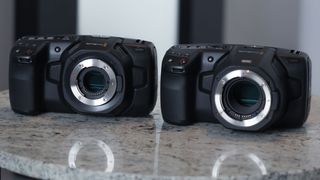 There are no bells or whistles on the 6K like an articulating screen or inbuilt ND filters, but this camera's maximum shooting resolution outguns much pricier options like the Canon C300 M2, and it has a lot of ports.
But has Blackmagic tried to squeeze too much value out of the range with its Pocket Cinema Camera 6K? Would you be better off with the 4K model or conventional mirrorless movie camera like the Panasonic GH5s. Or is the Pocket Cinema Camera 6K another game-changer?
You can buy the Pocket Cinema Camera 6K right now in certain regions, including the UK and US. The body-only RRP is £2,099/$2,495, but as with the Pocket Cinema 4K model, there is a backlog of pre-orders currently being fulfilled.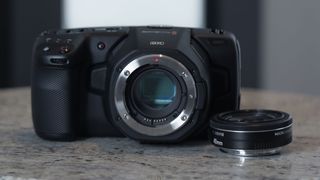 Key features
• Sensor: Super 35 size 6144 x 3456 image sensor
• Lens mount: Canon EF
• ISO: Dual Native ISO ranges: 400 and 3200
• Resolution (RAW) (60fps): 6144 x 3456 (6K), 6144 x 2560 (6K 2.4:1), 5744 x 3024 (5.7K 17:9)
• Resolution (Prores): 3840 x 2160 (Ultra HD), 2868 x 1512 (2.8K 17:9), 1920 x 1080 (HD)
• Dynamic range: 13 stops
• Display: 5-inch Full-HD fixed touchscreen, Blackmagic OS touch interface
• Microphone: Integrated stereo microphone
• Construction: Polycarbonate/carbon fibre composite
• Storage: Dual SD/CFast cards, records RAW internally, external recording to USB-C drive
• Software: full DaVinci Resolve licence
• Power: LP‑E6 Battery with USB-C charging, lockable DC port – Weipu 2-pin connector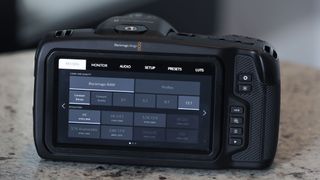 If you're looking to get into professional video and don't need a camera that can handle regular stills photography too, then the Pocket 6K could be the perfect choice – but it's not a camera for vloggers or photographers who want an all-in-one bit of kit.
The Pocket 6K is made with premium video capture firmly in mind, from its 16:9 aspect ratio screen, versus the traditional 3:2 aspect ratio display found on multi-functional photography cameras, through to the enormous file sizes that videos shot on it climb to.
The Pocket Cinema Camera 6K also shoots RAW video out of the box, giving filmmakers and enthusiasts much more control over their productions in the editing phase. When combined with Blackmagic's Davinci Resolve software, for example, (and free with the camera) editors have scope to go a step beyond RAW photo capture, even changing the ISOs of clips after they are captured.
With 13 stops of dynamic range and dual native ISOs, it's also tuned to handling noise and retaining tonal detail in situations notoriously hard for video. This also means it's also set up to capture HDR content.
Blackmagic has also created an extended video mode, sitting somewhere between RAW and compressed, which delivers a broader tonal range ready for colour grading, and with a free copy of Davinci Resolve with every camera sold, you don't even need to invest in any pricey software to get started.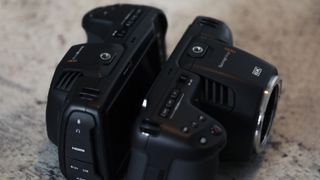 6K is never going to be a cinema standard, so why is Blackmagic making a pocket 6K camera? The simple answer – versatility and quality. Shooting at a higher resolution gives you more scope to play about with your footage, crop in a bit, or apply digital stabilisation if needed, for example.
The benefit in image quality is a no-brainer. 4K footage downsampled to Full HD looks richer than native Full HD footage and the principle stands with 6K capture downsampled to 4K footage. Naturally, with 8K on the horizon and several TVs sporting the resolution expected in the near future, 6K capture will also look better than 4K capture when scaled up, so there's an element of future-proofing involved as well.
Blackmagic says the initial shipping formats are optimized for the largest field of view and frame rate possible. Shooting 6K and downsampling for 4K delivery will yield a higher picture quality than shooting directly to 4K.
There are many 'best things' about the Pocket Cinema Camera 6K on paper, but what might be the clincher for many potential buyers considering it is the EF lens mount. Anyone with a collection of EF or EF-S lenses can just pick up the 6K and start shooting.
One point worth noting is that there's no in-body stabilisation on the Pocket Cinema Camera 6K, so if you plan on shooting hand-held, be sure to use a gimbal or a stabilised lens.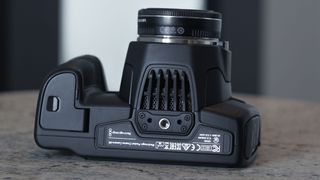 Build and handling
Sporting a virtually identical design to that of its predecessor, everything about the Blackmagic Pocket Cinema Camera 6K is familiar if you're coming from a the 4K model – for better or worse. It's got the same excellent array of ports, but with a retro look and plastic build.
Its bulbous body features a combination of textures, with a ribbed grip for a secure hold, which extends around the back by way of the card slot. The rest is a matte plastic – and the Pocket Cinema Camera 6K does rather feel like a toy until you put a giant lens on it.
The front of the camera houses the EF lens mount, a horizontal rotating dial and a dual microphone set-up. There's also a front mounted record button and an LED light. The camera has buttons on the top for recording and 6K stills capture (RAW) as well as ISO, shutter angle (shutter speed) and white balance controls. Three handy customisable function buttons are also in easy reach, along with the power switch.
The Pocket Cinema Camera 6K has a standard tripod thread mount at the base and top, and fits in the same cage as the Pocket Cinema Camera 4K. Alternatively, the thread could be perfect for attaching an external monitor or LED light.
While many might complain about the lack of an articulating screen, the Full HD capacitive touchscreen on the back of the Cinema Camera 6K is sensational compared to the smaller displays on much of the competition. It measures in at five inches, is highly responsive and showcases Blackmagic OS, the company's proprietary interface. This is paired with focus-check, HFR, menu and playback physical buttons.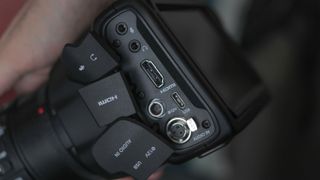 At the base is a removable battery door, to the left sits a dual card slot while to the right are all the ports.
The Pocket Camera 4K features two high-quality microphones, one either side of the lens mount. Output and input options are also comprehensive, with 3.5mm headphone out and separate 3.5mm microphone in.
While audio can be fed in using the 3.5mm microphone input – ideal for run and gun Rode mic scenarios – the mini XLR port is the pro-port of choice, complete with Phantom Power support. This is the type of connector that plays nicely with everything from wireless mics through to concert hall audio rigs, adding a considerable amount of audio clout to the Pocket Cinema Camera 6K.
The camera takes LP-E6 batteries, with a quoted battery life of 45 minutes, and packs a 2-pin DC connector for studio shoots. Meanwhile, the camera's USB-C port is primarily for use with an external hard drive but offers up some great additional utility. For starters, you can slow-charge your Pocket Camera 6K using it, so if you have an iPad Pro or a recent Android phone, you could leave the house with just one charger. While it won't power the camera live when out and about and shooting, it will slow down camera discharge when shooting.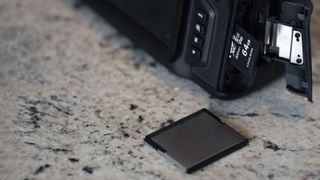 On the subject of storage, the Pocket Cinema Camera 4K also features one SDXC card slot and a CFast slot. Going down the CFast route is likely to be an expensive surprise for anyone with photography or Full HD video backgrounds, though it will deliver the fastest read/write speeds available. A 256GB CFast card costs around £350, and at the maximum quality setting (6K, 60fps, 3:1, RAW) it will capture just 7 minutes of footage. When shooting raw, we had our Pocket Cinema Camera 6K set to 6K resolution, 60fps, 12:1, which bumped up that recording capacity to 30 minutes.
You can also record directly to external hard drives, as mentioned, so 6K capture does not need to be so expensive. But at maximum resolution, some reviewers have noticed occasional dropped frames when doing so.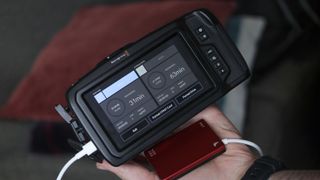 Performance
Blackmagic hasn't included continuous autofocus either of its Pocket Cinema Camera cameras. The lack of an inbuilt ND filter also means if you need to swap between shooting indoors and outdoors at a moment's notice regularly, you'll have to fit an ND filter to the lens, which might put off anyone coming from the convenience of a traditional cinema camera like the C100.
The battery is also weak, lasting between 35-45 minutes depending on whether you're using the official batteries and how bright you set the camera's LCD display.
A weak battery is to be expected of a camera like this, which uses DSLR batteries to power advanced video capabilities, but it gets worse, as the Pocket Cinema Camera line has an unreliable battery meter. The indicator can go up or down depending on what you're doing with the camera and, worst of all, the camera can power down with no warning.
The 4K model suffered from the same issue when we reviewed it, so while we hoped it would be a software issue that would be fixed with an update, it wasn't. The workaround is to carry about 10-15 LP-E6 batteries for a day of shooting, buy a power solution like the Core SWX Powerbase V-mount, or stay plugged in when possible.
It's also worth noting that when shooting in Blackmagic RAW, the footage has to be ingested by Davinci Resolve. At the time of writing this, Final Cut does not support Blackmagic RAW, and while the AutoKroma Braw Studio plugin will allow you to import and edit your .braw footage directly and natively in Premiere Pro, that's only for the Windows version. Otherwise, you will need to shoot ProRes, which caps out at 4K.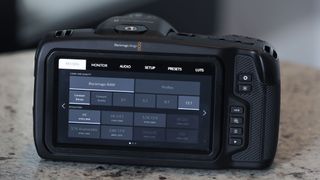 Finally, there are some limitations as to what formats you can record specific resolutions at. For example, if you want to shoot 6K footage, you have to shoot in RAW. However, if you're going to shoot 4K footage, you can't shoot RAW, you have to shoot ProRes.
That said, it always comes back to bang for buck with the Pocket Cinema Camera 6K, given the fact there's nothing out there that can do what this camera can for the price, and you get Davinci Resolve software with the camera.
Image quality is the easiest part of the Pocket Cinema Camera 6K review to write in many respects – it captures fantastic quality video, it's that simple.
If you're shooting in RAW, you'll have maximum flexibility, but a bit of work ahead of you if you want your footage to pop. Provided you've exposed everything correctly, though, it could be as simple as slightly boosting the saturation and contrast.
The video captured looks sensationally cinematic and flat, and if you want a RAW look without the monstrous file sizes, Blackmagic's Extended Video LUT (lookup table) is a great workaround.
Skin tones look rich and nuanced, and the dynamic range the 6K is capable of capturing is stellar for the price. The camera has a wider angle of view than the Pocket Cinema Camera 4K with lenses of the same focal length, and with its larger sensor, gets more depth (you'll generally be using longer lenses) which can be perfect for certain shots. We often found ourselves reducing the aperture to increase depth of field, though, especially when shooting people – to make sure faces were sharp across the board.
Additionally, the dual ISO ranges work to great effect, and we found ourselves confidently going up to ISO 3200 – something we seldom do on other cameras. Noise is handled well, and even at up to ISO 8000.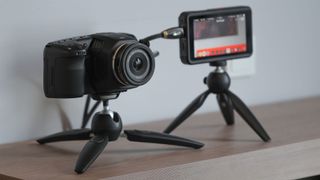 Verdict
When it comes to entry-level film cameras that punch way above their weight, both the Blackmagic Cinema Camera 4K and now the 6K are the best around. If you have a lot of Micro Four Thirds lenses or are on a tighter budget, we'd suggest you go with the Pocket Cinema Camera 4K which, when combined with the Panasonic 12-35mm f/2.8 LUMIX G X VARIO, for example, is about as inexpensive as a versatile film camera gets. Storage will go a bit further on it, and video quality is very comparable to that of the 6K in terms of look and even noise-handling.
If, however you have Canon lenses, you're looking for a wider angle of view and want maximum control over shallow depth of field – and you know you'll want to exploit the versatility 6K video capture enables – then nothing else on the market can compete with the Pocket Cinema Camera 6K's value.
Read more:
• The best video tripods
• The best microphones for photographers and filmmakers
• The best 4K camera for filmmaking in 2019
• The best cinema cameras
• The best cine lenses
• 12 best cameras for vlogging in 2019
• The best camera sliders for video