If you've been on the lookout for a new bit of kit, then the latest Deal of the Day from Adorama should certainly catch your attention. Whether you want to step up from your camera phone, or you're looking for a lightweight second camera that won't weigh you down like your DSLR, the Nikon COOLPIX B600 is a great option. Luckily, a 'Refurbished by Nikon USA' version is now on sale for the next 22 hours (from the time this article is published) for just under $150!
A 44% discount is nothing to sniff at, but that's not the only reason you should consider investing in the Nikon COOLPIX B600. This camera packs amazing zoom power, with up to 60x optical zoom. Plus, the Lens Shift Vibration Reduction works hard to keep your shots sharp and steady, even when the lens is fully extended. If you need even more reach, you can even employ the Dynamic Fine Zoom, which doubles your zoom to 120x.
• Read more: Everything photographers need to work from home
With a 16MP sensor and an EXPEED image processor, the Nikon COOLPIX B600 has 19 scene modes and 36 creative effects to help you customize your photography. It can also shoot Full HD videos, supported by its 4-Axis Hybrid Vibration Reduction for smoother footage.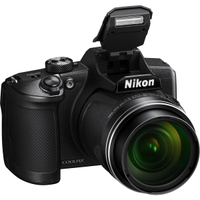 Read more
Best bridge camera in 2020: ultra-zoom cameras for far off subjects
Best cheap Nikon camera deals right now
Best Nikon camera in 2020: including Nikon DSLRs, Nikon Z and Coolpix